5 intriguing apps for Windows 8.1: April 24, 2015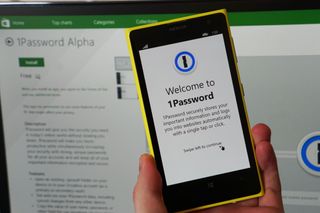 With the ever-growing number of apps and games in the Windows Store, it is becoming increasingly difficult to keep up with what's out there.
For that reason, every Friday we showcase some apps that have piqued our interest. They may have been in the news recently, they may be new to the Windows Store, or they could simply be old apps that we just stumbled upon.
They are the 5 Intriguing Apps of the Week.
Rubyte File Explorer
Rubyte File Explorer is a modern-style file manager for Windows. Rubyte gives you convenient access to all of your computer's Libraries, as well as any additional folders you choose to add, in a cleanly-designed interface.
Like many other file management apps, Rubyte offers all of the typical commands, like Copy, Cut, Paste, Rename, etc. But it also offers up image thumbnails, keyboard shortcuts, and a view that is optimized for Snap mode.
Another handy feature of Rubyte File Explorer is its integration with OneDrive. You can view whatever you have stored in the cloud and download it on demand.
Regularly $2.99, Rubyte File Explorer is currently on sale for $1.99 for the next week. Not sure that you want to buy it? Download the free trial to test it out first.
UPDATE: The developer of Rubyte File Explorer has made the app free.
1Password Alpha
Windows phone owners who wanted to use this popular multi-platform password keeper we relegated to a buggy app that laid neglected in the Windows Phone Store for years. Then, it was announced that developer AgileBits redesigned 1Password and released it as a private alpha test app.
Now the 1Password Alpha universal app is available to the public for Windows and Windows Phone.
In case you are not familiar, 1Password is one of the most well-known and widely-used solutions for storing passwords, credit card information, and multitudes of other sensitive data.
With 1Password, you can create complex and unique logins for each account you use, making it incredibly difficult for your accounts to be breached. Everything is managed and accessed with a single master password, so there's no more forgetting what credentials are used for which site.
Data can be synced online between devices on just about any computer or mobile operating system and the web.
Informed American
The political landscape in the United States is a messy as ever. And with the slant of the 24-hour news channels and political pundits, it is sometimes a challenge to keep track of the facts.
Informed American is an excellent tool for doing just that. It gives you a high-level view of what is happening in Congress at any given time, but it also lets you drill down to a granular level.
Read and track individual bills, look up members' voting records, and even see who finances their campaigns. Search by state or member name. You can even build a personalized dashboard of people and bills to stay on top of what's going on.
If you are looking stay informed about the folks who are running the country, Informed American is the place to start. It is available on Windows and Windows Phone.
Timber
Timber is a fully functional Tinder client for Windows and Windows Phone. Using your Facebook login, Timber lets you discover people with similar interests near the location you specify.
Choose your age group and proximity, and then browse profile pictures and swipe left or right to like or dislike. If you and another user match up, chat can be initiated from within the app. Unwanted users can be blocked.
With an official Tinder app missing from Windows, Timber is a viable substitute.
Hard to Explain
Hard to Explain is wacky game that has you playing as a cat on an alien world, collecting crystals and jumping on the heads of creatures to make it to your spacecraft. Sound reasonable, right?
The controls couldn't be simpler, as the only thing you can do is jump. However, Hard to Explain is one of the most challenging games I have played in a long time. Much like Flappy Birds, this game is fun, infuriating, and addictive.
The crystals that you collect can be used to buy new characters or to bypass levels that are just too tough for you. Given that there are 60 levels, you are bound to find at least one that you can't complete.
Hard to Explain's hilarious artwork and music make it a joy to play, even as you pull your hair out frustration. The game will only run you a buck and has a free trial.
Be sure to check out our other selections from previous weeks. Have a great weekend!
Do you have an app you want us to highlight? Drop us an email at tips@windowscentral.com with "5 Intriguing Apps" in the subject line.
Windows Central Newsletter
Get the best of Windows Central in in your inbox, every day!
I have the alpha for 1Password on my phone but it doesn't really do anything yet. I can't add yet but when its ready, I think it'll work out well.

Check this out: https://com-agilebits-users.s3.amazonaws.com/db/What_can_I_do_with_it.png

Who the hell uses file explorer on PC

How do you use to find files on your computer?

With default windows explorer

Uhm, I use it EVERYDAY for organising all my media/files. I don't just dump everything don't the desktop... Posted from my OnePlus One.

I use it every day. It's the biggest reason I've always spent more time in the desktop portion of Windows 8/8.1 than metro.

How about beta test of plague.inc?

Thanks. Refreshing to see some hopefully good productive apps instead of just games

I am a 1Password user of long standing on my PC, Mac, Surface and WinPhone. I still use the original 1Password app for WinPhone without any real problem. I cannot create a password on it, but, if I happen to be registering on a secure site via my phone, I'll just save the log-in and PW on Evernote until I can get to my PC: no big deal. But it is nice to see a standby app that I count on begining to move forward.

Nice, good to see a more touch friendly version of 1Password on the Windows Platform. Hopefully it won't be so gimped compared to the desktop version. Switched from last pass to 1Password mostly due to it offering everything LastPass had to offer, all without the need to rely on any third party's HDD (i.e. cloud storage). Now I sync my 1Password vault between my Surface Pro 2 and my OnePlus One via SMB file share ☺ Posted from my OnePlus One.

I'm considering making the jump to 1Password from Keepass, mostly because all the Keepass apps on WinPho seem to be going neglected. The most fully featured one that suits my needs is probably 7pass and it hasn't been updated for two years

That Informed American app sounds fantastic. Would love to have an Australian or maybe even global version (that covered stuff like international trade agreements etc.)...
Windows Central Newsletter
Thank you for signing up to Windows Central. You will receive a verification email shortly.
There was a problem. Please refresh the page and try again.