5 intriguing Windows 8.1 apps for January 9, 2015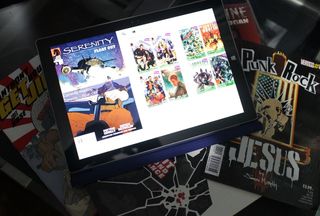 We're back again with another edition of 5 Intriguing Apps. This time around we have a few apps that can help to simplify your computing life. We also look at an app to help free your inner Walt Disney, and revisit a longtime favorite app of mine.
Take a gander. I think you will find something you will like.
Clipboard
Sometimes the simplest things can have a sizable impact. Case in point, Clipboard, a simple app that allows you to share data to and from your Windows clipboard using the Share Charm. When installed, Clipboard creates a modern-style icon in the Share Charm bar. When selected, whatever you are sharing gets copied to your clipboard, ready to be pasted wherever you want.
As someone who regularly copies app links from the Windows Store into Microsoft Word, etc., I find Clipboard to be very useful. You may not use it as often as I do, but it's always nice to have that option in your Share Charm bar, especially for free.
OneCalendar
As you might guess from its name, OneCalendar is an app that brings all of your calendars from various accounts into a single interface. Not only does it draw from Google, Hotmail, Live, and Office 365, but Facebook as well. Birthdays can be pulled directly from your contacts and displayed as well.
Each calendar can be assigned a different color for easy organization. You can overlay all of your calendars together, or filter them quickly in any way of your choosing. OneCalendar could be even better if you could add accounts from more providers, but as it is, it's a pretty darn good calendaring app.
Zoetrope
Zoetrope is a stop-motion animation app that combines series of photos into movies. Users have control over frame rate and movie size and can export to a number of different video formats. At each step of the process, you can see an overlay of the previous picture, so you can get an idea of the progression of motion.
You can even set a soundtrack to your film by choosing an audio file from your computer.
The latest version of Zoetrope also includes a cel-animation feature that lets you draw and animate using a stylus, mouse, or touchpad.
Even if you aren't looking to make animated movies, Zoetrope is a useful way to create slideshows and presentations. Either way, Zoetrope takes the complication out of animation.
Store9
Working across different mobile platforms can be challenging, so when I come across an app that makes techie life a little bit easier, I like to point it out. Store9 is one such app. It gives Windows users the ability to navigate the Google Play store.
With Store9, you can do everything you can do when you log into Google Play. You can see your previously purchased apps, music, movies, books, etc. or buy new ones. You can also send remote install commands to your Android devices.
Store9 is more or less a wrapper for the Google Play website, but it is well-designed and makes managing the Google part of your life easy.
Comics Jolt!
It feels like Comics Jolt! Has been around forever. Heck, it was one of the first apps that I installed on my Surface RT. But I have been on a comic book kick lately, and recently installed it on my Surface Pro 3, so I thought I would give it a shout out.
Comics Jolt! is an intuitive, swipe-based comic reader that is packed with features. Comics are displayed two pages at a time with and can be read in left-to-right or right-to-left modes to accommodate Japanese manga.
It remembers the last page you were on so you can jump right to where you left off. Swiping turns the page and pinching is used to zoom. You can also jump to different pages by entering a "filmstrip" view of the entire comic.
Comics Jolt! also fully leverages Windows 8.1 features. Folders or individual comics can be pinned to your Start screen, while Live Tiles display the book you are currently reading. Comic panels can even be shared with friends using the Share Charm.
After a significant hiatus of reading comics on my Surface, I did try a handful of comic book readers on my Surface Pro 3. However, I found that I liked Comics Jolt! the best.
That's all, folks! I'll be back next week with five more apps for you to look at. Be sure to check out our other picks.
Do you have an app you want us to highlight? Drop us an email at tips@windowscentral.com with "5 Intriguing Apps" in the subject line.
Get the Windows Central Newsletter
All the latest news, reviews, and guides for Windows and Xbox diehards.
However, after connecting my Google and Facebook accounts with my Microsoft account at https://people.live.com/ and getting everything synced I don't think I'm missing anything compared to OneCalendar. Am I? Are there any other benefits?

Another app that I find even more useful than the clipboard sharing app is Kopy, which will let you transfer clipboard contents easily between devices... including both Windows and Windows Phone

Thanks for the suggestion

Just tried it out on your recommendation. Cool app!

I love Kopy too. Great app.

If Microsoft had a similar offering, would you use it? (question open to anyone)

Would take it in a heartbeat.

Honestly, I wish that they would add an OS-wide option to automatically synchronize clipboards across all devices where I'm logged in with the same Microsoft account, especially between phone and desktop.

I don't understand the point of Store9. You can't install Android apps, so its just showing you a list of things you own.

You can also purchase and remote install apps to your android devices. If the Play store has a wish list feature I imagine you could add apps to that as you hear about them. Right now I'm reading about these cool Windows apps, but I'm on my phone. Would be cool if I had an app that let me access the Windows store, check the reviews, then buy and remotely push some apps to my Windows tablet.

I guess in theory you can push the update or app to your Android device or BlackBerry 10 device. Don't seeba real need for this app. Posted via the Windows Central App for Android on my BlackBerry Passport

I just found this music app which is awesome. Check it out http://www.windowsphone.com/s?appid=9ff0d21d-18a2-4e5b-9ea2-14ab1c26c664 Even though its for Windows Phone is real worthy app.

Zbox people already know about it! Good app though

Download link for clipboard doesn't work and it's not in the the store to download either.

Many thanks for running this series. I just upgraded from a Win7 machine to a Surface Pro 3 and I'm finding that navigating the Microsoft Store to be challenging. Going back and reviewing these articles from November to today has helped me find some gems. Thanks again!

Is there a Snipping Tool app that works in the Metro windows?

I found this myTuner Radio app .. http://apps.microsoft.com/windows/pt-pt/app/mytuner-radio/de5e230e-2690-47d1-9712-ec23218d30ee there's also the windows phone version... Pretty COOL

wow this article reviews a nice selection of intriguing apps. Best article so far in this category. Good job!

Thanks for the comic reader recommendation. I've been looking for a decent one for a while now for my sp3 but with very little luck. Hopefully this one ticks all the boxes for me

Zbox was unable to recognise quite a few of my everyday mainstream tracks and placed them in the Unknown artist catagory whereas my existing music app, Xbox knew who they were. Also there is no way to share tracks using the NFC function and again Xbox music handles this.