5 reasons why your next laptop should be a 2-in-1
Here are five reasons you should buy a 2-in-1 Windows PC.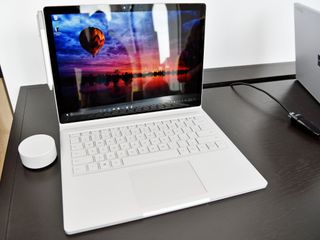 2-in-1 Windows-powered PCs are great tools that pack more than a single trick hidden inside the chassis. As well as being able to use them as a normal notebook, it's possible to alter a 2-in-1 so that it becomes a tablet without having to purchase a dedicated device. Here are a few reasons why you should buy one.
Single device
The biggest gain from purchasing a 2-in-1 is the fact that you're investing in a single product that can do multiple things. Take the Microsoft Surface, for example. Not only is it possible to use these tablets without a keyboard and mouse, but throw in said peripherals, and you've now got a capable laptop.
This cuts down on the number of devices you are effectively required to purchase. Instead of picking up both a laptop and tablet, which combined is likely to set you back $1,000, simply go for a 2-in-1 and cut both cost and hassle using more than one Windows device.
Money, money, money
As touched on in our above point, there are quite the savings to be made with a 2-in-1. Instead of purchasing two devices, you're only picking up one, and while they can sometimes be slightly more expensive than a standalone laptop, you'll be paying out less than if you were to purchase more than one PC.
Flexible stunts
2-in-1 devices, particularly those with advanced hinges, are able to be altered into different configurations. Lenovo's Yoga series may appear to be normal laptops on the surface but flip the screen around a full 360 degrees, and you now have a tablet, without having to detach anything.
You can also use the 360 hinge as a stand, putting the Yoga laptops into a "tent" configuration. This is handy for watching movies on a plane or in the kitchen, for example, when the keyboard isn't needed.
This is particularly useful when on the move as there's less to pack and potentially misplace.
The difference between a 2-in-1 and convertible
Feel the experience
Since 2-in-1 laptops are pretty much guaranteed to come packing a touch-friendly display, it'll be possible to take advantage of input similar to that of a smartphone and tablet. Usually, one would have to fork out a slight premium for the luxury on normal laptops. This also opens up other avenues for pen support and more.
Only the best
Since we're talking about Windows 10-powered laptops here, this also means you'll be enjoying a Windows-based tablet experience. The Surface is a fine example of just how well Windows works in tablet form, allowing owners to install software packages not available through the store and fully customize their tablet as they would a normal desktop or laptop PC.
There are also a number of solid devices to choose from. Be sure to check our best 2-in-1 guide for our top picks to get you started.
What say you?
We'd like to know your favorite things about owning a 2-in-1 over a traditional notebook so be sure to sound off in the comments!
Rich Edmonds is Senior Editor of PC hardware at Windows Central, covering everything related to PC components and NAS. He's been involved in technology for more than a decade and knows a thing or two about the magic inside a PC chassis. You can follow him over on Twitter at @RichEdmonds.
I am still trying to figure out if I should go for a Surface Pro 4, a Surface laptop, or wait for the MS's event on May 23rd in anticipation of a SP5. If they don't announce any SP5, I might consider SP4.

It really depends on if you need some of the extra graphics power from the Surface Book or the compact form factor of the Surface Pro. Also, if you prefer laptop over tablet, you'd probably like the Book as well. The Surface Book provides a superior laptop experience over the Surface Pro. The Pro offers a superior tablet experience over the Book.

I am waiting for whatever they do after the May event. I haven't owned a computer for a year now, mainly because the Surface Pro line is terribly designed. I will be waiting for SP6 or whatever they call it. Until Panos Panay gets a clue about hardware, I will wait it out. Proprietary charging and USB 3.0 is pathetic. And Mini DisplayPort, really? USB-C/Thunderbolt 3 is an absolute requirement, and it is shameful that no Surface has modern internals. It's no wonder Surface revenue has plummeted. They can't make anything people actual need today. Panos needs to be replaced with someone who understands technology. A pretty shell isn't worth much if it doesn't have the right connectivity. Again, what a shame.

I disagree with almost everything you just wrote... The Surface Pro line is actually very nicely designed. The lack of connectivity is an annoyance, however it is what is still used the most today. The one thing I would trade in a heartbeat is the miniDP for a Thunderbolt 3, but leave everything else regarding connectivity. I have a Surface Book and it suits me just right. The internals are fairly modern and it allows me to work on heavy operations in my profession. The proprietary charging port is something I would actually keep for safety, even if they eventually add an USB-C with charging capabilities, they should also keep the Surface Connector.

Let me guess. You would also refuse to date a supermodel with an IQ of 164, all because she has a mole on you calf, right? Just hush.

I think this article is self redundant and could have been better thought out. It seemed to constantly recover the same points. Anyway I'm mostly on the 2-1 bandwagon. I'm not sure if it's really to have the tablet mode, or because touch screen is a real requirement for me. Surface laptop is really making me think. I suppose I wish it flipped like Yoga, but I don't know if I feel like that's a requirement or not. But objectively speaking, the 2-1 category Microsoft created is very strong, and certainly can offer a lot of users a lot of beneift.

I have a Lenovo Yoga 13, its an ultrabook and 2-in-1 - the first on the market if I recall correctly. I love how there no limits to its physical dimensions. I would love a Surface Book because its a Surface Book, but right now the Yoga 13 ticks so many boxes.

I really want a Surface Book 2, and I'm hoping the May 23 event has a surprise in store for me. I need a laptop-first 2-in-1 and would settle for the original Surface Book with a Kaby Lake refresh if not a full-on 2nd edition. Sadly, those in the know don't seem to think we're getting one at the Shanghai event... just an updated Surface Pro.

I wouldn't hold my breath for a new Pro 5 or a Book 2.... In fact I bought in November the first generation Surface Book, and even with the older dGPU it performs incredibly well for my design needs. At this moment if you are on the fence for a Book, you should just get the one that's available and suits you better... in my case was the i7,16,512,dGPU.... but if you are considering a Pro, then you should wait at least until the end of the month

I agree Book 2 is needed. I know what Panos said about needing to "change something", but lets not kid ourselves book 1 was fantastic but flawed. Just fixing the flaws will be big enough.

Yea, this site has become really spammy of late.

Not so spammy like your previous post.

I'm still rolling with the original Surface Pro. The reason I invested in it, when it first came out, was for school purposes. I wanted something that I could do school work on and use as a tablet. I also wanted a touch screen, but that wasn't really a big thing for laptops, at that time. I considered an iPad, but after doing spec comparisons and what I needed a device to so, the iPad was a no go, considering the price points of each. I figured, if i was going to spend nearly a grand, I might as well get the one that can do more.
Here we are, four years later. My reasons for wanting a two in one are still basically the same as it was then. I realize that some of the things I considered the iPad for, it can now do such as, use Microsoft Office. I'm not sure if it's as fully features as the full version, but it is probably enough for most people. I like the idea of being able to download programs or use the web, if there isn't a particular app in the Windows Store that i want to use. I like Windows 10 and works best with touch, IMHO.
I just think the form factor is pretty cool and I may invest in a Surface Pro 4, before the end of the year and pass on my original Pro to my wife, since she is now in school.
That's all I have...😀

2 in 1's is a great train to go on as it opens the door for more multi-purpose computing devices. If you include continuum, and its Samsung equivalent, I think that we have entered the multi-purpose era for computers and computing.

Last one I had was a Surface Pro 3, and switched last year to a iPad Pro. The SP3 definately is better for those who still like using a pointer to select things on the screen. The iPad Pro definitely suits me better now because of portability (thinness and screen size), reliability, and battery life. Pair it with a decent keyboard case you're good to go honestly. Especially for most of us that just need a solid word processor and web browser (an iMessage and apps that sync between iPhone).

5 reasons your next laptop shouldn't be a 2 in 1. 1. You want a bigger screen. I have and love my SP4 but when I really want to do stuff, I still go for my 17" laptop. 2. You want desktop power and graphics without having a tower and being stuck to 1 location 3. You want an optical drive. Some people still have CD or DVD/BR's that they need to rip for their library. In addition, some people still like to actually own the things they buy in physical format instead of just basically renting a digital copy. 4. Ports. You want as many ports as possible without having to buy additional hubs or other accessories 5. Spec to price ratio. For instance you can buy a 600 larger laptop that offers at minimum, double the HD size, has a full desktop class processor and better graphics than a 2 in 1 that you will spend 800-1200 on. (or more)

Number 3 isn't really an advantage. An external USB 3.0 disk drive will transfer data as fast as the disk can be read, so there's no speed advantage of going with an internal drive. An internal drive also means less room for airflow and/or battery.

Awhipersecho's analysis is fine on all counts, including point three. I am certainly one of those people that rip CD's, I've got five hundred plus CD's ripped to lossless WMA on my Windows Home Server. I definitely prefer to own the physical copy when possible. However the problem with the ripping argument, is that I would not do my ripping on a laptop optical drive. I've done it all with the optical drives of my desktop.

I've done all the ripping of my collection of CDs on my 17 inch 5 year old laptop. It has an i7 2820QM and the comparison on benchmark tests still beats the latest 7600 provided with ordinary 2 in 1s. I'd add a number 6 to my reasoning for not getting a 2 in 1, which is storage : few come with more than 8GB of RAM or 512GB of hard disk. I've 500GB SSD and 1TB fast HDD on board. If Dell made the XPS 17 with the modern equivalent of the specs on my 5 year old one, if be buying that. Despite the huge weight and poor battery life. A 2 in 1 cannot fit in the patch pocket of my trousers like my 8 inch tablet,so I'd need to keep that.
To get the power and storage is need a desktop as well, so I'd end up with 3 devices instead of 2.

I'm using an HP envy x360. In normal mode quite nice.
The tablet mode hasn't really convinced me yet. To enjoy that mode more it would require a lighter device (it's 2.1 kilos) with slightly higher screen resolution (it features full HD) since it's held a bit closer to the eyes.
Win 10 tablet mode is also something that you really need time to get used to. I am somewhat missing typical buttons like on a smartphone. Regardless if physical or on screen. That would make navigation, switching programs a bit more intuitive, wouldn't it? Although I know how it's supposed to work with Win10, I just couldn't get used to that yet.
Apart from that good price value as it is not a detachable and most hardware is still located in the base and not in the display half. Makes it heavier though. I think that's a major difference between the concepts available and should be considered when thinking about a purchase.

I have a Surface 3 with a keyboard I never use. Only use it in tablet mode, and tablet mode is awful, as a touch first OS, Windows 8.1, was way better. Only went to windows 10, so that I don't live on castaway island for apps

Hmmm.. Tablet mode works great for me on my Surface Book. What don't you like?

The onscreen keyboard is erratic, when it pops up and more frustratingly when it will not. Same for taskbar.

what do you mean by erratic?

I have a surface 3 with none of those complaints

Last month I purchased a 15.6" 2 in 1 2017 Dark Ash x360 Spectre, i7, 16 GB DDR4 Ram, 512GB SSD with a 4k touchscreen. This is the best laptop/tablet I have ever owned. It is a perfect fit for my needs.

Too bad that alot of the apps I would use in tablet mode on my 2 in 1 are either broke (texutre) etc, or not available. which sucks!

My Surface Book is amazing love it. Which is what makes me sad that Panos never got to make a phone. Guy knows what he is doing.

My HP Spectre x360 15 in Ash Silver Copper is a chick 🐣 magnet. Didn't see that in your article.

still rocking the 2012 yoga pro 2, however i am eyeballing the 720 with 4k, i cant go back to a regular clamshell after using a 2-1 daily.

I'm on that too. No plans to upgrade since I mostly use it to surf the Internet. It was an excellent choice back then and glad I went with 2-in-1.

I'm looking to get a Surface Book, any suggestions on which to get?

While there are some great tablets out there, sometimes a 2 in 1 is the best option. There are just more 2 in 1s at more price points.

I have a Surface Pro 3. Like it so well, I'm prepping my laptop so I can give it to my granddaughter and only have one device. I recently purchased a Surface Dock and that pretty much gives me everything I need (gotta get a CD/DVD drive to work with this and I'm all set).......

I have owned a Surface Pro 4 since December 2015. What I like: * Small/light, fits in one of my camera bags. (So does the Dell XPS 13, but hardly much bigger laptops...)
* Good screen, surprisingly good keyboard (much better than expected from one who thinks the ThinkPad keyboard totally rules)
* Quite fast (much faster than the XPS 13 -- don't quite understand why...)
* I never really had any problems with lapability, etc.
* Pen possibility. Although I have not really used this much... waiting, waiting, waiting for the right software...
* 3:2 screen format!! What I'd like to see improved: * Battery life is very poor. Forget the advertisement about 9 hours video playback. I don't use it for video playback. The first time I used it, the battery lasted ca. 2+ hours. Participating in web discussions. Since then, the battery life seems to vary between 2-5 hours, depending on Windows/firmware upgrades...
* I really would need a full SD card reader (given that I use it for editing photos...)
* I don't like the material of the keyboard... it is too plasticky, and feels sweaty after a few minutes. Maybe the newer, signature keyboard is better? (The one with the same material as on the Surface Laptop...)
* The magnetic pen attachment is too weak, and the pen keeps falling off all the time.
* Although the screen is very good, I think it would be possible to make it bigger/less bezel. Bigger is better when I work with word processors, etc.
* The touch pad is still no match for a good mouse, and can be improved. There is a lot to like about the Surface Laptop. For me, it is somewhat disappointing that the screen seems ill fit for pen use. Perhaps it is possible to put it with the screen flat on the board, and the keyboard leaning up against some support? On the other hand, so far I haven't used the pen as much as I hoped I'd do -- so perhaps not a major stumbling block. Given the much better battery life (eh... 14 hours video playback does not translate to 14 hours of use... if it scales like the Surface Pro, this would be 3.5 - 8 hours, depending on firmware update, etc.), I might have "upgraded" to the Surface Laptop. But it is not a sufficient improvement on the SP 4, so because of that, I'll wait for something else. But without the SP 4, I would consider it.
--
According to CNET, etc., there is no Surface Pro 5 in the pipeline (ref: Panos Panay). So what would come, is probably a simple upgrade of SP 4 -- perhaps a Surface Pro 4k :-)... (since the Kaby Lake supports 4k video). I think this is a wise point of view -- and fits well with Microsoft's point that the Surface line should be more like an inspiration to the industry. Also, with my current Surface Pro 4 having 16 GB RAM and 512 GB SSD, my next laptop would need either of the following upgrades:
* considerably longer battery life
* at least 32 GB RAM
* at least 1 TB SSD
* larger screen/smaller bezel -- 13.5 inch? (And *keep* the 3:2 screen format!!)
* about the same size -- perhaps somewhat thicker/heavier is ok if that gives room for SD card reader, more battery life, etc.
* faster processor is always good

sounds like you should have bought a Surface Book.... *considerably longer battery life (specially the Performance Base setup) *no 32GB but 16 works great. *there is an option of 1TB SSD *13.5" screen with 3:2 format *not the same size, but it gives you the SD card reader and another USB port. *same processor but optional dGPU which is about twice as fast as the fastest Iris Pro 4.

My only issue with the Surface Pro 3 is the USB port, it forced me to buy the dock because it simply can't do what a proper, full power, port can do. So if you are plugging in a mouse or a thumb drive you're all good, but don't expect the USB ports on "tablet based" 2 in 1's to be anything more than basic.

Surface series has always been surprising everyone since its inception and whatever we expect, be ready to get one step more than that, we never really thought about surface laptop neither about surface studio, so may 23 event could be again something new or certainly an upgrade to surface pro series and surface book series. I personally expect the surface phone to unviel soon which is rumoured to run on nougat.

Will be buying a 2-in-1 this year. Jury still out on which one.

specs too low and prices too high. Not beneficial to invest in. Their is no way I am gonna burn that much on so little just because it is a tablet and laptop in one.

I bought an X1 Yoga last August as my second laptop and there is no going back. Once you get accustomed you also start to use it to write notes on it. And it is a small powerhouse. It handles any task pretty fast. The Surfaces's keyboard never convinced me. And the display is too small.

I've thought about a 2-in-1. But unless you get the detachable kind, you have a heavy, very unwieldy tablet.

Wow! Since you asked, just last weekend I was about to install the Android OS on my Acer 1 Ten ( and dump Windows 10 ) because I'd reached the end of my tether with Microsoft on this type of platform. I owned an Android tablet previously and didn't have even a tenth of the hassle I've had with this one. However, that said, I'm beginning to get used to it, and since the original purpose of buying such a device was to combine work from the PC with the portability of a tablet, for the moment I am staying put. But Microsoft need to get it into their heads that people who want or buy tablets are not tecchies. Give us simple access options, not a multitude of possibilities. And make loading memory cards easy.
Windows Central Newsletter
Thank you for signing up to Windows Central. You will receive a verification email shortly.
There was a problem. Please refresh the page and try again.