5 ways Microsoft could unify and improve its consumer apps and services
With so many teams within Microsoft, some apps and services aren't keeping up. Here are some baselines that all consumer services should meet.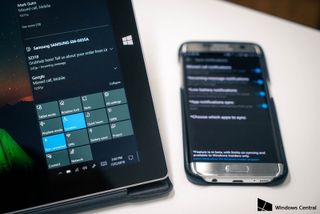 Microsoft has a stable of well-known apps and services and continues to roll out more each year. While many of these are great, quite a few of them seem to be missing features or design elements that should be standard across all consumer services from Microsoft.
Microsoft needs to create a baseline standard that all apps and services that come out of Redmond should meet. If each product that shipped to consumers had a core set of features and design choices, it would unify the experience on Windows 10 and encourage more developers to meet the same standard.
Be available through the Microsoft Store
It's a bit odd that this has to be a point at all. Microsoft needs to roll out all of its consumer services through the Microsoft Store. Not only would this get services onto Windows devices, but it would show that Microsoft is committed to the Microsoft Store and that it is their go-to place for distributing apps.
At the moment, Mixer doesn't even have an official app on Windows 10. Microsoft has integrated some of the streaming features into the operating system, but viewing content requires a browser or a third-party app like Mixer Go.
As Microsoft acquires services like Mixer, it's important that they quickly create a high-quality app for Microsoft's operating system.
In a perfect world, each of Microsoft's services would have appropriate natively-built UWP apps that are downloadable through the Microsoft Store, but I'll settle for PWAs that are put into the store as long as the user experience is good.
Use Windows 10's design language
Some of the best-looking apps on Windows 10 are made by Microsoft, such as Groove Music, but that doesn't mean that every Microsoft apps looks good and meets the current design language.
Microsoft is reportedly bringing Fluent Design elements to Microsoft Office. This is a great sign for things to come and hopefully is evidence of a trend at Microsoft.
It's important that all of Microsoft's consumer services receive the same treatment that Office is getting. Some services are still left at older design, such as the current OneDrive app which has a dark theme but doesn't have reveal effects or transparency.
Other apps just seem inconsistent when compared to their Microsoft-made siblings. Microsoft To-Do uses a different settings icon than the rest of Windows 10 and most of Microsoft's apps. That app also has some other design difference that makes it stick out like a sore thumb.
Little things can make a big difference when it comes to design. For example, if an app has a custom toolbar, it can't work with Sets in Insider builds of Windows 10. If this is going to remain a limitation of Sets, then no Microsoft-made app can have a custom toolbar, or it hurts the viability of a major upcoming feature.
A look at Microsoft's progress bringing Fluent Design to Windows 10
Take advantage of Windows 10 features
One of my biggest pet peeves is when an app doesn't have Actionable Notifications. I'd love to respond to some of my Outlook emails directly within the notifications center or respond to a message from one of Microsoft's many messages services in the same way. Windows 10 has some great APIs to increase app's usability, and all Microsoft consumer services need to take advantage of these.
Other features that need to be present in apps include Compact Overlay mode for any app with video, Live Tile support, Cortana integration, the ability to back up data through OneDrive, and Timeline support.
Many third-party apps incorporate as many of these features as possible and it makes a huge difference. Microsoft cannot lag behind third-party developers when it comes to using Windows 10 features.
Universal dismiss
Moving slightly away from operating system specific features, Microsoft needs all of its consumer services to support universal assist. I don't mean this on an OS level, but on a cloud level. People use services across different types of devices, and after they've viewed all of their emails and notifications on one device, they shouldn't have to clear away notifications for the same emails on another device.
Some of Microsoft's services can already do this, such as Skype, but it needs to be a standard feature across all services on each platform.
Have apps on all major platforms
Outside of readers of this site, it's not likely that many people are exclusively on Windows-powered hardware, so Microsoft needs to bring all of its consumer services to the major operating systems and keep them up to date.
Two glaring examples are Microsoft's Movies and TV and Photos apps which remain exclusive to Windows 10. To some, not having a presence on Android or iOS makes these unusable and to many others, it's a least an inconvenience. If Microsoft expects people to use these and other services, they need to be available on any popular device.
Overall thoughts
Microsoft is a massive company with various teams that work on different projects. I understand that these take time to update and unify, but I still think Microsoft needs to do a better job of setting a bar that each consumer app and service needs to clear.
What do you think Microsoft needs to do to improve their consumer services? Let us know in the comments below.
Windows Central Newsletter
Get the best of Windows Central in in your inbox, every day!
News Writer and apps editor
Sean Endicott brings nearly a decade of experience covering Microsoft and Windows news to Windows Central. He joined our team in 2017 as an app reviewer and now heads up our day-to-day news coverage. If you have a news tip or an app to review, hit him up at sean.endicott@futurenet.com (opens in new tab).
buy or make a commercial agreement with spotify/deezer/amazon music
buy or make a commercial agreement with netflix/hulu/amazon prime
buy or make a commercial agreement with viber/telegram
buy or make a commercial agreement with dropbox
buy or make a commercial agreement with amazon alexa
buy or make a commercial agreement with amazon kindle
buy or make a commercial agreement with amazon aws
buy or make a commercial agreement with amazon

No, don't touch telegram. I like it's independent nature.

Yeah right buying Amazon which is worth more than Microsoft sounds possible

Spotify would be nice,,, especially if it was integrated into the Groove app, but kept the Spotify name..... But, they say they won't sell to an American company.

Shut down Groove, move your customers to Spotify, buy Spotify. That does sound like MS. The next step would be: make Spotify so bad that everybody voluntarily moves to Pandora

I think... an unified Compact Overlay mode button for all video in every app might be difficult to implement, because every dev can layout the UI differently.

You can design APIs to signal this to the OS. That's what Apple has done, being decent developers of consumer software.

All very true and unbelievable that they don't deliver on that stuff.

But Microsoft has declared they are moving away from the consumer space? So what they need to be pressing forward on to achieve their goals is refocussing their apps towards enterprise requirements and continuing to trim back those apps and services that don't really support the markets they are prioritising. Otherwise they will remain hardly supported albatrosses from an era that MS would rather people forget. I know, as a consumer this is something I lament and I desperately wish they would reverse course but I think if we're honest we all know it has been made very clear that this will not be happening. Microsoft cannot afford to continue to appear as an also-ran in a consumer space they will never fully commit to. Xbox may be an exception to this, but on the Windows stage the consumer angle is dying slowly whilst looking bad for the company and MS really needs to get focussed on their true goals here.

They need to fire Nutella... Which I've said since he gotten here.... And which he had proven me right on.

Also, some of the consumer apps, such as photos, is far behind its counterparts by Apple and Google. As this is an important feature for consumers, they should invest quite a bit on it. Otherwise, I would rather leaving this function to apple and using OneDrive only as a backup repository.

Well, with most of MS'S consumers using iDroid devices to manage their photos, you kinda can't blame them for Photos on W10 not being priority.... Not saying I'm ok with this, but that is our reality for now.

He's saying it's bad compared to Google Photos and Apple Photos - both the app and the underlying service. He isn't wrong. - Google and Apple have better AI features.
- They do non destructive editing in a transparent manner.
- On iOS and macOS, Apple Photos supports extensions. Microsoft Photos has no extension API.
- Microsoft Photos isn't available on other mobile OSes, at all. OneDrive is not a Photo Managing/Editing app.
- Both Apple and Google have better web interfaces. OneDrive is not a photo management portal.
- Apple and Google have better sharing. iCloud Photo Sharing, Shared Albums, Family Albums, etc.
- No third party print service support in Microsoft Photos.
- No third party service support in Windows or Photos (Flickr, Vimeo, etc.)A The Windows 10 photos app is nothing but a hack job to replace Photo Viewer as the default, and later bolt on reasons to get people to subscribe to their cash cow: Office 365. Right now, if you want a UX comparable to what Apple and Google offer on their platforms, you have to use Adobe Lightroom CC. Have fun paying for better usability. It actually brings much of what macOS/iOS/Android users enjoy out of the box to Windows 10.

I completely and am complaining for years about this in the Windows Insider Feedback. Their once adage of a seamless user experience seems further off than ever.

Apps on major platforms … OneDrive sync client for Linux! Edge on Mac(to get TimeLine, of course)?

Only an idiot would use Edge over Safari, considering how privacy focused Safari is. Edge would be used only for development. The limited convenience of Edge isn't worth exposing yourself by browsing with it. I don't see Timeline as a feature worth caring about. Synching history literally provides this. Timeline is nothing but an alternative UI for browser history, when used for this purpose. Microsoft can literally reimplement the same IS for viewing the history in the browser... Had to turn Timeline off on Windows 10. Every configuration or read me file I opened was showing up there, making it so cluttered with uselessness that it became useless itself. Microsoft needs to polish their OS and stop throwing more dishes into that kitchen sink. The only thing I prefer on Windows is how quickly Cortana launches, even on older HDD systems (Siri takes forever on HDD iMacs), and the fact that the taskbar wastes less pixels than the macOS Dock. I would personally never use a third party browser on macOS or iOS. That is defeating the purpose of using those OSes, IMHO.

Would love to see serious focus on 1st party UWP apps on the MS store for one. MS needs to show developers that THEY THEMSELVES are leading the way in UWP development. And would also love to see MS offer free training, mentoring, free technical support, even 1 or 2 free onsite developers to any company willing to convert their existing iOS and Android apps into PWA, and to wrap it in a UWP container for publishing to the MS Store. They should start with Uber, Voxer, Mint, Starbucks, Chase, Bank of America, Wells Fargo, Citigroup, Capital One, eTrade, Fidelity, TD Ameritrade, Southwest, United, Delta, Alaska, Hawaiian, JetBlue, American, Expedia, Travelocity, and Yelp.

PWAs are huge and perform worse than native apps. They also use more power and processing resources. Apple is using native code for this with the iOS -> macOS porting. I wonder why? I thought we learned our lesson about this with Electron and other similar frameworks? Microsoft should have simply bought Qt off Nokia, made it free, and replaced MFC, WinForms, and WPF with that. Part of the reason I've grown to hate developing for Windows is the growing list of legacy tech without confirming statements regarding their future and pretty piss poor support from Microsoft. I also don't think it's possible to develop a great UI/UX for any app that isn't mobile-first with UWP. It was designed for Phones and Tablets, not desktops. The widgets, etc. look awful on desktops, and it's missing entire classes of controls necessary for desktop UIs. Most good desktop apps are using Qt (Scrivener, DaVinci Resolve, etc.) or an internal framework (e.g. Adobe) for UI. Open Source stuff still often used GTK (Gimp, Inkscape, etc.). Microsoft neglected WPF too much for it to make a huge impact, and Windows Forms was always terrible. No one bothers with MFC, except for legacy or utility-sized code bases. UWP is awful for desktop UI. Centennial doesn't solve the issue. It's only a deployment scenario. It's not a design and development tool\framework. Microsoft literally has no attractive developer story; particularly for those developing consumer market software for Windows. It's all Enterprise-oriented and they can't shut up about "line of business apps." Aside from that, you're paying At to use their framework so you have something decent on Windows. is UWP going to enable someone to write the next disruptive app for people who don't want to pay $50-100/mo. for Dartfish? No. One thing Apple is amazing at, is keeping things compact, organjzed, and giving clear messaging to their developers. Classic MacOS is dead. Buh bye.
Cocoa in, Carbon out.
Swift in, Objective-C out.
32-Bit dead post-Mojave. These are all things Microsoft should be doing. Do we need 3-4 first-party development languages? 4-5 UI toolkits? No. Why is 32-Bit still a thing in x86? I also think the app package system in Windows 10 is AWFULLY done. Apple certainly has the better system for dealing with app installations, with their bundles and Applications directories. WindowsApps on Windows 10 is as locked down as Smartphone firmware. OEMs can even embed preloaded apps in there, like in a smartphone, and you cannot remove them without breaking your entire system. It's awful.

Microsoft is moving away from consumer products and their focus is towards the enterprise. Their consumer offering is reducing year by year. They have taken Skype from being a successful consumer IM to being a confused rebooted product in a sea of other more successful products. Most personal consumer computing is done on the smartphone. PCs are still there as productivity devices but the days where the family has a desktop PC in the corner of the room providing Internet access to all the family are gone. Laptops are brought out when a school paper needs doing or if there is a PC gamer in the house. In the new world, Microsoft needs to show the benefits of using it's services on mobile. Mostly Microsoft doesn't bother. I have no idea why. However, if Microsoft doesn't care about consumers using their services no-one else will. That was the story of Windowsphone and that is now being baked into their consumer strategy too.

Agree on last point. Microsoft completely missed the boat when it did not put Photos on macOS, iOS, and Android with at least basic Editing features. They need to basically have what Google Offers on iOS, and extend that to macOS as well. If they ruminating a year to port iOS apps to macOS is thebanswer, then Lol. I am notnlookingnfor mobile apps on my desktop. That's why I don't use the Windows UWP built-in apps. Platform locked Cloud-integrated apps are unusable. Not everyone wants to live in a browser, and cloud storage apps are hilariously poor at managing and playing back/viewing photo and video libraries. This is also needed for things like non-destructive editing/adjustments - something you get with iCloud and Google Photos, but not Microsoft. The OneDrive app is not a solution, and should not be cluttered with those things. Apple sets an amazing example of how to Do this, on iOS. Everything in its own app. It also allows users to install and use what they need and want. Some of Microsoft's web assets also required Flash, making them 100% unusable on mobile devices (unless that's changed). Movies & TV was one of them. I rented a movie there, once. Never again. Google is also smart and has Photos and Video Streaming apps for devices like Roku players. Microsoft is completely absent in the television unless you have an Xbox (no thank you). I didn't know Mixer was a thing until fairly recently when I seen it mentioned here. I still don't understand what Sway is for. The app seems like a web app. Maybe Linux is in my future, outside of the PC I use for gaming (and my Apple computers - Apple doesn't have this problem in their own OSes). Microsoft seems incompetent at producing and managing a tight ecosystem with enjoyable access for the consumer market. What is "Sway" for? Is it like Microsoft's version of Adobe Spark Page? So many of these products are badly/barely develooed, badly or poorly explained, and packaged in a way that leaves them quite unattractive. Packaged web apps are a waste of processing power and battery on a laptop of desktop. This is why I hate depending on web apps.

I think you nailed what Microsoft should do, Sean. I cannot think of anything else to add other than "where do I vote for all this?" ;)
Windows Central Newsletter
Thank you for signing up to Windows Central. You will receive a verification email shortly.
There was a problem. Please refresh the page and try again.