Alienware Alpha now ships with $100 of bonus extras for early adopters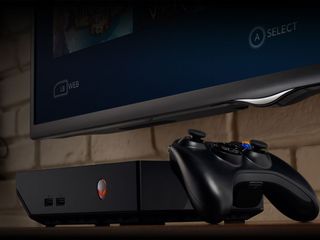 Designed with Steam in mind, the Alienware Alpha console is now shipping and available through Dell or select retailers. Starting at $549, users can configure the Alpha with Intel's fourth generation Core i3, i5, or i7 processors along with NVIDIA's GTX Maxwell GPU. The compact box ships with an Xbox 360 wireless controller and comes with a few freebies if you are an early adopter and decide to take the plunge, including full versions of a number of titles valued at $100.
The Alpha will boot into the Alpha UI out of the box and Dell says that no keyboard or mouse is required to navigate the interface. The Alpha delivers over 600 Steam controller-supported games into your living.
You can currently grab the Alpha from Dell's Alienware site, Amazon, BestBuy.com, Fry's Electronics, GameStop, NewEgg, SamsClub.com, TigerDirect, and Walmart.
Be sure to also check out our interview with the Alienware folks for the inside story to Alpha.
Source: Alienware
Get the Windows Central Newsletter
All the latest news, reviews, and guides for Windows and Xbox diehards.
Chuong's passion for gadgets began with the humble PDA. Since then, he has covered a range of consumer and enterprise devices, raning from smartphones to tablets, laptops to desktops and everything in between for publications like Pocketnow, Digital Trends, Wareable, Paste Magazine, and TechRadar in the past before joining the awesome team at Windows Central. Based in the San Francisco Bay Area, when not working, he likes exploring the diverse and eclectic food scene, taking short jaunts to wine country, soaking in the sun along California's coast, consuming news, and finding new hiking trails.
For that prize I would rather get the Xbox one, but its good to have options

+925 Besides, for the money, I could build a more powerful gaming PC than this anyway.

Umm look on pc part picker or something else no you couldn't windows 8.1 is 100$ and the rest of the parts come to about 500$ so think before you speak.

Maxwell is an architecture not a specific GPU.

I have an Xbox One and I like it, but you can escape the Alpha UI and use this as a full Windows 8 PC I believe, which find me an advantage for some.

With the advent of Windows 10, the One will be almost like a full computer too.

Let's not carried away, my friend. It will still be very limited compared to full x86 Windows 10. I'm sure Windows 10 will bring a ton of improvements to the Xbox One, but to say it'll be nearly a full computer is a bit of an overstatement, I feel.

Graphic resolution won't also be locked to 900p.

Along with Forza 5, Wolfenstein: The New Order, Sniper Elite 3, Halo the Master Chief Collection, etc. Anyone who thinks the Xbox One is locked at 900p, is only deceiving themselves.

So is this supposed to be an Xbox complement?

So, the memory doesn't matter, just the GPU?

Base model is 4GB RAM, all others 8GB.

Yes, but how does that affect performance?

Once you have enough RAM to properly run a specific game, it doesn't really change anything if you get even more RAM.
As for the GPU memory, it mostly depends on the resolution you're playing at. If you play at 1920*1080, 2/2.5GB are enough to run at max 90% of the games out there, if you have enough GPU power to back it up :)

If you're running games like skyrim with lots of mods you need more RAM than if you were playing COD
For skyrim with mods 8Gb is recommended

U couldn't load the splash screen for Call of Duty Ghost with 4GB of ram actually.

Jajajaja
Naaa esta re bueno

No thanks, I love my Xbox One.

I don't get this setup, why have low end gear in a box, we have xbox one/ps4. True gamers will have alot higher specs, myself and 8350, 2x 290x 4gb ram per card, 32gb ram. What I am saying is xbox with windows 10 would give users much more

32gb of ram is definitely overkill (I have 16gb and never come close to using 6gb). But love everything else in your system except the CPU. 8350 is so meh. Last good AMD CPU was my trusty 955BE. Retired last year for a 4670k, and my OC'd 5/6 year old 955BE was performing only slightly lower in terms of performance but much worse in terms of energy usage.

'cos there are hundreds of games on Steam for a fraction of the price of XBLA or GoD.

So an overpriced "console" with only graphics in mind considering alienware didn't really make the controller better because on PC mouse and keyboard will crush it but I prefer controllers

If Valve got their ish together it would have had the Steam Controller.

Which basically became a Xbox 360 rip-off

No upgradable GPU no sale.

Wait for other manufacturers or build your own Steambox (really it's just a small form-factor PC with SteamOS on it). Alienware is to PCs what beats by dre is to headphones.

I'm seriously considering a purchase. A lot of options that has me considering that this is Xbox One & 360 controller compatible, system can be opened & upgraded w/o voiding warranty, all games 1080p @60 FPS. Once steam has the full OS build you can download to upgrade plus any PC capabilities you would expect for your day to day needs.

Just build a cheap windows desktop and you can upgrade parts anytime. I have a mini itx build that is the slightly bigger than two GameCubes and for the right price you could build a solid gaming rig with it for like 400-500 (150 for cpu+mobo, 30 for the case, 50 for psu, 150 for the gpu, 70 for the ram) and you can game at medium to ultra detail (depending on the game) at 1080p.

I would rather put that money on just a GPU alone and have a way better set up than this Alienware box. As a matter of fact that's exactly what I plan on doing. The newish GTx980 is $550 I believe..

Meh. For 500 I could upgrade to something beyond epic. For now I'll stick with what I have.

Nice to have options, this will hopefully show Sony & Microsoft that sticking low end custom apu parts into a box were not the answer. I wonder if this will support dx input via a update so you can use other gamepads (wired) & x1 controller (plugged in) out of the box as well since it already supports the xbox 360 controller?

Dell, care to explain where the USB 3.0 ports have gone?

Nothing against PC gaming, but nextgen entertainment is in the living room with no drivers and os messing around stuff.

Ok so now we have Xbox, Playstation, Wii, Ouya, and Alfa. And with MSFT unifying Windows platform for Xbox and PC Alfa and Xbox will be moving in identical directions. Hmmm.... interesting I can sense 'North American video game crash of 1983'. Look at the over hyped Watchdogs, and Destiny and AC:Unity They got decent scores, and are absolute marvels of the gaming industry. But did they live up to the hype. The last AC game I enjoyed was AC2 the last GTA I enjoyed was 4 the last racing game I enjoyed was Burnout Paradise. I own almost all recent titles. But end up playing Batman Arkham Asylum more than any of the sequels of it that followed.