12 days of tech tips: 6 tricks to stay organized with OneNote
I can't live without Microsoft OneNote. It's my go-to app for storing and organizing my notes and to-do lists, especially shopping lists for the holiday season.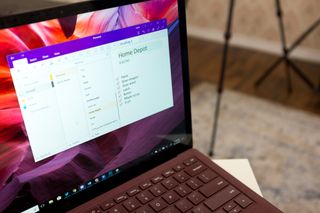 (Image credit: Windows Central)
Since all the data is stored in the cloud, I can quickly open, edit, or create new notes on my laptop and my phone. Here are some of my favorite tips that may help you excel at OneNote.
1. Organize by Notebooks, Sections, and Pages
A great way to organize your notes is by taking advantage of notebooks and sections. When you first open OneNote, a notebook is automatically created for you. While you can start using this notebook with your own notes, you might prefer creating fresh notebooks instead. For example, you can create one notebook for work and another for personal.
You can further add sections to each notebook. For example, my work notebook has a section for meeting notes and another section just for review notes.
2. Save web pages into OneNote
When I stumble upon webpages that I want to reference later, I like to save them in OneNote. Microsoft Edge has a built-in share button that lets you bookmark webpages into OneNote, but if you prefer to use Chrome, don't forget to install the OneNote Web Clipper. It even has more advanced features that let you save whole pages, screenshot sections, or just bookmark the link.
3. Use the search keyboard shortcut
If you forgot which notebook or section you placed one of your notes, the fastest way to find it is by using the keyboard shortcut for search. Simply press Ctrl + E to open a search box to search all currently open notebooks.
4. Use checkboxes for to-do lists
I frequently use OneNote for my shopping lists. Specifically, it helps me stay focused whenever I'm at shopping at Target because I'll end up buying more than what I need if I don't have a list. You can format notes with checkboxes so you can mark off items on the list. Creating lists is even faster on the phone. For example, you can 3D-touch OneNote for iOS, and then tap the List option.
5. Share notes with family or friends
You can share notes with family or friends even if they're not using OneNote. Click the Share button, then Create. It'll send them a link to the page. If you want them to be able to edit the note, you'll need to use the Share Notebook option. It's best to have a separate notebook that's shareable if you don't want others to see your other notes in an existing notebook.
6. Add OneNote to Surface Pen shortcut
If you use are using a Surface Pen (opens in new tab), you can add OneNote as a shortcut by single or double-clicking the top button. The shortcut will make it a lot faster to add notes on your device. You can set it up in Settings > Devices > Pen & Windows Ink.
More tips
These are just some of my favorite tips and tricks to stay organized with OneNote. Do you use OneNote? Let us know your tips and tricks that we should have included on this list!
Windows Central Newsletter
Get the best of Windows Central in your inbox, every day!
Love OneNote. Great UWP app ( one of the few)

Always looking for new tricks and ways to better utilize OneNote

As a OneNote Power user, id say get this for much more functionality https://getonetastic.com/ Only thing I despise is the Android version of OneNote, you cant collapse sections and notes!! - I have thousands of pages across multiple notebooks, I hope they sort that, unusable in its current form. Another simple tip is to go into settings and set the default section to say an INBOX Section (as in David Allens GTD organisation system that works very well with OneNote) so all clippings, emails from Outlook, quicknotes go to that one INBOX, makes it very easy to process. OneNote Desktop is much more powerful than the App, the App is good for basic stuff. I love OneNote, the best piece of software MS has ever made IMO.

Same here, I use OneNote a lot, i have it installed in all my PCs, smartphones and tablet and I find it to be a great app, because it lets me take notes anywhere anytime, whenever I get the inspiration, remember or need to write down something, and then find them all on whatever device i am using. The other free annotation tool I use a lot is Sticky Notes. What I am dreaming of is the integration of these two tools. I keep StickyNotes open on my desktop with my to-do list at work. Whenever there is a new task, I got an email or something I just update the list in Sticky Notes and simply prioritize the tasks putting them in the right order and adding asterisks. Super simple and works so well for me. What I would like to see is Sticky notes integrated into OneNote as a separate Notebook. Each time I update something on my Sticky Note it gets updated in OneNote, then through OneNote I could open the same Sticky Note on another PC's desktop. That would create the easiest and most practical way of managing day-to-day work for me.

I learned something new: Keyboard shortcut for search: Ctrl + E 😁 OneNote is my most used Office tool for everything that is worth remembering 😌

Possible to display some note to see on screen directly(mobile devices)? Or even on off screen? Samsung notes offer that, its awesome, I was wondering if onenote can do this too...?