6tag picks up Instagram Direct in version 3.0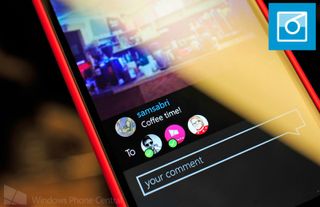 Head to the Windows Phone Store and you'll see an official Instagram app for Windows Phone. However, you're going to want to grab 6tag if you want some features found on the official Android and iOS apps. 6tag 3.0 is in the Store and brings an improved design in addition to supporting Instagram Direct. Details below.
The last update for 6tag brought bug fixes and improved security for the app. That was version 2.2.4 of the app, but now we've got 3.0 in the Windows Phone Store. What's in it?
Instagram Direct
Improve design
Instagram Direct is the newest feature in the official version of Instagram on both Android and iOS. The blog post from Instagram announcing the new feature says that the Windows Phone version is in beta and to stay tuned for updates. Or you could just download the latest version of 6tag to try out Instagram Direct.
What is it? Think Snapchat. Instagram Direct allows you to send "private" messages to your friends. The difference is that images don't disappear after an allotted time limit and everyone can view who else received the picture. That doesn't make Instagram Direct a competitor or threat to Snapchat yet, but the functionality looks to be there. Everyone who receives an image via Instagram Direct can post a comment and view comments left by other recipients.
The feature itself might have limited use to most people, but it's impressive to see it supported in 6tag already. It only came out eleven days ago for other platforms.
Version 3.0 of 6tag also includes improved design throughout. Notice any changes? Sound off below. Don't forget to tell us what you think of the new feature.
Want 6tag for Windows Phone? Grab it in the Windows Phone Store for free (includes in-app purchases). Or you can use the QR code below.
Thanks for the tip Kjell-Einar W!
Get the Windows Central Newsletter
All the latest news, reviews, and guides for Windows and Xbox diehards.