These were my essential Surface Book 2 accessories for everyday use
The Surface Book 2 continues to amaze me for its craftsmanship, and elegance, but like any Windows PC, it's always worth having an army of accessories to go with it.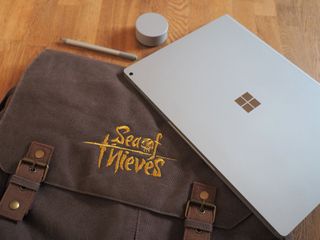 I was a big Surface Book 2 user, rocking it as a creative powerhouse with a bit of gaming on the side. I was primarily using it to create content, via video editing, blogging, podcasting, and streaming on Mixer. I'm also doing some light gaming on the side, indulging in PC-only games like Stellaris, World of Warcraft, and Heroes of the Storm, alongside Windows Mixed Reality. I've sinced moved over to a Razer Blade 15 (opens in new tab) for more gaming chops, but if you're looking for accessories for your Book 2, look no further.
The Book 2 is the most versatile device I've ever used, wrapped in a svelte and portable package. Thanks to its serious GTX 1060 GPU, I can finally use it the way I wanted to use my Surface Book 1. And for those that have been asking, I thought I'd round up the accessories I was using to get the job done.
See Surface Book 2 at Microsoft Store (opens in new tab)
Microsoft IntelliMouse Pro
Recently I was lucky enough to test out Microsoft's IntelliMouse Pro, and while I expected it to be an average mouse that would gather dust in a drawer after review, I so far haven't been able to put it down.
The IntelliMouse is an aggressively ergonomic mouse with one of the most robust sensors I've ever used. My antique wooden desk is a barren wasteland of pockmarks, scratches, and dried paint from decades of art abuse, but the IntelliMouse laser makes short work of it even without a mouse mat. It has a bunch of improvements over the IntelliMouse Classic too, including better materials, a braided cable, and RGB lighting.
It comes with two additional buttons which can be programmed with all sorts of extra features, and a scroll wheel that feels as good as it is functional. This has become my favorite mouse of recent times. There's a reason kids at my school always used to steal the original IntelliMouse from the 90s. It can be yours for just $60.
See at Amazon (opens in new tab)
Razer Vespula V2
While the Microsoft IntelliMouse can be used on practically any surface (even glass), I figured I should treat my wrist as well as my palm after I received the IntelliMouse, so I picked up a Vespula V2 mousemat from Razer.
The Vespula comes with two different textured sides for different purposes. The plastic side offers faster mouse movements, while the rougher, fabric side allows for more precision. The best feature for me, though, is the generous memory foam wrist rest that forms its base. No longer do I have to rest my wrist on the wood of my desk, and my arm feels way better for it. The Vespula V2 can be yours for around $40.
See at Amazon (opens in new tab)
Turtle Beach Elite Pro Tournament (PC Edition) headset
I use a lot of headsets in this job, and there's one product I always go back to: Turtle Beach's Elite Pro Tournament headset. It's supremely comfortable, durable, reliable, and sounds tremendous. Furthermore, the omni-directional microphone with in-line controls is surprisingly high quality for creating voice overs for YouTube clips, making it a versatile companion for gaming and creativity.
The PC edition comes with a USB interface, but there are 3.5mm cabling options out there too if you want to go mobile. You can combine the headset with a Elite Pro Tactical Audio Controller too for consoles, making it an extremely powerful esports-grade headset, with accurate DTX 7.1 surround and a cavernous soundstage. Cannot praise this headset enough. You can grab the Elite Pro for around $200.
See at Amazon (opens in new tab)
Surface Dock
I actually have two of these, and regard them as absolutely essential if you're a frequent desk hopper. I purchased one to use at work in the office at my previous job, and kept one at home too, so that I could just dock and go.
The Surface Dock is a large, heavy brick with four additional USB ports, ethernet, two additional mini-display ports, and a 3.5mm audio jack. It connects via the Surface Connect port, providing power and data, allowing you to just connect up your Surface and gain all of those additional devices at your desk. The weight is to prevent it from sliding around when you have several accessories plugged into it.
The Surface Dock has a couple of limitations, in the sense that its charger has lower power than the Surface Book 2 charger, leading to some battery drain issues in more intensive situations. Additionally, despite sporting four USB ports, it feels like it can get easily overwhelmed if you connect up too many devices. I use it primarily for my mouse, and my Elgato capture equipment. You can grab it for $200.
See at Microsoft Store (opens in new tab)
Hex Sleeve
I picked up this "15-inch MacBook" sleeve on a whim from our own Surface Book 2 sleeve roundup, purely based on the aesthetics, and I'm extremely happy with it.
The Hex Sleeve fits the Surface Book 2 near perfectly, and has generous amounts of cushioning to keep it safe in your bag. The material on the outside is extremely durable, made of a waterproofed wax canvas. It's not the cheapest bag you can get at $40, but I have no regrets.
See at Amazon (opens in new tab)
Surface Pen
Another essential piece of kit for any Surface user is some type of pen, and rather than branch out with third-party options, for now I've picked up the $99 Surface Pen. The latest Surface Pen supports tilt, 4,096 points of pressure, and a clickable eraser on the reverse end. It's also magnetic with the Surface Book, which makes it convenient to store (and not lose). Although I had some driver issues initially, once I got everything set up and running properly with the Surface Book 2, the latency between ink and pen is almost imperceptible.
It comes in a range of colors, and is available for $99.99.
See at Microsoft Store (opens in new tab)
Surface Dial
I always wondered if the Surface Dial was a superfluous gimmick or the real deal, and after finally giving it a go for myself, I can't imagine drawing without it now.
The Surface Dial is a hockey puck-like device that can rest on your compatible Surface's display, creating contextual menus for all sorts of popular inking apps. So far, I've only been using it in Sketchable, and found it to be an incredibly intuitive option for changing the size and intensity of my brush, without having to defer to the app's menu or use a set of hotkeys on the side.
I'll be going over the powers of the Surface Dial in more detail in the future, but if you're already eager to go, it's available for $99.99.
See at Microsoft Store (opens in new tab)
Elgato HD60 capture card
For streaming on our Mixer channel, I'm utilizing a combination of XSplit and Elgato's HD60 USB capture card, plugged into my Surface Dock.
The HD60 captures video game footage at a maximum of 1080p with 60 frames per second. While my upload speed here is nowhere near strong enough to use the HD60 to its full potential, the ease of use, small product size, and affordable price makes it an absolutely essential piece of kit for any streamer. While you can stream directly from Windows 10 or an Xbox One console, you need an Elgato and compatible streaming software such as XSplit to get stream overlays and other triggers, and the HD60 is a great place to start.
There is a more powerful USB-C option (opens in new tab) (and an even more powerful PCI-e option (opens in new tab) with 4K capture), but if you'd like to keep your USB-C port free, this is a great option at around $160.
See at Amazon (opens in new tab)
Elgato Stream Deck
If you'd rather not rely on bots to deliver your messages to chat while streaming, you have to take a look at the Elgato Stream Deck, which features 15 programmable buttons and toggles, with deep integrations for all sorts of services. However, the interesting thing about the Stream Deck for Surface users is that it can provide you with a range of hotkeys when you're using the Surface Book 2 in canvas mode, which for artists, creates a valuable proposition for programs like Clip Studio Paint, Adobe Animate and Photoshop.
You can set up different profiles for different programs, making it extremely versatile, even for non-streamers. The Stream Deck is available for $150.
See at Amazon (opens in new tab)
HP Mixed Reality headset
Thanks to the GTX 1060 GPU inside this thing, the Surface Book 2 is a capable VR machine for use with Windows Mixed Reality. I've been using it with my HP Mixed Reality headset to that end, and found the experience to be totally solid and comparable to that of my Razer Blade.
While you're going to need a USB-C HDMI adapter (opens in new tab) to leverage Windows Mixed Reality on the Surface Book 2, due to a lack of HDMI port, the impact the dongle has on the experience is imperceptible.
HP's Mixed Reality headset isn't as good as the Samsung Odyssey headset, but it more than gets the job done if you want to jump in for an early adopter experience. The Mixed Reality headset, complete with motion controllers, is available for around $261 on Amazon right now.
See at Amazon (opens in new tab)
That's a wrap!
Those are the main accessories I'm using with my Surface Book 2 right now, although I'm looking into external monitors, desk mounts, and a desk stand too to get some additional elevation. The Surface Book 2 isn't cheap, but if you're planning on using all of its features, there really is no laptop on the market that can exude this level of versatility, with this amount of power and craftsmanship. Head over here for some more of my early Surface Book 2 impressions, and over here for our official review from Executive Editor Daniel Rubino.
If you're rocking a Surface of any kind, let us know what your favorite accessories are in the comments!
Update July 26, 2018: I have updated this article with the new mouse and mousemat I am using, because they are awesome.
Windows Central Newsletter
Get the best of Windows Central in your inbox, every day!
Jez Corden a Managing Editor at Windows Central, focusing primarily on all things Xbox and gaming. Jez is known for breaking exclusive news and analysis as relates to the Microsoft ecosystem while being powered by caffeine. Follow on Twitter @JezCorden and listen to his Xbox Two podcast, all about, you guessed it, Xbox!
You want us to ask about that bag in the first photo don't you.... 😉

Haha, well... I took that just to post on Instagram, but it seemed to fit into the post haha. Sadly you can't buy the Sea of Thieves bag anywhere... but stay tuned, cus we're going to give it away on Windows Central soon.

Does the dial work on-screen with the SB1? Or the SP4?

I don't think the Book 1 or SP4 is compatible on-screen.

That said, it works perfectly fine on the desk beside your Surface. On smaller screens, it allows for more room as the Surface Dial graphic doesn't take up as much room. I think a 15-inch display is probably the minimum size for comfortably using the dial on screen. YMMV.

Does the dial "stick" to the screen, or is it something you have to hold onto the screen whenever you use it?

What bag do you use to hold all of this stuff? The Sea of Thieves bag seems small for all of these.

You're correct. For travel I'm using a Turtle Beach backpack which I don't think you can get in stores, and a larger laptop back my girlfriend got me a few years ago. The SoT bag is enough for just a laptop and charger though, thankfully!

Hmm I detect a certain inconsistency between this recommendation of the HP Mixed Reality headset as an everyday accessory for the Surface Book 2 here, and the more disparaging comments on the use of WMR on a Surface Book 2 in general, in the article "How well does a Surface Book 2 handle Windows Mixed Reality?", a mere 20 hours later by the same author.

Why? It's still doable, but I'd never recommend a Surface Book 2 for Windows Mixed Reality, my experience on my Razer Blade 14 was way better, as described in the article. But I use the HP headset with my Surface Book 2 "just fine," as described in the article. :P

Looking forward to the surface dial article. I own one but rarely use it with my sb2.