Everything you need to start streaming games to Twitch or YouTube
Whether you need a microphone or good broadcasting software, it's all here.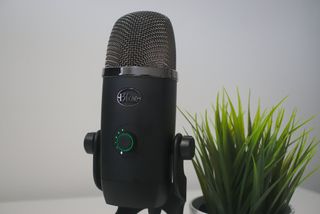 (Image credit: Windows Central)
Instead of simply playing PC games, if you've ever dreamt about thousands of people watching you play them live on a streaming platform, you'll be pleased to learn that it's relatively straightforward to get started. All you need is a capable PC, some additional equipment, broadcasting software, and you're good to broadcast out to the masses.
Important: Due to current world events, item listings may come and go, depending on stock levels.
All the hardware you'll need to stream
Whether you want to broadcast on Twitch or make Let's Play videos for YouTube, there's some equipment you'll want to invest in first. Before we even consider software choices, you need to make sure you've got quality hardware for capturing voice and video, so you can properly interact with your audience.
What you'll need inside your PC
Building a gaming PC is one thing, but putting together a machine that can not only handle playing a PC title but can also encode a continuous stream and publish it to the outside world, that's a whole different ballpark. Luckily, it's not difficult to build a PC that can do both to a degree, and if you want to take streaming seriously, you can later add a separate dedicated streaming machine. Be sure you don't skimp on a GPU; check out our collection of the best graphics cards available now.
How to build a streaming PC for less than $1,200
Microphones
You might have a basic microphone kicking around or a gaming headset that's fine enough for in-game chat, but if you want to produce high-quality Let's Play streams and commentary videos, you're going to want a good dedicated microphone. We've rounded up some of the best microphones out there, recommending either the Blue Yeti (opens in new tab) or HyperX QuadCast (opens in new tab). Both are sturdy and reliable desktop microphones built with streamers and podcasters in mind.
They're both easy to set up too. You get multiple record modes and direct controls for headphone volume, mute, and microphone gain. Connecting via USB and requiring no software to makes it easy to plug 'n' play. USB microphones are a great way to go, but there's also the choice of professional studio condenser microphones like the Audio-Technica AT2020 (opens in new tab). These require a little more in terms of money, accessories, and time to get everything working, but the end results can even surpass USB microphones like the Blue Yeti for scalability and audio control.
Trusted USB Mic
(opens in new tab)
The best for streamers who don't want any hassle

This professional microphone is built around three condenser capsules and includes bi-directional, omnidirectional, and stereo recording options. It's not only fully compatible with Windows, but also rocks physical controls for volume, gain, and even a mute button.
Gaming USB Mic
(opens in new tab)
An almost perfect gaming mic

HyperX opted to include everything you need with the USB QuadCast, including a built-in pop filter and pre-installed shock mount. Use the bundled stand or hook the mic up to your own mount.
Condenser Mic
(opens in new tab)
Studio-quality audio recording

Perfect for gaming or streaming online, Audio-Technica's AT2020 condenser microphone delivers high-quality, professional sound for any video game experience and at a great price too. The only drawback is all the additional equipment you'll need.
Webcams
Once you've got your audio recording equipment figured out, you'll want to consider whether you wish to record your face too. If so, a decent webcam is required to record your beautiful face as you play and stream/record. Most DSLR cameras can be used as webcams when connected to your computer via USB, so use one if you have one, as they will produce the most professional-quality video for your streams. If you don't own a DSLR and don't really feel like dropping a small fortune acquiring one, there are many quality webcams for you to choose from.
We suggest the Razer Kiyo (opens in new tab). It's a formidable webcam that simply clips onto your monitor and lets you record your gaming face in 1080p. It also features a ring LED light to better illuminate your mug and improve stream quality — it shouldn't be underestimated just how important lighting is for recording video; it's right up there with capturing your voice and in-game footage.
Lit Face
(opens in new tab)
Razer's webcam with an important party trick

The Kiyo is part of Razer's streamer certified range and it has one very important feature: A big ring light on the front. For streamers short on space for lighting, the Kiyo can solve the issue of being seen while you're broadcasting, with a simple twist adjusting the brightness.
4K Webcam
Super-crisp video recording

If you really want your webcam video to look its best, Logitech's new BRIO is the one for you. It was the first webcam to hit the market with support for 4K video, meaning super-crisp footage in apps that support it. It's also pretty well-rounded, with a neat background replacement feature and support for the important Windows Hello security features in Windows 10.
Capture Cards
So, you've got the parts to put yourself on the internet, and streaming from your PC is easy — you just need the right software. But what about from your Xbox? For that, you'll need a capture card. You've basically got two options to consider — an internal capture card, which you'll need to install inside your PC tower, or an external capture card that connects to your console and PC via HDMI and USB. Check out our breakdown of the best capture cards for more details on what makes for the best streaming option.
Internal capture cards have the benefit of taking a load off of your PC hardware and recording more efficiently at a higher quality. If you're able to install it in a dedicated stream-recording PC, you can easily record both your PC gaming and your console gaming without having to worry about splitting resources between running your games and the stream capturing software. Something like the Avermedia Live Gamer 4K (opens in new tab), which allows you to capture and stream your gaming footage in up to 4K at 60 FPS at a reasonable price.
If you've got a laptop that you were planning to use for streaming, installing a capture card inside it isn't going to happen. But there are external capture cards you can use instead. We recommend the Elgato HD60S (opens in new tab), it can work with any modern console in crisp 1080p at 60 FPS. Simply connect the capture card to your computer via USB (it uses the modern USB-C standard), and connect your console to the HDMI-in port and your TV to the HDMI-out port and away you go. You'll be able to enjoy lag-free gaming while your footage is pulled onto your PC for recording or streaming.
Internal Capture Card
(opens in new tab)
Incredible recording capabilities

On a hardware level, the Avermedia Live Gamer 4K is the top dog right now for consumer-grade capture cards. Not only will it capture 4K video at up to 60 frames per second (FPS), but it will also allow capture of HDR Passthrough, too. It's an internal capture card (with added RGB, which is terrific) and for folks using it to capture PC footage, the Live Gamer 4K can do 1440p at 120 FPS and 1080p at a whopping 240 FPS.
External Capture Card
(opens in new tab)
HD recording from your console

As an all-rounder, you can't go far wrong with the Elgato HD60S. The newest external capture card from Elgato has a fast USB 3.0 interface for low latency and an instant game view for 1080p 60 FPS footage. Elgato also future-proofed the HD60S somewhat by equipping it with the new modern USB-C connector. Elgato's beginner-friendly software is also included, and it can access sources like your microphone and webcam to make your broadcast really look its best.
Software to make all the magic happen
You've got your microphone, webcam, and an optional capture card if you're a console gamer. The final step is figuring out what broadcasting/recording software you want to use to get your game footage and commentary to your audience in style. Luckily, there are some excellent options here, both commercial and freely available.
XSplit offers up two applications that should cover all the bases for streaming your gameplay to your adoring fans. XSplit Broadcaster gives you a full video production suite to customize the look of your stream. Set up your webcam and game capture as sources, customize your layout, and then you're ready. XSplit Gamecaster makes things even easier, letting you click to stream or record your gaming and quickly add a webcam — with chroma key support if available. XSplit supports Twitch, YouTube, and Livestream, so you'll have the freedom to host your streams where you prefer.
XSplit offers a free plan, but in order to enjoy all the benefits that come with using the included software packages, you'll want to opt for the upgraded plan. You can buy a lifetime license for $449 or pay monthly.
If you're looking for a free, open-source screen-recording software option, then Open Broadcaster Software (OBS) is just what you want. Given that this is open-source software, it certainly isn't the prettiest option out there, but it's absolutely free with some user-created plugins available. Choose between OBS Classic for Windows or OBS Studio that supports Windows, Mac, and Linux.
Streamlabs has a special version of OBS called Streamlabs OBS available with some additional features and an enhanced UI, which is worth considering.
Windows Central Newsletter
Get the best of Windows Central in in your inbox, every day!
Rich Edmonds was formerly a Senior Editor of PC hardware at Windows Central, covering everything related to PC components and NAS. He's been involved in technology for more than a decade and knows a thing or two about the magic inside a PC chassis. You can follow him on Twitter at @RichEdmonds.
This was a seriously interesting article, thanks for posting! Not a big gamer myself but I definitely learned something here:) Posted via the Windows Central App for Android

Agreed, very informative. I did see two typos where it said 'care' instead of 'card' if someone can take care of that.

I love the Blue Yeti, I use it for all my professional productions. I especially like how you can switch the type of directional audio capture. I recommend the stereo capture.

I'm a bit peeved they never paid mention to Hitbox as well as up and coming starter Beam. I'm a streamer myself though. My setup consists of an Audio Technica AT2020 XLR microphone, hooked up to an Alesis MultiMix 8 USB, and for webcam I went with the Logitech C920. As for capture card, I certainly recommend the AVerMedia Live Gamer Portable, and is what I use. It's an external capture card with a miniscule amount of delay but you can record your consoles like your Wii and PlayStation 3 with it. For those really serious about older consoles, your only option is the Elgato Game Capture HD. This features an AV in port that can understand even composite input (think those old Sega Mega Drives and stuff). I'm considering one to play some older games on. Of course you can just emulate but if like me you demand an authentic experience of the actual console, then this is the way to go for older consoles.

How can I record what I am doing on my pc screen?

Lookout the SOFTWARE Para in last of this article.
I recommend you OBS. After installing the software, follow the instruction.

Hit Windows+G on your keyboard (Windows 10).

If you have an Nvidia card, their software supports recording. I've used it to record some bits when I'm playing Elite Dangerous.

One thing that new streamer setups usually omit is DECENT LIGHTING if you're going to be face-streaming. I use the 920, and as good as it is, if you rely on a desk lamp or just overhead, ambient lighting, it'll still look kinda cruddy. Two small lamps on either side of the monitor that can be unobtrusive and non-blinding will help.

All you need to stream games via Twitch on Xbox One: a Kinect. Much simpler.

And we see how well that paperweight worked out. Good riddance.

NVidia's broadcast feature works really well for me also as I only have a top of the range haswell i5, it means that my gtx 970 does the hard work and leaves my system a lot less taxed. Would be a lot better with some placement options for webcam etc but hey, it works better than xsplit/obs for what I want from it.

I believe OBS Studio supports NVIDIA NVEnc. Which means it'll use your graphics card to do the encoding. Also with Haswell you gain access to Intel QuickSync which uses a built in encoder on the CPU to do the encoding, thus freeing up your graphics card and I believe your processor too.

Yes but shadow play is trivial to setup. I also had tons of issues with Xsplit taking control of my keyboard when I ran it with certain games (making it impossible to control in FPS games, etc.). It was unusable. Nvidia has always been flawless. OBS, I can't be bothered to set it up. Designed mostly for the developers, and not the actual users. Once you set it all up, it's fine. But I can't be bothered to fiddle with it. Absolutely awful UI. Microsoft has native streaming to Mixer, and better controls for webcam placement than shadow play. However, no controls for stream bitrate, etc. And I don't use Mixer. It's like playing a second game while streaming or spectating. Cluttered and unnecessary.

Thanks for the suggestions. I really want to stream my favorite games, sadly my connection won't allow me, not even in 360p. I hate ISPs in Mexico :(

I have used OBS.. And it is easy-to-use by a beginner.

Can i just used the Ps4 with the Ps camera?

Yes you can. A lot do, but the quality isn't the greatest.

After watching Paul stream so long and doing it a few times myeslf. I plan to stream more.. My user is Swizzlerzs on twitch. on youtube some weird number letter combination.

Definitely... I have the Blue Yeti and capture card... heck, even have the software (Sony Vegas Pro & Adobe Premiere).

Or just stream to Mixer which is native to Windows 10

What do you mean by native? As far as I know it's just programmed by MS.

GPU: GTX 1080-Ti
CPU: Intel i7-8700K
Mic: Blue Snowball
Camera: Logitech C920
Capture Card: Elgato HD60 Pro
Blue Screen: WebAround Wide Shot
Software: OBS, Streamlabs
Consoles: PC, Nintendo Switch, PS4
Sponsor: Guild Wars 2 / ArenaNet
Streaming since 2016! I'm on a break from streaming because of wedding planning & swamped with the start-up programmer life. I'm waiting to move into our house a few months before we get married to make a streaming room. My fiancée and I will be making a mixed reality room with a 8 x 8 foot green cube. I had to do a little bit of convincing to get him to be okay with a mixed reality room, but it will be worth it for everyone !

A cool thing is you can stream to YouTube/Twitch and Mixer simultaneously by pressing the Xbox button on your controller (assuming you're using an Xbox One controller with your PC)

Streamlabs OBS (OBS fork) is a beginner friendlier streaming app and offers you gr8 intro into OG OBS.

I cannot promote XSplit more strongly. I've been using it since the beta days, and it's just phenomenal. You can easily bring in multiple sources, and can create multiple "scenes" to move between. You can identify screens, portions of screens or particular windows to bring in as a source. When I do my video cast, I have three webcams--one is a full shot, one is a shot of anyone I have guesting, and the third one is the host shot. I had lower thirds to them. I have opening credit and tag scenes. I have scenes set up for capturing apps or browser shots. I have scenes to throwing up previously recorded videos (like my scuba diving shots). You can set up different transitions between scenes. And you can tweak your bitrates, resolutions, etc., to accommodate your computer's capability and your internet connection. I really, really love this software.
Windows Central Newsletter
Thank you for signing up to Windows Central. You will receive a verification email shortly.
There was a problem. Please refresh the page and try again.