The Alienware Wireless Gaming Mouse (AW620M) is simple but good. It offers a comfortable design, reliable performance, and a solid wireless experience. It's not as impressive as other wireless mice, and its build quality isn't perfect, but it's a great option for under $100.
Pros
+

Comfortable design with simple RGB lighting

+

Reliable performance with decent options

+

Stable wireless connection and solid battery life
Cons
-

No way to store USB dongle or quickly toggle RGB lighting

-

Build quality is just a little less than perfect
Why you can trust Windows Central Our expert reviewers spend hours testing and comparing products and services so you can choose the best for you. Find out more about how we test.
Alienware makes a wide range of gaming hardware and accessories, including this wireless gaming mouse. Under the AW620M model number, this is a mid-range wireless gaming mouse that attempts to balance performance, features, and price. I've been using it for a few weeks now, and I've enjoyed my time with this mouse.
The Alienware Wireless Gaming Mouse (AW620M) isn't perfect, and it can feel a little expensive for what you're getting. Overall, though, it's a good and reliable wireless mouse that should make most users very happy, especially if its unique "Legend 3" design is a good fit for the rest of your gaming setup. Does it stand among the best gaming mice, though? Let's find out.
Disclaimer: This review was made possible by a review unit provided by Dell. The company did not see the contents of the review before publishing.
Alienware AW620M: Pricing and availability
Alienware prices the AW620M wireless gaming mouse at a cool $99.99, which is verging on lower-end premium wireless gaming mice from Razer and other manufacturers. This price feels mostly appropriate, although it might be difficult to justify if you don't love the very Alienware-esque aesthetic, considering the stiff competition from other companies. I've regularly seen the AW620M on sale for $89.99, which helps its price-to-features ratio.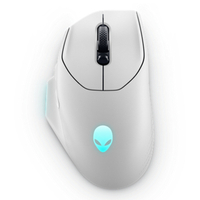 Alienware Wireless Gaming Mouse (AW620M)
Alienware's basic wireless gaming mouse looks and feels good in the hand, offers reliable performance in games, and packs just enough features for its almost-too-high price tag. Available in two colors, it's a solid option for anyone in the market for a new mouse.
Alienware AW620M: Build quality and ergonomics
The Alienware AW620M mouse is constructed entirely of light, matte plastic, but it's not a light mouse overall. At just under 100g, it's pretty middle-of-the-road for wireless gaming mice. It trades the constant chasing of lighter weights for a roomier, more comfortable design than some other gaming mice, with a well-placed thumb rest and a healthy curve to rest your hand on.
Alienware AW620M specs
Price: $99.99
Design: Right-handed
Connectivity: 2.4GHz wireless via USB Type-C dongle, USB Type-C wired
Sensor: Optical, 26,000 dots-per-inch (DPI), 1,000Hz, 650 inches-per-second (IPS), 50G max acceleration
Buttons: 7
Battery life: Up to 140 hours, USB Type-C fast charging
Extra features: AlienFX RGB lighting, 5 on-board DPI profiles, Alienware Command Center integration
Weight: 99.8g (3.52oz)
Dimensions: 132.1mm x 78.7mm x 40.6mm (5.2in x 3.1in x 1.6in)
It's a comfortable mouse with a nice shape that makes it easy to access all the buttons and maintain a steady grip. The matte plastic has a smooth texture, so it's far from the grippiest mouse around, but subtle grips on either side look good and do their job. I had no issues using this mouse for extended bouts of competitive gaming and other computer-related work. It's distinctly designed for right-handed gamers, though, and there's no left-handed option or an equally-specced ambidextrous alternative from Alienware.
It's a minor complaint, but I also did feel a little bit more cramped on the Alienware AW620M than with my daily driver mouse, the Razer DeathAdder V3. Despite being a physically longer mouse, my fingers consistently hung off the front of the AW620M compared to the DeathAdder V3. It didn't affect usability at all, but it is a slight ding to comfort that I think can be attributed to the gentler slope of the AW620M and the stylized cut of the left side of the mouse.
Build quality-wise, and the Alienware Wireless Gaming Mouse is almost exactly right. It seems well constructed with a solid body and great, consistent button actions. There's some creaking if you squeeze the mouse that isn't there in even more affordable mice like the DeathAdder V3. My biggest concern, however, is the USB Type-C charging port. This mouse uses an internal battery, not a replaceable one, so the charging port is vital both for keeping the battery alive and being able to plug the mouse in as a backup. However, the charging port is disturbingly loose, with a significant amount of up-and-down wobble when you plug in a charging cable. It makes me worried for the long-term durability of this mouse.
Alienware AW620M: Performance
With a 1,000Hz polling rate and an optical sensor that can go up to 26,000 DPI, the Alienware Wireless Gaming Mouse (AW620M) is well-equipped to help you dominate in games. In practice, this is one area where I didn't have much to critique. Alienware's USB Type-C 2.4GHz wireless dongle (which is tiny, by the way) allowed for a rock-solid connection that never dropped or stumbled in my weeks of use.
Alienware's mid-range wireless gaming mouse is a reliable performer. Set to the 2,400 DPI that I find comfortable for day-to-day use, the AW620M is comparable to my DeathAdder V3. It's not quite as good or responsive (the DeathAdder V3 still feels smoother, likely aided by its lighter weight and wired connection), but playing plenty of Valorant and using the AW620M for everything else I do on a computer was fun and consistent.
Every button on the Alienware AW620M also feels great, with a satisfying tactile response. The scroll wheel is the one weakness in this regard, but that's not to say it's bad. The scroll wheel still has solid action, but it's not as good as the rest of the buttons or my DeathAdder V3. That said, I like using the AW620M. An argument can be made that you can find more performant mice elsewhere, but I have no real complaints here.
Alienware AW620M: Connectivity and battery life
The Alienware Wireless Gaming Mouse (AW620M) cannot connect via Bluetooth, so it won't be the best for road warriors that need quick (or multiple) connections without taking up precious ports. You have a compact, 2.4GHz USB Type-C wireless dongle (with a USB Type-C to Type-A adapter in the box) and can connect the mouse directly via a USB Type-C cable (which you'll need to do if you want to update its firmware).
The lack of Bluetooth is a small shame, but it's not a critique at this price point and considering this mouse's focus. The 2.4GHz wireless connection lacks a special Alienware brand, but it's rock solid all the same. It also helps contribute to the AW620M's decent endurance. Alienware quotes this mouse as having up to 140 hours of battery life. I couldn't approach those heights, but I also had the RGB lighting going the entire time, which understandably takes a decent chunk of the battery life.
I think most users will be very happy with the longevity of this battery, with or without the RGB lighting. I wish there were a way to quickly toggle the RGB lighting on and off directly from the mouse, but unfortunately, you can't. Your only option is to open Alienware Command Center and disable it from there, which means waiting for it to load and recognize the mouse is connected and then diving into settings. A simple button on the bottom would've been appreciated.
There's also nowhere to store the USB dongle when you're not using the mouse. Alienware isn't targeting this mouse toward those who travel and benefit most from this feature, but it should be here all the same. It's a tiny dongle, so it should be easy to store inside the mouse. As it stands, the dongle is too easy to lose.
Alienware AW620M: Extra features
Alienware's AW620M is hardly the most feature-packed wireless gaming mouse out there, but it's hardly a slouch. On top, you get a two-way rocker to switch between five onboard DPI profiles, which you can customize through the Alienware Command (ACC) Center. Speaking of the ACC, you get a handful of other features and settings you can customize through it.
It takes endless ages for Alienware accessories to actually appear in the Alienware Command Center once you connect them, and you may be disappointed by the number of options available to you once they do appear. Still, it's your only way to access some of the AW620M's additional features, such as the customizable AlienFX RGB lighting. It's present in the logo, the scroll wheel, and the thumb rest, and you can customize each individually with millions of unique colors and a ton of various modes and presets.
Outside of that, you can rebind all seven buttons on the Alienware AW620M, although your options to do so are limited. There are no ways to assign media controls or any system actions or even a way to change different mouse settings and presets on the fly. You can assign each button to perform a series of keystrokes you record, open a specific program, or paste a text block. Finally, you have various settings for power saving modes, polling rate decay, pointer precision, speeds of various actions, DPI and onboard profiles, and lift-off distance (between 1-2mm). You can also update the mouse's firmware through Alienware Command Center, provided you plug in via a cable.
Alienware AW620M: Competition
There's no shortage of excellent gaming mice, wireless and otherwise. Even in the same price range as the Alienware Wireless Gaming Mouse (AW620M), there are plenty of great options. I'll just name a few, but you can always peruse our list of best gaming mice for more alternatives.
First up is the HyperX Pulsefire Haste 2, which comes in both wired and wireless versions. Both undercut the cost of the AW620M, and feature a higher polling rate, significantly lighter weight, and optional grip tape. The wireless version features both 2.4GHz and Bluetooth connectivity, as well. Sure, the design isn't as comfortable or flashy and you lose some RGB flair, but this is an excellent way to get a lot of the same features as the AW620M in a more affordable package.
Able to spend a little more? Razer has many options, like the incredible Razer DeathAdder V3 Pro, the Razer Basilisk V3 X HyperSpeed, and the new Razer Cobra Pro. All three of these mice are different in various ways, but they all boast several advantages over the AW620M in exchange for higher price tags. These are three very premium mice and are worth the price attached to them. If you're okay with a wire, the Razer DeathAdder V3 I've mentioned throughout this review is more performant, lighter, built better, more affordable, and just as comfortable as the AW620M... but you lose the wireless connectivity, RGB lighting, and thumb rest.
Beyond HyperX and Razer, other companies like Logitech and SteelSeries also craft excellent, versatile mice that can go toe-to-toe with the Alienware Wireless Gaming Mouse (AW620M).
Alienware AW620M: Should you buy it?
You should buy this if ...
You want a solid, all-around, comfortable wireless gaming mouse
The aesthetics of this mouse match your gaming setup
You don't want a super-light mouse
You should not buy this if ...
You want the best price-to-features ratio you can find
You want a focused, light, high-performance mouse
The Alienware Wireless Gaming Mouse (AW620M) is not replacing the Razer DeathAdder V3 on my desk. Wireless is convenient, sure, but I can't pass up the performance and design of the mouse I already have. That being said, I really enjoyed using the Alienware AW620M. It's simply a good mouse with no major flaws; for most users, that'll be enough.
It doesn't have industry-leading performance, an astonishingly packed feature set, or a crazy low weight, but it's comfortable to use, looks nice, performs well, and lasts quite a long time. All of that for just under $100 is a solid bet, and it's certainly a huge improvement over the predecessor to this mouse, the Alienware AW610M, which was thoroughly thrashed for its unconventional (and awful) squid-like design. If you dig the design of the Alienware AW620M and want a wireless gaming mouse with good performance and RGB lighting this one should be on your list.
Alienware Wireless Gaming Mouse (AW620M)
Other gaming mice manufacturers aren't shaking in their boots, but Alienware set out to make an all-around good wireless gaming mouse and it succeeded. The Alienware AW620M is great, even if it's not perfect or exceptional, and will serve its users well.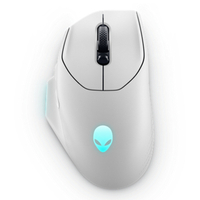 Alienware Wireless Gaming Mouse (AW620M)
Alienware's basic wireless gaming mouse looks and feels good in the hand, offers reliable performance in games, and packs just enough features for its almost-too-high price tag. Available in two colors, it's a solid option for anyone in the market for a new mouse.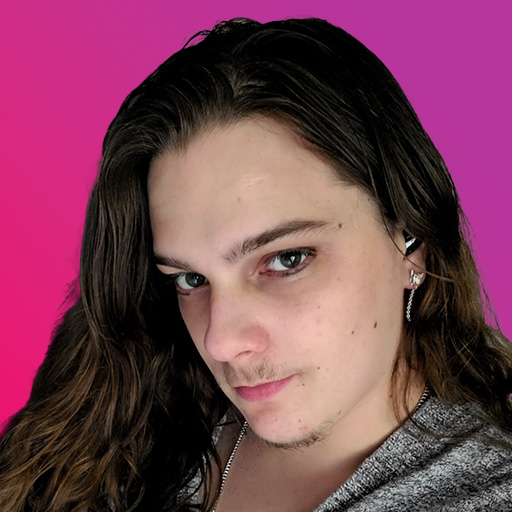 Zachary Boddy (They / Them) is a Staff Writer for Windows Central, primarily focused on covering the latest news in tech and gaming, the best Xbox and PC games, and the most interesting Windows and Xbox hardware. They have been gaming and writing for most of their life starting with the original Xbox, and started out as a freelancer for Windows Central and its sister sites in 2019. Now a full-fledged Staff Writer, Zachary has expanded from only writing about all things Minecraft to covering practically everything on which Windows Central is an expert, especially when it comes to Microsoft. You can find Zachary on Twitter @BoddyZachary.