The best Black Friday monitor deals and prices 2022
Looking for a discount on a top monitor for gaming or work? We've got your back.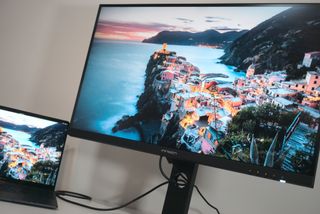 (Image credit: Rich Edmonds / Windows Central)
It is the season for Black Friday monitor deals and we've started rounding up the latest options for you right here. Be it a gaming monitor deal, or a new low monitor price on something for working at home, we've got something for everyone.
Seriously, do you know how many monitors exist out there? There are so many! They come in all sorts of shapes and sizes and prices. Some are great for gaming, but some are built for consuming media. Others are built for professional work or creative types. One monitor will have a feature like a super high refresh rate but sacrifice pixel resolution to save on cost. Another monitor will use a cheap panel to get fast response times but sacrifices color accuracy. If you want to get everything, you're probably going to have to pay out the nose for it.
It's important for you as a consumer to know what you want in your monitor. Gamers often look for high refresh rates well above the 60Hz standard, but the higher the refresh rate usually the higher the cost. So how much pixel resolution do you want? Do you need a USB hub, too? Does it need to be wall mountable? Ask yourself these questions before you start shopping.
But, above all, ask yourself how much you want to spend. There are a lot of great monitor deals out there, but the features on these monitors vary widely. We've got budget screens and fancy displays with curves and 4K resolution. All of them are on sale, although some of the best monitors have high prices even when discounted.
We've got the best monitor prices around right here.
The best Black Friday monitor deals: