Acer teases new gaming desktop and laptop for IFA 2015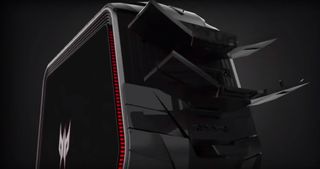 Acer has released a teaser video for IFA 2015, showing off very little aside from an upcoming gaming laptop and desktop computer. The company has also shared details about its IFA conference, which will kick off in just two days, so the wait shall be a short one until we learn exactly what Acer has in store for us.
There's also the rumor Acer plans to introduce some new Windows Phones this year. Fear not if you're unable to visit in person as Acer will be hosting a live stream for you all to tune into. We'll also be on the floor to bring you the latest from IFA, so be sure to remain tuned to our feeds.
Source: Acer (opens in new tab), YouTube
Rich Edmonds is Senior Editor of PC hardware at Windows Central, covering everything related to PC components and NAS. He's been involved in technology for more than a decade and knows a thing or two about the magic inside a PC chassis. You can follow him over on Twitter at @RichEdmonds.
Looking gr8!!
Is it with Windows 10 or 8???

We'll tell you on Wednesday. But I would expect everything to launch with Windows 10 at this point in time.

No. It will release with Windows XP

I'm waiting for Microsoft to announce good partnerships for win10 mobile devices like smart watch or a smartphone. Windows 10 for pcs and laptops would be successful in the coming years as enterprise would adopt it.

With all due respect, smartwatches and phones will not lead to PC success. If anything, it'll be the other way around. The Windows PC business has always crushed the Windows Phone business. That's just the way it is.

I guess I didn't frame my comment correctly. I didn't mean that mobile devices will lead to pc success but success in mobile devices would make Microsoft relavant in the mobile market which we think they have lost.

Why cant there be "sleeper" gaming desktops they all look like they were designed by a 14 year old

Because they are aimed at them. Think about I your shopping for a computer for your child and they see that... That's why most adults have their gaming computers build

>Because they are aimed at them.
So are consoles but this ​generation is a lot more subtle than this in the design department. Expecially the X1

Actually consoles are aimed at 18-35 year old males. That same demographic, if they are a PC gamer, is more likely to build their own.

Because anyone above the age of 14 would build their own PC and save money.

Because it isn't the target audience. However, if you custom build a PC, you can use a standard shell. Your question is like asking why they don't make cars like the Siesto Elemento in the make of a Honda Fit. The audience isn't right. :)

Pre-built desktop computers. Thanks but no thanks.

I guarantee its going to have at best a 960 or 380 and then it's going to have an i7 when it would be better to get an i5 and use the money saved on the graphics card.

I have an Acer Predator with a GTX 980, i5 4590. They also do a model with an i7 and a GTX 980. Overall I'm pretty pleased with mine. Plus it would have cost me about the same to build an equivalent machine myself.

Why does the windows central app always have "title not found" on the video section? Such an old bug that no ones fixed yet

Acer backside, they need to support all their PCs to run Windows 10 first. AMD graphics card is still a problem on aspire one. Also CPU keeps going to 100%. Every time I try to play a video on Windows 10 I only get sound the screen is black.

Got an invite but I could not go. Feel so sad :( Posted via the Windows Central App for Android
Windows Central Newsletter
Thank you for signing up to Windows Central. You will receive a verification email shortly.
There was a problem. Please refresh the page and try again.