No fragmentation - Windows 10 Anniversary now on 75% of all Windows 10 PCs
The latest data shows signficant deployment of the Windows Anniversary Update by Microsoft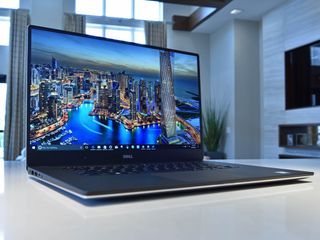 This month's AdDuplex numbers shed some light on how the Windows 10 Anniversary Update is going for both PC and Mobile.
Anniversary Update explodes on PC
The last time we checked in September the Anniversary Update (1607) was only on 1/3 of all Windows 10 PCs, which was itself a doubling from the prior month. Microsoft noted it was doing a slow rollout of the update to catch any issues before they affected millions and that seems to be paying off.
Now, however, the company is opening the spigot on updates as now 76.6 percent of all Windows 10 PCs are on the Anniversary Update. That's also good news for developers who can now target their apps with new Anniversary Update features without leaving many users behind.
Interestingly, new PCs like the HP Spectre x360 that went on sale this week still ship with Threshold 2 (1511) and do not automatically get the Anniversary Update (they will in November). That means some of these numbers could wax and wane depending on PC sales too.
Anniversary Update on Mobile is nearly complete
The news for Mobile had always been better for Windows 10 regarding OS updates and avoidance of fragmentation. Last month, Windows 10 Mobile Anniversary Update was at 82 percent, and just a few weeks later it's gained a little to hit 85 percent.
Add in Redstone 2 (Fast Ring Insiders), which accounts for 5.6 percent of users and 90 percent of all active Windows 10 Mobile devices are on the Anniversary Update or later. That leaves 9.5 percent on 1511.
Again, those numbers are good for developers who want to use features found in the Anniversary Update.
Nonetheless, it should be noted that out of all Windows phone users (Windows Phone 8, 8.1 and 10) Windows 10 Mobile still only accounts for 14 percent making them niche users in a niche market.
As expected, there are no signs of growth or adoption of new Windows 10 Mobile devices.
AdDuplex does note the HP Elite x3 is now ranked #36 of all Windows phones. However, that device is not yet deployed in enterprise as companies are in the early stages of piloting and field testing the three-in-one. IT departments can take many months to approve a rollout of new technology, so do not expect much on that front until early 2017.
HP is still crushing it in the PC market
HP maintains the same #1 spot for PC manufacturers with 22 percent of the market, virtually unchanged from last month. The bigger news is Lenovo has tied Dell for the distant second place (both with 11.6 percent each).
Asus and Acer both trail at 11 and 10 percent, respectively. Microsoft is just 3 percent with its Surface brand reaffirming how their entry into the high-end market has not significantly affected other OEMs.
HP is now just launching their revamped Spectre x360 Ultrabook and numerous other PCs for the holiday season. Dell, meanwhile, is refreshing its killer XPS 13 line with Kaby Lake and a few other modest improvements.
We have the Spectre x360 in the house now and will be reviewing the device in the coming week (Spoiler: it's fantastic).
About AdDuplex
The numbers from AdDuplex are collected through their in-app advertising that is prevalent in over 5,000 apps in the Windows Store. That data serves as an important metric within the Windows Phone ecosystem. The full AdDuplex report for October will be posted on their blog at https://blog.adduplex.com/ on Monday (October 24 ). You can view all our previous AdDuplex Monthly Report analyses here.
Windows Central Newsletter
Get the best of Windows Central in in your inbox, every day!
Daniel Rubino is the Editor-in-chief of Windows Central, head reviewer, podcast co-host, and analyst. He has been covering Microsoft since 2007 when this site was called WMExperts (and later Windows Phone Central). His interests include Windows, laptops, next-gen computing, and for some reason, watches. Before all this tech stuff, he worked on a Ph.D. in linguistics, watched people sleep (for medical purposes!), and ran the projectors at movie theaters because it was fun.
Now push W10M OTA on WP8.1 devices, that are compatible with W10M. :)

exactly! and if they had upgraded more non supported wp8.1 devices then they'll have a solid reason to end support for wp8.1 early

Did you try the insider program on a non supported device? It was a nightmare! Even some that were moved to W10M, ie 640, 640xl, 535 and so on, have issues. I find the 640 does a good job, but there is always a slight pause when swiping to apps list etc. The same on the 535. Anything with 1GB ram has its days numbered. If you have a look through these boards there were a couple of people saying that W10M on unsupported devices ran ok, with just a couple of restarts and crashes a day! How can that be acceptable?? Many that came over probably won't behave too well on RS2 either. I ran insider on my 1020, and although it was 'ok', I wouldn't be able to keep it on there as 8.1 was in a different class on it.

I find W10M RS2 adequate on a L820.

lumia 920 with windows 10 is sometimes faster and smoother than on supported Lumia 640. so they should push update...

The 535 performs good here with RS1 :D But I don't know how it will with RS2.

That's why I left and went back to Android.

Glad to see you back again, we missed you!

I never understood why they never did this, considering how much the "get windows 10" application was forced down PC users throats making mobile users have to go to the store and search for the upgrade app without anything to tell them thats what they have to search for or even that their phone is upgradable, its no wonder people get left behind. ​Also people use their phones for their jobs and rely on them to work, they are not going to go out of their way to force their phone to "change operating system" in case they cannot make it work again or work the way they want it to, however an OTA "an update is available for your phone - click here to download windows 10" would no doubt result in a lot of upgrades

W10M lacks many things compared to WP8.1 it is buggy, slow and unstable. It would be a downgrade basically. I'm not surprised with no OTA, since they failed with OS development it is a logical step to not push it on users.

Are you serious? Have you used W10M RS1? Think before you speak.

Voice control capabilities reduced from 125+ languages to only 9. That's most of the world without basic "call contact", "read sms" and so on. No way to use a phone in the car. Most of the apps lost Glans screen output since UWP does not support it. Lumia 830, 930, 1520 lost their rich audio stereo recording, only mono now (mono from FOUR mics!) Basic os pack (system+Skype+office) is 6+ GB now, not 3,5 like on wp8. It is a pain to use 8gb devices with wm cause you need 1Gb free to be able to receive updates. And 6 for the system and then you know you are ****** when only 1gb left and you still need 145mb! for fb messenger, 63 for msband etc etc. Every basic app is now 3-5 times bigger in size. Opening dialer takes time now, everything takes time. Mobile Edge still causing system reboots sporadically, that's not fixed in 1.5 years. Camera app often fails to start or to switch to front camera. "Select all" is not working in Outlook mail inbox. That's not the end of the list and MS is with me in this question, not with "minusers".

Stop using Windows 10 mobile On a nokia 3300

Do you even use a windows phone? My 640 running 14939.321 is damn near flawless. I couldn't imagine using a high end windows phone, it would scream like a banshee in the night. They do need to iron some things out but it's not far off from being public ready.

"buggy, slow and unstable", sure, if you was running fast ring insider builds. It's as if your basing your opinion off of the very launch of Win10m then ignoring the fact its been updated continuously since then. *2 years later* "oh its still buggy. Even though I haven't even used it to confirm this" It's actually very fluent. On all phones that Win10m supports, its very stable, and is nowhere near "Slow". Maybe actually test the OS before stating something that is so blatantly false.

No thanks. Endless problems with 10, such a refreshing change to go back to 8.1, fast, fluid and beautiful.

You have a point here, I recently played a bit around with my old Ativ S and was surprised how good wp8.1 was

Thinking where HP Elite X3 ranks once deployed by enterprises.
Posted from Lumia #1 from the list.

That's going to take at least six months to see growth. I've heard HP will manufacture the device thru 2018 and there is likely a long roadmap with RS2 and RS3 for Continuum features. Seeing as this is a consumer orientated audience, it will be a challenge to constantly convey that ;)

hmm... if HP has that plan, then MS should have provided 64 bit OS support already. that's the only thing this phone lacks atm that cannot be updated OTA.

That will come, at some point, but the idea we're missing out on something in the meantime it is quite the stretch. If 64bit W10M does come out during the Elite X3's lifetime, there will be no technical reason we couldn't update the device OTA. The only question is whether HP and MS would want do. It might provide some benefits for those using Bitlocker with fully encrypted storage (big IF), but for the average consumer it would be pretty much meaningless. Marketing is the only effect it could realistically be expected to impact, but that might not be an important issue for the X3 anymore by that time. Who knows. Either way, there is no technical reason 64bit W10M couldn't be installed.

Are you sure of that? You can't upgrade 32 Bit to 64 Bit Windows on desktops either, after all.

Yup. An Update on W10M is in enough ways the equivalent of a W10 clean install. No part of the OS is running during the update process, which is not at all comparable to the update process on W10 that is managed by the WUS or the Store.

Sure you can, it's just that under the current licence agreement for PC's, you'll have to pay for a new license.

If your device suports 64 bit then yes you can upgrade from 32 bit to 64 bit. I have done it for my pc.

If they released a 64x variant of Win10m, it would likely be an optional upgrade. For example it may have to be flashed on WDRT. However, considering it is possible to flash a complete new(within reason) OS onto a phone (E.g: Wp8.1 to Win10m (which was a complete OS rewrite)), it may actually be possible to OTA update a phone from 32x to 64x if the hardware is compatible with it. Could be wrong, its only speculation. By either way, it would be possible to update/upgrade it to 64x. Just some work would be needed to be done on either MS's part, or ours (WDRT)

By the time it will be manufactured,the hardware will seem to be outdated.. Well it's an enterprise device what do we expect.

It is also a challenge to remind people that Surface is doing exactly what it was designed to do, as shown again by these numbers and the most recent quarterly financials. The line was developed to showcase Windows features (that was really about it under Sinofsky) AND to create new market opportunities (form factors, technology, gross margins) using Microsoft's resources rather than relying on OEMs cash from declining margins on their products to break new ground. Surface selling around 1 million devices a quarter and making close to or over a billion in income a quarter has got to please the upper management even if it frustrates us Surface fans who'd like to see them take over the top spot in PC sales.

Manufacture through to 2018?! Good luck with that. I can't think of any phone that is still relevant so long after initial release.... especially one that's on a rather unloved OS. If Apple need to release phones every year to keep sales pumping, then so does HP

I have redstone installed on my 630 using a registry trick, and I have to say that it runs so much better than threshold that I think MS should reconsider to update older Lumias officially. Battery life is on par with 8.1 and everything is quite smooth, while it was terrible on threshold. With older Lumias updated, W10M would gain much more share and probably developers would be more motivated to make universal apps.

Yeah Redstone is a great improvement in performance and Battery.

Gave up on that registry hack, couldn't crack it, stil stuck on TH , finally decided to get a 950

It could possibly be just that you're lucky with your phone. All phones has different processors, some, by todays date, are very weak, and with most on 512mb RAM, it may still be too unresponsive/slow on them phones (E.g imagine the L520 running Win10m.) (But hey, its great you have found it works well for you!)

I am on that 0.7% :D Rare of a kind, eh?

That makes most of us here Khan sahib.

I must have the unicorn Lumia on that list.

My Dell Inspiron 15-5548 http://www.notebookcheck.net/Dell-Inspiron-15-5548-Notebook-Review.14210... was upgraded to Anniversary Update, it keeps getting faster on Octane V2 benchmarks on Edge browser. however my 7" Intel Baytrail tablet from Vulcan Electronics is still on Windows 10, I can't get it to Threshold 2, but that's fine since it just has 16GB of storage, which is fine since this came with Windows 8.1 and it was very buggy, in Windows 10 the tablet performs very well, great for my daughter for watching Netflix and Youtube and play with some app store games.

I feel for the 25%, as I expect some of those being an inability to update, not an unwillingness. Had multiple attempts to update fail for me and had to do a clean install to get to 1607. Had to spend two weeks waiting on the update at work because their deployment method was a mess that prevented updates.

I wanted to get the anniversary update, but I can't because I only have a sad 128GB on my laptop, and there's no way I can free 20GB just to get the update. I'm planning to buy a new laptop early next year, so I guess I'll just be stuck with this older build until then.

You can get a 4-GB flash drive and download the .iso from Microsoft directly. W10 can mount those directly.

True, in My Company almost all Microsoft devices (SP4/Surface Book) refuse to update.

Do you work in IT? IF so, I can give you a bit of a rundown of some of the things we learned/had to experience to get through it.

Developers.. That reminds me, what is Rudy Huyn upto these days? Miss reading about his stuff

I miss Ben Rudolph and his speed tests against other phones. He probably got thrown under the Windows Phone bus. He was cool.

Yeah. Feels like we're all part of some cult (in a good way)

I think that Dropbox has released new app yesterday. Rudy is in that team.

Oh, that is great to hear :)

I'm using 1511 build on my Notebook & 1607 on my Lumia (as non insider user). But Mobile build .321 isn't good for me. There are many bugs in this build like hidden notification bar on Start and Lock screen, icons visibility etc.

I decided to roll back to before the update on my surface pro 3 (must be 1511). I don't agree with them removing features that I've had for over a year. This is regarding the group policy changes. I'm probably done with Windows after I get rid of this piece of junk. (Has the known battey issue Microsoft will not own up to)

Check for update cause they have acknowledged it, and have been working on it.

That's one thing I dislike about Anniversary Update and Windows as a service too. E.g. I used to set the lockscreen image through the policy on the Professional edition in our (small) company for corporate identity. With Anniversary Update they decided to take that feature away and require Enterprise edition.

A Group Policy is a centralized way to manage the registry. The keys for storing the lock screen image should be pretty much the same on Professional and Enterprise. Maybe there is something broke with your computers AD membership, maybe you only need to force your policy once (which was a problem on one of our PCs).

Yes, the registry key is indeed still the same as with 1511 (and with Home edition btw.), but Windows Professional ignores it starting with 1607. This is intended by Microsoft, you can check the description in gpedit, it states Enterprise only.

I had 1GB RAM Windows 10 tablets for my kids, which unfortunately can't upgrade (1607 has a 2GB RAM minimum). I feel a little betrayed on that -- I would not have bought 1GB systems in the first place if I'd known that it would be a dead end in the first year.

I still find it surprising that the regular pc and smartphone user doesn't get the fact that "never change a running system" is a dinosaur from the 90s and early 2000s for consumer electronics and that we live in a fast moving world where you, as a user, have to keep up with time. 75% is still disappointing for me and although the broader mass uses pcs for at least 10-15 years now, they still don't get that doing regular updates is like regularly changing oil in your car or cleaning your house to keep your stuff in good shape.

And I still remain among the 25% because the INSTALLATION KEEPS FAILING!!! What is wrong with you, Microsoft?? Posted via the Windows Central App for Android
Windows Central Newsletter
Thank you for signing up to Windows Central. You will receive a verification email shortly.
There was a problem. Please refresh the page and try again.