Weekend Entertainment: Listen to Adele and watch Ant-Man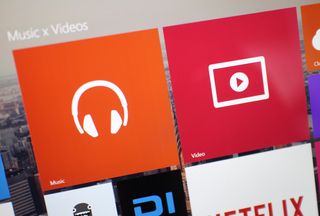 Every week, lots of new stuff drops on Groove Music and Movies & TV, and it becomes hard to keep up. Well, that's where we come in. Every weekend we'll highlight some of the hottest albums and singles on Groove Music.
We'll also let you know what movies and television shows just dropped on Movies & TV for your viewing pleasure. It's the weekend, and we'll help entertain you.
Groove Music
Adele - 25
What is probably the most anticipated album of the year has finally hit store shelves today, and it's by no one other than Adele. Her new album, 25, features 11 tracks that will surely give you all the feels.
After giving the album, a full listen more times than I should admit, the songs that stick out to me more than the others are I Miss You and Water Under The Bridge. If you're a fan of Adele's last album, I'm more than sure that you'll be a fan of this one as well.
Listen to Adele on Groove Music (opens in new tab)
Kaptan - Sprinter
Kaptan is a small indie-pop band based out of Nashville, Tennessee that has only recently come onto the big stage. Sprinter, is their first EP and it's a good sign of what their potential is.
The EP only contains five songs, but each has their own sound and are worth the listen. My two favorite songs so far are Anywhere We Go and Let Go Give the album a quick listen for yourself and let us know what you think.
Listen to Kaptan on Groove Music (opens in new tab)
Movies & TV
Ant-Man
Scott Lang, a master thief, gets a second chance at life when he is released from prison and befriends Dr.Pym, who has loss control of his own company. The company is looking to create a suit to finance war under its new leader and the Dr. wants to put a stop to it. So he then gives Lang a similar suit that allows him to shrink in size, possess superhuman strength and control an army of ants and he must use it to steal the company's technology.
Watch Ant-Man on Movies & TV - $14.99 (opens in new tab)
Do you have plans to watch or listen to something else this weekend? Let us know in the comments below! Also, if you have any suggestions for next week's post you can always hit me up on Twitter @JonDollison. Have a great weekend!
I know eh! My neighbors dog already tells me what to do.

Yeah. What's wrong with torrents?

The Man From U.N.C.L.E is out this week too. Great movie, saw it in theatres.

Is that a 2nd part or something, coz i saw this movie like three months back !

It came out in theatres in August, just out on bluray this week. There's just the one movie.

Am I supposed to do all this stuff at the same time? It's kinda weird... Lol =P

Adele writes the most beautiful songs !

I like this version better, but it's an advantage to understand Norwegian... :P
http://youtu.be/g8ABYbDABLE

Don't forget the new Freddie Gibbs album "Shadow of a Doubt", or Ty Dolla $ign "Free TC". Both on Groove.

Antman !!!! Been waitin for this guy. A movie I missed in the theatre, just didn't have the time . Been wanting to buy it since! Love the EARLY releases!!!! Mahalo! ​

I'm waiting Antman to come in Netflix!

There are some good deals right now on Xbox One to buy movies. Got to Love Black Friday.

Adele new album is pay only no stream option imo i wont listen to it till its streamable. she can keep her 12$ plus tax album

Yeah when artists go pay only that makes me less likely to buy.

I stream my albums as I play (as opposed to downloading from groove) as I know that gets them more revenue

Bought the album at best buy. I'm in the growing minority, but I still prefer to buy cds.

And you actually own that copy of the music, unlike a digital purchase. You can sell it, give it away, etc.

I bought Scatman's CD from thrift shop :D

The UK store has track number 9 listed twice on 25, no mention of what track 10 is. Guess it will be like a Kinder Surprise track.

I wasn't able to download our stream 25. In fact it's weird, the album art doesn't even show up.

Adele is so overhyped, I'd rather listen to the new Enya album that was also released yesterday to no fanfare whatsoever
Windows Central Newsletter
Get the best of Windows Central in in your inbox, every day!
Thank you for signing up to Windows Central. You will receive a verification email shortly.
There was a problem. Please refresh the page and try again.