Adidas releases universal miCoach beta app for Windows 10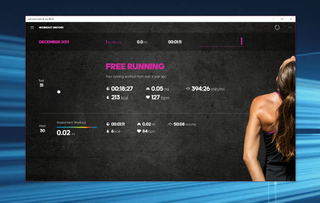 Adidas has launched a new, universal version of its miCoach app for Windows 10 in beta form. The miCoach train & run Beta allows users to track their workout history, browse their user profile and the miCoach blog, and much more right from a Windows 10 device. Here's a breakdown of the features you can expect in the new Adidas miCoach beta:
complete user interface overhaul: be surprised, the look & feel has many different variations.
sign-up/log-in
workout history
fitsmart pair & sync
shoe tracker
miCoach blog
user profile
app settings
Since the app is universal, it should work across Windows 10 desktop and mobile. This is great news because the Windows Phone 8.1 version of the app, though it appears to be alive and well, doesn't seem to be accessible on Windows 10 Mobile. However, this is a beta version, and Adidas notes that it hasn't been "tested against" Windows 10 Mobile just yet. Indeed, we checked out the app on our devices and found that while the desktop version looks new and fresh, the mobile app still looks very much like the previous version.
Overall, the app is already looking pretty snazzy with a clean interface and an attractive dark theme. Keep in mind that this is a beta, and is thus not feature complete, and may not be completely up-to-snuff. We're not sure when the app was released to the store, but if you're feeling adventurous, you can check out the Windows Store link below to download the miCoach Windows 10 app and give it a shot.
Download Adidas miCoach Train & Run Beta for Windows 10 (opens in new tab)
Via: Reddit
Dan Thorp-Lancaster is the former Editor-in-Chief of Windows Central. He began working with Windows Central, Android Central, and iMore as a news writer in 2014 and is obsessed with tech of all sorts. You can follow Dan on Twitter @DthorpL and Instagram @heyitsdtl.
Right?! Is it just me or are we seeing a lot of universal apps finally hitting the store? I can only imagine how full it will be by the end of the year.

So this app is made particularly for Adidas consumers.

Negative, it is still a very functional GPS based fitness tracker. You should give it a shot! I prefer it over Striver.

I use it to run all the time, great app indeed.

No. You can use it even without any adidas products. It's my go to running app.

Personally I am using it with a Polaris H7 heart rate monitor with MiCoach, so it's pretty open.

The apps are coming, everyone!!

Give them (developer) support by download and use their app :)

How? Carrying laptop when running? Posted via the Windows Central App for Android

Laptop app good for managing your data at home.

it is a universal windows 10 app. so if you are running the windows 10 mobile builds on your phone, you can install it.i just installed it on my phone and it works fine and it is beautiful

yeah because this app is only for when you are running or walking or whatever /s and this will work for Windows Mobile users when Adidas decide to release it. so what? Desktop 10 is available while Mobile 10 is not, so that's why it's not yet on the phone as well. But it is obvious this will benefit mobile users as well... that's the point of universal apps. anyway, you can check your progress and stuff on your tablet or computer.

It is on the phone, had been a couple of years. I know cos I have used micoach since it was released. And I had L920 at the time.
I just don't see the meaning of desktop app. I can view details of my training on micoach site. Why desktop app?
Thats why sarcastic comment.
But anyway, I'll use the app just to give a support to win development. Posted via the Windows Central App for Android

I am seeing now everyone will start making app for windows platform now.go go go..... Good to know, universal app is ahead of the curve at least it may rise windows phone popularity.

This isn't really a new app though, they have been supporting WP for a long time (which is reason enough in itself to support them back), this is simply a re-release for W10.

Same, on my phone it says "a Windows Phone application 1.x" on my desktop it says "a Windows Universal application 2.0"

I'm starting to see more and more big names release new official apps on the Windows 10 platform in recent days, and it's very encouraging. With nearly 100 million PCs running Windows 10 according to Neowin, it's of course a no-brainer to support the platform now so it's hardly surprising. It just remains to be seen if some of the more stubborn developers like Snapchat and Sky (here in the UK) will make the jump. Also if the developers make these apps properly universal (i.e. not just for PC and tablet, but for mobile, and later Xbox One), it gives me a large amount of optimism that Windows 10 Mobile will have much less of an "app gap" than previous generations of the phone OS.

I love sky sports don't they have an Xbox app?

Glad the apps are coming. But the question remains; are people gonna use them ?!

Good question. I use micoach as my fitness tracker and figured out its not only universal app for win. Its cross-platform app, cos I have android as my daily driver. And so will be most of universal apps, facebook, twitter, exel, word... And it raised a question will this 'universal app' thing really be a game changer after all.
And secondly, just a little thoughtgame. What will be the future of the Internet? Will it be the same as we know it now. It is kind of universal-crossplatform-app. If in the future everything will be just apps, where we need internetsites?
Clock is 3.00 am here. Too much thoughts. Need to go to sleep. :D Posted via the Windows Central App for Android

Maybe. My mom is using some apps even without knowing they are apps, because of the window-mode.

What about Runtastic? It owns adidas now...

It's the other way around. Adidas has bought Runtastic.

missing a lot of activities my app has now, like cycling, downhill skiing etc. hope they get added.

Just got the app for windows phone and it is very nice. Having D Rose as my coach is pretty legit too!

Yah!! Been waiting for this. Was not able to use it on win10TP. It's my go to running app. Loving these universal apps. looking good.

YESSSSSS I just hope my fitSmart works well

It got me thinking why some apps developers/company didn't even bother to change the look of their title bar of their apps. That one still use default white title bar instead of using customized transparent like on VLC app for example. But anyways, I'm glad that there are new apps coming for Windows 10. Hope this will accelerates and apps are always updated (crossing my fingers).

Fant​astic news, I love the MiCoach app for my 8.1-phone, and the FitSmart device works flawlessly. Also have account linked to Strava ditto, uploading my workouts automatically.

I have tried all running apps and always I've come back to micoach. Adidas has always supported windows phone very well. It always surprised me! Get this app people!

off topic - how about an MS mobile phone with Ant+. There are no nice cycling apps at this moment for win10 mobile.

another adidas win10 app called smartball has appeared - adidas=best balls in the world!
Windows Central Newsletter
Thank you for signing up to Windows Central. You will receive a verification email shortly.
There was a problem. Please refresh the page and try again.