Budget-friendly Lenovo Miix 320 2-in-1 leaks ahead of possible MWC debut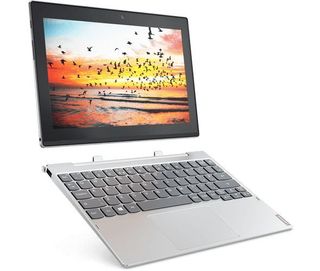 We're rapidly approaching the start of Mobile World Congress 2017 (MWC) at the end of February, and a new leak has given us another look at what Lenovo might have in the cards for the budget-conscious at the event. As spotted by WinFuture.de, it looks like Lenovo is gearing up to launch the Miix 320, a follow-up to last year's affordable Miix 310 2-in-1. Overall, the Miix 320 looks nearly identical to its predecessor, and the story is the same with its specs as well.
Image 2 of 5
Image 3 of 5
Image 4 of 5
Image 5 of 5
Like the Miix 310, the 320 is detachable from its keyboard base, allowing you to swap it between laptop and tablet modes at will. Unlike the 310, the 320's speakers now face forward, appearing just below the screen when docked to he keyboard. That should make for a much better audio experience overall. That said, here's a look at the overall specs of the Miix 320:
| Category | Specification |
| --- | --- |
| Processor | Intel Atom X5 |
| Operating System | Up to Windows 10 Pro |
| Graphics | Intel HD Graphics |
| Memory | Up to 4GB DDR3L |
| Cameras | Front: 2 MP webcam with mic; Rear: 5 MP, auto-focus |
| Storage | Up to 128GB eMMC |
| Audio | Stereo Speakers; Dolby Advanced Audio |
| Battery | Up to 10 hours local video payback |
| Display | Up to 10.1" FHD (1920 x 1200), touchscreen |
| Thickness | 17.5 mm / 0.7" = Tablet: 9 mm / 0.3" (tablet) + Dock: 8.5 mm / 0.3" |
| Weight | With keyboard: Starting at 1020 g / 2.2 lb; Without keyboard: Starting at 550 g / 1.2 lb |
| Connectivity | 802.11ac (2 x 2); Bluetooth 4.2 combo w/ Wi-Fi card |
| Wireless WAN | LTE (Optional) |
| Ports | USB Type-C 3.0, 2 x USB 2.0, Micro HDMI, Micro SD, Nano SIM, Audio combo jack |
All told, the Miix 320 is a minor update over the 310 thanks to its higher RAM cap and FHD screen option, but it's a tad disappointing to see Lenovo sticking with an Intel Atom chip for the processor. However, it's not a bad mix of specs when one considers the price of the 2-in-1 is expected to land around $220. In any case, we should hear much more about the Miix 320 at MWC later in February. In the meantime, you can learn more about the Miix 320 at a cached version of its official product page, which Lenovo has since pulled.
Dan Thorp-Lancaster is the Editor in Chief for Windows Central. He began working with Windows Central as a news writer in 2014 and is obsessed with tech of all sorts. You can follow Dan on Twitter @DthorpL and Instagram @heyitsdtl. Got a hot tip? Send it to daniel.thorp-lancaster@futurenet.com.
If this is substantially cheaper than the Surface 4 (if it makes an appearance soon) then I'll be very interested in this. I'm currently looking to update my Surface Pro 2 256GB, 8gb ram. Yeah my SP2 still has much better specs than this still but tbh I don't need a lot for browsing the web, Facebook, downloading music/movies and some photo editing. I really like the surface book but I can't justify the price for my needs.

These specs are no better than the Surface 3, which everyone hated because of the slow eMMC storage. Also, these Atom CPUs are now 2 years old (with no updates, since Intel has abandoned its Atom line), and they really don't perform well at all. I mean, if you load up Facebook, you can't even scroll the page without herky-jerky starts and stops. Facebook is a pretty heavy web page, but it's still a web page. Hard to recommend a computer for light-duty web browsing that isn't even quick enough to accomplish that without choking.

Cherry Trail has similar performance than an iPad (2016 model) and Samsung tablet (2016) so I think this is for users that need a tablet but also want to do more work on this device that cannot do on Android or iOS. That's why I still own a 2009 Acer Netbook, since iOS or Android can't match Windows XP

That's not right at all. Comparing Geekbench scores, the iPad Air 2 from 2014 is almost 2x faster per-core than Cherry Trail, and roughly the same in multi-core (even though it only has 2 cores). Also, the iPad has loads of apps that are optimized to run well on its hardware. Windows tablets running Cherry Trail have comparitively few, and those that do exist (e.g. Facebook) are not remotely as functional or refined as their iOS counterparts... so you're stuck using the Facebook web site on Firefox or Chrome, and the CPU just isn't fast enough to do that smoothly. iPads and some newer Samsung tablets also have much faster storage than the average budget Windows tablet. This is especially a drag, because Windows is always scanning and indexing things (they won't let you disable Defender permanently, so you have a less efficient system that's taxing hardware that isn't nearly as fast to begin with.

you cant compare a closed OS (Apple) with open OS (Windows). The iPad will be faster in every single case because the SW is optimized for the HW

I didn't, someone else did. He said that Clover Trail CPUs from 2015 are as fast as iPads from 2016, which is completely ridiculous. Not only is the CPU much slower, but iOS is also a lot more streamlined. It's not even close! Sure, you can't run legacy software or "full" desktop-class web browsers on an iPad, but the software you can run on an iPad runs much faster than on a Atom-powered Windows machine.

My three desktops still run XP. Comparing XP with Android or iOS is laughable coz when its comes to work, it only Windows and within Windows family, only XP

Everyone hated? I have a Surface 3 and it's fine by me.

Okay, but the storage is quite slow for a "premium" tablet. For a $200 tablet, it's fine, but the Surface 3 was $500+ at launch.

The issue here is Facebook. even in a Core i5 that website doesn't perform well.

Yeah, Facebook is an extreme resource hog. It's full of memory leaks and other performance nightmares. But, we allow it because it's Facebook and where else can you stalk people you don't talk to in real life?

True, but there are plenty of other websites that will totally bog down a Cherry Trail CPU. Frankly, a CPU that isn't fast enough for just browsing the web isn't worth having in a general purpose laptop. It's a crime that Intel continues to sell them when they have Core M CPUs that are literally 3x faster and with similarly low TDP.

corrections:
- under processor, remove the "Display Resolution"
- under Memory it should read "Up to 4GB LPDDR3"

I noticed the same. Actually, I think "Display Resolution" was meant to be the next line, with the resolution specs. I didn't notice them elsewhere in that list.

The "display resolution" thing was a screwed up copy pasta of the formatting we use for those tables, my bad and thanks for the catch! The "Up to 4GB DDR3L," however, is the correct type of memory. It's what Lenovo has listed under the tech specs section of the cached listing linked at the end of the article.

Was that a typo? Or do you really refer to it as "copy pasta"? Because, I'm a fan of the pasta spelling!

This 2 in 1 for $220 looks pretty good for replacing my old Aspire One Netbook from Acer, perhaps I won't get the Surface Phone with its Windows 10 on ARM feature and just carry 2 devices, my Android phone and my Windows 10 2 in 1.

Not for $220, but this costs much less than an iPad and an iPad also doesn't support Stylus, only capacitive stylus which is cool for some quick note taking but since there is no digitizer, you need to be careful to put your palm on the surface. Thats why the Surface 3 costs much more than this, since it comes with full Pen support.

go for the Cube i7 - price is around 250 - 300 it has pen support, looks much better and its faster with a M3 under the hood

An ARM-based Windows 10 machine can't come fast enough. I want the kind of battery life I get on my android tablet, but with all the app/program capability I have on my SP4. Hopefully I'm not asking for too much, but these current low-end Windows machines are too compromised.

Intel stopped making improvements to their low-power CPU architecture almost 3 years ago at this point. Bay Trail was kind of a revelation, and since then they've only made improvements to their mobile GPUs... Utterly pointless, because no one is ever going to need 4K 10-bit H.265 acceleration on a low-end laptop, most of which still come with less than full HD screens. People just need something that will load web pages quickly.

Finally! A budget PC with over 64GB of storage!! We can not worry about updating Windows for its lifecycle!!!

The 128 gb version of this wont come below 320. Still tempting ?

Yeah, below 350 would be for this category.

How much tilt does the hinge have? And can the key board be snapped on backwards so it can become a tablet without keys being pressed as you hold it? ( and you don't want the keyboard lying around on it's own)

I have a Windows tablet with kb cover that I bought back in Sept 2014. I have never used the KB for anything apart from using it as a protective cover. Also, the best battery back up that I have ever got is 4 hours (wifi on, casual browsing). Now its barely 3 hours.
Windows Central Newsletter
Get the best of Windows Central in in your inbox, every day!
Thank you for signing up to Windows Central. You will receive a verification email shortly.
There was a problem. Please refresh the page and try again.