Age of Mythology is getting a new expansion pack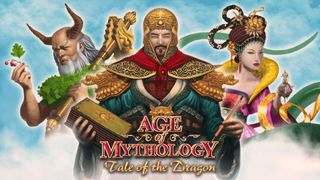 (Image credit: Microsoft)
There's a new expansion pack in the works for Age of Mythology, 12 years after the launch of The Titans. The expansion is called Tale of the Dragon, and will be making its way to the Extended Edition of the game that was re-launched on Steam last year.
From Forgotten Empires, who will be making the expansion pack in collaboration with SkyBox Labs:
Details on the new elements coming to the expansion are scarce, but the developer will be holding a Twitch livestream on October 2 that will give us an idea on what to expect. The livestream will be hosted here. How excited are you guys about the upcoming expansion pack?
Age of Mythology: Extended Edition on Steam ($29.99)
Source: Forgotten Empires
Thanks Ashar!
Windows Central Newsletter
Get the best of Windows Central in in your inbox, every day!
Harish Jonnalagadda is a Senior Editor overseeing Asia for Android Central, Windows Central's sister site. When not reviewing phones, he's testing PC hardware, including video cards, motherboards, gaming accessories, and keyboards.
Would​ do Microsoft good if it was on Window 10 store. Fingers crossed.

Yes, with Xbox Live support please!

Yes please. Although the inability to install in a different partition means its no where near steam.

This name feels so familiar hah :D that was a long time.
When we're at Strategy games, care to recommend me a few good titles with this game type?

age of empires series, submarine titans, starcraft series. a little bit different strategy games are commandos series, robin hood, desperados and helldorado.

Anything to come out of Microsoft studios is excellent. Also try World in Conflict.

Rise of Nations. I think there's an HD edition released recently. It is one of the best strategy games ever. It's a gem from Microsoft Studios.

Back to the future. But why we don't let the creative assembly do it/

This is necroposting... Err... Necro-game-dev(?) to the next level!

Scene Contra ennu malayalathil oru chollund... ;)

Steam only? Thanks but no thanks... Report when its worth it: A Windows 10 version. As long as it uses steamworks exclusively, it might as well not exist...

It might as well exist to many other people, you're not the only person WC reports for. This is a Microsoft game, therefore, it's relevant news.

i love this game mechanics, never liked aoe 3 much, and aom is like an even better aoe 2, can't wait to play this.

Very excited and will likely be getting it as I'm a fan of the Age of... series. I would prefer a win10 version as well, but that's not a deal breaker.

What this game can run on win 8?

This is an old game. It can run on even the most basic, budget Windows computer or tablet.

actually this is not quite an old game, the Extended Edition was released last year and its beefed up with effects and what not, it doesnt have the same low requeriments the 2002 version had.

Yes and no. Last months MS updates actually deprecated some safedisk(?) functionality that broke this game from running on a lot of systems. Get rid of the offending update and it should install and run fine.

Wow, the Win10 fanboyism is real in this site. It is in Steam, how much more do you people want? It is waay better than the Windows 10 Store at managing games, which can't even change the install location. I'm using an SSD for my OS and programs, and a 1TB hard drive for my media and games. Not being able to change the install directory of my games are disastrous.

Change the install location for apps to your 2nd HDD

"Although next time we probably shouldn't wait over a decade..". Hmm is there more where this is coming from..?? Time will tell.

12 years? That was fast! /s

This is the kind of stuff I expected from Microsoft when I heard they were relaunching Age of Empires. Castle siege was a colossal disappointment...this is more like it. They should also consider a real successor to AoE 3. I'll be first in line.

That's... Really unexpected

I remember when I got the CDs for it. Was amazed by age of empires I then II then age of kings and age of myth was a revolution I had to upgrade my PC because of it for the gfx to work XD can't believe it's been 13 years :/

A new expansion! Great! Hopefully they do a great job at making it awesome. My only concern is will it fit wit the current lineup of mythologies and civilizations. It would be the first in AoM history to be outside of Europe/North-Africa. So this means no more new stories about Arkantos, Kastor, Ajax and Amanra?

And still no Age of Empires for Android like they said a year or 2 ago...

Please get AoM on the Windows Store. :'(

I was looking at this game. Might be fun

Two questions. Why did Microsoft close Ensemble Studios and considering their popularity, will these games ever make it to the One?
Windows Central Newsletter
Thank you for signing up to Windows Central. You will receive a verification email shortly.
There was a problem. Please refresh the page and try again.