'Alan Wake Remaster' leaked, launches on October 5, 2021 for Xbox, PS4, and PS5
Alan Wake is getting remastered according to this store listing, and will drop on October 5.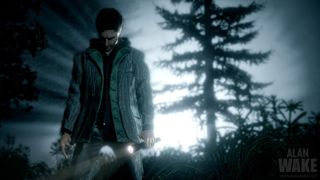 (Image credit: Microsoft)
Alan Wake was an Xbox 360 exclusive that reverted to the game's creator, Remedy Entertainment, after Microsoft decided not to fund a sequel. Since then, there were hints from Remedy that the franchise would come back in some form, fuelling rumors of a sequel. Now, we've got a glimpse of the first Alan Wake project in the post-Microsoft era for the franchise, and the game is heading to PlayStation for the first time.
As spotted by Wario64 on Twitter (definitely drop a follow) Alan Wake Remastered was outed on Rakuten Taiwan, complete with an October 5 launch date. Our sources have confirmed to us that this is indeed real, and the game was slated to be revealed in the very near future regardless. Wario64 discovered store listings for Xbox, PlayStation 4, and PlayStation 5. It's natural to assume this will also come to PC, too.
Alan Wake tells the story of the titular Alan, a writer who travels to the Pacific North West in America to find inspiration for his next novel. While in the fictional town of Bright Falls (filled with references to cult TV show Twin Peaks), Alan discovers a mysterious force at work in the town, twisting the inhabitants into shadowy, psychotic reflections of their former selves. What's worse, everything Alan Wake writes seems to be coming true, except he can't remember writing the events creating this strange town-wide upheaval.
In Alan Wake, players use light sources to defeat enemies. The original game had some of the most impressive lighting effects for its time as a result, complete with Remedy's great writing and signature tight gunplay. With Alan Wake Remastered hitting stores, hopefully, we'll see a revival of interest in the franchise, eventually leading us to that long sought-after sequel. After all, there are indeed rumors that the game Remedy is working on with Epic Games could indeed be Alan Wake 2.
Windows Central Newsletter
Get the best of Windows Central in in your inbox, every day!
Jez Corden a Managing Editor at Windows Central, focusing primarily on all things Xbox and gaming. Jez is known for breaking exclusive news and analysis as relates to the Microsoft ecosystem while being powered by caffeine. Follow on Twitter @JezCorden and listen to his Xbox Two podcast, all about, you guessed it, Xbox!
Wait... So not a sequel???

Not yet.
But soon.
With AW being folded into a shared CONTROL universe via DLC the sequel is a given.
The remaster should enable a consistent look across the varios games.
Makes commercial and creative sense.

This better include all the dlc and follow up story

I was never a huge fan of remasters, but the fact that we are getting this AND PoP: TSoT is just awesome. So, so excited. I hope there is an Alan Wake 2 to follow up on what we learned in the Control DLCs.

I probably should not have ready this. I didn't realize the whole story would be spoiled.

That isn't spoiling anything, this info was essentially on the back of the box.

Yeah, if you think that description spoils the story you clearly haven't played the game. Which I recommend doing, it's classic Remedy mind melting craziness.

That's a synopsis of the plot you discover in the first like... 10 minutes.

I assume this will be on Game Pass, right?

You assume wrong I think. Remedy owns the IP so it would be up to them to allow MS to make the deal to put it there.

Oh, right, I thought they were friendly with MS.

I think the relationship is a bit better than when they are developing Control, but if I had to guess it won't be on release. Maybe it will be like Control and show up a year or so later.

Oh wait, so this will probably be an Epic Store exclusive too, like Control...

Possibly not right away, but remedy tend to put their games on there eventually.

Let me know when the sequel is coming out, Control has me itching for one. Actually, I say this, but I will be guaranteed to play the remaster, just solely to experience the story for a fourth time.

I've started Alan Wake twice but never finished it. Not because I didn't enjoy it but because I got distracted by other things and I don't like coming back to a game partway through after a big break. I just upgraded my desktop system so I think I'll have to try a third time soon, but I'm not sure whether to play the original that I have or wait for the remaster. I guess it depends how much it costs, so I'll hold off until then.

It certainly is worth playing. One of the best parts abiut AW is that you can actually stop in between episodes and there is a recap like a TV show. This was totally intentional by the devs and one of the most unique parts about the game.

I did get a fair way through the second time, so I have had a solid experience of the game. Probably over halfway through but not sure exactly. I think I'm going to have to play it sooner rather than later. I'm guessing that I probably won't want to pay full price for the remaster, given the huge library of unplayed games I have on Steam.

I see that the remaster is going to be an Epic Games timed exclusive so I don't think I'll be waiting long enough for that to arrive on Steam to play it again.
Windows Central Newsletter
Thank you for signing up to Windows Central. You will receive a verification email shortly.
There was a problem. Please refresh the page and try again.