Alcatel Idol 4S coming to Europe in June as the Pro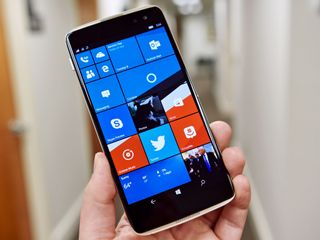 Keeping true to its word, Alcatel is indeed bringing its Windows 10 Mobile toting Idol to Europe, but we'll have to wait until June, and it won't be the Idol 4S with Windows 10. Well, it will, but it'll be called the Idol 4 Pro for the European market instead.
The news has slipped out at MWC and reported by MSPU among Alcatel's other device news, namely the interesting sounding Plus 12 Windows 10 tablet.
The Idol 4 Pro will be the same exact phone we already know and love, but with a less clunky sounding full moniker. That means a Snapdragon 820 processor, 4GB of RAM, 64GB of internal storage with microSD expansion, a 21MP rear camera and a fingerprint scanner for Windows Hello.
It won't come cheap, though, with the price set to be 599 Euros when it does go on sale. That's still cheaper than the Elite x3, and it's still a high-end smartphone, but prices will no doubt come down eventually.
In the absence of anything from Microsoft, or anyone else really, it is at least another good option for Windows mobile fans in Europe.
Richard Devine is an Editor at Windows Central. A former Project Manager and long-term tech addict, he joined Mobile Nations in 2011 and has been found on Android Central and iMore as well as Windows Central. Currently you'll find him covering all manner of PC hardware and gaming, and you can follow him on Twitter and Instagram.
They need to have NFC to be "Pro".

Why? No tap to pay in Europe means that for the masses it's not something that we'll even miss. I don't miss it and I've been using the Tmo version since it was launched.

"No tap to pay in Europe"?!!! If we have tap to pay in bankrupted Greece (and we have) I'm pretty sure it is available in more developed European states also

Nope it's not available on Windows 10 mobile outside the US yet. Apple Pay, Android Pay, Samsung Pay etc etc are all here but not Windows 10 yet. Crazy when the UK is the largest user of contactless payments yet I can't use it on my Lumia 950xl here. I'm sure it'll come but like everything else Microsoft are too late to the table

Oh, but it is. Not through wallet but service provider elisa/saunalahti had their own tap to pay app for the past 2 years here in Finland. Just recently got bought and, surprise, they cut off Windows 😒

I can't agree. I use NFC with L640XL for passing in city transport systems (as backup, because mostly use transport card) and to pay on any mastercard paypass compatible terminals (these functions provided by MTS carrier). Also i charge the transport card with phone's NFC module with WP8.1 application by Mosgortrans via credit card online payment on the go to bus stop or subway station. In Moscow, Russia. And to send something to other phone via NFC, but that is rarely case.
So i do not consider buying any not NFC compatible phone.

You can also used Yandex wallet on Windows Phones here in Moscow. I didn't know you charge up a Troika card with your phone though, that's pretty freakin' cool! I gotta try that.

Yes it will, as long as you select one of the supported languages as your phone language.

i meant ''hey cortana'' without pressing a button

Hey Cortana doesn't work in phones, only Pro or Surface line, desktops.

do you mean does it support? Hey cortana yessssss

Yessss, Cortana is no longer region specific, but language specific.
I live in Belgium (Dutch part) and I set my phone language to English (US) while my region is set to 'Belgium' and Cortana is working just fine. Lookup music, weather, navigation....

This has never worked for me it is it only for the creator's update?

Yeah I'm in Russia and I had to set the region to US

599euros for this? Forget it I could buy the HP X3 for 720€ in Germany

Which is worse? Even more overpriced and you get what? Slightly bigger screen, 2K screen and slightly better battery? So what?

Don't forget NFC and Wireless charging plus all of the X3's I've seen includes the desktop dock. The price you guys pay is crazy compared to us in the US. I feel for you guys.

I've just got 950XL for 340 euros.

~280 EUR in Switzerland now. The prices have really dropped from the MSRP of 599.

Of course. The phone is over a year old.

Will this come with the AU?

By June, this will come with the Creator's Update.

Awesome! I'm glad that the phone will finally be available there too. So far, Alcatel is doing it right. They offered it unlocked after having it locked to a carrier in the US and now it's heading across the pond!

That's a fair point but not to knock on VW users, that would take a LOT of investment to make that happen. In their case, they already had a relationship with T-Mo so it made sense to lean that way.

I have the idol 4s Windows and seriously, it ain't nowhere near pro level . Other than better battery life. Camera is worse than the Lumia 950 ( esp at low light where the default Auto mode always creates a bluish tinge). Also the finger print sensor is very much hit and miss. Almost 30% of the time, it doesn't register. The convenience key is extremely inconvenient as you always accidentally press it if you are a right hander and end up activating the camera instead. Only bright spot is the front facing camera which is better than the one on the Lumia. Imo, better off with the cheaper Lumia 950/950xl

how does its screen compare to the Lumia 950? (I don't mean resolution but outdoor visibility, black of amoled etc)

Not as good, it's daylight brightness is not very good even with auto brightness

Agreed with pretty much everything you said except for the front facing camera. I think both cameras on my 950 are better. The things I liked better on the Idol 4s compared to my Lumia 950 is the faster processor, more memory and the battery life is amazing. However, I will probably go back to a Lumia 950 due to the Camera and wireless charging.

I don't know what you're doing, but I've never accidently pressed the camera key and I'm right handed. I also have no problem with the fingerprint scanner. Maybe you need to set it up again? And what do you consider "pro level"? It has fantastic build quality (far exceeds the 950/XL), excellent battery life (also much better than the 950/XL), continuum, great speakers, 64 gigs of mass storage (double what the 950/XL offer), 4 gigs of RAM and a top notch processor (better than the 950/XL. The screen is beautiful. It's missing NFC, but for some of us that's a wasted feature (I don't use it and never will. If it's a feature someone needs, this isn't the phone for them). The camera isn't up to the standards of the 950/XL, but It's a decent camera. Overall, I like it better than any phone I've ever owned.

it has 3 things that should stop anyone from buying this: 1. The mediocre OS 2. Terrible camera compared to most of the devices out there 3. Continuum gimmick...yes it is nothing more than a gimmick, useless

Never had a problem with finger print reader on HP. Super fast and reliable.

Never had a problem with finger print reader on HP. Super fast and reliable.

Lumia 950 XL retails for around ₹20k in India. Solid phone. No idea about Alcatel though.

Says who? Its out of stock everywhere here.

Check Reliance Digital Hyderabad

​599, wait what? Are they rolling around the boardroom over there laughing their chemically enhanced heads off? See that Satya, there's your partner strategy at work. Last seasons hand me down specs at this seasons prices. Oh what's the point, we all know they don't care. Idol 4s is admittedly very nicely designed but, carries way too many compromises at that price.

Cheering and rooting for this device to succeed.

Not at this price in my opinion...

for 250 would be a nice deal - not ideal, just "nice" but for 599 its not worth it, not even for a WM fan

So, then, you must think the Elite X3 should be going for 350 and the 950/XL for 100-150.

Ok, so maybe they are exagrating a little, but I'd expect it to at least be comparable to it's Android equivalent the BB DTEK60, which whilst almost identical does have the better screen and NFC. That is on sale for 400-500 range and has been on the market for months.

Yes. That is exactly how much those devices should cost. Even at those prices, they will have a hard time moving them.

June 2016, then I would've been with you there. 1 year later and I just can't see it. Now throw in a couple of the following, like better camera, NFC, 1440p screen or more up to date SOC (SD 821 or greater) and I'd be back on board. The design is really good.

I picked up one of these unlocked to try out. I loved the speakers and was interested in having better battery life than my 950xl, but the camera button is the worst. It activates WAY too easily and is in a wierd place. I accidentally activated my camera just from regular handling of the phone way too often to ever see a real battery benefit.

fk that, i wanna a elitex4 a midrange phone from HP :(

Great phone. A bit high price wise but still a great phone.

:)) can't keep from laughing. 599 :))) for a device running a dead OS? who on earth they think will buy this? when you have better options out there, much better.

Great stuff, ill buy it when the price balances out or get it through my carrier if it is offered

600€ is s normal price for a flagship in Europe. In fact it's 100€ less than the normal flagship price. The difference here being however that this is 600€ for a phone with a dead OS. But hey, at least the remaining Windows Phone fans in Europe - all two of them - can now buy it.

Nice device , no nfc? We still can't pay in the Netherlands with my ms L950, waiting for it!
Windows Central Newsletter
Thank you for signing up to Windows Central. You will receive a verification email shortly.
There was a problem. Please refresh the page and try again.