Alcatel Idol 4S with Windows 10 Mobile drops to just $199 at Microsoft
Alcatel's Idol 4S can currently be picked up for quite the bargain at Microsoft.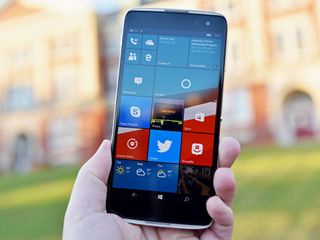 If you're still looking for solid deals on any remaining Windows phones on the market, Microsoft is currently offering up a pretty solid deal on the Alcatel Idol 4S. The Windows 10 Mobile-powered phone can currently be picked up for just $199 at the Microsoft Store (opens in new tab), which is a hefty step down from its $470 list price.
For the money, the Alcatel Idol 4S comes unlocked and should work fine on AT&T or T-Mobile. Inside, the phone is powered by a Snapdragon 820 chip and 4GB of RAM. It also packs a 5.5-inch FHD AMOLED display a 3,000 mAh battery with support for Quick Charge 3.0, and a fingerprint sensor. A VR headset, one of the Idol 4S main selling points, is also included in the box.
Alcatel Idol 4S with Windows 10 Mobile review
There's no indication that this is a time limited deal on the Microsoft Store listing, so you've likely got some time to make up your mind. Still, this is the best price we've seen from Microsoft on the Idol 4S. Given the state of Microsoft's mobile efforts as of late, this won't hit impulse buy territory for everyone, but it should still be a solid deal for fans.
See at Microsoft (opens in new tab)
Windows Central Newsletter
Get the best of Windows Central in your inbox, every day!
Dan Thorp-Lancaster is the former Editor-in-Chief of Windows Central. He began working with Windows Central, Android Central, and iMore as a news writer in 2014 and is obsessed with tech of all sorts. You can follow Dan on Twitter @DthorpL and Instagram @heyitsdtl.
Which makes the EU price pretty embarrassing. They really should have gone with planning over a haphazard release.

@AndyCalling. Perhaps that would follow suit next weekish.. who knows.

Since it's just been released that would be a bit strange, but I suppose where Windows marketing is concerned anything is conceivable.

It's been $200 on Amazon for months now, Microsoft finally got around to matching the price.

You're right about that, I totally forgot. Microsoft just wanted to be difficult, I guess.

They can't showcase it on their website as a premium product if it's a fire-sale at $200

F'n Verizon. I'm still stuck on the Lumia Icon. Need to switch to Cricket or something. Ugh. Would love to be able to use this phone!

I'm in the same boat. I have 4 other lines on my account, so switching isn't easy and probably not going to happen. Have we heard anything lately about the Elite X3 and CDMA certification, or whatever was going on with it? That being said, I think I'm going to move to Android soon. My Icon is on its last legs and the latest app losses have put a dent in my continuing desire for WM at this point.

I saw a little while ago some talk about either this or the HP phone to get Verizon network compatibility but I don't know if that's still in the works (I doubt it, honestly). My wife and both my parents are together in this too. We love our phones and really don't want to switch (we all came from Androids to this phone just a little over two years ago) and are very happy with them. My phone, surprisingly, is still just as solid as it was when I got it. And I really don't use apps much anyway, so that's not been an issue. My old Samsung was barely functional after two years and my wife's LG was "angering" (apparently liquid waste is an offensive term here! lol) her off after less than a year. We are all on the last release MS issued to Win10 mobile before limiting it to just the handful they now support. Really sucks because I was really looking forward to some of those updates.

The HP Elite X3 is supposed to be...or has been...submitted for CDMA certification. Since the story first broke, there hasn't been any further updates If the X3 does make it to Verizon Wireless, it, probably, won't happen until the end of the year...but who knows for sure?

What a sweet price. The only problem Windows Mobile 10 doesn't have certain apps in the store. So, I'll maintain my 8.1 device as long as I can.

Out of curiousity, what device do you have? I'm just wondering. My dad still has a 640 that is working just fine for him.

Still rocking a Lumia 830. Truthfully I wish I could load 8.1 on the IDOL. Then this phone would already be mine.

Wow nice! I wanted that phone so bad haha.

Will Microsoft Wallet work with this? Will mobile payments work considering this doesn't have NFC?

Microsoft Wallet works but mobile payments do not, for the reason you stated. You can use Wallet to house membership cards digitally though, for example, a Best Buy Rewards card or CVS card. I didn't think Wallet would be useful if there was not tap to pay but it is still nice to not have to sort through my multiple membership cards.

A nasty kick in a nasty place for any one who paid full price.

Tell me about it... I still owe more than that on my EIP on my TMO version. =P

Yep, just paiod mine off at more than that.

Is this going to be the absolute last chance to upgrade your Windows Phone because there won't be anymore new Windows Phones for sale?

Probably. This and the Elite X3. Unless HP brings out a new phone (was there rumor of this?).

Actually, the rumour is HP's next Elite model may be an Android device. :(

The idol 4s is a laggy mess.

Laggy in which way? Because my wife has one and up to now hasn't had any issues. But then again she doesn't play games whatsoever. Now, the camera is certainly no Nokia brand. It's not even HTC... well it's kinda poor the camera that is. :(

Doesn't HTC currently have the best camera available?

@Bleached. Precisely what HTC model lol? It's not like HTC made just one phone...

Whatever the new one is. U11 maybe? https://www.dxomark.com/mobiles/column-right/mobile-scores Yup, that one.

DXOMARK doesn't test all smartphone cameras the same, not utilizing certain features of the cameras, such as Xenon flash equipped phones or to each device's full potential. Steve Litchfield has written about this before. Notice how even the 808 PureView, which was FAR ahead of all camera phones, especially at the time of review, was scored 76. As a professional photographer, I don't trust their phone scores at all because they don't put the same requirements or due dilligence as they do for dedicated cameras.

Agreed, DXO is a joke. The 1020 has the best camera of any phone of the past 5 years and its rated poor. Too funny. My 1020 could whip my iphone 6s in photo department. The Iphone has gimmicks like slo mo video etc, but for pure photo quality, the 1020 hands down.

Resolution isn't the measure of quality, at all. The L1020 was good when it came out but it was quickly surpassed by new phones. I know iPhone and Windows phone poeole don't like DxO because they aren't rated as high but do you really think the slow evolution of iPhone and Windows phone could keep up with Android devlopment? You will never be able to find a blind tests where the L950 beats modern phones, let alone the 1020. Even this site didn't choose the 950 in their blind tests.

I am sure that you are completely wrong on that BLEACHED. The 1020 has surpased most any phone to date in IMAGE QUALITY. video...speed etc...yep...but NOT IMAGE QUALITY.....

Find one reputable source that says that. Even Steve Litchfield says the L950 is better.

I am quite sure the 808 was on top of their leaderboard for years. I don't see their reviews being any different from other publications. Steve Litchfield is massively biased. His reviews are insane and do not match anyone I can find.

I have the HTC U11. The camera is right up there with the L950 (which I thought was excellent). The U11 front facing camera is definitely superior to the L950. In any casual viewing test the U11 is at worst easily on par with the current generation of Samsungs and Apples. Pretty sure idol isn't bringing something better.

I have noticed a few lags here and there on my wife's 4s. It actually locked up twice in the past week just using the messaging app and I had to do a soft reset both times for it to respond. Is it firmware or MS at this point?

Firmware and maybe a little bit of Microsoft. I've had mines lick up on me quite often.

It lags more than my Lumia 1520. choppy scrolling, app crashes I feel like I'm using android from 2012. It's in desperate need of a firmware update.

Hahahaha yep same here, I emailed them, tweeted them but they are some lazy idiots.

The 1520! Arguably the mightiest Windows phone ever released...so far. :)

I agree, it's ridiculous because they don't support it. I've told those idiots on twitter that it needs firmware updates but they said and did nothing. I'll never trust Alcatel again.

Don't blame Alcatel for Microshit's pathetic retrenchment. Alcatel finally realized what mess Microsoon is in and probably has disabled the resources needed to support and update the firmware for this phone. Why losing money on a device that 0.1% want to buy?

Microshit, Microsoon! How about the fact that you have a Microbrain and probably another appendage that is micro in size.

I haven't encountered any lagginess.

I wouldnt pay $50 for a phone on a dead platform. Heck I tried to trade my Lumia 950xl in at Verizon. I was toying with getting a Galaxy S8.
Verizon would give $10 for my phone. $10!!!!!

Exactly, I was thinking that much for a phone using a dead phone OS is still too much.

It's a business not a charity, If you took a packaged ps4 game into a game shop for example you would get at most 30% - 50% (it also depends on the store rep you get at the cashier) of the price you paid for it - BUT that is if it's a popular title and it's in demand otherwise you would get no more than 15 dollars for a 60 dollar game.

So are you doing your own math here? 30-50% on trade in value is about right. Absolutely worst case is 25%. $10 on a $650 dual sim unlocked phone is less than 2%. See the issue here? Its because Windows platform is dead.

$10? Jesus. Sell it on eBay man. I see a bunch of unlocked ones listed for around $200, and they all have about two to three dozen bids for them, so somebody still wants them.

any windows phone does not worth much than that these days.

So you had a 950XL for verizon?? which universe? MS never made 950s for verizon!!

No I had an unclocked dual sim 950xl. I use it on AT&T. I was thinking of switching to Verizon because they had a "trade" deal going on. Of course when then offered $10 I decided Verizon could go f' themselves.

My Idol 4S had its fingerprint sensor stop working recently, thing is loss than a year old.

That's because of the last firmware update. They're fixing it soon.

At this price, I would buy if the app store didn't still suck so bad. While I dealt with it when I had my WP 8.1 phone, it has only gotten worse in W10M and not getting any better. Now, that I have been back on Android for awhile, I don't think I could deal without the apps I need and want.

Understandable, I was expecting to see an official price drop around the beginning of September..

Best stereo, multi-directional firing smartphone speakers ever!!!!

lol dont play them at max did on mine blew the top speaker....started crackleing alot.

Let me know when it reaches $75!

I would not pay $50 for it with the support Microsoft has shown for Win10m.

blowing them out slowly...next drop will be 99 bucks!

Wow. This is the Death Rattle for Windows 10 Mobile, cleaning out the stock for the 2017 Holiday. Expect the Windows 10 on ARM announcement during the Mobile World Conference in Barcelona - Feb. 28th 2018.

months and months away, as i roost with a phone operating system (ios) that i don't want

Yeah I feel you, same here

Is the VR headset useful?

No it's not. There's no content except what comes with it. Novelty at best. The deal is good though, on amazon the lowest for ulnocked has been $224.

If someone could find a way to ditch windows os and get Android then ittle be pretty good

Alcatel sells an Android version of this phone. I think the Idol 5 has also been released, or will be shortly...

Can't believe yall still on windows mobile or phone.

Man.. wish I could justify dropping 100s of dollars for a phone whose operation system is boring or laggy!!! Besides the camera on my 950XL isn't too bad!! holding on till it drops dead

:)) doesn't matter. Good hardware, plagued by mediocre software.