Alien Vs. Predator: Requiem available for free this weekend with Xbox UK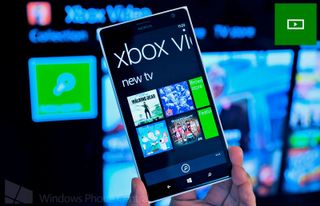 Xbox Video is Microsoft's movie and TV streaming service supported across all its platforms – there are apps available on Windows 8, Windows Phone, Xbox and the web.
Microsoft today unveiled a sweet freebie for everyone to enjoy this weekend. Aliens Vs. Predator: Requiem will be available for free, enabling those who haven't yet seen the 2007 AvP sequel to sit through the sci-fi horror movie.
If you've yet to choose a movie to go with the bags of popcorn purchased, this will be a sweet alternative if you're unable to decide. That said, the film isn't the highest rated film in the world, with Rotten Tomatoes only giving the title 12 percent.
Still, free movies are worth noting. Be sure to check on your Windows devices (or the web) this weekend to enjoy the second instalment of the Aliens Vs. Predator series. Here's the trailer:
We've reached out to Microsoft to see if this offer is region restricted.
Source: Xbox Video, via: Facebook (Windows Phone UK)
Windows Central Newsletter
Get the best of Windows Central in in your inbox, every day!
Rich Edmonds was formerly a Senior Editor of PC hardware at Windows Central, covering everything related to PC components and NAS. He's been involved in technology for more than a decade and knows a thing or two about the magic inside a PC chassis. You can follow him on Twitter at @RichEdmonds.
Lolz. No Xbox video here in India

When I saw the notification, it sounded like a new awesome xbl wp title... *sigh

That's understandable, because you guys are basically English anyway ;) ;)

Just saw it the other night but ill watch it again only coz i want to see quality on my phone.

US NEVER GETS ANYTHING. /s Please don't kill me.

Lol u have every right to say that.

LOL, you know they don't have any guns.

For all those complaining that this isn't offered in their country: You're not missing out on anything. Truly awful film.

Yeah I'm a huge A, P and AvP fan...i even liked the first AvP movie as they'd taken some of the storyline from the books...but this isn't a good film. They could've done so much more with the predalien...and what's with the super-fast gestation time?!! There are a few good deaths tho...and whatever happens, it's still better than the DOOM film #mostdisappointingfilmever

***POTENTIAL SPOILER*** How about that scene where the Predalien start shooting eggs down that pregnant woman's throat? You can see the lumps going down in her neck. It messes me up everytime, lol.

Ok, now time for an Xbox Video subscription service.

Well, I certainly would use Xbox Video on my Xbox One IF playback wasn't so horrible. Seriously, watching the same video from either my Xbox 360 or Windows 8.1 PC (all connected to the same TV and reciever) produces different quality. The Xbox One is HORRIBLE at scene panning, where it skips. Same movie on eitehr my X360 or PC, no panning issues. WTF. Feb update didn't fix this severe issue on the Xbox One.

Is there a twitter account or something that a person can subscribe to that keeps you updated on the free movie of the week/weekend?

That would be great. I watched Helix for free a few weeks ago and still not sure how or why it was free.

They would have to pay ME to watch that junk.

MS u havent marketed bing and XBox well here in India. Except for Windows and Windows phone. Yeah even surfaces.

We never get free stuff in the US....

hehehehe nice one...by the way FINALLY SOMETHING FOR ''US'' (LOL) even if it is a crappy movie...lol

Leif Mannerströms favoritfilm.

Lol great a free crappy movie;)

I loved this movie. The nursery scene is classic. My favorite Alien movie since Aliens.

Aliens was the reboot, right? XD

Not sure what that means. "Aliens" is the James Cameron classic action-scifi movie. With "AvP: Requiem" they finally brought the action to earth in a very entertaining way, with a nod to old alien invasion movies, and the twist that the Predators are here to clean up their mess (they having brought the xenomorph here). The first AvP never really moved beyond its "The Thing" / "Alien" ripoff premise. But with "AvP: Requiem" they do, and set up the story better for future outings. Since it wasn't exactly a hit as far as I know, and got such poor reviews, nothing seems to come of it. But it is a really entertaining movie, heavy on the action, gore and horror, which executed what it set out to do very well.

I was under the impression that the original is just called, "Alien," and that the (failed) reboot from a few years ago was called "Aliens".

Not sure what failred reboot you are talking about, unless you mean the first "Alien vs Predator" movie. If you have not seen "Aliens"... run out and get it. Greatest sci-fi action movie ever. I forget sometimes that it's 28 years old by now, and there's a whole generation of people who have never seen it. https://www.youtube.com/watch?v=zNE0dlHcmgA

Alien is Alien 1 and Aliens is Alien 2. This movie doesn't really have anything to do with the Ripley story though.

I will send a Free copy to any American who will send me a Lumia Icon to the UK lol

Had anyone managed to get this working on their phone? I only get the option to buy it on my 1020.

Checking and Canada is currently showing Jamesy Boy for free. Anyone seen it?


Not free in Belgium :/ Unfortunately, here, in Belgium, we don't have any good things coming from Microsoft (during the Holiday sales, 20% of on Microsoft Surfaces with a free keyboard and in Belgium -> Windows Store 25€ card with your purchase and 20% on accessories)...

Pretty sure this is in retaliation for all the "US again" complaints.

Not available on NL1020 Or NL920. but free on XBONE

Horrible, absolutely horrible movie.

The U.S. got Jamesy Boy this weekend. You win this time, U.K..

Terrible, terrible movie only watched so i could fall asleep. If anyone hasn't watched aliens at all, watch Prometheus first. Watched it day one imax 3d... Damn what a movie!

Not free here in England! Says free rental then demands payment. This Xbox video is of poor quality and has a kiddies feel to it, unlike the quality of Zune.

I watched it for free last night (live in the uk, England)... If you need something to put you to sleep, this is one to watch. Otherwise its not even good enough to be a time waster lol.

I checked it last night "saturday night" and i was wanting me to pay for it. So not free here in the UK unless i missed something?
Windows Central Newsletter
Thank you for signing up to Windows Central. You will receive a verification email shortly.
There was a problem. Please refresh the page and try again.