Alienware laptops powered by NVIDIA's GTX 10 series graphics set to debut at PAX West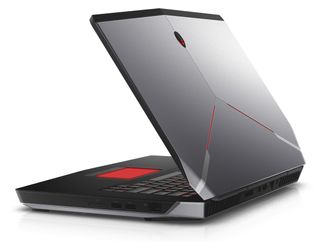 Now that NVIDIA's new GTX 10 series graphics chips for notebooks are here, it's time again for an avalanche of hardware refreshes from manufacturers. And while Dell hasn't decided to show its hand just yet, the company just announced (opens in new tab) that it will show off its latest Alienware notebooks powered by GTX 10 series chips at Pax West in September.
According to Dell, it sounds like we're going to get updates across the board, from the large Alienware 17 to the smaller Alienware 15, and the even smaller Alienware 13. However, we'll have to wait until Pax West to learn more. Luckily, Alienware fans won't have to wait to long: Dell is set for a midnight unveiling on September 2 — the official first day of the conference.
Are you looking forward to seeing what Dell has cooked up with NVIDIA's latest mobile GPUs? Let us know in the comments!
Windows Central Newsletter
Get the best of Windows Central in in your inbox, every day!
Dan Thorp-Lancaster is the former Editor-in-Chief of Windows Central. He began working with Windows Central, Android Central, and iMore as a news writer in 2014 and is obsessed with tech of all sorts. You can follow Dan on Twitter @DthorpL and Instagram @heyitsdtl.
Awesome. Finally my aging 04 yr M17x R2 has found a worthy successor. The 1000 series graphic cards are just as profound as when the 600 series debuted, back in 2012.

Hopefully they'll improve the design a bit. Their laptops look like tanks.

I like the tank look. Besides my 5yr old thinks im connected to the alien database. Kids are so gullible hehe

I like the look too but it's too damn big. They should at least make a thinner version with the GTX 1060 for those who don't want to break their backs carrying this thing in their backpacks. If they could keep the look and just make it thinner it would be awesome.

If you want a thin laptop don't look at gaming rigs, you can't have it both ways.

What about razer blades? They are truly gaming ultrabooks.

Much better design then e.g. MSI that looks terrible with those huge vents. IMO the Alienware design is one of the best for gaming laptops.

They looks almost the same to me (quite bulky), especially since they both use the black&red theme.

Sager/XMG look better in that regard

Alienware has changed since being bought by Dell and going private. Up until a few years ago when you thought of bleeding edge power and performance, you thought of Alienware. When people were growing up, Alienware was the Holy grail of gaming. Not anymore. I own the last beast they made, the AW 18 with dual 980's and it is a heck of a machine. Even it showed signs of a new direction for them though. They no longer provide an 18" sli machine, the newer line of machines are all BGA, not upgradeable anymore and suffer from throttling issues due to inadequate power supplies. Even their E-GPU suffers from not enough power to fully utilize the GPU in it. Alienware has become a more mainstream company offering products for the everyday PC gamer much like every other company out there. Now, these machines will be great for the normal gamer, but for the enthusiast out there, they no longer offer what we are looking for. Go to some of the Alienware forums and you will see all the disappointment. Having said that, their build quality is leaps and bunds above the others, their cooling is still better than any other as is their warranty service, as long as they honor it. There are and will be plenty of other options that perform the same and sell for less than the Alienware machines. So good for most people who get one, you will enjoy it. But some of us have been let down due to there no longer being and enthusiast level beast by the once great Alienware and would love a return to that level. Not holding our breath anymore tho.

Alienware was never respected in the PC building world.. Anyone who knew how to build a PC knew it was about $2,000 - $3,500 too much than what they were asking for; making it the mac of the PC gaming world.

You are wrong Lawrence Crecy, Alienware was HIGHLY regarded for their laptops BEFORE Dell bought them. They also had the best tech support of any company in the tech world then and ever sense

Maybe for LAPTOPS but not for DESKTOPS. Been building/fixing PC's since Alienware was making them and because they always had that Dell motto they're glorified hunks of proprietary designed metal and plastic.
When their crappy hardware would burn out and trust me it always did; you couldn't upgrade it what so ever without major modification.
Hence why in the custom build/IT world they were always crap.
I just fixed a customers $7000+ alienware desktop from 2011 with dual 4870x2 cards and some ridiculous Intel xtreme quad core that's like $1000 till this day and they had a basic heatsink/fan that was overheating and a power supply that was 1200 watts and was SUPER cheap that burned out and would puff smoke with 2 case fans... Real good quality.

Nah, Alienware has always been overpriced junk even before Dell. Anyone who builds their own system could tell you that.

Can't wait for these to come out, hopefully they try to keep the price reasonable as I am due for a gaming laptop refresh and plan to buy one in the next several months or early next year. Alienware seems to be the best option purely for the fact you can get the Alienware Graphics Amplifier and have desktop class performance on a laptop and you can easily upgrade when new GPU come out, so it future proofs your system, if you don't want to go full desktop.

I bought an Alienware backpack for my new ASUS G752VY. It's likely the only Alienware-branded product I'll ever own.

I still have my Alienware the M17X R4 and it`s running great and fine, I wanted to buy the newer model like this upcoming Alienware with the GTX 10 series but i know better specs more money like my 4/3 year old laptop I decided to upgrade the GCard since i can buy a replacement thru EUROCOM, I know in the long run new Alienware Machines will show up, and newer graphics card will pop out. but no doubt this ones gonna be a beast!

I'm only interested in an Alienware 18 sli. If they don't bring that back then I will just upgrade my mid 2014 to 980m sli.

Which is what I currently have. Problem is it looks like NVIDIA changed things enough that the new card won't fit in any laptops that came out before Pascal cards so we can't upgrade past the 980. Not sure if they plan on offering "m" series cards at all but I seriously doubt it.

Only interested if they bring back the 18x, otherwise, its on to Sager.

I build my own desktops. I'd never buy a gaming laptop as the term is an oxymoron but if I had to by one, it would be the 17" Alienware.
Windows Central Newsletter
Thank you for signing up to Windows Central. You will receive a verification email shortly.
There was a problem. Please refresh the page and try again.