Which Windows Insider Ring is best? All you need to know about Slow, Fast, and Release Preview rings
Rings, rings, rings! Which is the best Windows Insider ring for you and what are the risks involved? We break it all down for you in this comprehensive article.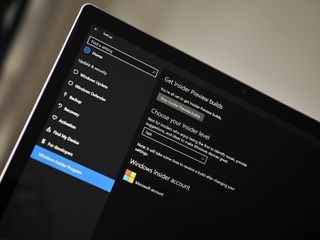 Back in February, Microsoft introduced a third Ring for the Windows Insider program for PC and Phones called Release Preview. That was in addition to the already existing Fast and Slow Rings.
While some of the rings seem self-explanatory, we still see frequent requests by users as to which Ring is best for them. In this article, we'll try our best to break it down.
A word of caution about Insider rings
The important thing to remember about the Windows Insider program and Rings is that you can always go up in build numbers for example 10586.218 to 10586.242, but you cannot go back down e.g. 14332.1001 back to 10586.218 without resetting or reflashing your PC and phone, respectively.
That means you can go from Production to Fast Ring, but you cannot go back to Production without a little footwork.
If you are on Windows 10 or Mobile, and you are going into Fast Ring, it will be a small project to go back to any other build like Production or Release Preview. Just keep that in mind when reading below and before deciding.
Speed in enrolling
When you are enrolling in the Windows Insider program there is some difference in time for it to kick in:
PC – For PCs and laptops, once you go from Production to any other Ring for the first time it could take upwards of 24 hours before you get the OS update. Once enrolled, however, you can change rings immediately.
Phone – Phones, for some reason, are instant. As soon as you enroll, your phone goes into that ring and can get the OS update right away. The same applies for changing rings.
Types of Rings
Fast Ring
Fast Ring is ideal for those with a second PC or Windows phone who don't mind taking some risks. While you can easily use Fast Ring on your primary device, you are taking a risk of a less-than-stellar user experience. This risk is doubly true for Mobile and phone where the new bugs could be bothersome. As Fast Ring evolves for new milestones e.g. Redstone 1 they do become more stable.
There is little tolerance for complaining about bugs or issues with Fast Ring as that is what you are signing up for when you join. Microsoft knows Fast Ring is buggy, which is why it exists. Nonetheless, you are highly encouraged to report those bugs and give feedback using the Feedback Hub.
What is a branch? - Fast Ring is a different branch of the OS than what is currently shipping on new PCs and phones. Branch is a term for developers that means the OS is splintering off the main code base so Microsoft (in this case) can do things like refactoring the OS, add new features, and change core aspects of the OS.
Later, this branch merges into the main OS when an official OS update is released for everyone on Windows 10. For example, the current branch is codenamed "Redstone 1" but will be released to everyone as the Windows 10 Anniversary Update sometime in July (rumored).
Windows 10 Anniversary Update - All you need to know!
A more concrete way to see a branch is in the build numbers. The current production release is 10586.xxx or 10586.218 whereas the "Redstone 1" branch is 14xxx.xxxx or 14332.1001. To see your OS version just type in "winver" into the Cortana/Search box on your desktop or Settings and About on the phone.
Frequency - Updates usually arrive for Fast Ring every two weeks, although sometimes the frequency is even higher. Your phone or PC will be out of commission during the update process, and this could interrupt your workflow.
The tradeoff with the risks associated with Fast Ring is you get new features first, which is great for enthusiast users. However, sometimes those new features are only partially operational, so it can be a mixed back until more updates come through.
App Rings - Finally, there are also 'app fast rings' where certain core apps like Outlook and Groove can get different updates (build numbers) than Production or Release Preview. Since new OS features rely on the OS and the corresponding apps, this makes sense.
Slow Ring
Slow Ring is a harder to classify if you are new to the Insider program. The short version is that you are still taking a risk if you want this on your daily machine or phone, but it is a few builds behind the Fast Ring, so it's not as risky if that makes sense.
Here are some other bits about Slow Ring:
Slow Ring is more stable than Fast Ring
Slow Ring has fewer updates than Fast Ring i.e. every six weeks or more
Slow Ring is the same branch as Fast Ring
You still get new features, but obviously not as quickly as Fast Ring
Slow Ring is still in the "experimental" category for Windows 10 as an OS, but it is not as risky. This, however, is where it gets grey as there are still some bugs and quirks, but people's thresholds vary as to what is a buggy and what is not. Plus, your experience depends on your device, drivers, etc.
Release Preview
Release Preview is the newest and perhaps more interesting ring for those who want the latest bits of Windows 10 and Windows 10 Mobile, but do not want to leave the current branch.
In other words, Release Preview is just an update to 10586.xxx. For instance, the version of the OS that is released for the public right now is 10586.218, but Release Preview is 10586.240 for PC and 10586.242 for Phone.
Once or twice a month Microsoft releases cumulative updates (or patches) for PCs and Mobile. These usually fall on "Patch Tuesday". These updates are bug fixes, security patches, improvements to the OS, general enhancements and more.
Everyone gets these updates eventually, but Release Preview users get them earlier. You will rarely get new features with this Ring, but you can be assured of its stability. If anything, your phone or PC will get better with this update as it just Microsoft optimizing the OS for everyone.
If you are happy with Windows 10 or Windows 10 Mobile but want fixes and patches early then this is the build for you. Feel free to install this on your main PC or daily use phone because you are going to get it in a few weeks (at most) anyway!
Production Ring
Finally, there is technically a fourth ring called Production. However, you only see this option given if you are already enrolled in a Fast, Slow, or Preview Release.
Production simply means the publicly available version of Windows 10 and Windows 10 Mobile that is open to everyone.
You only choose this ring when you want to stop getting Insider updates.
Note, however, that if you are in the Fast or Slow ring, going back to Production does not roll back your phone to the main branch. Instead, you will need to use the Windows Device Recovery Tool (WDRT) to re-flash your phone or use the rest feature in Windows 10 for PC.
You can quickly go up the OS ladder, but getting back down is tricky.
Wrap up
Microsoft's Window Insider program is a vast and sprawling machine that is constantly growing and improving. Rings are an important part of that project to make "Windows as a Service" (WaaS) where the OS is just constantly and perpetually updated and improved.
Which ring you choose depends on how many devices you may have, how much of a risk taker you are and how many issues you are willing to deal with for a release.
Personally speaking, I think Release Preview will give you the most stable, consistent and rewarding experience if you are okay with not getting the fun stuff in Fast or Slow Ring. If you just need your PC or phone to work then go with Release Preview.
If you have a spare Windows Phone laying around or an old tablet feel free to put the Fast or Slow ring on it. If you have few issues, consider it for your primary phone or PC. Or, if you just don't mind bugs, possible battery issues, etc. then just go for it. You could always re-flash your PC or phone to the main branch; it may take you 30-90 minutes, but it's not the end of the world if something goes wrong.
Just remember to back up everything!
Windows Central Newsletter
Get the best of Windows Central in in your inbox, every day!
Daniel Rubino is the Editor-in-chief of Windows Central, head reviewer, podcast co-host, and analyst. He has been covering Microsoft since 2007 when this site was called WMExperts (and later Windows Phone Central). His interests include Windows, laptops, next-gen computing, and for some reason, watches. Before all this tech stuff, he worked on a Ph.D. in linguistics, watched people sleep (for medical purposes!), and ran the projectors at movie theaters because it was fun.
After 9 months finally I have learned the difference between the insiders version... Posted From my PC.W10 Master Race

Great article Dan....much needed!

Check this thread: http://forums.windowscentral.com/windows-10-mobile-insider-preview/42107...

Cuz if you liked then it you should have put a ring on it... Posted from Windows Central for Windows 10

Ha :) I approve this message.

I've always desired a ring that has bug fixes to w10s many problems. Every release on the fast ring introduces a nee bug or breaks something that was working before. I really JUST want bug fixes and stability. Getting to test a new feature is cool even if that feature is buggy, but not at the expense of introducing bugs to already existing features. Thank you Dan. Now I know where I need to be - release ring.

Fast all the way. I like helping out as a tester.

Excellent article and great clarification on the rings!

Sensible guide. Missing those Friday videos Ask Dan, Dan... :)

He said that's done for a while. He received a theat in the mail saying if he doesn't stop posting them, ppl will reveal his big secret

Alternative hypothesis: Mark moved, so don't have a cameraman on hand to shoot/edit. Second explanation: Gearing up for a new podcast with Michael Fisher and Daniel Bader.

Liked the explanations... But I have to say, the whole threat and big secret thing is just awesome LOL. Do 10

Whoa! This is huge news that i didn't know about. I miss Fisher since he left PocketNow...and to have you on a Podcast with him would be the ultimate.

Selfie sticks, Dan. Come on man. Posted via the Note 4/Nexus 7 (2013)/Lumia 1020/Lumia 2520

Microsoft at its best. Complicated beta program. There should be two options BETA & PRODUCTION. PERIOD! What is this nonsense about Fast, Slow, Preview.... that is a TOTAL WASTE OF RESOURCES AND PEOPLE TIME I stopped getting in this beta test because of the fragmented BS.

Say it with me: It's optional. Also, despite your protests, this is what the community asked for with different levels. You, my friend, are the exception here and need to respect what the 7M users voted and asked for.

Except that there is not only a beta but also an alpha version involved here, plus something equivalent to developers preview(coz devs wont want their phone bricked). You can't just merge them all together. And if this is too complicated for you then you aren't fit for the insider program anyway.

I have tried numerous times the past couple of slow/fast ring releases to use the device recovery tool and it fails to read phone every time. I've tried a couple of different USB cables and computers, the previous and most recent device recovery tool updates and I am stuck, unable to downgrade. Hopefully the next few releases will fix the camera issues with recording video and saving of photos taken. I have also tried a couple of hard resets. Running on Lumia 1520.

Yeah im dying to get off fast. I know HOW to do it, im just lazy. Gonna prob do it this weekend. Release is where I need tk be

Try to put it in recovery mode (soft reset then hold volume up when it vibrates) then attach it and pick the can't read my device option on the recovery tool

I tried something similar before, but I'll try it again. Thanks

Use "Windows phone image designer" to flash the device... I can upload the tools and instructions to OneDrive if you want me to.

I knew all of this but by looking at the recap you have a great picture of how advanced this insider program is. A great engineering feat. Apple can only dream about this.

I am using Lumia 925 on release preview ring. For new features like camera on lockscreen or something else should i just wait or its only for fast ring and can't never see on this device. Thanks

It's only for redstone. Your 925 will never get it :)

On the release preview, so my trusty 920 gets some of that W10M action...

I like to take risks, I use the fast ring in my only PC and my only phone.

W10m
I also like to live dangerously. Posted From my PC.W10 Master Race

That's how the real Windows Insiders are ;)

I don't mind being a fake insider than :D I tried the fast ring, but reverted back after one day, because it's just not for me. And now I'm happy on release preview :D Posted with the Windows Central app for Windows 10 on Lumia 535

how did you switched to release preview from fast ring?

I went to a local Nokia Care, and letted them reset my phone to 8.1, and than I updated with the update advisor, and than went to the release pv ring with the insider app. It's more simple with WDRT, but it somehow never worked for me :D Posted with the Windows Central app for Windows 10 on HP 250 G1 notebook. It is a scary old monster, I think :D

So there is no extra risk going from production to release preview? Lumia 950. Non-Insider

No risk. I mean, there is a small chance something could happen, but Release Preview has gone through internal testing and is nearly ready to roll out. You'll see 10586.240/242 hit next Tuesday for all devices. Same branch, just patches/fixes. The Fast and Slow rings are where the crazy stuff happens.

Daniel, I guess no one had noticed this change in the latest build 14332 for Windows 10 Mobile yet. It has brought an unnoticed functionality and a minor UI change for the "Storage" section in the settings App. They have added an extended functionality called "Advanced Options" in the storage app, it appears when you click on Any app name in the "Apps and Games" list in the storage. You can now choose and change where your app date is saved in with just couple of taps and I think it is still 30% of what they're trying to impose. That 'Advanced Options' page seems so unfinished and empty.

I have sent you a tipping email with screenshots.

I have my 950XL on Release Preview, and I recently bought a 640 to put in on Fast. Actually, I don't know why everyone in the US doesn't buy a 640, it is shockingly cheap! I live in Europe, but I had a friend who went on a trip to SF to bring me one.

If you don't go for the fast ring, you are on the outsider ring!

Id want to downgrade from 14322 to 10586. November update. As of late the new builds are not going well with my laptop. Any way to revert back ?? Pls an article would be great

The only way is reinstalling Windows :)

Go to settings/update/recovery then tap "return to previous build"or something like that... After that, you pc will revert to the previous build...

Great write-up! Clarified succiently the differences between rings and applicable risks of each. Another example of why Windows Central is my go-to place for all things Windows.

This news will help those people who like to complain.

I joined the secret One Ring to Rule Them All Ring.

Keep it secret. Keep it safe.

May the Eye of Sauron get whomever downvoted us!

I don't have the Release Preview Ring option on my 930 just Fast, Slow and Production. Am I stupid or perhaps a bug?

If you are on Fast or Slow.... You cannot see Release. Reason: you are on the Redstone Branch and Release is Threshold Branch. WDRT back to 8.1. Install Insider and choose Release.

One question Dan: If you are in fast ring with buggy apps, then the slow ring comes out a week later with those apps apparently fixed. Would that mean your fast ring build remain buggy until the build release? Meanwhile you have less buggy build on the slow ring!?

Changes are made faster on the fast ring, both good and bad. A built-in app should go to fast ring first before before going to slow ring. Slow ring should always be more reliable as it has been vetted by fast ring. If you need your phone to be reliable, don't go insider.

How do you select production release prievew on a PC. On my phone it was easy. cant seem to figure it out on the PC.

Just went back to 8 on mobile. All the rings make my 735 close apps and resume to start screen or restart. Was loving W10M but can take the unstableness anymore. I read so many people with 735 having no issues and I can't figure out what I did wrong.

Fantastic article. I will stick with fast ring on my 950XL for now.

If you wait long enough can you go from slow to release without reinstalling?

Is there a watermark in Release ring?

Release_Preview ring is on the same build as W10M supported devices that don't use WIP (i.e. "Production"). It merely gets TH branch builds a bit earlier, the latest is 10.0.10586.242, & currently RP/Production devices are on that build. No doubt you'll have noticed that devices on the latest TH build (i.e. stable branch) don't have watermarks, neither do devices on the RP ring.

I'm not seeing the Insider Release Preview option on my 950XL or my wife's 950, but I know I've seen it before...did it get dropped? I tried switching to the Slow Ring and to the Production Ring, but the Release Preview option is still not showing. I am on OS build 10.0.14295.1005. Thanks.

I'm not seeing the Insider Release Preview option on my 950XL or my wife's 950... I am on OS build 10.0.14295.1005...

Ah, you won't while you're on RS branch build, you can't downgrade to 10.0.10586.xxx, you have to be on TH branch build. And Production isn't a "Insider ring" as such, it just stops you from getting any new builds, it doesn't put you back to a production ready build, you stay on the build you were on in Fast/Slow rings. Cheers.

Thanks for the article, nice summary. I hopped into the fast ring as soon as I bought a 640, then used the Device Recovery Tool to bounce back to the slow ring after a few days because too many things just weren't quite working. The slow ring gives you a nice balance; you get new features, and while it's a little buggy, it's still usable as an everyday device. The main problem with the current slow ring build is that Bluetooth doesn't work properly in my car for hands-free texting and such. (It worked with Win 8.1, so it's not the car.) Other than that, it's great.

Will my Lumia 930 on EE work in the release preview ring ? Currently in the fast ring.

A dumb question: A friend of mine installed some preview version but he can't remember which one, i.e. Fast, Slow or Release. Where can he look for this info for?

Tell your friend to open the Windows Insider app and click on ... in the lower right followed by about.

Q; If you are on the Release Preview Ring then when do you receive the "fun stuff" or new features? -Rich

On Release you will see Redstone builds when they RTM. It will not be a long preview before it hits official, but it will be earlier than official. Meanwhile Release is already testing fixes in Threshold before they go Production. My 1520 is on 10586.218 with Official (Production) and my 640 is on 10586.242 with Release.

If you're on "Slow", and then decide to go back to "Production", rather than using the Recovery Tool, can you just wait until the Production version catches up? Or even after the Production build surpases the point in time that you opted out, are you stuck on the last Slow version you received?

Yes - you will receive the first production build that is newer than your current build.
Windows Central Newsletter
Thank you for signing up to Windows Central. You will receive a verification email shortly.
There was a problem. Please refresh the page and try again.