Alleged Lumia 1030 display bezel for Verizon raises questions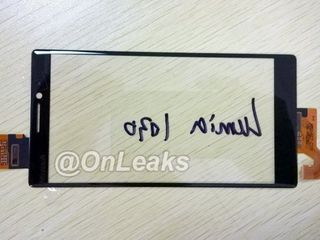 When parts of phones appear randomly on the internet, it can often be hard to understand the full context. Moreover, we are at the will of the person posting it and the information they were given.
Case in point is this new photo of a display bezel and touchscreen component with a scribbled 'Lumia 1030' and printed Verizon branding. There is no doubt that this is a part of a phone, but it is not clear on the details. The image comes via Nowhereelse.fr and there are no details about the device itself, which is exasperating. Even more, some of the hashtags and the tweet are just incorrect.
The article and tweet references both the "Lumia 1030" and "McLaren" as coming to Verizon and noting that this is the display component for it. However, some things just do not add up.
McLaren is Gone (For Now)
If you follow this site, you likely know that "McLaren", originally a Nokia project that Microsoft inherited, was canned last summer. McLaren sported at 45 MP camera and a new 3D Touch navigation system. In all likelihood with that big shooter on the back, this could have been marketed as the "Lumia 1030", but I honestly do not know.
McLaren was cancelled due to the "wrong choice" for the 3D Touch Nav technology and re-doing the phone with new components would mean re-doing the whole phone again. This is not a trivial task for you armchair engineers out there as redesigning the PCB and logic board is not simple. Combined with some doubt about the usefulness of 3D Touch and you may understand why Microsoft cancelled it.
Interestingly, almost all carriers in the US (except for Sprint, to my knowledge) were onboard with McLaren too as reported by @evleaks. This bit of info makes me wonder about the age of this photo. We are assuming it is new, but it could just an old parts snapshot. In fact, the front camera placement almost lines up, and the rest of the generic design also looks similar to those leaked McLaren photos. This comparison is not proof of anything, but it does raise questions.
Lumia 1030 and Playing It Safe
As far as I know there is no "Lumia 1030" in development. Alternatively, it is safer to say it is not something that I know is coming this fall. I certainly do not know all of Microsoft's plans here, and I would love to be proven wrong.
I could not imagine Microsoft is not planning something for a Lumia 1020 successor, but I do not think they are going to kick off Windows 10 Mobile with that device. Instead, they appear to be playing it safe with a more traditional "flagship" phone that has outstanding capabilities all around but nothing extreme about it e.g. huge display size or a mega camera. Such features tend to place those phones into niche categories. For example, it is only after Samsung's Galaxy S6 Edge sold well are we hearing reports of a 5.7" variant to push the already pricey phone into a more extreme category. Apple notoriously plays it safe with the iPhone and its humble – but excellent – 4.7" and 5.5" iPhone 6 and 6 Plus offerings.
In other words, build a solid base phone and branch out if sales allow it. To me, that sounds like the new "play it cautious" Microsoft (see the Microsoft Band release or limited Surface Pro 3 rollout). Mobile is already in dire straits. I cannot imagine Nadella allowing a flood of high-end devices that fragment their marketing message when it is not a sure bet.
Such a strategy also makes it an easier sell to get on as many carriers as possible, and it can showcase Windows 10 capabilities e.g. Windows Hello and Continuum. In fact, if you are wondering why Microsoft did not have an "interim" flagship it is because it needed time for those components to become available for those Windows 10 features. Imagine if you bought a "flagship" phone in March only to have it not support some those abilities. That and making a top tier phone does take time.
A Windows 10 "flagship" phone is not a off-the-shelf Lumia flashed with a new OS. It has to be built around the operating system to leverage all its capabillities. That is a hard thing to do when your OS is still being developed, even harder if it does not exist (see last fall).
Talkman destined for the US?
Some of the latest news I can share is going to be a bit disappointing: so far it does not look like the 5.7-inch "XL" flagship phone will be on a US carrier. Instead, the "Talkman" variant with the still ample 5.2-inch Quad HD display is the one most will likely carry. This information, of course, can change so do not bank on it yet.
The only differences between Talkman and Cityman are (1) six-core vs. eight-core processor (2) display size: 5.2" vs. 5.7" and (3) battery: 3000 mAh vs. 3300 mAh. Otherwise, both phones appear to share the same features, including a 20 MP rear camera.
Hopefully, more information about Microsoft's plans will come forward in the coming months.
Source: nowhereelse.fr
Windows Central Newsletter
Get the best of Windows Central in in your inbox, every day!
Daniel Rubino is the Editor-in-chief of Windows Central, head reviewer, podcast co-host, and analyst. He has been covering Microsoft since 2007 when this site was called WMExperts (and later Windows Phone Central). His interests include Windows, laptops, next-gen computing, and for some reason, watches. Before all this tech stuff, he worked on a Ph.D. in linguistics, watched people sleep (for medical purposes!), and ran the projectors at movie theaters because it was fun.
I wish they'd let me design phones

Yep Danny is right the previous strategy of pushing out high end and watching how it fails definetly ain't Satya's planning .!!,this is just a rumour and will remain so .! And choosing a carrier like Verizon is also a big mistake what I think .!!, well maybe we should talk to Sam sabri.! He will help out on whts comin XD

Nutella is probably the biggest disappointment about MSFT.

Nutella :D but seriously,too early to tell. Well see he's vision at the end of 2015.

I see it differently, having a one MS opposed to each team for themselves. This is what's needed in order to have no fragmentation. Keep On tightening I say.

I think Nadells is doing a wonderful job making Windows on phones relevant again, given that it barely changed since WP7 until Nadella took over. Unlike the development of Android and iOS, Microsoft is the only one making any efforts at converging my phone with my computer, so that apps I use on my PC are the same on my phone, similar design and functionality (thus feeling continuous). Android is attempting to turn Android into a full fledged computer and Apple keeps insisting on the needlessness for a "pro" on touch devices altogether. These are the reasons I'm sticking with Microsoft.

Finally Verizon!! Please be a high end device!

It really doesn't matter if it's on Verizon, AT&T, Sprint or T-Mobile in the US. There are at least 30 countries where this phone could have been launched and it could have been a success for Microsoft on mobile, just like Surface Pro 3 success was achieved in 2014. Now, as a Windows fan, I would like to know how Microsoft that acquired the Nokia devices division for a lot of money was not able to solve the 3D touch navigation system issue. Looks to me that senior management which was in charge on this project didn't told Satya Nadella the truth about this. While McLaren can be launched again, its already 1 year lost due to bad decisions taken on such a serious project like this.

Given that hololens and w10 was in the works....and UWA what possible benefit would a non-standard 3D implementation provide other than being incompatable with future apps / OS? It would really piss-off people who bought it.

It matters to me because all Verizon has currently is low end Windows Phone devices.

I read the entire article, I am aware of its contents.

Verizon? Well it better come to AT&T. Still sitting here with the latest non-phablet WP flagship, the 3-year-old Lumia 920.

I think you should read the article first, lol.

I did read it, and I am still upset that I don't have a McLaren (Hell, even a 930). Even if the 3D Touch was completely useless, I wouldn't care at all.

Actually, even though the 3d touch was pretty useless at the time, I could see it being more useful with Windows 10 since it'll be possible to plus it on a big monitor and use it like a real computer. It could be like having a Leap Motion, a way to navigate the computer or play games.

To be fair, if the first paragraph doesn't get to the point then you can just assume that the comments will get you the needed info faster. It's like these crappy youtube videos, it's awful when you have to hear a big explanation of nothing before they give you the info that was promised.

He's referring to the Talkman, I believe

Read the whole thing, the title is deceiving.

Umm..no, it is not deceiving. Anyway, I'm not going to argue editorial decisions here. You like what you like, don't like what you don't like. That's fine.

It's not deceiving in any way and I really wish people would read first rather than try to get the first comment in...

I totally agree with you. As for adding a comment first with the words 'first', 'second'... it's just plain childish. I have also read so many comments that people make and if they only read and then re-read the articles before commenting they would actually answer their own questions.

I shake my head at some of the comments and feel your frustration. Thank you for the article and thank you for the great information your site provides...makes being a Microsoft fan more tolerable! Good work.

I wasn't questioning you or your article in anyway, just wrong choice of words.

No, it was the perfect choice of words. The photo is of an alleged 1030 on Verizon, and it raises questions.

Wait,when was this supposed report of the City Man possibly not coming to the U.S.? This is my first time hearing about this. Answers please! I wanted to replace my 1520 with it. :-(

I agree Daniel. People should read the articles completely before commenting. Having said that, I think that it is important to focus in on the bigger picture here. There are a LOT of Windows Phone fans out here, myself included, who have been waiting for a high-end Microsoft Windows Phone to really compete with Apple iPhone and Android phones. Currently, the only Windows Phones in the US are mid-to-low-end Windows Phones or "outdated" high-end devices. I was lucky enough to grab my Lumia Icon when Verizon had it, but now it's no longer available, but even that is starting to get out-dated. Since the Lumia Icon was "dumped" by Verizon, I have had 3 of my friends "dump" Windows Phone and switch back to Apple iPhone. Their main reason for switching was they wanted the Lumia Icon (or a high end device) but there aren't any, so they bought the iPhone instead. Since you guys' website is one of the largest sites for information regarding Windows Phones, readers tend to think you guys have some connection to Microsoft that you can deliver a message to them. That message is WE ARE WAITING FOR A HIGH END WINDOWS PHONE! I realize that Microsoft is still working on Windows 10 and probably won't release a high-end Windows Phone until that is complete, but that is like 5 or six months away. Why can't Microsoft re-release the Lumia Icon under a different device number to all U.S.. Carriers, with maybe a bump up or change in screen type to allow for glance and tap to wake feature. This would at least appease most of the customers looking for a high end device until Windows 10 Phone is ready. While I agree that users shouldn't comment on articles unless they've read it, it is also important to realize that we users are very frustrated with Microsoft for not pushing Windows Phones more. If Microsoft wants to sell phones, they need to be more aggressive in sales, more aggressive with recruitment of developers for apps and more aggressive with U.S.. carriers to promote their product. But, more importantly, they need to listen to the customers' wants. After all, these are the people who are already buying their products and the people who will "flaunt" their high end devices to others outside the platform. This is the message that needs to be conveyed to Microsoft and I guess we are looking to you guys to pass that information on to them, either directly, or via articles on your website. Thanks for letting me vent.

I totally agree. Windows Phone doesn't have the luxury of getting four our five high end smartphones each year by companies like Samsung, HTC, Sony, and LG. All eyes are on Microsoft for delivering the next great phone on the platform. Let's hope we see improvement on availability, app support, and marketing. And that all of those low end WP users choose WP high end phones when they're ready to upgrade.

The first word is "alleged".

"HTC One M8".Comments like these make me lose hope in the survival of mankind.

I don't consider a non-Nokia (Microsoft) WP device.

Wow, your one to complain. AT&T gets nearly EVERY single Windows Phone device. Verizon only has low end other the HTC One M8.

Uhhhhhhhhhhh hello ICON, which was a Verizon exclusive.

Really? That was a year and a half ago, and the design is almost two years old already.

I think it's sad how it used to be resign your contract and get a nice new phone every two years and now people think a phone is dated the day after it's release because oh qualcomm just made a new CPU that's 100mhz faster and now this one's no good. Give me a break, I can't believe verizon actually made the EDGE plan to catter to those people in fact they actually made it so people can get the new iphone that releases every year, it always boggles my mind. Also have you seen the launch events for "new" phones where the "new" features are features icon already has? (low light 20mp camera, wireless charging) so ask yourself is the Icon even old at all? It isn't even gonna be 2 years old til february, there will probably be something new by then and this phone can still compete with the s6 or m9 if it wanted to.

This! And the 928. Try being on T-Mobile, Zack...

Then he can get crappy coverage to go along with the crappy Windows phone selection and support for the WPs they do sell that is measured in days. It's a bit masochistic.

I'm getting great coverage around the US.

Wow, I bought a Lumia 920 when it was released in Germany and first photo I took was 9 Feb 2013, which is a little over 2 years ago. I want a Lumia 1040 like many others, but I'll likely have Win 10 on my 920 before that happens. Lol.

1.5 years, and the wait for a flagship continues.....
The title gave rise to great hopes and excitement, until Daniel.....

The title didn't give hope to anything other than making me want to read the article first.

Yeah, well the article is near entirely Daniels opinion, nothing is fact. Yeah, maybe he's though about it, and this is the most logical sense. That doesn't mean he is correct at his thoughts or opinion, you never know.

I'd say it is much more than opinion. I do have a few sources on this stuff and this is not an editorial. Whether you want to believe it or not is not my business or concern.

Daniel I'm asking again....please can you confirm from your source whether cityman n talkman are made of aluminum? ( at least the edges) n what will be the chrome logo on the back , will it be the Microsoft squares or windows tilted tiles?

Well, I noticed a lot of times you stated "I think" or "I noticed", which I don't mind. I care about your thoughts and opinion, it's just that people will never know the outcome untill it happens, but you brought up a good point on not knowing the date of this image.

1.5 years?
Your math needs work, although I'm sure you're just trying to be dramatic.

2 billion years of evolution to produce these comments, now that's dramatic if not worrying lol

You have a serious problem.

Fuck Microsoft just announce the phones already ..

And then make you wait, what, like 3 months? Yeah, sounds like a great idea, especially since it lets their competition know.

Sounds like what happened with the 640.

When they do announce them, we'll likely have to wait a couple of months anyway, if previous Nokia launches are the blueprint Microsoft is using. Would be over the moon if they did an Apple-style "you can buy it from next week".

Yes, but it would also stop some antsy customers from bailing. I've known a few that ditched Windows Phone recently because they were sick of waiting and had little confidence in Microsoft's "flagships are coming". Some people don't like to wait around for the unknown.

I like the Band approach. Don't hear anything about it, then suddenly - BAM! You could buy it the next day.

No, announce them so that we'll know that it'll be again different versions for each U.S. carrier, each one crippled in a different way compared to the real full feature version that you can smuggle in from South America or Canada after a year or so from release, without support and warranty. Then at least we could quit waiting right now and just go with Android.

Canada probably won't even receive these new phones. No 925, 930, 1520. We are the worst country in the world for windows phone. :(

YES. FINALLY. LUMIA 1030 ON THE WAY

You clearly didn't read the article.

He clearly didn't read the article...

Perhaps he did, and he chooses to believe the rumor over Daniels admitted lack of knowledge.

I choose to believe based on leaks. They choose not to believe based on ?

for real I mean the verizon 735 wasn't supposed to happen and now I got one to test windows builds with, you never know we might be getting it! Although I must say why would the successor move to a different carrier.

@Aman2901 Wow! The Pot calling the the Kettle black! You jump on Daniel because you clearly didn't read the full article yourself (initially) or you didn't comprehend what he wrote.

What's wrong in being "Black"? I hate these old racial sayings.

It's not racial at all...

@Killer Lol! It's a figure of speech. In the old days the pot would be black and the kettle would be black. Usually made out of cast iron, which is black. :)

I thought it had to do with the fact that they were both covered with soot from hanging over the fire.

That's kinda the point...

Guys just need a reason to take on someone here. When did I jump on Daniel..? Get reading again.

Just quoting you... "Read the whole thing, the title is deceiving." Remember that? There was nothing deceiving about the title. It seemed as thought you missed the entire first word "Alleged" and it's meaning. But then again, maybe I'm reading too much into it... :)

Isn't 1080p vs 2K screen also a difference?

He said both have Quad HD displays.

6 and 8 cores? On Windows for mobile?? that's waste of resources in my opinion. Not to mention it'll probably increase prices a lot...

I don't think so, MS stated that Continuum for phones require more power to run so its far from a waste of resource

well i forgot about that. Thanks for pointing it out.

also there has to be power required to run two diffrent screen simulatneoulsy as Joe Belfiore stated at the time of showing new features of Windows 10 Mobile.

Now don't tell me you don't know what's Continuum!

Look whom you're saying that to! It's Richard!!!
Edit: Now don't tell me you don't know who's Richard!

Better to have that power than not surely? Means games and other features can be implemented. It's the only way you'll ever get an Android fanboy to try a WP too.

This is becoming a tired WP cliche. On flat out tests the best hardware will win, regardless of whether it's running WP or Android. Think you don't need faster hardware? All those "Resuming..." screens tell you otherwise.

Those screens are purely a software issue. Subsequent builds have repaired those problems, and then sometimes they've returned when something is changed. We won't know the final state of WP10's efficiency on our phones until the final build (or even some time after its official release, after further tweaks). People's concept of "faster" is skewed. We always see people trading insults over numbers on paper, and they are meaningless. A higher speed CPU does not necessarily complete tasks faster than a lower speed CPU. Demonstrably faster RAM will not ensure faster data streaming. We can only compare real-world results, not specs which can only ever give us a vague idea of performance.

Well running the OS is not the only thing a chip is meant to do. Have you thought about complex imaging processing algorithms & software features like rich capture? Recording high bit rate,4K video? Playing demanding 3D titles? Video editing and rendering in Microsoft's (excellent) Movie Creator App? Support for more demanding tasks that will only become available in the future? These are so many things that require a powerful processor & high end phones should perform all of these things effortlessly.

they're probably looking at snapdragon 808 and 810, which by a fall release (at the earliest) wouldn't be crazy expensive for flagship positioned phones

People said the same thing about quad cores with WP. Theres more to it that people immediately think. It's not just about how well the UI scrolls. Lol. Background task management, browser/JavaScript speed, battery life, etc... Lots of things will benefit, or could benefit. Posted via the Windows Central App for Android

I hope it's not a timed exclusive and at least att and Verizon have it available out the gate. Doubt it though.

As happy as I am for Verizon to be on board for the new flagship, I actually hope it isn't exclusive

Would Continuum on a phone with those specs be enough for MSFT to get users to switch?

No idea, but it is a strong selling point and it would be crazy to sell a high-end phone in the last 5 months that could not support it.

Though I think that they should include the cable in the package. For this feature to be advertised well, it is better to come from people who try it and tell their friends about it! This won't come if no one bought the cable and used it, and believe me if it was sold separately, this won't happen.

Maybe? But this assumes we know anything about the cable or Continuum technology. We simply don't. In fact, I heard that cable is not cheap either.

IF the cable is not very expensive, not including it should provide carriers and retailers a nice opportunity for "get it now and get the Continuum-cable for free!" specials.


It's much more expensive than I thought but I am hesitant to reveal the price (I don't want to be alarmist if final retail price is wrong).

Ok. Hmm. Wonder why, is the cable tech that pricy? Or is MS thinking of it a bit like the Surface keyboards (which are of course relatively pricy to produce as well, I assume)? Hope not as to me its not the same situation. Anyway, if it is pricy to produce, hope MS is willing to view it as a bit of a loss leader, worth it to differentiate from the rest of the fiel.

What do you mean, 3D Touch Navigation?

It's hyper linked in the article to the article the explains it.

Oh. Now I get it. Thanks.

You really glossed over that 6 core vs 8 core differentiator, by saying the "only" differences. That's pretty significant. I can't imagine that the latter would be great on battery.

Well, it does have an extra 300 mAh. As to the real world differences between performance and battery life, I'm just not in a position to speculate as I have no idea.

That gets to my question: Will the two extra cores and the extra screen real estate eat into that extra 300mA? Enough to make the Talkman the longer play?

I believe YES. The extra 300ma will just go to the extra screen size. The extra 2 cores though might depends on how you use the phone (heavy games, video streaming, photo editing, etc.) I believe multi-core processors in this age has the ability to use the minimum cores required by processes and keep the others idle or "off". I am not sure about this, but I read somewhere that new multi-cores processors behave that way.

The latter will be fine on battery. It'll be the revised S810 and since it's a bigger phone it has more battery. Not that significant a difference really.

Aschaps, don't just look what's on paper do you even know how Processors work?

Most people don't understand that more cores doesnt mean you'll have a higher base clock speed but instead means it'll be able to do multiple tasks quicker

What about multithreaded apps then?

How do you figure that? An eight-core processor will finish any processing job faster, meaning it can return to a low-power state quicker than a six-core processor. It could be better on battery than the six-core. How do you know?

But it would be using more power in that shorter time, so there's really no way to know which would be more efficient.

You're guessing here... Besides that, more cores means it can switch between cores instead of continuously using the same cores and allowing them to continue to raise in temperature. I doubt you'll ever see more than 4 cores active, the other cores are for lower power usage or just core swapping. Until mobile OS are coded to use all the cores at once, which would negate and battery efficiency we have now. Posted via the Windows Central App for Android

Just because it has more cores doesn't mean it will get jobs done faster. The code has to be specifically written to take advantage of that many cores, and if it isn't, like most programs written today, it will just run on one core. So, same speed no matter how many cores. The eight-core processor just allow you to have more programs running at the same time. Which uses more power. Which makes it more power-hungry than a six-core.

I hope the news about Cityman in the US changes. I had my eyes set on that XL.

it should be called 1040.. no?

Kind of a good point, I suppose, if they are keeping numbers up to date. May be another sign that this is an old photo. Good catch.

My heart sank when I read that city man MAY not come to US...

Carriers are opting for the safer bet until Windows 10 proves itself. Can't really blame them.

Unfortunately, that is Catch 22 logic (on the carriers part). It is tough for Windows 10 to prove itself when carriers limit Windows 10 devices. This will really hit Microsoft hard as, from prior articles, we assume that the number of device options are being drastically reduced. If there are only a handful of options and carriers only pick one to sell, Windows 10 mobile is never going to make headway against Android and iOS.

They can release it and make it available to the 'loyal fans' unlocked. Can't they? Posted via the Windows Central App for Android

May be Cityman is not exclusive to any Carriers.. ?

Well, there better be no timed exclusives if they only release 1 high end device, in the states. I assumed that was the reason for two. Someone would try for an exclusive. Like always. Posted via the Windows Central App for Android

I still feel personally that the 5-5.5" range is the best fit for me. I'm not really too excited to try anything bigger. Especially with continuum, if it is fully utilized you won't notice the smaller screen on your phone. Again, just my opinion.

It isn't called anything atm as it isn't being produced.

1040? What happened to the 1030? It was 900,920,930... I would think that 1030 would be next. Oh fuck it,I'm confused and disappointed if the City Man isn't immediately released in the U.S. when it's released abroad.

We've entered the 4th generation of Windows Phone devices. Naming it the 1030 would imply an offshoot of the Icon family. 1040 would put us in line with the upcoming 940, and teh released 640.

well.. they are releasing all the (x)x40s now... why have many models made same year, and with a different number? also.. where did the 910 go? :D

Well. Ms mobile is the fastest growing platform. They really need a 1020 successor if they want their sales,to go up there has to be a 1020 successor. People will go crazy with the 45 mp camera. And I've heard that win 10 will support upto 120fps slowmo with 800+ resolution don't remember it actually. But really glad to hear about the leak..

"Well. Ms mobile is the fastest growing platform. They really need a 1020 successor if they want their sales,to go up there has to be a 1020 successor. "

I think there is this perception that the Lumia 1020 sold very well. I have not seen any numbers on AdDuplex or elsewhere to suggest that it acutally has. Sure, it had a

ton

of hype and some media coverage, but I just do not think it turned the kind of numbers some of you think it did. This is why I see Microsoft less excited to push it out in the first wave of W10 devices.

I think it is fairly safe to say it did not sell a lot. Wherher one can say it sold well or not is a bit more nuanced a question ("well" relative/compared to what?) but even on that I would venture to say - no it did not. :P

Well the Windows Phones I see in the wild are 520,920,and 1020. And I live in one of the largest cities in the U.S. :)

Makes sense. I've only seen one other 1020 out in the wild, so it "not selling well" might be true at least in the US. I've seen way more 920s and low ends. But it clearly generated a lot of buzz and I had people asking about it a lot. I'd still love to see a successor. Once you go 41 MP, you can't go back.

It was probably the only recognizable device out of Windows Phone though. People that have no idea about phones asked me if I had "that camera phone from the commercials". They actually advertised it well... Posted via the Windows Central App for Android

I think that MSFT still needs to have an aspirational device of the 1020's ilk to help sell the 6xx, 8xx, and 9xx. It is the old flagship, and some people didn't buy the first gen in hopes of waiting for the more refined model later. Not to mention, if they don't make a successor, people will use the abandoned term against them, even if they only sold 100k of them.
They NEED to promote the prowess they bought from Nokia. Why buy it if they don't take advantage of the camera fandom. I'm already pissed I can't buy a phone with a Zeiss lens without buying MSFT now, since they now own the exclusive license. If they don't make a 1020 successor, they should sell the division back to Nokia, because my entire mobile fetish is imaging, since the Nokia N90 years ago, my first smartphone. I want something that drops jaws. LG's G4 is great, but I want awesome, and only Nokia ever did awesome.
Daniel, you're a vet in the game, you know what I mean...

I disagree Nokia was the villain in it's own story by not adding removable storage, and ms for not supporting quad-core processors , not Google or Apple, or media, MS is it's own villain today but I understand it's reasoning, and I'm betting that after the Windows 10 launch, that they will treat windows mobile like a first class citizen of the Windows empire. You'll see updates, leaks, and previews of what's coming in windows phone world and me for one believes that even Daniel will be surprised and impressed with what the new ms team is doing, think about it how long did it take to make the first surface from idea to finish, or win 10 , win 10 was a concept when win 8 was in the works, how long ago was that? The new ms is like las Vegas , what goes on in ms stays in ms, till they want you to know. So I think Daniel should be receiving his 1040 soon for testing, and he still wont say, but at least hell go from no to maybe or possibly.

I don't think the 1020 sold well but it COULD have. It was released on only 1 carrier (at&t), it was originally priced at $300. Even though it basically had the same internals of the 920 other than camera, I think those 2 previous points hurt the device a lot. Still love my 1020 though and people still envy my pics!

Insert the Michael Scott "No" meme here. This better be for all carriers! It'll die on Verizon!

The 5.2inch for the US market makes more sense as it seems the more popular size atm. I'd of expected a 1020 successor sometime next year if sales of Lumia's picked up and it looked like progress was being made. It's pretty much make or break time. Lots of build up to these devices since there's been no other flagships and I think that's the right move. MS just need to nail it in design and features then hope developers jump on board.

Yeah, I'm really hoping we see a 1020 successor in the Spring as a 2nd Gen flagship. Posted via the Windows Central App for Android

I'm sorry but I know I'm not the only one waiting for the larger phone. I have a 1520 and have been waiting forever for a new large flagship. If they do not release the larger one here, I know I won't be the only one to leave. I hate a smaller phone and yes it is a big diff to go from 6 to 5.2. Why they would leave the U.S. out of the larger devise is ridiculous.

"Why they would leave the U.S. out of the larger devise is ridiculous."

Whoa, whoa...once again, blaming Microsoft. The reason is CARRIERS do not want it and are NOT picking it up. You guys need to stop blaming Microsoft for this crap. I mean, do you

really

think they didn't offer the XL to AT&T? Some of you act like carriers are stepping over each other to get these devices, when all they see is "3 percent market share". Microsoft will sell all their phones to any carrier who wants them, but you need the carriers to

want

them first. If you were AT&T and you were offered two phones for an OS that is not selling, which would you take? The riskier, more expensive model that is likely to sell less, or the lower-cost, more universally appealing device? This isn't rocket science.

Tbf, there shouldn't be anything stopping MS selling unlocked/unbranded phones direct to consumers... Hell they've got all those MS Stores in the US, they might as well use them to their full potential. It seems crazy that here in the UK we have next to no direct dealings with MS, and yet we usually have far greater choice with regards to device availability. I do understand that the markets are different though.

"there isn't anything stopping MS selling unlocked/unbranded phones" Except their carrier partners that will look at Microsoft competing with them, then promptly reconsidering supporting them at all. Microsoft needs the carriers a lot more than the carriers need Microsoft. Maybe if Microsoft gets more retail presence, but that's not an option for now.

I understand what you're saying, but in my mind if all carriers decided to pass on e.g. A future Lumia 745, why should MS then be restricted from selling that specific model direct? I completely understand your point in relation to models that a carrier does take on it's books, but in my mind MS should be free to sell anything they like if carriers forego an exclusivity (or similar) deal.

Theres gotta be more to it than that. Carriers really just want you on a contract. A phone purchase isn't a big deal. Posted via the Windows Central App for Android

How so when phones are sold with subsidies, then bank on the services they provide. MS would be selling the phones full price. I'd buy and unlocked flagship from MS if I could!

Seeing how everyone is expecting a lot out of the next flagship phones from MS, I disagree with you. We have been waiting a long time for some Kick A** hardware and to not do everything they can to get it on all carriers is a mistake. Apple has already shown that a larger device is not a niche product. Yes it it Apple and all carriers bend to their will but AT&T normally carry everything they can get. Including 640 & 640 XL. You can say all you want it's not their fault and keep defending MS but THEY are the ones who are accountable.

You do know that Microsoft is not Apple, right?

I think what Microsoft will need to to do is offer them through the Microsoft Store with warranty and support. At that point, I'd never go back into an AT&T store. Hopefully more will open up across the world.

The point is well taken except, why did ATT only sell the 640xl? My hope is both phones will be available unlocked through the MS store. The 830 is available unlocked or from ATT.

If it is another exclusive then Microsoft hasn't learned anything. Need to release to every carrier like Samsung and IPhone does. It really isn't rocket science here. The more people can touch your phone and obtain with minimal change the better. (ice. change as in carrier). I will be patient and see if it is actually true.

I don't think they've learned in that regard, at least they're finally taking the OS seriously.

" Need to release to every carrier like Samsung and IPhone does. "

Newsflash:

When you have 3 percent market share, you can't make carriers take your phones to sell. Exclusives are the options of manufacturers in desperate positions, not when they command a market. Samsung and Apple do not do exclusives (anymore for Samsung) cause they sell

millions

. When Microsoft does that, things will change.

Then it's just double talk when Verizon and other carriers say they want more than two competing platforms.

I think from Verizon's perspective the DID give Windows Phone a try and nothing happened.

They were very late, and by the time they finally got around to half heartedly supporting the platform, most of the people really interested in WP and could leave their contracts moved to AT&T. That's the story with at least a dozen people I know, my family included who are all now on AT&T or TMobile despite the better network coverage Verizon has.

Never thought one of my comments would of grabbed your attention I'm a little shocked. Hahaha. I read what you are saying so I guess the next best thing to do is what people stated already. Sell unbranded phones, I just kind of find it hard to believe Microsoft will get any market share on one carrier. Either make the incentives so great for the carriers that the carriers have no choice to carry the phone or sell unbranded. 3% is low to make any kind of demands in the mobile arena but it is Microsoft I'm sure they have some leverage some where or can do the incentive program for carriers some how. You do this for a living Daniel what do you think they should do?

I'm sure Microsoft would love to get it on all USA carriers within day one. Or even better on every major carrier in the World within 2 weeks after the announcements, like Apple and Samsung seem to be able to. It's the carriers that are the problem, not Microsoft's willingness.

Yup. Microsoft wants to sell phones, not limit their availability.

In addition, even MS doesn't know for sure how many will sell. Until they have a much better sense of that, it would be risky to them to go all out in all markets in a very short time span. Supply chain, production, sales channel management.. and all that jazz. :)

All the more reason MS should sell their phones unlocked on their site and in their stores. If they're worried about carriers feelings, wait until 3 months after launch. Hell, they do it with PC's & their own Surface so why not take it into their own hands?

Please bring the XL variant to the US, need a bigger screen.

Thanks for the latest info, I only hope that the 5.7" XL variant does make it to the US carriers...hint-hint AT&T..still with the wonderful, but aging L-920..lol!

AT&T is the least likely to get it as they do not want it.

You have no idea how much that bums me out... :(

Daniel, yes understood..from a marketing stand point, it's good business acumen on AT&T part especially with Microsoft Mobile OS being @3%. I may go the route in hopes MS stores would sell unbranded/unlocked 5.7" XL device, but would hate to lose full LTE capabilities with AT&T..

All I know is if this year's flagship(s) are exclusives yet again(cause outside of the HTC 8X and One M8 I have been let down with every single flagship announcement due to EXCLUSIVES) I will probably always remain a distant fan of Windows Phone. Seriously as a T-Mobile customer the ONE "flagship" we got from Nokia was the Lumia 925 and they made the dumbest decision to cut the internal storage by half which I had to pass on. Outside of buying devices from eBay(L920 and L1020) we have never had a total package flagship. At this point that's the only thing I care about. As far as the "Lumia 1030",I don't see why they wouldn't got for it. All the advancements the 1020 is missing out on would be present and put an end to all competitors with an updated successor. Seriously the 925. We are tired of waiting.

Exclusives are done by companies who have not sold many phones. It's that simple. When Windows Phone gets popular (if) then Microsoft can be in a better position to tell carriers "hey, you buy our phone and sell it in your stores and you promote them". Until then...

I understand and that is the sad reality about where Windows Phone is. But why not take an HTC approach? Cause no one can convince that the carriers pick and choose yet all three chose to carry the HTC 8X and One M8 for Windows while somehow shying away from other more capable Lumia phones. It seems to me that something behind the scenes sways some of these decisions. And still no explanation as to why of the three Lumia 920 variations (920, 928, and 925) the 925 was the only one with just 16gb of internal storage. I guess I'll just have to try and stay out of the news until all my questions are confirmed by official news. Because waiting builds anticipation. And anticipation builds excitement. And in my case product announcements usually lead to a broken heart and me being happy for the lucky ones. Posted via the Windows Central App for Android

The new windows 10 phones have no chance of success if they are once again shackled by carrier exclusivity. We can't purchase the phones if they are not made available to us. Microsoft must also sell unlocked at the MS store. Give the consumer every option. Don't make it difficult for us to get the devices we want.

Survival rate for Lumia's on Verizon, less than six months.

Ok so you're saying that the true "niche" flagship aka 1040 is going to be released much after "regular" flagships say 940 and 1540? I'm willing to wait till the 1Q2016 as long as I'll get something extraordinary like best cam on the market. Otherwise I'll be totally disappointed.

Am I the only one that isn't keen on that other chap's "leaks"? I get the feeling he would post a 3310 prototype picture if someone sent it to him. Having sais that, Dan picking this up gives the other chap a little more credibility. Just wish you were wrong about the 810. Even if it is v2.1, I'm still not a happy. Ain't gonna help the tech press get behind the flagship.

lol, I'm not sure me ripping apart his article/picture is giving him credibility. Either way, I would rather set the record straight then have the story go around by some lesser sites ;)

You're right D, it's very likely an old photo.
Also about the cityman not coming to the US via carriers but it could come as unlocked phones sold directly by Microsoft store. Which is what I think will likely happen.

Just appearing here may be enough for him! So Dan, settle a forum argument, can the 810 v2.1 run Continuum on two screens, ie phone and monitor. Also, superb to see you so active in the comments. Good show.

I never really got why people are getting subsided phones. Just get CV which at the end of the day is much cheaper than paying it off on a monthly basis. And as you said blaming MSFT for terrible availability with carriers is ridiculous.

They are typically not fully compatible with our networks in the US. So we often don't have much of a choice unless we want to sacrifice the connection speed.

Not to mention in the US, buying a full priced phone does nothing for your monthly bill. Buying a subsidized phone at least saves you money on the phone itself. Plus... We have like only 4 major carriers here, how often are people really going to switch?

It is cheaper, just not on 2 year contract plans. You have to move to a bucket/share plan which has set prices for data and you just pay $10-15 per line. Maybe finances are different across the globe, but most of my friends would never pay $800, upfront, for a phone. Some couldn't. $20-30 a month is easier to swallow. I'm in the US, BTW. A struggling state, no less... Posted via the Windows Central App for Android

damn step up to the plate att and pick up the XL.

As for the 5.7 XL Cityman - yes, I too would guess/expect most/all carriers to go for the 5.2/Talkman. However, if it does sell at least reasonably, they can intro the XL later. Wouldn't be the first time carriers do that kind of "one two punch" trick.

Exactly. This is on Microsoft to prove they can sell this phone. Once they have, carriers will take the riskier devices.

Well, carriers need to at least try to want to sell the phone, not have one WP model in the back corner of the store. Not to mention the salespeople not knowing a lick about WP, or their unwillingness to suggest WP to customers.

To me that has always been the shortcoming of WP. The sales person. If you're a novice to smart phones and you visit your local retailer they are quick to to offer you an Android or iOS device. And they'll try to talk you out of a WP device. At least that's my experience. When ever they start to talk about an Android or iOS device, in a stern voice I always say "I don't care about those crappy phones! Just show me what WP devices you have. Thanks!".

Exactly. AT&T had to dig my 1520 out of the back room. No WP on display at all in the AT&T corporate store near me. I was switching from a Galaxy Note 3, and the salesperson acted like I was insane throughout the entire process.

I've been saving up for 3 Talkman. I'm ready to go now! So that would be a good start... :)

why not just wait till the real thing surfaces

One Talkman please. Thank you.

There is no true flagship until a 1020 successor arrives.

Seriously, how is the 1020 anything but a niche device? The flagships have been the 9xx and 1520.

Ehh, considering the 1020 came after the 920, which had the same SoC but more RAM and a better camera, one would assume it was the Flagship at release. That fits my definition of a Flagship, atleast. The most capable, best technology available. Posted via the Windows Central App for Android

+1020 only thing I'm waiting for

I want either the Lumia 940 or 1030. Whichever is released first. Microsoft, release it on ALL carriers.

It's not up to Microsoft. Carriers get to pick which phones they sell, and they aren't to enthusiastic about selling Windows Phones. If AT&T doesn't want to sell the 940 XL, Microsoft can't make them. It sucks, but it's true :/

Ugh...so the "only" things we lost out on is the preferred size, superior performance, and better battery life? Those are some major concessions for some people. We basically get the camera and lose everything else, so not sure that warrants an "only."

Not sure if it would be better battery life if it has more cores and a bigger screen size. They seem to me to be exactly the same phone, in different sizes.

If I had to guess (assuming cores were irrelevant) I'd think the extra 300mah vs bigger screen size would be a wash. Just going by the 930 vs 1520. The 1520 generally has better battery life, but the battery different is greater than here. I'd assume they'd be very similar, here. Posted via the Windows Central App for Android

The screen's size shouldn't be a big difference because of identical resolutions. And the extra cores, it would depend on usage. They'll both carry 4 LITTLE cores, with the 808's clocked lower. So, if you're not doing heavy-duty tasks on your phone, you'll likely have both devices on those $53 cores, and at a lower clock, the 808 should run cooler and give the battery more longevity. On top of all of that, a 10% battery increase should counter any of the minor battery drains from display size or occasional big-core ramp-ups.

It's not just resolution. Bigger screens will use more power. Posted via the Windows Central App for Android

Well, yes, but I'm saying it's not going to be like the massive battery gap we saw between the 820 and 920, where one has a much-higher resolution and frame rate. It shouldn't be a major battery drain difference, especially with the lower-power SoC in the smaller device.

I always interchange Talkman and Cityman to be the other way around. So now I am sure, Talkman is the smaller one, Cityman is the "XL".

Although a Lumia 1030 sounds great particularly if they could get it on most carriers, 920/930 successor across all carers is a safer bet. Strange thing is originally Talk man was rumored to only have a 1080p display and no continuum. I hope the newer QHD rumors with continuum are correct. Then the big question is if continuum would be a big enough differentiator to stand out from the GS6, iPhone 6, and LG G4. Of course by the time it would out the iPhone 6s/7 will likely be out making it more of a challenge. Posted via the Windows Central App for Android

Original rumor I am aware of (that was credible) said QHD.

If Microsoft released the 1030/McLaren without thinking about risks and it flopped because there was no demand for such a device, they would never make another successor to the 1020. I hope Microsoft is wise and make *this* phone only when the risks are marginal and losses could be tolerated in case they didn't sell.

Cancelling McLaren damaged Microsoft reputation on Mobile, Stephen Elop never wrote an official statement about how Microsoft would fix this issue. I'm really glad Stephen Elop is out, since he looks to be responsible for this damage and brand reputation. Between end of 2014 and middle of 2015 this issue could have fixed and we would see a Summer global launch of McLaren, but Stephen Elop was still on charge on Windows Phone devices division. IMO Satya Nadella can fix this issue, McLaren should be 1st priority for Microsoft after July 29

99% of the world never heard of the rumored McLaren, so it a huge reach to say it damaged MS's reputation. Also, McLaren is now dead (since it was a code name for an WP8.1 device - any similar W10 device will have anew code name) get used to it.

"99% of the world never heard of the rumored McLaren, so it a huge reach to say it damaged MS's reputation." True, technically speaking. But one could also say that Microsoft's reputation could have been damaged by not producing a high end phone with innovative features. It's just that those of us who knew about McLaren are able to put a name to it. So, Microsoft's reputation could be damaged even to the 99% who never heard of McLaren.

Companies cancel phones all the time. No one apologizes or explains. It just happens. Posted via the Windows Central App for Android

So the talkman 5.2 has QHD not 1080? Benchmark said the opposite , are you sure WINDOWS CENTRAL ?

On that one I am going on previous rumors, sorry. The original source was 'Unleash the Phones' and I know that reporter/trust what he says.

Thank god its QHD :D a flagship in 2015 with 1080p screen is a useless flagship

I don't remeber ever seeing you this active in the comments section! Go make someone show you some REAL leaked pics of the new Flagship phones on the way that we all can't wait for!!!!! :-)

I just want DENIM on my AT&T 830! Is that too much to ask for? Seriously losing faith in U.S. carriers. July 1 2015 and still no Denim or GDR2. Sad!!!

And so , three flagships ? That's astonishing ! Anyway , I won't look at 1030 and 940 My next phone ==> 940xl , IM LOVING THIS SHIT !

I hope you are wrong Daniel. The differences are quite major. I can deal with the size difference, but not the processor change. I don't think i want to have another phone on at&t without LTE either. I'm sure at&t told nokia not to include the LTE bands in the 930.

There aren't my friend 300 mAh for half an inch QHD is the difference , the good is going for the 5.2 because 0.5 inch for 300 mAh is the loss and six core and eight core isn't that difference for windows 10 , the Lumia 520 handles the preview well , then how a flagship will do ?

I'm not sure what you are smoking, the 520 does not handle the preview well at all. My old 920 doesn't handle the preview well. Performance is always subjective though. Anyways.... It's all about having the best at the time. Battery life I get, whcih is why I'm specifically talking about the processor. Until you have real world performance of one chipset vs the other you just can't say. I have a 6 core i7 desktop overclocked, but the 8 core variant will out perform it in certain tasks. If continumm works well, extra cores for a proper multithreaded app may make a difference.

I agree with you. If they don't have a flagship model for sale in the US I'm out. By november I will have had my upgrade for a year that I've saved for a flagship phone I won't be wasting it on mid-range garbage. I'm sure WP10 will run fine a hexacore but for continuum and other apps near the end of the phones life span it will be a handicap. No thanks if this ends up being correct.

Lol. I agree. I have a 520, 1020 and just got rid of a 1520. 520 runs the preview TERRIBLE, even on a clean install. 1020 doesn't run it well, either. 1520 was solid, though. Posted via the Windows Central App for Android

As I have being saying for sometime: Microsoft will release Lumia 840 and Lumia 840 XL this fall, wait to build momentum and cause good impresions with Windows 10 and then, about 6 months later, release their hero camera flagship phone, the Lumia 940. This is what makes sense to me.

No way, they need a true flagship this fall for the Win 10 mobile rollout. The US market demands flagship level phones. Looking at market share worldwide MS seems to be making gains in markets where a flagship isn't critical, but the US market is stuck without one.

The LUmia 840 will be trully a flagship...

With mid-range hardware? This will end up failing just like the 830.


Will be exactly the hardware already leaked. Cityman and Talkman.

I am aware. Midrange 6 core 32 bit processor with a 1080p screen. Mid-range.

I wish Microsoft would just buy up some cellular space and create their own U.S carrier network! Start opening MS stores in every major city and sell as many new phones as they want. And no longer wait for these BS carrier firmware update delays!!!

Can you grab me a shooting star while you're riding your unicorn up there in the clouds?

Me too. I lost my old one.

Only thing id like to see is either lte-a or volte support for my service provider. Right now though sd400 seems to be the favorite for that kind of network support no highend specs. Yet

Talkman or Cityman, I don't care. I want a continuum phone on Verizon.

AT&T only cares about selling iPhones right now. Their sales people are not well educated in the pros and cons of all devices. I'll keep my 1520 'till it dies.

My 1520 is dying. The screen rotation lags awfully, I'm getting the "Resuming" screen way too often and it's locking up, and I can barely hear callers when I'm using it as a handset. I've babied it too. Not sure what's going on there. Come to think of it, I've always had a problem with hearing callers, but it's not a huge issue because 90% of the time, I'm using a bluetooth headset. I was really hoping for a true successor to the 1520. I actively hate Android and really don't want to go back to iOS, although it's looking like that's going to be inevitable if we can't get high-end devices here in the US. I really want to be fully on board with the Windows 10 ecosystem, but it's looking like that's just not going to be possible unless I go with a low or mid-range phone, and I'm just not willing to do that. It's hard enough to show off WP on a high-end phone, I'll never get anyone to convert with a low-end device.

If you wiped it and started fresh, most (all maybe) of your software issues would be fixed. I had the slow rotation too. Starting fresh made a huge different. Reload that OS and don't restore. Start over. This happens on every platform, BTW. It's not a Microsoft problem. It's always best to start fresh after major OS updates. Posted via the Windows Central App for Android

I sure hope talkman will be available to buy directly from MS without carrier bs

The only thing we don't know about the upcoming flagships now is availability and pricing.
And it looks like the leaker tweeted '#McLaren' because he absolutely wanted a codename.

Well we can probably guestimate the price to be $599 for the 16GB versions.

Sorry for the 32GB version. (can't seem to hit "edit" on my WP.)

I'm really hoping Cityman comes to the U.S.!

There is no way in hell they will release a 1030, if anything it will be a 1040. And I think the perfect time for its release will be next spring. That way they can get flagships out now, and another flagship with the Snapdragon 820 6 months later.

F..k these money grabbing carriers who doesn't want to sell windows phone. Just sell it to your own store unlocked and make it available to the loyal fans, and let them choose they're own carrier of choice. Posted via the Windows Central App for Android

I know this is childish but when the flagships are finally announced, i hope microsoft sends review units to pro-microsoft websites first. Really bugs me that, for the surface 3, i had to see first impressions from the (apple worshipping) Verge before windows central. Ridiculous. At least aim for them to arrive at the same time!

I really hope your sources are wrong about the 5.7 inch phone I'd be really disappointed if At&t doesn't get it.

Man... these rumors just won't die. The McLaren is dead, Microsoft confirmed it. 1030/40 rumors seem to come from the collective minds of people who really really want a successor to the 1020. I see neither happening as Microsoft hasn't even hinted at pursuing imaging tech with their newest devices. They appear quite happy with what they have right now. Twitter user rumor guy here is either a year or so out of date, or we've found a person tweeting from an alternate dimension.

McLaren was killed for technical reasons that don't justify Nokia's acquisition in $US billions, its time to start questioning if Nokia's acquisition was worth it, I hope I'm wrong and Microsoft now that Windows 10 is finished can launch a phone that deserves 8 columns on all newspapers, something even more huge than McLaren !

McLaren was a 3D gimmick. That doesn't mean we'll never see a 1020 successor. Posted via the Windows Central App for Android

Guess I'll fix my 1520's screen then or consider moving on to and android phone. No way I'm using a 5.2 inch screen. Loss of th 940XL in the US market will be the death of the Lumia in the US.

Regarding the 1030 (or more likely it would be called the 1040), I think it would be great to see MS offer something like this. However, it would definitely still be a niche device. Phones with insane cameras are like extra large phablets (i.e. the 1520); yes, people want them, but it doesn't make sense to have a niche device as your primary offering. I've seen comments, espcially here on Widnows Central, by users claiming that MS (and similar companies) need to solely or priamrily offer this kind of hardware if they want to survive/do well. But, at the end of the day, this would do more harm, than good. After all, it will drive up the price, makes the device heavier/larger/bulkier/etc. ad potentially requires removing other desirable features (such as removing wireless charging in the 1020), and that's something many consumers just aren't interested in. Apple has had a lot of luck capitalising on the "thinness" of their devices, because that's what many consumers want; something thin and light. Shame that Cityman may not be launched in the US... that was the one I was hoping for... I really hope that Talkman, Cityman, and any other devices MS releases are not bound to any specific carriers or regions. Also, carrier exclusives aren't just about who is willing to sell the phone. Look at the HTC M8 Windows; the others were interested, but couldn't sell it (at first). Carriers like to strong arm companies with lower market share, to the effect of "either it's an exlusive to us, or we wont sell it". What I would really like to see, though, is MS breaking free of carriers and "pulling a Nexus". Offer unlocked hardware, sold "at a cost" or "break even". I don't imagine this will happen, at least anytime soon. But, it would be nice.

Aww man. No XL varient in the US? Wasn't it rummored that that version would also have pen support?

If 3D Touch was activated by something like Apple's "Force Touch", it would be really useful.

That has to be fake. Verizon logo too small and unobtrusive.

Why would they put different specs on 940 and 940xl. Looks like the reincarnation of the 1520-930 dilemma. 1520 being the perfect phone but too large of screen size.

Thanks Daniel, hopefully we get some more pics leaking soon! Obviously some people can only read pictures :P

Jokes aside, I believe whatever they do release needs to be a show stopper, not a safe bet...

No cityman in us, not surprising as msft has screwed up every other Windows phone decision

It will be difficult to hold off buying when Talkman (or whatever it's called) gets released with Win10, but I'm not made of money and I'll DEFINITELY want the 1020 successor when it comes out. I might have to wait. :/

I really hope its not true the 5.7 is limited to outside US. I'm sick of this BS where each phone is available only specific regions. Especially if they are simplifying their product line up, they should make each model widely available.

I really want the best for Microsoft in this new incarnation of phones and OS. The software has been reborn several times over now, but this is their first run at doing the hardware in-house (with Nokia assimilated). The problem is not an easy one: How do you get people to use your product when it is not a popularly known option? And how do you get to be a popular option if people are not using your product? A chicken-and-egg problem that is massively complicated by the gate keepers in the US market: service providers. Hopefully the success of the Surface/Pro is not a lucky fluke on Microsoft's part, but a savvy combination of cutting edge hardware, software, timing, and marketing. To repeat this, Microsoft needs to make the phones non-exclusive, to work on all networks. If say, AT&T doesn't want to carry a particular model, sell it at the Microsoft stores and online, and include all potential radio options. Since the updates are coming directly from Microsoft now, at least the carriers will be taken out of the equation on that front. If the product is good, the phones aren't fragmented into 17 entry-level and mid-range models, and Microsoft aggressively advertises the unique advantages of Windows Mobile (commercials that directly compare the product to iPhone and Android, and ones like those that demonstrate the capabilities of the Surface tablet--not expensive product placement in movies and TV), then they may stand a chance at some decent market share. Things like 41 megapixel cameras, Continuum, customizable start screen, live tiles, and cross-platform compatibility with PCs are strong points that they need to emphasize to convince people that Windows Mobile is not just something different, but something better. My worry is not that Microsoft will abandon Windows Mobile, but that it will do so in the US, only to focus on European and Asian markets which have met with more success. The "tough choices" might be accepting defeat in the US market if this last push fails to make headway. I may hold on to my Lumia 925 for another year (2 years old now) to see what becomes available, but I ultimately had hoped to pick up a Cityman/XL model once the prices had settled down, and stick with T-Mobile. Since that combination seems even less likely now, hopefully the bring-your-own-device method with a SIM card should suffice--and hopefully I can get one from Canada or overseas on eBay. Given that T-Mobile's Wi-Fi calling app is garbage anyway, maybe I won't miss their "official experience" all that much.

hmm, scrap this, wrong post

4.7" high end phone please, à la HTC 8X.

So Daniel seems to have some inside information in regards to no US Carrier currently committing to picking up Cityman. I'm a bit disappointed as this the phone I was most interested in upgrading from my 1520 to though it seems to be a case where carriers want to see how well Talkman sells before deciding whether or not to introduce Cityman. Hopefully they at least make an unlocked version available that supports AT&T LTE bands, similiar to the 1520.3. I supposed I can stick with my AT&T 1520 for a bit longer and get Talkman as a last resort, or a 1020 successor if that becomes available.

And now Evan Blas confirmed it is false on twitter...

Confimed which is false? The 1030 or the no 940 XL in the US? I don't think anyone really cares so much about the former. I'm certainly not bying a little @$$ phone with an amoled screen.

I am certainly looking forward to a flagship device whether cityman or talkman. I would be fine with cityman. Microsoft Hello looks like an interesting feature as is instant on Cortana. However I have little interest in Continuum and see it as very much a fringe feature for most developed countries and even a marginal selling point for "underdeveloped" countries. The majority of those in "developed" countries have a PC and for the "underdeveloped" countries the Continuum feature is still dependent on a monitor, keyboard, and mouse. I do not see Continuum being a major interest or widely used feature for the next five or so years. I in no way see Continuum as being any significant factor in the success of Windows 10 Mobile in the foreseeable future. In the future a feature like Continuum will likely be quite common and frequently used, however I do not see much excitement in the general population for the feature in the reasonably near future.

64G or higher storage phones please!!!!!!!!!!!!!!!!

I checked out my sister's 640 XL and I reckon I'll manage with a 5.7" screen. I do wish it was a 6", but if I have to sacrifice, I'm glad its only .3 that I have to pass up (and I'm sure it won't take me long to adapt). But I am really, really looking forward to the new gossips, it's been far too long. That being said Cityman better be released on carrier here because I hate having to get an iphone on my plan just so that I can sell it to buy the phone I want.

"Homer" the phone for Homer

5.7" is too big for my taste anyway. 5" is the ideal size for me and I have fairly large hands. If I need anymore real estate I just whip my surface out of the holster like John Wayne.

Glad to hear that Daniel thinks Microsoft will come out with a 1020 successor eventually! I realize it's just an opinion, but coming from Daniel it has some strength to it. And it's way better than hearing "there is no way they will". Hopefully they do come out with a 1020-type phone; I'm planning on that being my next phone; until then I'm very happy Nokia built the 920 like a tank!! Not going to settle for a cityman only to have a 1040 come out! That's what happened to me with the 1020; I bought my 920 and then a month or two later the 1020 was announced :-S

Proved to be false. sadly!!
Windows Central Newsletter
Thank you for signing up to Windows Central. You will receive a verification email shortly.
There was a problem. Please refresh the page and try again.