PSA: Join the Reddit AMA with Surface boss Panos Panay right now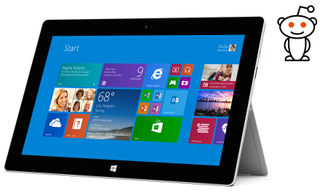 Microsoft has launched its second generation of devices in the Surface family. The Surface team has pumped out the Surface 2, Surface Pro 2, and over half a dozen new accessories for the duo. Like the Surface Music Kit which could turn you into the next sensation in EDM. The man in charge of Surface is starting an AMA on Reddit.
AMA stands for "Ask me Anything" and is a question and answer session between someone and the Reddit community.
Panos Panay, corporate VP at Microsoft and the guy running the Surface team is going to Reddit for an AMA. He'll be taking your questions and answering them. So be sure to hit up the source link and ask away. Not familiar with Reddit? Ask some questions below and we'll ask on behalf of you. Of course we'll do a summary afterwards if anything new or interesting is shared in there.
This isn't the first time we've seen some cool AMA's. Bill Gates did one earlier this year and various teams within Microsoft do it from time to time (like the OneNote team).
Source: Reddit AMA Panos Panay
I want to know if the Microsoft Store will offer a trade in program for 1st gen Surface owners. Would trade in my Surface RT for a Surface 2 in a heartbeat!

That's already been asked in the AMA. We'll let you know if they answer.

I highly doubt it. But if they did, I would certainly take advantage of that.

I'll settle for the new 8.1 RT release resolving some of the performance issues I have frequently.

I saw a response from them in the AMA. They basically said they would take it under consideration.

When will they start to answer questions ?

Panos means diarhea in russian :))

Best news from the AMA:
[–]SurfaceTeam[S] 3 points 26 minutes ago This is Julie. With 8.1 you'll find several improvements since the preview…some of them notable. For example, the new Mail app, new Xbox Music and Video, new Food and Drink app from Bing with hands-free gestures for your recipes. And more!
[–]SurfaceTeam[S] 2 points 11 minutes ago Microsoft Stores offers a 10% discount for all students
[–]AmericanKryptonite 2 points 28 minutes ago What kind of battery life will we see with the Surface 2 (not Pro) coupled with a Power Cover?
[–]SurfaceTeam[S] 4 points 26 minutes ago Surface 2 will have approx. 20% more battery life compared to the original Surface. With Power Cover, you can expect double that.
[–]SurfaceTeam[S] 2 points 4 minutes ago we are extremely confident in 17 hours. generally crazy long. cool thing too is that the cover charges the device, so you could plug it in, use for a while, and then unplug after it fully charges.
[–]SurfaceTeam[S] 30 points 39 minutes ago Great question. We didn't talk about it today, but Surface 2 will be launching an awesome LTE SKU early next year! Nice catch on your part, no one else has asked this question...... what better way to tell people than through Reddit!! Panos

My #1 complaint about my Surface: Volume is WAY too low. Have you fixed this in a meaningful way with v2?
[–]SurfaceTeam[S] 1 point 8 minutes ago
Steve M - Program Manager Surface Team: Both Surface 2 and Surface Pro 2 have new enhanced speakers and Dolby built-in for a better user experience.

I asked about the possibility of a Surface phone - no response.

I have to think MS buying Nokia has pretty much killed that possibility.

Here is the main problem with Microsoft, they do not listen. They assume and move forward. I have never seen a company with just stupid people who do not know how to market a product.
-------Comment---
Hi Panos, Unfortunately you recently lost around 900M on Surface. Is
there a large reason as to why the price couldn't be lowered as I'm sure
if it was a little cheaper (perhaps $399 instead of $499 for a limited
time) you would have a significant amount more of sales. – Hi there. The
price for Surface 2 is $449 not $499 and comes w/ 200GB of SkyDrive for
two yrs and 1 year of free Skype international calling and Wifi. Of
course it has Office too. We think it's a great value when you consider
all we packed into the product. we will continue to sell Surface RT for
$349 though.

Someone should have asked if the new lower price of $349.00 has resulted in a sales bump. I bet not significantly. Surface 2 will not be a big seller. Buyers will look at the lowest priced current gen iPad and the lowest priced current gen Surface and guess which one they'll buy?


After the price cuts the surface RT is now outselling the surface pro for the 1st time, which has had stable sales since release in Feb. The commercial interest has also been off the charts since they released the tablet to their reseller partners.

$400 nexus 10
$400 tab 3 10
$400 transformer tf700
$450 Note 10.1
$500 Ipad 4

This is not some cheap plastic device like most of the above. $450 is a solid price considering the pricing by the competition with last years specs & the premium housing materials. Even before the price cuts they were outselling the Asus transformer & nexus 10 tabs. They just have to be realistic with production. The market has moved to mini tablets where they have no product yet. it makes no sense ordering more than 500K 10" tablet parts per quarter.


Nobody asked if they had ever considered a stylus holder built in the pro? My college portfolio had it decades ago.
Windows Central Newsletter
Get the best of Windows Central in in your inbox, every day!
Thank you for signing up to Windows Central. You will receive a verification email shortly.
There was a problem. Please refresh the page and try again.