Amazon claims that President Trump stopped AWS from receiving $10 billion JEDI contract
Amazon protests the U.S. government's decision to give a $10 billion contract to Microsoft's Azure.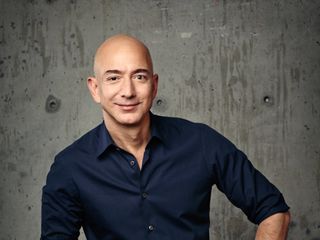 (Image credit: Amazon)
What you need to know
Amazon believes that President Trump intervened with the granting of the $10 billion JEDI contract.
President Trump has publicly expressed negative opinions of Amazon's Jeff Bezos in the past.
The Pentagon states that "There were no external influences on the source selection decision."
A new filing by Amazon states that the company believes President Donald Trump intervened with the process to grant a potentially $10 billion Joint Enterprise Defense Infrastructure (JEDI) contract. The contract was granted to Microsoft in October, but people at Amazon believe that President Trump's feelings towards Amazon's Jeff Bezos affected the decision. Amazon called for the U.S. Department of Defense to terminate the awarded contract and conduct another review of proposals.
CNBC reports on the filing from Amazon and summarizes its heavily redacted contents. The filing states that "The question is whether the President of the United States should be allowed to use the budget of DoD to pursue his own personal and political ends." It continues, stating, "DoD's substantial and pervasive errors are hard to understand and impossible to assess separate and apart from the President's repeatedly expressed determination to, in the words of the President himself, 'screw Amazon.' Basic justice requires re-evaluation of proposals and a new award decision." The "screw Amazon" remark refers to a statement from the book "Holding The Line: Inside Trump's Pentagon with Secretary Mattis" (opens in new tab) in which Mattis alleges that Donald Trump told Mattis to "screw Amazon" out of the $10 billion contract.
Amazon believes that President Trump's negative feelings towards Bezos affected the contract process. President Trump has made several negative public remarks about Bezos, who also owns the Washington Post.
Pentagon spokesperson, Elissa Smith, denies external influences affected the granting of the contract, stating, "This source selection decision was made by an expert team of career public servants and military officers from across the Department of Defense and in accordance with DOD's normal source-selection process." Smith continues, adding, "There were no external influences on the source selection decision. The department is confident in the JEDI award and remains focused on getting this critical capability into the hands of our warfighters as quickly and efficiently as possible."
News Writer and apps editor
Sean Endicott brings nearly a decade of experience covering Microsoft and Windows news to Windows Central. He joined our team in 2017 as an app reviewer and now heads up our day-to-day news coverage. If you have a news tip or an app to review, hit him up at sean.endicott@futurenet.com (opens in new tab).
But what's the evidence that he did intervene? His public statements are no different than the Democrat politicians who go after companies because their politics demand it.

Exactly to both replies above. In terms of wealth, Bezos has the resources to match Bill Gates but his own arrogance blinds his mistakes. One criteria the government and big Enterprise use is stability and longevity of the companies. While Microsoft is no Angel, angels in comparison with Amazon, it has far more consistent track record and stays away from politics in a Twitter sense. Part of the baiting on Twitter and such, is calling an entity from the safe zone and forcing your engagement. The comments from Trump and Bezos engagement irritate many on both sides. Choosing the alternative Microsoft is more about staying away from the fray too.

To the commenters above: Trump's secretary of defense says Trump personally intervened, and we're second-guessing that because we don't like Jeff Bezos? Come on. Even if Microsoft did deserve the contract more, this is still just more shady behavior from the White House. Everything is politicized down to the tiniest detail. Why turn a blind eye? And yes, two Democrats also attack and demonize specific companies. So? Does that make it OK to politicize government contacting to benefit the president?

Well, if a company I decided not to partner with had the immaturity to complain that I chose the other company, and the audacity to demand that I redo the RFP process, I would certainly not working with them again in the future. I want a more level-headed and reliable partner than that.

Not work* Of course, this is subject to circumstance, as you may not be able to avoid working with someone when it is the right decision for the business. But I would certainly be apprehensive and less trusting/confident in them as a partner.

There's no politicizing things here, but some people are trying to make it that way. There was an RFP, Microsoft won the award. Maybe Microsoft was not the cheapest vendor, but perhaps better service upon implementation? Or MS were cheaper for comparable service? Or they were the same price but MS provided more value add? These factors beyond what we can discuss here all get taken into account. If perhaps MS did "deserve the contract more" then why is this even a topic for discussion? The President doesn't benefit personally from this decision and this is simply invoking "orange man bad" against a decision Amazon doesn't agree with.

I think trump reads too much into things... just because the washington post says something he doesn't like....doesn't mean bezo's told them to do it...they are just some newpaper that's always half bankrupt that bezo's bought so he could sell it on kindle...

Maybe it has something to do with the fact that the DOD already uses Windows, OneDrive, and office and they all integrate nicely with Azure compared to the huge costs of migrating to AWS. Or maybe it's because Microsoft has a 30 year track record with enterprise and is more security focused.

Exactly my thoughts. Smart decision if you ask me. Microsoft everything is easier.

Bullshit. Microsoft's services and platforms are better.

I didn't get my way so I'm going to run to court to see if they fall for my whining.

Is it it me or Jeff Bezos looks like a creepier version of Lex Luthor? 😅🤣

I was wondering why I felt that odd feeling... now I can't unsee this.

jeff/amazon just a salty sad wannabe Lex Luthor, go whine off somewhere else where people aren't annoyed by this childish bs

Whether or not Cheeto head actually told them to give it to anyone not Amazon, the appearance is bad. Personally I think Microsoft can run this just as easily as Amazon can but when you are looking at 10 Bil, I am not surprised that Amazon is protesting. Keep in mind that Oracle is also protesting this as well.

Oh goodness... Is this what the Democrazys are going to use for Impeachment post 2020? They've already stated they will keep trying to impeach Pres. Trump on anything they can fabricate... I think someone needs to start selling these people ring cushions to sit on and build a bridge to just get over it. ugh
Windows Central Newsletter
Thank you for signing up to Windows Central. You will receive a verification email shortly.
There was a problem. Please refresh the page and try again.