Amazon launches Kindle Unlimited, a new ebook rental service for $9.99 a month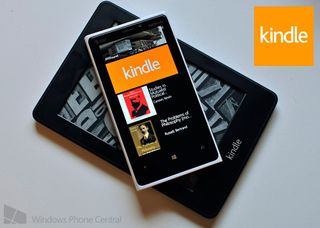 Amazon has today announced a new ebook rental service called Kindle Unlimited (opens in new tab). The new service enables consumers to choose from over 600,000 books, listen to thousands of audiobooks from Audible and more for just $9.99 a month. Think of it as a music streaming package, but for books with Amazon.
The online retailer will have Kindle Unlimited logos on eligible titles, which can be read for free by those with an active subscription. Popular titles like the Hunger Games, Lord of the Rings and others are available with Kindle Unlimited. It's a neat concept and one we can see many utilizing. Amazon will be bundling a three-month subscription to Audible too.
There's also a free 30-day trial (opens in new tab), should you be interested. Find the press release below. You can download the Kindle app from the Windows Phone Store to try the service now.
SEATTLE--(BUSINESS WIRE)--Jul. 18, 2014-- (NASDAQ:AMZN)—Amazon.com today introduced Kindle Unlimited—a new subscription service which allows customers to freely read as much as they want from over 600,000 Kindle books, and listen as much as they want to thousands of Audible audiobooks, all for only $9.99 a month. Finding a great book is easy, and there are never any due dates—just look for the Kindle Unlimited logo on eligible titles and click "Read for Free."
Customers can choose from best sellers like The Hunger Games, Diary of a Wimpy Kid, and The Lord of the Rings, and with thousands of professionally narrated audiobooks from Audible, like The Handmaid's Tale and Water for Elephants, the story can continue in the car or on the go. Kindle Unlimited subscribers also get the additional benefit of a complimentary three-month Audible membership, with access to the full selection of Audible titles. Kindle Unlimited is available starting today and is accessible from Kindle devices or with Amazon's free Kindle reading apps. Start your free 30-day trial today at www.amazon.com/ku-freetrial.
"With Kindle Unlimited, you won't have to think twice before you try a new author or genre—you can just start reading and listening," said Russ Grandinetti, Senior Vice President, Kindle. "In addition to offering over 600,000 eBooks, Kindle Unlimited is also by far the most cost-effective way to enjoy audiobooks and eBooks together. With thousands of Whispersync for Voice-enabled audiobooks to choose from, you can easily switch between reading and listening to a book, allowing the story to continue even when your eyes are busy. We hope you take advantage of the 30-day free trial and try it for yourself."
Kindle Unlimited features include:
For more details on Kindle Unlimited, visit www.amazon.com/kindleunlimited.
Windows Central Newsletter
Get the best of Windows Central in your inbox, every day!
Rich Edmonds was formerly a Senior Editor of PC hardware at Windows Central, covering everything related to PC components and NAS. He's been involved in technology for more than a decade and knows a thing or two about the magic inside a PC chassis. You can follow him on Twitter at @RichEdmonds.
I can't seem to find the relationship

And why is that? Because amazon have kindle? lol

How many books can once read in a week?

This is awesome, especially if you share your kindle account with a couple children.

I'll definitely subscribe

This is awesome! I wish MS would offer their own bookstore to compete with this, but at least us WinPhans get to enjoy this service.

But only if you're in the US. :'(

Kindle app is available in WP in addition to other eBook apps.

What I meant was the unlimited service is only available in the US.

Xbox Books. Reading with Achievements. It would probably save the world.

That would be amazing! It would also cure polio and bill gates could focus on MS again. :P

Too bad the Windows Phone app is neglected and lacks basic features. Used to be a frequent buyer but since jumping to Windows I am back to ordering books/ebooks direct from publishers.

What basic features does the WP app lack?

Any reasonable ability to sort your purchased items, integration with Audible, and reliable syncing. Just to name a few of the basics.

The windows 8 kindle is almost as bad, at least its syncing works ok.

I really would like to have the in-text dictionary that kindle has on other OSs.

Highlighting, notes, search, and dictionary. Also pages don't always render and sentences go missing fairly frequently. So it doesn't even work well for reading. I use Fiction Book Reader to read epubs. Best I've found. Wish Microsoft would make a reader.

I've given up on getting Whispersync to work between my Kindle and the WP Audible app. And about one in three downloads on the phone fail to the point of having to contact customer support. Also the Audible app often forgets the last bookmark so you need to manually find where you were. Still.. this is a pretty good deal. Although with my many credits and slow reading tempo I probably use less than $10 a month now even though I read and listen almost every day. I wonder if this will be $15 in non US countries, like Adobe subscriptions, WP and iPhone apps and all kinds of other things that are 50% more in non US countries.

And here I was looking at subscribing to Scribd.

Where's prime video for Windows Phone??? :p

While I'd like it too, to be fair, where is Prime Video for Android and iOS?

I'll be interested to see if the WP Kindle app is updated to support all the necessary features.

I would be surprised if it does not happen..,

It works on WP just fine. I personally validated that. This was a lot of work to get out and I hope you all enjoy it. And yes, everytime WP came up if anyone challenged whether it was worth supporting I held up my Icon and demanded we support it. That said, it was always in the plans.

So, will the wp app be updated soon? I hardly use it now because it has so many problems and won't show books I've uploaded to my kindle account. I would be spending a lot more money at Amazon if the kindle and audible wp apps would sync together.

I just read through the reviews for the wp app in the store. There's a lot of work to do there.

I'm not on the app team so I don't have any direct input. I did validate this service on WP8/Win8 as a personal project simply because I always push to see us better support Windows in general given that my background is at MS and working as an engineer on Windows for a decade. Rest assured though, I'm a constant voice for Windows/WP, often to the bemusement of my peers. ;)

Can't take the credit, I was one part of a team of a couple hundred people spread across 20+ teams. But man did this consume our lives. Its the first real push to take books past the trappings of them being analogues of the physical book world and into "what are the possibilities for digital books once you stop trying to treat them like physical books?" Its exciting to think about. I grew up living in books, so this is a bit of a dream come true for me.

Hi David, I'm going on the assumption that you're on the Amazon team then! Awesome that it supports it. So my last question is this, do I just need to switch between the Kindle app, and Audible to utilize the whispersync voice stuff? Thanks for the reply btw.

I honestly have no idea, I don't use Audible at all and I'm not on that team. Audible is supported in Kindle Unlimited, and it works with Whispersync for Voice, but I do not know how that support works with the WP app. I'll try to remember to give it a try when I go into the office next week and if it does not function, I'll be certain to put in a feature request if its not at parity with the iOS/Android apps.

One side note: I don't speak for Amazon, I'm just finally getting some downtime after spending all night getting this launched. ;)

For now, only for US customers... Bummer!

Kindle Unlimited is currently available only to US customers but we plan to expand this service to other countries. Please stay tuned.

https://www.amazon.com/gp/feature.html/ref=sv_kstore_2?ie=UTF8&docId=1002872331

As much as that is a problem they should at least start with their video services

I am from Greece and I subscribed with my card without problem

Download exclusive books in the fast lane if you are a Comcast subscriber! Your books will download up to x10 faster than with AT&T.

I know it's really hard, but can we just once try to keep things on topic?

$9.99/mo is too much for my reading/listening speed - for the amount of "free" time I have. I would think if they charged $1.99/mo they would get many more subscribers who have the same usage requirements that I do. Heavy users would have an awesome bargin offset by the low frequency guys.

Why bother, I have a library card for free with 5M books available. And the Overdrive App works, uh, ok, but it gives me eBooks and audio. And again it is free. Sorry but I just feel a bit of fatigue around subscribing to ANOTHER service, especially when it is already available from my public library.

Overdrive has way better selection if you have a good library system.

I don't like this at all. It is going to damage the authors real bad. Books are NOT music. Singers get money from concerts, public appearances, promos, photo ups... Authors are completely dependent on the sales of their books (with the exception of those who sell the film rights). So nobody can tell me that when I get 5 books a month for 10 dollars (less than what a paperback costs), it won't hurt the authors. It's just what some people predicted -- Amazon is becoming a bytch and starting to force publishing companies into these unfavourable deals. And when they refuse? Amazon will do what they did to Hatchette -- they'll just increase the shipping time to 4 weeks or so. That will make the publishers think twice next time.


I'm surprised they didn't call it "Kindle Prime".

Amazon Prime already supports a Kindle Lending Library, so calling it Kindle Prime would be really confusing.

The selection is very meh. It looks the same stuff Prime users can borrow for free (only now they can do it more often) and the books that are on sale all the time (e.g., Vonnegut).