Amazon to offer midnight release day deliveries for Call of Duty: Black Ops III through Prime Now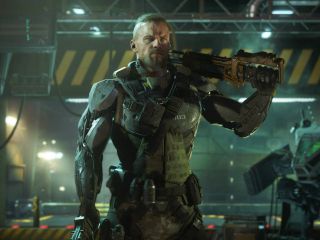 If you want a physical copy of Call of Duty: Black Ops III for Xbox One the second it releases, Amazon may now be an option. Amazon has announced that it will offer up deliveries for Call of Duty: Black Ops III beginning at midnight on release day through its Prime Now service in 20 cities. Interested buyers can even have select extras, presumably some Mountain Dew and Doritos, delivered alongside the latest Call of Duty release. From Amazon:
If you're curious, Prime Now is offered in the following cities: Atlanta, Austin, Baltimore, Chicago, Dallas, Houston, Indianapolis, Las Vegas, Los Angeles, Manhattan, Miami, Minneapolis, Orange County, Phoenix, Portland, Sacramento, San Antonio, San Francisco, San Jose, and Seattle.
Call of Duty: Black Ops III will be released on November 6, so if you want a physical copy and don't want to stand in line at a physical retailer, you can now count on Amazon if you live in one of the above cities. If you don't mind waiting a bit longer, however, you can go ahead and pre-order Black Ops III for normal delivery at the link below.
Pre-order Call of Duty: Black Ops III at Amazon (opens in new tab)
Dan Thorp-Lancaster is the former Editor-in-Chief of Windows Central. He began working with Windows Central, Android Central, and iMore as a news writer in 2014 and is obsessed with tech of all sorts. You can follow Dan on Twitter @DthorpL and Instagram @heyitsdtl.
Interesting. I truly wonder the release of this game could possibly be large enough for this be a sustainable or profitable thing. I mean who does this cater to? Is there a significant group gamers that WILL pre-order the game, will have a Prime subscription (or will pay), and schedule delivery that WON'T just download digital pre-order or run to the store at midnight?
Regardless, it's cool to see them trying new things.

That would make sense if it was the only option to buy the game. But this is just an extra option to order, other people who want to buy it like they used to can still do it. So it really doesn't change anything for the rest

No Brooklyn? Meeehnhattan

Sweet... something that can only be ordered through the Prime Now app, not via their web site, and the app isn't available for either WP or W10. Nice tease for a Windows-centric site.

Getting the game DISC at midnight is pointless because you will have to install the 50gb game before you can play. If you wanna play midnight you better buy digital and have it already preinstalled ahead of time.

This is attractive to some of us that want to collect a physical copy of their games. I'm not getting this by the way. Posted via the Windows Central App

You really have to play a video game the very second it comes out? Have fun wasting your money, I'll buy your used copy in a month

Couldn't happen to a crappier game.

Advanced warfare started to turn me off on COD. I want realistic warfare, not all the jet pack BS. If this release has that crap, I'm out.

It looks like Call of Duty has become very much like Halo in recent releases. I liked how Modern Warfare and Black Ops were very more realistic Warfare games and Halo was the futuristic warfare genre. I am hoping it changes but I doubt it... Posted with the Nexus 6, Nexus 5, or Surface Pro 3

Starting to agree. Let's go back to ww2

Oh please. I have been waiting for World at War 2 since the release of WaW. Posted via the Windows Central App for Android

I'd love to see a modern version of battlefield 1942 (different series I know) but it'd be awesome to see what they could do now seeing as the original is more than 10 years old. The maps could be bigger, destructable and all kinds of fun stuff put in. Too bad it'd be littered with micro-transactions and DLC lol.

Which Battlefield does x10 better. Cod is an arcadey twitch shooter with powerups and killstreaks, it lends itself to arenas whatever the theme.

You aaall say that and almost never have anybody heard of Red Orchestra or Rising Storm........ Playing super realistic superman Battlefield.. Black ops is fun as hell and its the point of the game.. And so many playing, no server waiting time.

That's because games like titanfall have introduced a new kind of verticality to the gameplay, with double jump, wall run and boosters. This is the way games are going so if a game comes out without that, it's considered old or basic. Halo 5 has adhered to the new trend to some extent with booster thrust, ground pound and grapple. It's new ways of moving the character instead of just left, right, strafe and jump or press b to complete a pre-scripted animated action.

I really disliked the previous version with the Halo style jumps. Stopped playing and did not buy even one of the add on maps. First time in 10 years I haven't done that.

I will get this game, or die trying

Lol the game is already released where I live
And also I think need for speed got leaked where I live Posted via the Windows Central App for Android

Am sort of missing the old COD where we just curse nazis and shoot the fckk out of them. Advanced Warfare isn't my sort of thing.
Windows Central Newsletter
Thank you for signing up to Windows Central. You will receive a verification email shortly.
There was a problem. Please refresh the page and try again.