Amazon sale slashes price of Halo 5: Guardians Limited Collector's Edition to $99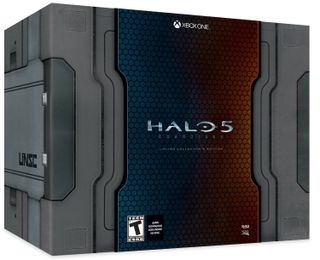 If you haven't yet picked up Halo 5: Guardians, the game's collector's edition has seen a pretty steep price cut on Amazon today. The retailer is currently listing the Halo 5: Guardians Limited Collector's Edition for just $99, down from its origin $249 price. And for the money, you'll be snagging a heck of a lot. Here's the breakdown of what's included in the Limited Collector's Edition:
Full game digital download code
Warzone REQ Bundle (14 Premium Requisition packs)
Halo: The Fall of Reach (Animated Series)
Guardian model by Metal Earth
Uniquely-designed Spartan themed SteelBook
Spartan Locke's Classified Orders
Dossiers on Blue Team and Fireteam Osiris
Xbox Live Gold 14-day Trial
If you're a diehard Halo fan who somehow hasn't nabbed the latest entry in the series, or if you happen to know someone who could use a killer Christmas gift, this is a pretty attractive offer. In any case, you can grab the Halo 5: Guardians Limited Collector's Edition for $99 at the Amazon link below.
$99 from Amazon (opens in new tab)
Dan Thorp-Lancaster is the former Editor-in-Chief of Windows Central. He began working with Windows Central, Android Central, and iMore as a news writer in 2014 and is obsessed with tech of all sorts. You can follow Dan on Twitter @DthorpL and Instagram @heyitsdtl.
I thought it was an Xbox one bundle. Crap.

Ha, if you ordered one on accident just cancel it! I just bought it just to have. Not sure if I'm gonna keep it or gift it yet.

I think he means about the Halo 5 Limited edition Xbox One 1TB bundle. The price for that is 500 but all Bundles are getting $50 off. So this bundle is actually $450 right now. He might of thought that it has come down to $400. Which was what I too though at first lol.

Sell the Req packs on ebay, you'll probably make your money back

Because it was such an overpriced scam. $150 for a statue was crap.

Honestly it's not, considering everything you get including the game how is this overpriced? A decent statue is generally over $100 alone.

You don't really get ANYTHING, though. Look at the breakdown of the different versions. The ONLY thing you get in the LCE that's not in the $100 LE is that statue. You're paying $150 for it. Go look at what other games give you. Black Ops 3's Juggernog edition gave you a steelbook, art cards (like the ones with Halo 5's LE and LCE), 3 digital weapon packs, the $50 Season Pass, a set of coasters, and a function, 12-can fridge. You got a freaking fridge in it, and it was $50 LESS than the Halo 5 LCE. For $150, The Witcher 3's CE gave you a rather large statue (that's honestly cooler looking that Halo's, and I dont' even care about TW3), an art book, a map, the soundtrack (on a CD), a coupleof other booklets, some stickers, and a necklace. The statue for Mirror's Edge Catalyst is $50 less than Halo 5's $250 price tag. The $250 Titanfall Collector's Edition statue lit up, and that version came with a 200-page art book, and a poster. Oh, and that fell to $100 at multiple retailers before it sold out. This thing would have been a stretch at $200, given everything but the big statue isn't much beyond glorified paper. At $250, most everyone online was laughing at the price and saying they'd wait until $100 because everyone KNEW it would be overproduced and not sell becuase of the asinine price tag.

Christ, I paid 250 for this :(

You and I both my friend.

That is a heck of a deal. If I didn't already own it, I would buy that right now.

Was waiting til my daughter and I finished the Halo collection before I bought 5 but could not pass this up. Got my daughter the Halo controller for Christmas, now dad gets a little Halo love for the holidays. That statue will be a nice addition to my office.

LOL this is not a Xbox One console, I see alot of people making mistake by buying thinking it is. That console bundle is over $350!

D*mn, if it was closer to this price in the UK I'd get it as it's far more reasonable than the RRP, especially considering how rubbish the statue is.
Edit: "d@mn" is considered a vulgar word? wth?

Yeah, they've gone a bit overboard with the filter - total bollocks! Edit: I only wrote bollocks to see if that would be filtered... and it isn't, huzzah!

I got the guardian model by metal earth. The one that came in sheets of metal. That was a pain to assemble but fun. Some parts were super fragile.
This description sounds more like the limited edition not the legendary edition.

Yeah, it's weird none of the descriptions describe the hulking great statue in the middle of the image. You're right that the Guardian Model is the tiny little metal thing

Baw doesn't ship to Australia
Windows Central Newsletter
Thank you for signing up to Windows Central. You will receive a verification email shortly.
There was a problem. Please refresh the page and try again.