Amazon's New World is brutally bricking RTX 3090 graphics cards
The most powerful GPU in the world has been brought to its knees.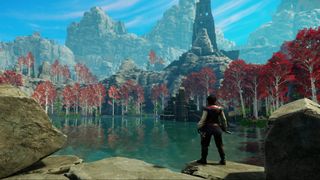 (Image credit: Amazon Games)
What you need to know
New World is Amazon's upcoming MMORPG.
It is currently in closed beta.
User reports cite the game as bricking EVGA RTX 3090 graphics cards.
The closed beta for Amazon's New World has gone live, and while plenty of gamers are enjoying the game, players who have systems equipped with RTX 3090 graphics cards are having their gaming rigs ruined when playing the upcoming MMORPG.
Reports on the New World subreddit indicate that trying to launch New World while using an RTX 3090 will sometimes cause it to completely fry, forcing those impacted to contact manufacturers for refunds or replacements. The issue seems to be affecting EVGA RTX 3090 cards more than other GPUs, though it's worth noting that people who use other versions of the 3090 have reported problems with overheating and dangerous power spikes.
ATTENTION:

Playing the New World beta on my EVGA 3090 has fried my graphics card completely. There are many accounts of this same thing happening with the same card with the same game.@TEAMEVGA @playnewworld @EVGA_JacobF

I just want to make sure this doesn't happen to othersATTENTION:

Playing the New World beta on my EVGA 3090 has fried my graphics card completely. There are many accounts of this same thing happening with the same card with the same game.@TEAMEVGA @playnewworld @EVGA_JacobF

I just want to make sure this doesn't happen to others— Gladd (@Gladd) July 21, 2021July 21, 2021
The New World team hasn't yet officially recognized the issue nor offered advice on avoiding it or any fixes. Many experiencing problems are saying that the lobby is causing the issues, with insane FPS spikes for extended periods of time causing GPU temperatures to get out of hand and then the hardware problems begin. But others are also reporting that they're getting into a game and playing for a while before things start. Usual tricks like V-Sync or FPS caps don't seem to be fixing it, either.
Overall, this is quite a bizarre issue, and hopefully, Amazon and EVGA will be able to identify what's causing this problem to occur (players are theorizing that there's not an FPS cap on the menu screens, causing GPUs to render 9000+ FPS). If you're an RTX 3090 owner, I highly recommend that you avoid playing New World until Amazon and EVGA release an official statement on the matter and confirm that the issue has been solved. You might be okay if you decide to play the game, but I wouldn't take the risk — especially since the RTX 3090 is incredibly pricey and is in very short supply. Notably, the RTX 3090 isn't the only graphics card that folks are reporting issues with, but it's certainly the most prominent and expensive.
New World is available for $40 for preorder now, and is expected to fully launch on August 31 on Windows 10 (and Windows 11). Notably, preordering will give you access to the closed beta. Amazon is aiming to bring a high-quality MMORPG experience to PC gamers around the globe with New World, although whether or not the game has the depth to hang with the best PC games on the market remains to be seen. Bricking $1,500 graphics cards certainly isn't a good start.
Update July 21, 2021 at 5:25 p.m. ET: An Amazon Games spokesperson provided a statement to Windows Central, which includes mention of an incoming patch.
"Hundreds of thousands of people played in the New World Closed Beta yesterday, with millions of total hours played. We've received a few reports of players using high-performance graphics cards experiencing hardware failure when playing New World.
New World makes standard DirectX calls as provided by the Windows API. We have seen no indication of widespread issues with 3090s, either in the beta or during our many months of alpha testing.
The New World Closed Beta is safe to play. In order to further reassure players, we will implement a patch today that caps frames per second on our menu screen. We're grateful for the support New World is receiving from players around the world, and will keep listening to their feedback throughout Beta and beyond."
EVGA's initial response follows:
Update July 21, 2021 at 11:15 a.m. ET: An EVGA representative provided the following comment: "At the moment we are dealing with specific problems, if it is a problem really confirmed we will inform and inform you in our EVGA forums on our website." The linked forums contain instances of users discussing New World EVGA RTX 3090 issues.
Journey into the unknown
(opens in new tab)
Set sail on this brand new MMORPG

New World is shaping up to be one of the most interesting MMORPGs when it launches on August 31. Just don't play it if you have an RTX 3090, maybe.
Brendan Lowry is a Windows Central writer and Oakland University graduate with a burning passion for video games, of which he's been an avid fan since childhood. You'll find him doing reviews, editorials, and general coverage on everything Xbox and PC. Follow him on Twitter.
Amazon can fix the issue but it's really Nvidia and EVGA's responsibility to make a card with safeguards that actually work.

Wow, that's surprising and a real shame for those gamers. While it's good that at least they're catching the problem with New World during the beta and before general release, it would seem this is also at least partly an nVidia problem: the drivers should not allow any software calls to physically damage the card, and even after that, absent forced overclocking, the firmware in the card should have it throttle or shutdown before it suffers permanent harm. I hope we learn how this is happening at some point. Did the game developers intentionally work around innate safeguards, or did nVidia not consider the particular kinds of rendering New World is doing and left a bug in their drivers that's just never reared its head before? Fascinating.

What's unusual is that this is the first time I know of something like this happening. What changed with GPUs? We've had relatively powerful GPUs before.

I got concerned when the simple queue screen pegged my GPU to 100%

I've got a 3090 with a 1,000 watt BIOS. And hearing of this crap makes me think these people were trying to benchmark the game while running absurd overclocks. I have my card set to 700 Watts power limit and most games won't even come close to that limit while staying around the 5-550 mark. Some games like Wolfenstein 2 will gobble up most of what is available through. Still not sure/certain how the hell a "game" can physically change the power/voltage parameters of the graphics card itself. Some crazy hoodoo voodoo going on here.

Engine is most likely not capped where it needs to be i.e. the menu. Also a mmo does not need to run at 300 FPS....
Windows Central Newsletter
Get the best of Windows Central in in your inbox, every day!
Thank you for signing up to Windows Central. You will receive a verification email shortly.
There was a problem. Please refresh the page and try again.