AMD Ryzen 5 2600 review: Affordability doesn't equal sluggish performance
An exceptional gaming and mid-tier workstation processor.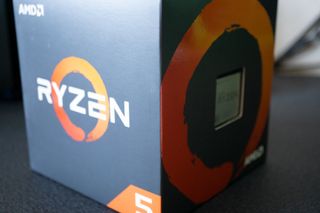 I like to think of the AMD Ryzen 5 as the ideal middle ground for most consumers. It's unlikely you'll need more performance than what's included unless you plan on doing some more demanding tasks and gaming, but for most consumers, it's more than enough. The Core i5 series held the crown for too long and now the second generation 2600 from AMD aims to tackle its competitor and steam ahead with some killer improvements.
This newest generation of processors, part of the Ryzen 2000 series, was launched alongside the X470 chipset. Zen+ not only allows each processor to clock significantly higher than the predecessor range, but also comes rocking improved DDR4 RAM support, lower memory latency, 12nm manufacturing process, Precision Boost 2 and XFR2 technologies, and StoreMI for combining multiple drives into a single volume. It's all exciting stuff and makes the 2000 Ryzen series, especially the Ryzen 5 family, rather enticing for system builders.
Worthy Ryzen successor
Three new Ryzen 5 processors were launched as part of AMD's continued push into the mid-tier consumer bracket. The more affordable Ryzen 5 2400G comes rocking an integrated Vega GPU, while the 2600X is simply clocked higher than the Ryzen 5 2600. If you plan on overclocking the processor anyway, it makes more sense to save a little bit on picking up the non-X variant of the 2600 and have some fun with core multipliers.
Swipe to scroll horizontally
Category
Cores
Threads
Frequencies
TPD
Price
Ryen 5 2600X
6
12
3.6 GHz / 4.2 GHz
95W
$109

(opens in new tab)

Ryen 5 1600X
6
12
3.6 GHz / 4.0 GHz
95W
$199

(opens in new tab)

Ryen 5 2600
6
12
3.4 GHz / 3.9 GHz
65W
$185

(opens in new tab)

Ryen 5 1600
6
12
3.2 GHz / 3.7 GHz
65W
$159

(opens in new tab)

Ryen 5 1500X
4
8
3.5 GHz / 3.8 GHz
65W
$149

(opens in new tab)

Ryen 5 2400G
4
8
3.6 GHz / 3.9 GHz
65W
$156

(opens in new tab)

Ryen 5 1400
4
8
3.2 GHz / 3.5 GHz
65W
$147

(opens in new tab)
As a bonus with all AMD processors, they're all unlocked. Perfect for PC builders and tweakers who enjoy getting the most out of their components, you'll be able to push the Ryzen 5 2600 way beyond its 3.9 GHz boost limit. We comfortably ran our processor at 4.2 GHz under water-cooling, though the included Wraith fan (yes, AMD packs decent cooling in with the CPU) can handle a slight overclock.
How to pick the best Ryzen CPU for your build
The Ryzen 5 2600 comes rocking 576KB L1 cache, 3MB L2 cache, and 16MB L3 cache. Since we're using the same AM4 socket here, both generations of Ryzen processors can use all motherboards. It's all compatible, though with the 400 series chipset you will be able to enjoy some minor enhancements — and you will likely need to flash the BIOS of an older motherboard for use with the newer Zen+ processors, which may require AMD sending you a free upgrade loaner kit.
As for technologies included in Zen+, AMD worked hard on improving Precision Boost and XFR, the former which allows for higher clock speeds to be set during lightly threaded tasks, and the latter paving the way for boosting the already boosted Ryzen processor if enough cooling is present. Think of it as double boost, or adding a turbo to your super-charged engine. In Zen+ these technologies have been refined to offer better performance, and it shows.
Just remember to plan ahead with overclocking the Ryzen processor. These things get real hot under load, especially if you use boxed coolers that aren't designed for pushing boundaries. I'd always recommend going down the path with at least an AiO cooler for overclocking the Ryzen 5 2600, or you will be thermal throttled to prevent causing damage to the component.
Crunching benchmark numbers
I managed to overclock the Ryzen 5 2600 to 4.2 GHz on 1.35v stable. Anything higher than that throws a wobbly. Taking full advantage of a custom water-cooling loop with a dedicated 480mm radiator and four Corsair fans for the Ryzen 5 2600, it was easy to keep it well within safe operating limits. In fact, the processor was noticeably cooler than I expected.
Here's the test setup for getting all the figures:
CPU: AMD Ryzen 2600.
Motherboard: ASUS ROG Strix X470-F.
RAM: Corsair Vengeance 3,000 MHz 16GB DDR4 (2x 8GB).
GPU: ZOTAC GTX 1070 AMP! Extreme.
The Ryzen 5 2600, armed with 16GB of fast RAM and a capable GTX 1070 GPU managed to score 4,934 without overclocking, followed by 5,479 in PC Mark 10 when pushed to 4.2GHz. "Better than 80 percent of all results", this synthetic test shows the performance headroom of the processor in general computing tasks.
For gaming, there's not a whole lot of difference between it and rival processors, especially in demanding games today that rely heavily on available GPU performance. Loading up Rise of the Tomb Raider saw an average FPS of 62 in the benchmark, which was configured to run on DX12 at highest settings. This is compared to 59 with an overclocked Intel Core i5 6600K — the difference at this point comes with a better GPU. Similar stories were present with The Witcher 3 and Ashes of the Singularity.
For an affordable processor, the Ryzen 5 2600 is more than capable of handling even the more demanding games.
Join Team Red
AMD lost vast amounts of market share over the last decade or so to Intel, but the company has returned with some excellent processors and the second generation of Ryzen is a substantial step in the right direction. Should you already own a Ryzen 5 processor, there's no need to upgrade yourself to a 2000 series processor, unless moving up to Ryzen 7. The same goes with a 300 series chipset-sporting motherboard.
If you own an older CPU or are thinking about switching from Intel, the Ryzen 5 2600 is an exceptional processor for the initial price. Less than $200 for a six-core processor with 12 threads, resulting in ample headroom for gaming and serious productivity.
Pros:
Excellent performance value.
Compatible with 300 series motherboards.
Decent cooler included.
Strong overclocking capabilities.
Cons:
Needs water-cooling for serious overclocking.
Not better than Intel i5 in single-core processing.
See at Amazon (opens in new tab)
Windows Central Newsletter
Get the best of Windows Central in your inbox, every day!
Rich Edmonds was formerly a Senior Editor of PC hardware at Windows Central, covering everything related to PC components and NAS. He's been involved in technology for more than a decade and knows a thing or two about the magic inside a PC chassis. You can follow him on Twitter at @RichEdmonds.
Damn, Ryzen 5 2nd gen is really tempting. Also isn't the Ryzen 5 2600X - $209.99 on amazon.com?
Because at $109 it's a bargain 🤣.

Would have liked some info on the onboard gpu performance, comparisons to Intel Iris, etc. But good info anyway.

The Ryzen 2600x does not have an onboard GPU. If you would like a Ryzen CPU with integrated graphics, you would need to look at the 2200G or 2400G.

I built my first desktop a few weeks ago with a 2600X and I absolutely love it. I was looking for something with more juice than my i5 SP4 and had thought long and hard about an SB2 but decided I'd get way more bang for my buck with a desktop. I've always been an AMD fan going back to the original AMD64 days so when I heard they were finally getting competitive again I took it as a sign to build.

Same here,i built a 1600x rig and then a Ryzen 2200G build for an elderly guy who will just check emails and browse on his system

Sadly a bit lackluster on the single core performance 🙁