Ancient Cities is an upcoming PC game city builders should keep an eye on
Ancient Cities is an upcoming PC game that has hit Steam Greenlight and surpassed a funding goal on Kickstarter. Here's why you should keep it shortlisted, should you be a city builder fan.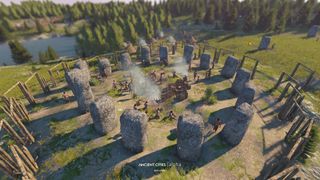 Cities: Skylines provided players with a blank canvas to construct and manage their own modern city, but what if you wish to take a trip thousands of years ago and start a colony way back then? This is what Ancient Cities from Uncasual Games plans to offer. The title is a real-time strategy civilization simulator that touches on exploration, the evolution of colonies, as well as the introduction of technology.
The game has already gone through Steam Greenlight, surpassed a goal on Kickstarter, and is now on Indiegogo to continue funding for development and more content for release. Here's the goal with Ancient Cities:
What makes Ancient Cities intriguing to someone who enjoys a solid real-time strategy or city builder experience is the ability to start fresh in the Neolithic era and take a colony through the ages. The team has already built a stable foundation with the absolute essentials already coded. Things like citizen needs, technology advancement, exploration, day/night cycles, and basic AI are all stated to be developed.
That said, there's still a long way to go and this game isn't slated for release until December 2018. The developer has shared some features that are planned for release:
Discover the lands with parties.
Develop relationships with factions.
Other cities for raiding, trade, and more.
Migration will be simulated (religion, tech, culture).
Hunter parties.
World events to change the course of history.
Defensive structures, including walls, towers, and more.
The introduction of finite natural resources.
Unlock weapons and tools for construction.
Religion will play a major role, as well as politics.
Increased number of clothes, animals, building types, etc.
Citizen traits (religion, culture, etc.)
Simulated health and sickness.
Interested in backing the game ahead of release? Head over to the Indiegogo page to make a pledge. We'll be sure to cover the game as it nears release next year and will no doubt have a review published to see if Ancient Cities is worth your time.
Rich Edmonds is Senior Editor of PC hardware at Windows Central, covering everything related to PC components and NAS. He's been involved in technology for more than a decade and knows a thing or two about the magic inside a PC chassis. You can follow him over on Twitter at @RichEdmonds.
Woot! Sounds interesting. Could take me back to the good ol' days playing settlers.

I won't be following this, I feel I've gotten to old to eagerly await a game release for months on end. However if this catches my eye when it launches, it looks like a good concept and I would probably buy it.

Sounds good...
Hope can run this game on my SP4...

Sounds good...
Hope can run this game on my SP4...

Haha I hope the same for my SP3 but it would probably obly run on devices with a dedicated graphiscs card

Too many bad start up funding stories to back yet. Looks promising, but I'll just keep an eye out for now.

This whole model of overhyping games before they exist is getting old. Especially paying for them before they're even close to release. I hope this ends because to be honest it only really benefits game developers. And there's many examples of some of them taking advantage of this.

The greed of the few should not tarnish the goodwill of the majority.

Oohh, a godless, creatureless Black & White! I'd play this. Also, bring back Black & White.

I'll have a look at it closer to release.

If its ever a finished funcional game it could be great; but I would be rather sceptical of a dev studio that first run a Kickstarter, and now again are running an IndieGoGo campaign; if the Kickstarted set target was not enough, it should have been set higher, instead of now trying to substitute the missing funds by another crowd funding campaign. I wish the devs success, but these sort of practices put doubt as to whether the game is ever actually going to be more then just a concept. Waiting for full release on this one.
Windows Central Newsletter
Thank you for signing up to Windows Central. You will receive a verification email shortly.
There was a problem. Please refresh the page and try again.