Another Surface Video appears, but what is it all about?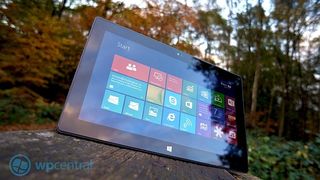 Yesterday another Video appeared on the dedicated Surface YouTube Channel but it dispels with any meaningful message in favour of irritating music and mind bending spins and flips.
The Surface tablet is Microsoft's first foray into selling its own computer and is designed to go head to head with an army of Android tablets and the seemingly unstoppable Apple iPad. Anticipation for this device amongst many, including staff here at Windows Phone Central has been high and we have written about how much we like it but we aren't really what you'd call the average consumer. So what is going with the advertising for Surface?
Windows RT combined with Surface is an interesting product, coming with a legacy desktop environment and the new whizz bang Metro UI. Windows RT also comes pre-installed with Office but doesn't allow any other desktop apps to run there. I have personally been using the device since my pre-order landed and am mostly happy with it, I know it's not perfect but I can live with the teething issues. While I am fully aware of its limitations and oddities, what will the average consumer make of it especially if the message hasn't been conveyed properly from the start?
Surface running Windows RT needs a razor-sharp and consistent message delivered to the consumer to educate them on a number of points. Why is this better than a Windows Laptop or Ultrabook? Why should I want a device that doesn't run the millions of legacy Windows apps? What is this new user interface and why is it any better than the old desktop? These are really important and essential points that need to be covered if Surface has any chance of actually taking off.
There are of course much more sensible videos featured on the site that do attempt to explain the features and more, much much more of that is needed. What is not needed are videos of spinning, flipping, flashing gadgets flying about the screen and snapping and clicking. The Microsoft faithful have likely already bought their Surface tablets and now it's time to convince everyone to do the same.
Surface is a great product but more importantly Windows 8 and Windows Phone 8 are the new way for Microsoft. It's design lanugage and live tiles need more marking to appeal to the general public that have been using static grids of icons for years. If this latest video is anything to go by Microsoft look to be losing their way and I hope that we see a return to more sensible advertising soon.
To add a little more to the confusion about Surface adverts, I have recently been about in London and seen the Surface Graffiti about the place. These adverts are intriguing and could be laying the viral groundwork for a larger campaign, but here in the UK there are no brick and mortar stores in which to run and grab one of these. Buying online is fine for many but not being able to see and touch something is simply going to be a problem.
More should have been done to secure floor space with existing retailers to provide hands on demos to back up the ads.
Get the Windows Central Newsletter
All the latest news, reviews, and guides for Windows and Xbox diehards.