App update roundup: MoWeather gets new tiles, Readit upvotes bug fixes and Minion Rush goes faster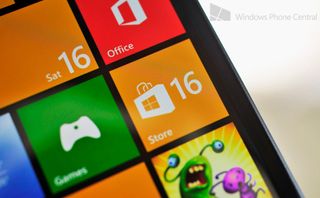 Updates, updates, updates! Get your updates here! Kicking off the new week, we have three apps that have been bumped to new versions on the Windows Phone Store. MoWeather is joined by Readit and Minion Rush. Head on past the break to learn what's new in each of the covered apps.
MoWeather 1.2.5.0
​So this is a rather large update. The developer of MoWeather has released version 1.2.5.0 of the app, including numerous new feature and additions. If you're not familiar with the app itself, MoWeather is a super attractive weather app for Windows Phone, offering gorgeous animations for accurate weather readings. While there are multiple weather apps available, we recommend you check this one out.
Here's what's new in version 1.2.5.0:
New lockscreen and live tile design.
Update weather data of tile and lockscreen timely.
Support 3 kinds of tile and 6 ways to flip.
Fix locating bug. Improve access to accurate local weather.
Support for 21 countries and regions.
We're digging the new tile and lockscreen designs, not to mention the added customisation just in case you wish to have data displayed your own unique way. You can download MoWeather from the store for free using this link or the QR code below.
Readit 1.4.2.0
​We understand there's nothing more pleasing on a hot Summer's day (or a rather chilly Winter one) than sitting down with a beverage and scroll through hundreds of published reddit stories, be it your favourite cats, memes or simple WTF moments. For Windows Phone, Readit is a super popular, unofficial Reddit client, which has been updated to address a bug introduced in the previous release.
A minor update, but worth noting. Download Readit from the Windows Phone Store for $1.99 (free trial available).
Despicable Me: Minion Rush 1.0.0.4
Despicable Me: Minion Rush is a humorous endless runner, which we featured in our top endless runner games roundup. The game features the cute, funny characters we've come to know and love from the hit movie and recently Gameloft released an update to the title on the Windows Phone Store.
While it's not known what version 1.0.0.4 brought to the table, we're assuming this is another minor fix. Our tipster, Himanshu Chowdhary, believes there have been improvements implemented to further optimise the game across a variety of Windows Phones (we're talking about the Lumia 920 and Lumia 520). It's also noted there aren't as many frame rate drop issues with this latest version.
While there are reportedly still some problems, let us know if you've noticed any improvement in the update. You can grab Minion Rush for free from the Windows Phone Store.
Head on over to our forum for more updates and to share your own findings. Thanks to everyone who tipped us on these updates!
Windows Central Newsletter
Get the best of Windows Central in your inbox, every day!
Rich Edmonds was formerly a Senior Editor of PC hardware at Windows Central, covering everything related to PC components and NAS. He's been involved in technology for more than a decade and knows a thing or two about the magic inside a PC chassis. You can follow him on Twitter at @RichEdmonds.
Sorry for off topic but where is GTA? Canceled?

Are you serious @rahulrambhat

I read that somewhere think its wmpower user? Not sure.

How u got to know?? Or you're guessing

Mo weather is a great app and thanx for updating minion rush Gameloft

How to change the language ?

Second option under the three dots. In the first box, the last item.

Minion Rush feels faster...

It was all I wanted to type at the time :-)

Yeah, rich do you play this game ? If so what's your score ;

MoWeather still installs with Chinese language and still closes all the time, and it has been updated several times since release. What a joke.

Did you tried to uninstall and reinstall it? For me it works great! It installs in Chinese, but that's not a big deal.

You can change the language, but I have the (still !!!) the same force close issue (I choose my location, the app tries to get the information aaaannd force close. Reinstalling doesn't solve this problem. I'm having this issue since mid November and the developers still didn't fix it. I'm done with MoWeather and sticking to Bing Weather.

Exactly the same here. I use Forecast now. Really great when it comes to updating the live tile, finds my location fast, looks quite nice and gives me wind speed in m/s.

Bring VLC, opera mini and Firefox to windows phone

VLC? it's on the way now.
Opera and Firefox? Ask them when.

MoliPlayer Pro is a good VLC alternative.

It is faster but it is still a gameloft game if you know what I mean.

Funny, minion rush seems to have slowed down on my 1520, not sped up.

1520 ? i thought you have 520 :D

I just upgraded a few days back! :D Lovin my 1520!

Unable to update minion rush for 620 in india

Was just curious to know dat when will subway surfers and temple run 2 be updated for all windows platform!!!!
It has been more dan a month nw!!

CEO of tinder invite rudy huyn to discuss about 6tinder related matter on twitter..

This is Yasin123Patel, our new comments news reporter. Welcome!

Didn't notice much difference in Minion Rush. Still the frame rate could use some fine tuning. The 920 is definitely not supposed to stutter on such games unless its a bad port or as I read recently, optimizations (or lack thereof) of the Unity engine.

The frame drop issues have been reduced significantly but every time I try to open the shop or the costumes section the game crashes. L920 Greece.

When will d subway surfer nd temple run 2 update will come for 512 mb ram devices ????????????

Man, I really want to love MoWeather (perhaps I am tiring of all the Metro UI flatness). But, I can only see one Tile configuration in the settings and the Temperature is off by 10 degrees F. Am I missing something?

Mo Weather finally works great! No more crashing... Thank mate, keep up the great work!

Minion rush got smoother,now uses 5 tokens to revive,rather 20,and 500bananas,for launcher, and crashing frequently in 720, couldn't been able to access the shop, and yeah, now we can unlock more costumes by spending bananas,rather tokens,
plz fix the bug, cant access the shop,
Hope they add more levels, as there are in android version,

The damned minion rush in-app download doesnt ever complete saying SERVER error... Downloaded this game twice and faced the
same freaking problem..
-L820

Minion rush took out upgrading power ups with bananas and now you need 200 gru tokens. Apparently the only way to win now is to buy a shitload of tokens.

The new tile design is nice, but they got rid of wide tiles. That's a step backwards.