Ashton Kutcher stars in Lenovo's YOGA 3 Pro ads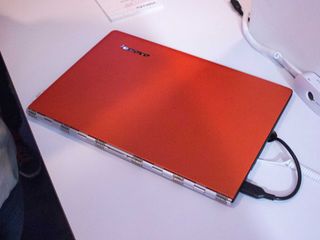 Lenovo unveiled a host of new products yesterday, including the YOGA 3 Pro. To market the device, the manufacturer is calling in the services of its product engineer, none other than Ashton Kutcher.
In the videos, Kutcher illustrates how the YOGA 3 Pro comes to his aid while doing everyday tasks, like knitting and painting. Take a look at both the ads, and let us know what you like (or don't) about them in the comments below. As for the YOGA 3 Pro, make sure you check out our hands-on video of the convertible below.
What do you guys think of the YOGA 3 Pro?
Source: YouTube
Windows Central Newsletter
Get the best of Windows Central in your inbox, every day!
Harish Jonnalagadda is a Senior Editor overseeing Asia for Android Central, Windows Central's sister site. When not reviewing phones, he's testing PC hardware, including video cards, motherboards, gaming accessories, and keyboards.
Canon, Apple, and now Lenovo. He must be technologically ambivalent.

No. He is a paid sponsor.

It was Nikon and perhaps the deciding factor on why I went with Canon. I love my ThinkPad - I think I'm on my tenth or eleventh now. Enough so that even with this troll I'll stay with the brand.

Damn it Microsoft. Now we have to get Jennifer Lawrence to use Windows Phone in an Ad. Shes probably okay with trying other brands since Apple didnt work too well!

Kate Upton has my vote. If she can do for a phone what she did for a hamburger....

People forgot that Jessica Alba was used earlier to promote Windows phone. Not sure if she's still on the wagon though.

THIS.
jennifer lawrence for WP. and all ze zombie will hop in to the platfrom = increased mrketshare and brand awareness. yeahhhba!

Imagine if Justin Beaver or Taylor did the ads for the L730 selfie phone. :O

As much as I hate the thought, I think it'd probably blow up. Ugh. It would be a nuclear explosion if One Direction did it though.

Lol i like Jennifer Lawrence.

We do have Katy Perry kind of promoting Windows Phone

I miss ads like the Apple computer manuals, where the selling point is made clear as day.


I think that the hinge messes with the design.

I (and most men I've known) find him irritating. Women seem to like him though. If that's their market...

Omg another celebrity! I want this device now!

They lost me, I just don't like kutcher

well, nobody is asking you to get Kutcher.

Well, those were...interesting...

Haha, Lenovo chose the star of the movie "Jobs" to present their new laptop. Brilliant move.

That is one thin laptop... I wonder how long the battery life will be in everyday use. Should be awesome right?

Intel Core M enabled massive reduction in chip size and power consumption while maintaining Haswell performance. This is what PCs look like from now on. The Asus Transformer Chi is even more amazing: https://www.youtube.com/watch?v=cEw_yflLxFQ

I am thinking of the part where Steve calls Gates in Jobs Movie!! :p

Dude you're getting a Lenovo! Get that guy. However, as the prior owner of a problematic yoga original version, they lost me at "Lenovo".

Anyone could have done those ads... Kutcher was cast perfectly.

huh he doesn't even know how to unlock the screen :/ as for the yoga it looks beautiful !!

I was thinking the same. how do they ask a guy that's never used windows before to demostrate a windows PC

Uh now I will have to stop buying Lenovo just like I stopped buying Nikon all those years ago.

Isn't Ashton an Apple fanatic?

The end of this ad is the most anoying thing i've ever heard.

Screen bounce on the yogas drives me up the wall...

Ashton paid Lenovo probably.