Ask and answer random questions with Flyby! for Windows Phone 8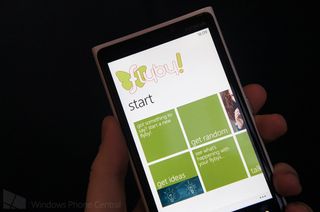 Liquid Daffodil, the developer behind some popular apps for Windows Phone, including Locksider+, has released Flyby! to the Store. The free app (part of the "FREE 4 FANS" project) should be live within the next few days to download, but what's it all about? Available for Windows Phone 8 (and Windows 8 in the very near future), Flyby! is very much like "Ask me anything," where you can create questions about a random topic of choice which can then be passed on to random users.
It's a simple, but addictive concept. The questions (or flybys as they're referred to) submitted are available to anyone else who uses the app. The creator determines the life of the flyby (how many responses it may accumulate). The answers from other users are mostly anonymous - only Twitter profile photos and locations are provided. It's a welcomed approach to keep it safe, but also requiring users to verify themselves to a degree.
All you need to do is connect your Twitter account and you're good to go.
Flyby! is a pretty cool idea, and is a neat app once you get the hang of things. We've been playing around with the app for little under an hour and have come to the conclusion that many will find Flyby! useful, especially if you're one of those web surfers who enjoys asking and answering random questions about any topic.
A number of features are available in the app, including a parental switch for those under the age of 16. This will automatically pass on all questions and content that are of adult nature. A helpful walkthrough is present that runs through exactly what a "flyby" is and how the system works. A humorous note is added - "If you're not having fun, you're doing it wrong."
You have to enable the app to use your location, as well as accept notifications for new flybys. If you're looking for ways to pass time, Flyby! may well be the answer.
You can download Flyby from the Windows Phone Store within the next few days (we'll update with links once it's live)
Rich Edmonds is Senior Editor of PC hardware at Windows Central, covering everything related to PC components and NAS. He's been involved in technology for more than a decade and knows a thing or two about the magic inside a PC chassis. You can follow him over on Twitter at @RichEdmonds.
Hey Rich, I think you got a flyby! Respond or Pass it On! The universe is waiting!

Man, that was a scary comment! Responded ;-)

Good answer and great to see that it's all working perfectly. The flyby got passed on perfectly to a tester in Redmond, WA! Thanks for all you do!

Is a twitter account must to use this app?

Right now, yes, as it provides the best reasonable validation across devices (like for the Windows 8 version coming live later this week). It's highly likely an update coming shortly will allow Live ID validation as well. You'll love it!

Come on Liquid Daffodil, pleeease make us a FB app. All current FB apps suck!

After being asked over and over for the last year, we are FINALLY looking into it. It appears as though the Facebook API is a big hurdle to providing a GOOD UI...that's the issue, but look for updates about in on Twitter.
But, of course this great post is about flyby! ...which will be SO awesome when there are 100s or 1000s of flybys travelling around the globe!

Yay! You'd be rich beyond your wildest dreams if you do this right Codesmith.

I am gonna keep my eyes peeled if you guys can get it done. Your apps are AAA quality and I am sure you would do a Facebook app justice

I'm not making a Twitter account just to try this out. Maybe another time.

We totally understand, and although you'll miss all the fun, you'll be able to get in soon when we add Windows Live ID support...until then hang tight!

This is a cool app....cant wait

This seems like a really cool app! Does the app post these flybys to Twitter, or the Twitter account is only required as an ID to sign on?

A Twitter account is only required to sign in. Twitter has a good "vetting" process and doing it this way will cut down greatly on the abuse, as we learned from Outsiders. Nothing will ever be posted to your account, ever.

It's not in the store yet

The article says it should be available in the next few days...

Yes, the Windows Phone Store has a bit longer turnaround time, and the Windows 8 Store is often less than 24 hours, so our guess is BOTH versions will be available Wednesday or Thursday. Should be exciting! ...and if you're a Windows 8 user it will be cool to get notifications on ALL your devices if you want.

Can't wait to try this. It sounds like it could be a big thing, especially if there was a website where users of those OTHER operating systems can get in on it too. Of course, if they want an app they'll need to get a real OS like WP.

The great thing is flyby! is 100% AZURE based and cross-platform notifications are (almost) seamless. It really is a great concept we've been wanting to do for a long time. Hope our fans love it, as we love them!

Liquid Daffodil....gives me something else to play with......nice!

Yes, the Windows Phone Store has a bit longer turnaround time, and the Windows 8 Store is often less than 24 hours, so our guess is BOTH versions will be available Wednesday or Thursday. Should be exciting! ...and if you're a Windows 8 user it will be cool to get notifications on ALL your devices if you want.

We appreciate all your people's hard work supporting Windows Phone. Thanks Again!

This sounds like an awesome idea. I can't wait to try it out!

BTW, Rich seems to like the Light Theme, but it looks even MORE awesome in Dark...watch the Liquid Daffodil Twitter feed for a link to screenshots. :)

seems interesting. I'd like to try it out

Can't wait to see it. Sounds like a fun app

I can't seem to respond to FlyBys! I see 2 menu options: Pass It On, which is greyed out, and Share, which is active. What am I missing?

If i get a Toast Notification FlyBy! drains a lot my battery. My Lumia 920 gets extremly hot :-(
Windows Central Newsletter
Get the best of Windows Central in in your inbox, every day!
Thank you for signing up to Windows Central. You will receive a verification email shortly.
There was a problem. Please refresh the page and try again.