Asphalt 8: Airborne for Windows Phone updated with six new cars and more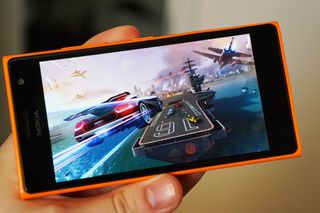 Gameloft keeps adding new content to its popular free-to-play arcade racing game Asphalt 8: Airborne. The latest update for the Windows Phone version adds six new cars to drive around, along with some other new features.
Here's what's new in the latest update to the game:
LAMBORGHINI HURACÁN R&D: Test-drive the Lamborghini Huracán and complete each stage of upgrades to make this motorized marvel yours!
6 NEW CARS: The Lamborghini Huracán, Bentley EXP10 Speed 6 and four other super sports cars will be progressively released!
CAR MASTERY EVENTS & REWARDS: We added more than 100 brand-new Car Mastery events! Take 'em on to earn exclusive Cars & Decals!
Thanks to StormRun for the tip!
Download Asphalt 8: Airborne on the Windows Phone Store (Free)
Nice to see Gameloft keep updating their games =) Their strong support of the windows ecosystem certainly helps fill the genre gap where some big names still aren't available on windows (although that number is very minor now).

I gave Up on the Amazing Game due to Frequent Update. First I requires WiFi. And MS stopped Manual Downloading too. It is now pain in *** to download such a big game every few months. Plus Limited Data plan.

LoL Gameloft blows, their recent order and chaos Redemption already has a dead forum, and no support for the game whatsoever, and that after a short few weeks. Cash-in on their minds.

Well that's definitely not the case for Asphalt 8 right? :) Posted via the Windows Central App for Android

My Game Data didn't restore. What to do to get my data?

Go back in time and back it up or else move on..

Restart the game. This game back up your data automatically. It ll restore. Try again

I will try to reinstall it. Lets see what happens. Otherwise am gonna contact Gameloft.

Just a tip. Logging in with Facebook (You can log out after that) will save your progress to that account, even if you switch devices.

It did that too. It didnt restore

I love this game a lot!!!

Windows 10 (mobile) Can't see the new version of this game ...

Introduced another overpriced cars and decals!! No thanks

My AE86 isn't on there yet?

Unable to connect to multiplayer mode on LAN after updating today.
It says version doesn't match with that in my tablet and PC.

When will updating system make us download the update part only and not the whole game ?

Stop playing this game ages ago. Play need for speed no limits now. Hopefully it can come to windows phone one day. Posted via the Windows Central App for Android

After update I can't find the game anywhere not in the app list not in games I try to reinstall from a PC nothing anyone have this kind of problem ?

Update won't download keep getting error message can't uninstall...

I stopped playing this game with my Lumia a long time ago. But when I discovered that my PS3 Dualshock controller works fine with Windows 10, I can't seem to stop playing with it on my Dell PC. It's so much better to race using gamepad.

On my 1020, I don't have the Lamborgini bit. Anybody else?

Where's the Huracan? Just P1 GTR, ++.. - L830, W10M
Windows Central Newsletter
Thank you for signing up to Windows Central. You will receive a verification email shortly.
There was a problem. Please refresh the page and try again.