Assassin's Creed Odyssey is so much more than its predecessors
We were recently treated to an 8-hour hands-on demonstration for Assassin's Creed Odyssey. Here's how the game moves far beyond its predecessors.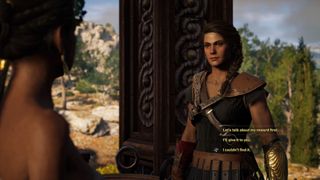 Kassandra is one hit from death, her third in my attempts to defeat the Athenian hero sent to defeat the Spartan incursion on Megaris. As my hands tighten around the Xbox One controller she dodges left, parries an incoming attack, and delivers a devastating kick which sends a man flat onto his back. This moment I've earned for us gets spent running towards the nearest fight, where three Spartans attempt to bring down a giant of a man wielding a massive halberd. With his back to me I deliver a fatal blow, earning the points necessary to restore my own health and continue the fight. Another dodge, another parry, but this time I end the combo by spearing this Athenian hero into the dirt with my sword.
His death marks both the end of the skirmish and the end of my eight hour demo with Assassins Creed: Odyssey, the latest in the franchise due out on October 5th.
I learned a lot from my time as Kassandra, about the massive world this game is set in and the consequences of all the choices I had made throughout the day. That fight was more difficult than it needed to be thanks to shortcuts I took hours before and combat decisions I had been making from the beginning. My actions had direct gameplay consequences, in many ways affecting the entire world around Kassandra.
And I can't wait to see more.
The life of a humble Misthios
Forget what you know about Assasins Creed games up to this point. You are not some guild member accepting kill contracts while you murder your way through some shadowy organization. There's no greater cause for you to fight for, no ultimate worldview you are trying to build or destroy. You are, more or less, alone in the world. A Greek misthios (mercenary) who works to survive.
What kind of misthios is Kassandra (or Alexios, if you choose to play as a guy) exactly? It's entirely up to you. You can complete your contracts honestly and earn the gratitude of those around you, or steal and murder your way across the world. You can flirt with guys or gals to seduce information out of them, or you can treat every objective like a strict assignment and never get to know anybody. Everything about this world is built on the choices you make, which is unlike any other Assasins Creed game before it.
As for how permanent or lasting the consequences of your actions are, I sat down briefly with Narrative Director Mel MacCoubrey. and she explained quite a bit for me.
And it works really well, both as a way to ensure every gameplay experience is a little different and give reasons to play through more than once. I'm already going to play this game very differently at launch than I did at this demo, because I want to see these new consequences.
I started off with lethal archery accuracy for Kassandra instead of brutal up-front combat skills, which made individual kills way easier but complicated group fights by quite a bit. I also killed an entire island of people I cared about, all because I let someone live, at the time I thought it was the right thing to do. It's genuinely fascinating to see these choices have long term consequences, and according to Ubisoft it's the kind of thing you can expect to totally shape your gameplay experience.
Not everything can be altered by choice, of course. Like all of the games before it in this franchise, Odyssey is intentionally rooted in history. The recorded events which lead up to the Peloponnesian War, those things are fixed points. Your choices can impact which side you fight on, or what you do during those events but the larger facts of history will remain intact. And in this, the familiarity of an Assasins Creed game fall into place. The combat system, especially snaking around for murderin' time and climbing all over every single thing you can find, feels exactly the way you think it should. But when it comes to how you get to an objective and what happens after, Ubisoft's new choice and dialogue system is a satisfying breath of fresh air.
A truly massive, mostly open world
Being able to make choices and see those choices play out in front of you is fun, but the thing that really sells Odyssey for me is how truly huge it feels. At the start of the game you can choose your difficulty level, but you're also able to choose between Guided and Exploration modes. Guided mode gives you specific directions to head around to specific missions, a little closer to your standard RPG. Exploration, on the other hand, feels more like an open world game. You still have the ability to mark specific objectives on the map and see them in your HUD, but you don't get exact coordinates unless you've already been there. This encourages you to roam around, which inevitably puts you in the path of random encounters and side quests.
Exploration mode is absolutely my preferred way to play this game, because it encourages you to explore and interact. It also means you're going to spend a lot more time fighting and finding better loot to level up your character. This could get you into trouble if you head somewhere outside your level, which is either bad or great depending on how you've set your combat skill tree up.
This mode isn't entirely random, when you're travelling between islands (ship-to-ship combat makes a return with a Greek twist in this part of the game, by the way) the map will give you basic level ranges to help you see how ready you are for an area. But even if you travel to an area well below your level, Odyssey will scale the difficulty to make sure every fight is at least a little bit of a challenge.
In talking with Ubisoft Game Director Scott Phillips about how Odyssey came to life, he explained how this game scales difficulty for the player.
Every once in a while, there's a world event you're going to need to participate in. These massive battlefields are the result of conflicts you find across the world, and the combat is fairly straightforward. There needs to be more people on your side of the battle at the end, and you accomplish this by looking for hero characters and taking them on. One of those cool choice things in some areas is taking the time to hunt down a hero outside of these battlefield events, which could give you an edge in the fight. This combat mechanic is a lot of fun, the combat is constant but rarely overwhelming.
According to Scott, a big part of designing these battlefields is being careful about how many enemies you can attract at a time. That doesn't mean you can't be overwhelmed, but it's clear there's a lot of effort put into balancing in these fights.
It's worth touching on the way you use your controller for all of this combat as well. Instead of mashing away on your X and A buttons for quick and power attacks, most of the fighting happens up on the shoulder and trigger buttons. I found it a little awkward at first, but after a couple of fights it actually made rapidly swapping between different combat types a lot easier. My first couple of skill tree points went toward some killer archery abilities, so I was regularly switching between sword and bow combination attacks with my fighting. Being able to rely on my index and middle fingers for these combinations is great when you really need speed. And, of course, skulking in the bushes and dropping an enemy is still deeply satisfying.
More than an Assasins Creed game
While I enjoyed the last couple of games in the Assasins Creed universe, they fit a very specific mold. I found myself regularly telling people you'd enjoy these games if you enjoyed their predecessors, but if you didn't there's a pretty good chance you should look elsewhere for your fun. The same absolutely cannot be said of Odyssey. While it is definitely familiar, there's so much room to be who you want to be in this game and that is incredibly exciting. I feel like I could play this game five times and have five different experiences, and have a lot of fun each time.
It's also clear I've only seen a small part of this world and story, despite playing for nearly eight hours at this point. I still have no idea what is happening in modern times (you remember that over-arching story connecting all of these games, right?) or what Alexios and Kassandra are going to have to deal with as we move deeper into this game. There's something special about a game which makes you want to sit down and play it through to the end while also making you think about what you might do differently when you play again. If that's the kind of thing you're excited about, I suggest putting this game high-up on your list.
Get the Windows Central Newsletter
All the latest news, reviews, and guides for Windows and Xbox diehards.
Russell is a tech nerd who chases the best of everything, from phones to game consoles to laptops and everything glowing or beeping. He's the Managing Editor of gaming content for Mobile Nations and can be found contributing to all of the Mobile Nations sites. Reach out on Twitter!