ASUS Zen AiO Pro is now on sale at Currys in the UK for £1,500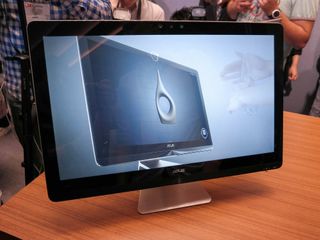 Back in June, we got a chance to check out some impressive looking future all-in-one PCs from ASUS at the Computex trade show. Now the 23.8-inch version of the ASUS Zen AiO Pro has gone on sale in the UK, with Currys selling it for £1,499.99.
The all-in-one touchscreen display has a resolution of 3840x2160. Inside the ASUS Zen AiO Pro has an Intel i7-6700T processor with a clock speed of 2.8GHz, along with 16GB of RAM, a 1TB hard drive and a NVIDIA GTX 960M GPU with 4GB of RAM. That's some pretty impressive hardware inside this AiO, and it even has an Intel RealSense camera built-in, which means you can use the Windows Hello security features to sign into Windows 10 with your face.
What do you think of the ASUS Zen AiO Pro and would you get it for your home office? Let us know in the comments!
ASUS Zen AiO Pro at Currys for £1,499.99 (opens in new tab)
Windows Central Newsletter
Get the best of Windows Central in your inbox, every day!
I don't like that they keep using the cheaper mobile GPU for these. I know it is for space reasons, but you end up inflating the cost for very little actual gain.

The GPU is most likely soldered onto the motherboard.

What exactly is the hard drive? Mechanical or SSD, M.2 PCIe, SATA 6?

Almost positive it's a PCIe ssd. Asus where one of the first companies to use these in their computers. It could also be an entry level hybrid drive but there will definitely be PCie versions.

Now for a Zen phone running wm10. Though they look ugly, specs are too good for the price.

The hard drive kills it. It should be a SSD. Also couldn't hurt to put in a 970m at least. Hopefully the ram is of some speed and not the slowest out there.

The specs are wrong on the curry site, it's 128gb ssd and a 1tb harddrive. The SSD is the Windows disk. Jp

Waiting for the HP 34" widescreen have my heart set on one of those big boys...

The price at IFA in September was clearly €1499.99 and not £1499.99 which equates to approx £1068 !!!! For the i7 and a 2 TB HD !!! Someone is having a laugh !!

The hard drive is Toshiba MQ01ADB100 1TB 5400 RPM partitioned, 150GB C drive and 780GB D no SSD or PCI PC World / Curry's