AT&T Lumia 520 currently on sale for just $19.99 on Amazon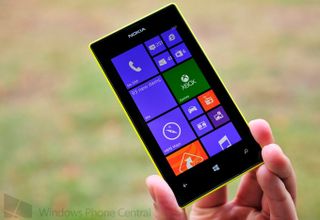 The most popular Windows Phone, Microsoft's Lumia 520, is currently available on Amazon for just $19.99, and the Microsoft Store for $29.99. The Windows Phone is locked to the AT&T network and comes without a contract plan, but for under $20 on Amazon, it's a superb choice for those looking for a bargain this festive holiday.
Microsoft has shared details noting over 12 million registrations of the Lumia 520, making it a fine Windows Phone enjoyed by the wider community. Amazon's $19.99 offer will close in 19 hours. Check out either store to see respective deals. Please note that this deal is for the US and AT&T.
source: Amazon (opens in new tab), Microsoft (opens in new tab); via: Reddit
Rich Edmonds is Senior Editor of PC hardware at Windows Central, covering everything related to PC components and NAS. He's been involved in technology for more than a decade and knows a thing or two about the magic inside a PC chassis. You can follow him over on Twitter at @RichEdmonds.
the best budget smartphone in the world and now it also has the latest denim update.

I doubt the ATT version has Denim yet... Its not October yet...

This makes welfare look damn fancy.

Dude. I just bought one for $29 with intentions to wait for the deal to end and sell for maybe $60 ... this phone just keeps getting cheaper!

Microsoft should bring such kind of deals in countries where it has negligible marketshare

in which countries it is negligible? African countries?

That's why its the deal in USA. US share is shit.

Yet most number of ppl using Windows phones are frm US

I assume that was a sarcastic joke?

No, it's not a joke. The US has the largest number of Windows Phone users. Don't confuse that with market share. The US is first, and India is second when it comes to total phones in use. http://blog.adduplex.com/2014/07/quick-look-at-windows-phone-country.html

Smartphone for every African and Indian kid.

That's funny mother fucker.

Blame your own market for the prices, not Microsoft. Everybody is quick to blame someone else these days.

Microsoft is to blame for ANYTHING, and EVERYTHING, that goes wrong with any of THEIR products... Blaming anyone else is pointless because it's ALWAYS going to be MS's responsibility to make sure their projects are successful...
........
End of story.

Microsoft is to blame for Brazil's crazy import taxes for example? Some countries put a big tax on imported goods because their own producs suck and couldn't compete otherwise. Those people have their own countrymen and government to blame, but instead people from these 3rd world countries are usually the loudest ones to whine at everybody else but themselves.

Google. Apple, and Samsung have to deal with the same shit... Enough said❗❗❗❗❗❗❗❗❗❗ ..... Lol!

Lol, even control of other countries market pricing, idiot.

What kind of market share do you think America has mother fucker?

WOW! Nice deal for someone who wants a decent phone and not concerned with high specification.

Why don't this phones come in Amazon India website for same price conversion 20*60=1,200 Indian rupees

the phone's price is subsidised by the carrier. That is why it's locked.

Exactly, it's not an unlocked CV.

Prices are usually only lowered in the United States when a phone comes with a two-year contract. I think the reasoning that this price is so low is that their trying to get rid of them quickly and know that they've been a hit in the past.

520 users please tell how is the denim update?pros cons

Nothing really changed other than live folder

Mobile Data quick setting in notification center, and Cortana and live folders. +520. I love my 520! :)

Wat about hey Cortana? Is that available?

Yes, Only if you have a snapdragon 800 processor in your 520.

So cant use that feature....

Don't like that attitude when someone answered your question.

Am I missing something with"Hey Cortana"?. I have a 1520 with 8.1x (developers preview and currently up to date--- says I have denim) but I don't seem to have hey Cortana? Any help would be greatly appreciated!!

You don't have denim. It's just a software bug in extras+info.

Oh no, its not a bug. He just needs to find the setting. Or, keep asking Cortana to open up the setting for you, while sitting around random people, at a bar. Be sure to call Cortana racial slurs.

I had live folders before Denim, that is an OS feature not firmware.

How about the Lumia Camera 5? Is it included?

It only has 1 camera, not 5.

Is denim update avaiable for L520 in India? My phone says it's up to date.

D comes after C so you do the math.

Can this phone be any cheaper? But really!

It's expensive if you consider the 2 year contract. I'd rather see deals on carrier free unlocked phones.

What contract? The price offered is a no contract price.

There is no contract. It's locked to only be usable on AT&T, but there are no obligations of any kind. You can buy it and use it as a music player or whatever it you want.

It'd be helpful to read the article first. :)

I don't have time to read it.

You have time to comment though

That's a good observation.

Thank you, my father teached me to observe retards as a child.

Well shit, I don't read the article half the time. Then again, I'm not a fuckin moron.

Then you also clearly don't have time to comment.

You can use with Gophone monthly plan or another carrier like Straight Talk. No need for 2 years contracts. You'll end up losing more money in 2 years contract.

The thing i dont understand is, in South Africa its still R1600 ($139) and it was released almost the same time like in other countries. How does this work!

Market forces. Has nothing to do with release date compared to other countries.

Here in Germany its still over 100€ too...

$39.50 in Australia with a free case and $10 phone credit through Telstra (pre-paid) Sold at Woolies.

MS phones are cheap as in Oz. Really good idea, we love a bargain

IMPORT TAX. Blame your government

Dude you can unlock this for TMobile for only $15 more its a great choice.

Can you explain me how to unlock it? I bought one some months ago and nobody seems to can unlock it...

Search for "AT&T Nokia Lumia unlock code" on ebay :)

Just get an ATT sim card from Walmart, 20 r 30 a month plan for three months and they will unlock it for you afterwards. Posted via the Windows Central App for Android

You can use it on any ATT mvno without unlocking, save money, and get better coverage.

Amazon sucks they don't ship phones to Puerto Rico.

Really? I bought this same phone from Amazon to Puerto Rico, but at $59.99 in April.

I tried last month, my brother had an upgrade and I tried in amazon and never gave me an option chatted with a customer rep. And he told me that they can't ship devices to p.r.

I'd like to ship me to Puerto Rico.

Geez, they'll be paying us to take them soon, amazing deal

It's a bad deal. Your paying for it in a 2 year contract. Cheaper to buy an unlocked phone and use on t-mobile.

EDIT - Its GoPhone, which is pre-paid, it's not contract

Amazon's Gold Box Deal of the Day is a Nokia Lumia 520 GoPhone with AT&T for just $19.99. Since there's no annual contract

I read 1520 when I looked at the news :D

Hahaha :D Awesome imagination ;)

Why didn't you thought. 19.99$ as 199.99$

Same here :'( practically shot out of bed and almost launched Amazon app hahaha

Lumia 520 is the only Lumia that sold like a true Nokia should! +520 :)

At&t locked phone man we cant get it...

Probably the best budget windows phone.....

"Party like it's $19.99." -Billy Mays from heaven

I snagged a $55 Lumia 635 the other day for a gift, and just grabbed one of these to have a backup for our houseful of 920s. Saweeet! ATT contract up in May on my 920. I hope we'll see a high-end flagship this spring!

After cyan update it hang a lot....

A hard reset should solve your problem.

Cyan didn't cause any problems for my 520

It made mine better. Free up Some phone memory.

Can you get it in yellow?

The ATT/GoPhone comes only in a grippy black IIRC, but it can be swapped out with a yellow shell if you get one.

Ms should stop selling these old phones to focus on newer ones like lumia x3x.

Why get rid of a phone that sells well and can run the majority of apps in the Windows Phone store? It's an excellent upgrade from dumb phones for a cheap price.

I wonder how much cost to produce a L520.

A lot more than $20 I wager.

Then they must be making a decent profit on other Lumia phones, if they are making a loss on these 520s, they are constantly reduced in price

I also suspect AT&T is also one taking the hit.

Yes most likely, this is locked to AT&T. They want people to use their service. Tmobile version 521 is not this low.

Well I like my Lumia 520 as a backup and for while travelling.Damn I miss that Xbox games live tile in wp8 in this photo of Lumia 520.

For a backup/music player, this deal can't be beat.

Still hoping for the YELLOW one to hit the 20 dollar mark. PS. I have a black 520 already.

Why not just get a yellow Nokia backplate? I got a Cyan a few months ago for about $6, and it is the official Nokia backplate.

You can just get a yellow shell and swap it out, right?

You can buy a yellow shell from MS or Amazon for 14.99 Posted via the Windows Phone Central App for Android

Like other have said, just buy a different colored shell. I bought mine off Ebay for $4 dollars, and it was Nokia made. http://i.imgur.com/Q48NfDR.jpg

Microsoft Store has all colors for $4.99 with free shipping.

Great deal for just a back up phone or even a guest smart phone or games and music for your kids over wifi

A $20 mini tablet/media player with SD card slot which you can also use as a phone... ;-)

Lol, nice advertising there for those that won't wanna pay to unlock it

Because AT&T is an US operator...

Yeah but the 635 is only $49 right now on Amazon. Not bad for only 30 more bucks.
I just picked up 2 of em

Great present for the mother in law. This will be her first smartphone. Couldn't pass it up for that price.

Just bought 3 of these. One as an extra for myself, 2 as gifts, on orders from my Father-In-Law. We're converting 2 more people to Windows Phone from Android, and they are really excited about it. They don't use apps, so app gap isn't a big deal. What they do want is a better camera (they had a $15 android with a 3MP camera), GPS with offline maps, MP3 player, and a phone all in one. With them wanting offline maps, Windows phone is the only way to go. Yay! Also picking up tempered glass screen protectors and armor cases with kickstand and belt clips for each phone. Even with all that, it's cheaper than anything else that a decent camera by a long shot.

Decent camera, with no flash.

If offers like these were made in Europe Windows Phone would have 30% market share by now. Why Microsoft why?

Wow 20 bucks, I must be dreaming!

How looooow can they goooo!

Makes a great music player. Replaced my Zune HD, with the addition of GPS and SD card support. And now its 10% of what the HD cost new. Buy it!

I'm ordering one of these just to keep in the car. Great deal!

Not sure if anyone posted, but amazon has the 635 for att for 49.99 today!

Picked up both 520 and the 635 for less than 69 bucks!

Bought two more. Just too cheap to pass on.

Couldn't resist at this price. I'll use it as a music player (with 64gb sd card) and an emergency spare for my 1020 (which I got for $50 from AT&T...).

It's as good as unlocked since the ATT network is the only decent GSM one in the US. Airvoice and H2O are my two favorite ATT MVNOs. But there are tons of them. Check out Howardforums.

Had to nab 6 of these at this price! This is flat out insane! You can't even think about it!

Can't wait until they drop the price of the 1520 to $30.00

I bought one with the $20 in Amazon gift cards i had laying around just for the hell of it. I love how cheap this phone is. Now on days when i'm doing outdoorsy things i can leave the 930 at home and not worry about beating my phone up! Or maybe I'll flip it and make another $20. Who knows?
Windows Central Newsletter
Thank you for signing up to Windows Central. You will receive a verification email shortly.
There was a problem. Please refresh the page and try again.