AT&T Nokia Lumia 1020 accessories get priced; Camera Grip only $59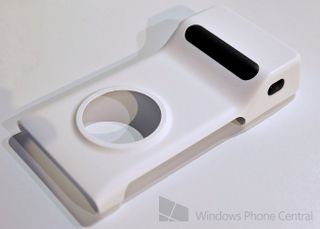 Over the weekend we showed you some internal AT&T training videos for the soon-to-launch Lumia 1020. Concentrating on its massive 41MP camera, the videos also revealed a few accessories that AT&T is planning to co-launch on July 26th (remember, pre-orders start tomorrow).
Windows Phone Central can now confirm a few of those accessories, including an elegant all-black leather case from AGF ($35) and an OtterBox Defender ($50) for you folks who work at industrial sites and want to protect your new $650 investment.
Both accessories should be available for in-store purchases on the 26th and online ordering as well.
Likewise, the Nokia Camera Grip (PD-95G) will also be available, presumably in all three colors (yellow, black and white) and retail for $59. That number is special because it's coming in about $20 below what Nokia is quoting for the price of the super interesting accessory.
We suppose that AT&T and Nokia have worked out a deal to reduce the overall cost of accoutrements—at least for official Nokia ones—and those savings will be passed on to customers.
The PD-95G camera grip sports a 1020mAh battery (which discharges first before the main battery) with a visual indicator, a tripod mount and a dedicated shutter button that includes half-press (focus) and full-press (snapping the photo). Slapping the cover on only takes a moment and miraculously transforms your Nokia Lumia 1020 smartphone seemingly into a high-end point-n-shoot camera.
However, people who opt to purchase (and sign a two-year agreement) through Microsoft will be treated to a free Camera Grip (PD-95G), making that still potentially a better deal. Still, we're glad to see the reduced cost of that accessory and reasonable prices for the others.
Daniel Rubino is the Executive Editor of Windows Central, head reviewer, podcast co-host, and analyst. He has been covering Microsoft here since 2007, back when this site was called WMExperts (and later Windows Phone Central). His interests include Windows, Microsoft Surface, laptops, next-gen computing, and arguing with people on the internet.
What's with the 2-stage button being touted as a differentiating feature? I thought all WP's have had that since 2010.

the camera grip is being referenced here, not the phone itself.

That camera grip looks like a good thing to snap on before I hand it to my kids to play games so they won't kill the battery and can more easily hang onto it.

I wouldn't say it is differentiating, but it's was also not guaranteed to work that way. Having used the PD-95G, I have to say Nokia did a superb job on how the shutter button works and feels. It doesn't feel like a faux button. And I say this as someone who never ever users the shutter button (except to turn on the camera).

How does the grip feel to hold❔.. Is it made of the same polycarbonate as the 1020❔.. Rubberized❔

Is it an electronic connection via USB? Or is it just that there's a lever on top of the phone's button so that you're really pressing that down?

Good question about phone button

I presented this question at the NYC zoomparty and was told it's electronic through USB.


Att is still a lousy "premier" partner. They should try and get Verizon more on board. (rant off)

I don't want to hate on Verizon, but as a new customer of theirs, I can't say I'm blown away by the service or coverage, especially for their price. In fact, in downtown SF their coverage was abysmal on the 928. In other words, someone's hero carrier is somebody else's disappointment.

I wasn't talking about their coverage. Att is suppose to be the premier partner but they sure don't act like it. Look at their lousy att apps. The myatt app to view your bill and check usage is pathetic. When ever they release internal apps for employees, windows phones always miss out on the apps. Compare these att apps for iOS/android to windows phone: mark the spot, uverse, digital life, myatt. (Spoiler alert, some don't even exist for windows phone)

At&t digital life is available for WP

I think he's referring to platform support. So far I've seen more 928 commercials than I ever saw 920 commercials, people I know actually know about the 928, unlike the 920. I also feel that Verizon could help WP gain market share better than att. We do remember the 822 sleeper hit right?

Verizon chooses their phones wisely. I think they're still butthurt from the Kin debacle.

What are the chances we'll get an Otterbox that would fit with a shell on it? Slim to never would be my guess :/

the inbuilt tripod mount is awesome. Allows you to mount the phone on a regular tripod that you might already have, ie, no need to purchase a separate mount.

What about the wireless charging case?

That's what I was wondering too

Whaddya, poor? ;) Seriously, it's an extended battery (1020mAh), tripod mount and case for a $700 phone that is now $20 cheaper than we thought. "Only" seems applicable, no?

Exactly my thoughts. That thing might be worth $20 but $60 is stupid. I'm definitely sticking with my 920 for now.

You know of an extended battery + case + tripod mount for a smartphone that transforms your phone into a nice PnS for $20....err, okay.

Even if it's not worth it for you (it seem really useful to me), it is optional. You could just buy the phone alone. Even then, the 1020 is not exactly an upgrade from the 920. It has some great features but there will be a next major launch at the end of the year according to Elop when he said that his marketing efforts for the 1020 would be better than those for the 920 and the ones for the next major launch better than them.

Daniel, I've ben invited to the Mobile Nations Trusted Member Program. Does that really exist? I trusted at first but then I got skeptical.

Does anyone know if I preorder with MS if they will ship to Toronto? I will be there on vacation on the 26th and would love to use this phone/camera while I'm there. Thanks!

I believe the phones are locked to AT&T. Do you live in the US? Because if you don't then I would suggest you looking for unlocked phones.

Thanks Lucas. I do, I live in San Francisco but will be on vacation when the phone comes out. Obviously waiting until the 29th is out of the question!!

I hope you enjoy your 1020 then. I'm from Argentina and I bought the 920 a few months ago. I can't afford the 1020 and the next major launch so I'll wait for the latter. (Elop confirmed it during the vent when he was asked for the publicity campaign).

"Only" haha. can buy food for a month with this money.


Where do you live? I would like to move there.

don't come. sadly, gadgets cost a lot.


I live in Argentina so I know what it is to pay a lot for gadgets. I buy them once a usar when I travel to the US. Gadgets arrive later, for example, the 920 Just came to Claro and it costs 500 dollars on a contract of 40 dollars a month. The WiiU costs 900 dollars. A game 100 dollars. That is sadly.

Less than 70 cents a meal sounds pretty good.

If only they would release this phone in India, I would buy it right now.

I actually prefer the 1020 with the grip on it than without it lol

ONLY !! $59 shit why everything gotta be expensive these days

If spending $59 on a $700 phone is giving you pause, you probably shouldn't be looking at the $700 phone ;)

I think most Americans see it as a $300 dollar phone, making this like a 20% increase.

Whoot! Just checked. I'm eligible for an upgrade now! Can't wait until the 26th!

I'm so jealous, I have a year left. Hoping there's going to be a 1030 next year.

Any launch-date for Norway? Anyone.....:)

It does not transform it into a high end point and shoot. It transforms it into an evem more stupid looking phone, now with snap on accessories.Nokia's own full reaolution sample images are not also 41MP, they are close to 8MP equivalent which would be consistent with an actual 8MP sensor with five photosites per pixel. It is an (at best) average point and shoot with (at best) average glass in a phone whose specs are not otherwise very innovative. It really seems pretty obvious that the Nokia crowd is just a different breed of sheep from those who worship Apple, but all are still sheep.

Your nick transforms into stephen_ass, just like this statement:)

You're overlooking the zoom, bra. Don't no other phone got it. This accessory is optional, the phone will zoom while no others will.

The Phone tales two pictures at one (5mpx and 38mpx) which gives you a smaller oversampled to share or print and a High resolution photo to zoom and do whatever you want. Please, before hating, try to learn a bit about what you criticize.

I was checking out the windows store and came across this little tidbit below for those who are pre-ordering the 1020. Maybe some of you will take advantage of this offer.

Exclusive Microsoft Store offer: Receive a free Nokia Camera Grip with 2 year contract. Limited quantity available.

Interesting...I just checked my upgrade availability on ATT.com and it says that I'm eligible for an upgrade to the 1020 but it gives the price as $399 and then subtracts a $100 instant rebate (due to my "qualified voice and data plan) for a price of $299...well at least I don't have to deal with mailing anything in and waiting for a check/acct credit or a VISA prepaid cash card <blech!>...

I wonder if ATT will offer any incentives like the MS Store's camera shell add-on for free...if anyone hears anything, drop a line to the comments :)

Techiedude
Windows Central Newsletter
Get the best of Windows Central in in your inbox, every day!
Thank you for signing up to Windows Central. You will receive a verification email shortly.
There was a problem. Please refresh the page and try again.