AT&T slashes the price of its Lumia 950 down to just $299 without a contract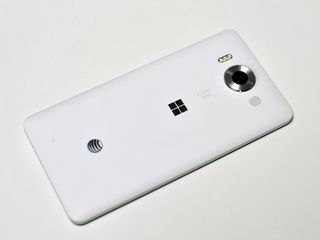 AT&T has slashed the price of its Lumia 950 phone from Microsoft down to just $298.99 (opens in new tab). That's a massive $300 discount from its previous price of $598.99.
This huge price cut (via Paul Thurrott) comes on the heels of the Microsoft Store in the U.S. cutting the price of the unlocked Lumia 950 down by $150 to $399 (opens in new tab) earlier this week. However, that discount also comes with a free $99 Display Dock as well, which is something AT&T is not offering.
The carrier is also selling the Lumia 950 on its payment plans. You can pay $9.97 a month for 30 months, or $12.46 a month for 24 months.
Thanks to JohnStrk for the tip!
Check out our review of the Lumia 950
See at AT&T (opens in new tab)
Windows Central Newsletter
Get the best of Windows Central in in your inbox, every day!
Jesus, I think I still owe more than that for my at&t 950!

payed 600USD for my 950XL throwing it out of the windows.... HP x3 is my next ship, will it sink too??

i feel the fanboys dislikes in my stomach blurping hard to survive :-D

There you go buddy I gave you a +1

Same, **** these salty tools lol

DONT THROW IT OUT THE WINDOW! Donate to me :)

pappale, its sunk already. I would wait to buy one....they will be fire sale'ed like the rest of the latest windows phones.

I said it once and I'm now seeing it again: I bet that it will be a $99 Go Phone by December. Posted via the Windows Central App for Android

That would tarnish our reputation even further.

Really. You don't think...oh God, do I have to explain it? If you get a go phone does that inspire flagship like the 950 is supposed to be?

First, let me satrt by saying that there is no need to be a d-bag about it. We are having a civilized conversation here. Secondly, the 950's time as a "flagship" phone has just about come and gone with the Elite X3 coming out next month and (hopefully) a Surface Phone coming in 2017. So why not offer it at a discount for those out there that want a higher end Windows Phone but can afford one? But the biggest question is, what reputation would be tarnished???

I'm willing to wager $300 against you. Deal?

Then I'll check back in December. I'd pick it up for $99. By most accounts it's a decent phone.

It's a GREAT phone. IMO best Windows Phone ever. As long as you can live in the Windows exosystem and deal with less apps, this phone is awesome.

That's the whole point. "as long as you can live in the windows ecosystem and deal with no apps" - that's exactly why they're slashing the price so aggressively. I would also add immature and unstable OS.

I don't have many issues with the OS. I get some app crashes, but the OS seems pretty stable to me. I love the 950. The camera is stunning.

I can't stand my work iPhone 6s plus. Then again, I have not had to restart it and the battery is awesome. I mean utterly amazing. However, I use my 950 for real work when I am on the phone. The keyboard is better, the os is better, we just lack apps, but you know what? I don't really use them. It seems I just feel left out.

Hey Fourth Horseman, i'm looking to buy this. Could you tell me about the battery life please.. :)

The camera is stunning? Really? It's good but not stunning, very frequently it has problems with focus and I need to retake the picture. It is better than iPhone for sure but there are Android phones that actually produce better results. Plus in the latest anniversary update it crashes. I use camera a few dozens of times a day for work and I don't like the experience. The OS itself is very unstable. It reboots or freezes or simply doesn't allow me to wake up the phone at least 3 -4 times a day. Security certificates in email still, after almost a year (or should I say a few years of WP), are a terrible excercise. That's ironic considering they see this system as a productivity tool. As for apps - I'm not even going to argue. If people here claim there is no gap then so be it. Let's say it's all about Snapchat, nothing useful. I don't care. But the market does and shows it and you can live in a fantasy world, if you choose. Those are just a few annoyances. I admit that for many people this OS can be good, if they use it for sending simple email or texts or occasional phone call. But for serious work this phone (or OS rather) is far from ready. I've been using Windows from WM5 to WP to WM10 for years now and I still don't abandon the platform (yet) but I am not a blind follower. It's not a religion. A little dose of healthy critique can only help it. Now let's start downvoting me again. Anything that is not a blind praise of this system is causing immediate reaction like this here.

Thorgal, I agree with you on the focus issues. But as far as interface and photo quality once you achieve a good focus, yes, I do believe it qualifies as "stunning". Hopefully they will tweak the focusing software a bit.

It is not an immature OS. It is more stable than my 1 yr old Galaxy. As far as living in the Windows Eco system, I love my W10M, OneDrive, Office 365, Xbox One, Universal apps, Continuum, etc etc. For productivity, you can't beat the Windows Ecosystem. What "no apps" are we talking about? Snapchat? You kids can have that. The apps are there. Even those that went away are returning. Like Bank of America and Starbucks. I now even use apps that work better than their Android counterparts. Like, TeamViewer, Office Lens, etc.

Sholokov: My new best friend.

I love the OS and have been around since WM 6. The app issue is real. Apps I'm tempted to leave for are US Bank, Kings Island, myChevrolet, PlugShare, and the Ryobi app for my garage door. Sure I can live without them and have but the list is growing and not shrinking like I had hoped it would be doing by now. I have a Lumia 950 and I consider it the best phone I've ever owned.

I use Charge Finder in place of PlugShare on my 950XL but I do have an iPad mini I use most of the time I'm traveling with my Kia Soul EV. The PlugShare app is so much better.

My point exactly. Most of the apps people complain we don't have are novelties. I like using my phone for the internet, getting things done, calls, texts, emails and notes. Id much rather play games on the Xbox than to run my battery down playing boom beach. And I use skype, Instagram and Facebook to socialize. The only mobile game I wouldn't mind checking out is pokemonGo, but it's not a priority or a reason enough to buy another phone os.

"Novelties" is nonsense. Different apps are important to different people. If the apps that are unavaiible are unimportant to you, that does not make it a "novelty" app. It just means it's not an app you need. Look, I understand... you and I are in exactly the same boat. The apps that are missing (and there are a LOT of them) are mostly not important to me either. But you can't just dismiss them because they're not to our taste. I was definitely upset to lose the Chase app. That one was fairly important to me. Not crucial enough for me to switch, but important. I'm a diabetic insulin pump user... there are pumps out there that connect with smartphone apps, and that would be pretty handy. But I can't get them because I am on Windows Phone. Sure, I can get by with the controols that are on the pump, but I am missing out on the better interface offered in the app. And I am also quite upset to lose the Amazon app. I use the camera scan lookup all the time. I'm sure there are ways to replace that, but that's kind of the whole point... there are a lot of annoyances caused by apps that are missing, or on the platform and then pulled. I can completely understand why the majority of people don't want to have to deal with it. Most people don't really care all that much about the OS... they see it as a way to get to their apps and that's about it. Personally, I care very much about the OS. But that's not typical.

+1 Bank apps are not novelty apps, they actually assist in efficient multitasking on your phone, and I don't know about others here, but I don't exactly give the browser "Edge" high marks for being a good alternative to checking out mobile versions of the website.

Don't know about Android but all the apps on iOS are better than W10M counterparts. Facebook, Instagram, Amazon, Kindle, eBay, Teamviewer, Expedia, Priceline, Tripadvisor, ESPN/Yahoo fantasy sport apps, Yelp, Zomato, Pinterest, Kakaotalk, Waze, Pandora, Spotify, iHeartRadio, Uber, Mint, and many more. Even Microsoft apps are equivalent or better. Not to mention many missing apps. All games run better on my iPhone 6S plus and have more features compare to my Lumia 950 XL. Every where I go I only see apps available for iOS/Android. If you don't care about latest apps/games, then W10M is great for you.

For me I left the windows phone platform because of the lack of specific productivity apps that I needed. Most notably the lack of a QuickBooks app, and also a airflow meter app. And so I left to Android, however if I could get the apps I need, I would be back in a heartbeat. Posted via the Windows Central App for Android

Insider builds have been stable for me.

Wow what a bunch of bullcrap.

I can only compare my 950 to my girlfriends p8 and fathers s7edge, and I can say it is at least on par with the other two in terms of stability since build .242 but it is certainly smoother on the system side of things compared to other two (apps are a bit of another story as less apps are optimized for windows) . Overall I would take a 950 over other two but I dont care for apps so... And if you count in the price in is a no brainer.

Well the OS has grown more since it was released along with the 950s, in that horrible mediocre state. But it still has problems which no one at MS seems to care about...

No no no no, Elite X3 is much better...I played with the floor model at the Microsoft Store in Raleigh, NC.

You mean D
urham or is thier one in Raleigh I don't know about.? Posted via the Windows Central App for Android

Sure thing, I mean continuum is a great innovation!

it should have launched with no more than 299$.

You said it once, now you are seeing it? Andoid trolls can't even keep their senses in correct order.

I was texting by voice. It doesn't always catch everything I say correctly. I'm not a troll. I have four Windows phones and one Windows tablet, thank you very much. I'm just saying based on the rate that the price is dropping that it will be that price by December. Understand sweet pea? Posted via the Windows Central App for Android

Four windows phones and you're posting from an Android phone. How much yacking and surfing can one person do?

It's called having options. I'm not a fan boy so I have the Liberty to switch back and forth between phones. I Alternate which phone I use as my daily driver from time to time. Posted via the Windows Central App for Android

Perhaps if you used a better phone than Android, it would catch everything you say correctly. May I suggest the Lumia 950. I hear that it is down to just $299 without contract.

I do believe that somebody is butt hurt. Don't be a simpleton. You and I both know that the OS is not perfect. Random battery drains, cortana randomly turning on without being prompted and then freezing the screen, apps force closing, etc etc( my 1520). And Android has it's issues as well. I use the device that fits the need that I have at a specific time. I use my 640 for work. Posted via the Windows Central App for Android

Sounds like you're judging the OS based off of a not completely supported devices with beta software. Yeah, that's fair.

Where did he say the 640 was running W10M exactly? You're making assumptions with no basis for them Posted via the Windows Central App for Android

You are correct, no need to buy now...but more like $150 for the 950 and $199 for the XL.

Very unlikely. $199 maybe.

I said something like that. When it was released at $600 + tax ($680 where I live) I said I would wait 6 months and catch it for half that price or less. I am going agree. I will wait til end of year and I should be able to get this phone for $149 or less, no contract. I may wait til early next year and get the 950XL for $199 no contract. I will get one of these phones. I need something faster than my 640. I don't actually use them as a main phone, iPhone does that job well, I just like to play around with Windows phones since I love the UI so much. Windows and Windows phone makes me appreciate my iMac and iPhone more lol.

hope so! I'll get one for everyone in the office

The 650 will be the go phone. Even if they both become go phones, there's a reason behind it; you can can't sell something you're not trying to sell, show, or advertise. These devices are left on the tears rear shelves to sell themselves. Even in the Microsoft Store the sales associates don't approach customers who are looking at the phones. I've witnessed it first hand.

Overpriced from the start for sure. Although, I probably would have bought one if it worked on Verizon.

I'd still buy one at launch price if it worked on Verizon.

I paid $449 for mine back in March, and it has been well worth it.

Spec wise it wasn't overpriced imo. Specs just aren't enough by themselves.

Wow wow. They are trying to clear stock before Elite X3 arrives.

Probably just trying to clear stock because they're not selling, not particularly to make room for anything else. The fact that the X3 is coming out may have forced them to take a closer look at it... but the X3 is an enterprise phone and the 950 was dead in the water when it was released. They will get sales on the X3 even if they don't advertise it in the store.

it depends who buys it...with that mediocre camera quality

Except the X3 is not a Microsoft phone.

More likely for a new Lumia phone announcement in November

I don't think so next thing will be the Surface phone in 2017

Meanwhile Cricket Wireless has Lumia 650 on sale for $49.99 until 8/21/16

mmmm Didn't know there are 21 months in a year. You learn something new everyday

In America there are actually31 months

LOL. It would be nice if we all used 21Aug2016, and metric system.

It sure would make my science teaching easier if everyone did use SI. We would also have more apps in common with iOS and Android if more people uses Windows phones.

Hey leave my freedom units alone MURICA.... Posted via the Windows Central App for Android

This is true, but their months go by quickly. Almost daily. Their days seem to last for weeks, though. Very strange those Americans.

We won WWII.
Everyone should use our system.

The end all be all of arguments. Because until you win a world war, and go to another moon first, everything should be on our terms.

Millennials didn't win **** and wouldn't have, the way they've been raised. v10

Your reading the date wrong Johnny Ives.

Good lord, hate to be a grump but I payed twice that less than 2 months ago, they should compensate those like myself somehow. Throw us a bone

No. If it was two days sure. Some of us pay full price always. No BOGOs in in Microsoft's South African Shop. No price cuts either. Still at initial price to this day.

Of course you're right. Still sucks lol. My timing was poor. Maybe they can certify the latest firmware at least.

Is it unlocked phone? It would cost around $50 to $80 to unlock!!! Maybe MS deal would be better with dock and unlocked phone!!!

AT&T has to unlock it for free. Obama made it a law. You just call customer service after the device is paid in full

The executive branch doesn't make laws.

Paid in full, Plus 30 days.

I may be wrong but its only applied to GoPhones only...and also after 30/60/90 days of active services depending on the phone.

It's still carrier-branded, so even though you can get the SIM unlocked to use on other networks you will be at the mercy of AT&T for firmware updates (things like double tap to wake). A carrier-branded phone is worth $0 IMHO.

Agreed! AT&T really pissed me off last year with the whole L830 Denim update BS!!!

Only last year? The 830 PreDenim bullshit started in 2014, shipping with a prerelease version called "Denim" that wasn't actually Denim, with the promise that real Denim would come in December. It did, but not for AT&T. They finally broke down and pushed it in Fall 2015 because someone hacked their servers and published the firmware to the world so people could flash it on their own. All throughout, Netflix was completely broken on the AT&T 830, with Netflix saying it was Microsoft's fault (true), Microsoft saying it was their fault and here's an update to fix it (also true), and AT&T saying it was Netflix's fault and there was nothing they could do about it (bullshit). The 830 would've been a nice phone if AT&T hadn't ruined it.

This is true. Started to feel like I lost with buying an unlocked dual sim one. but then I remembered that the AT&T 950 still doesn't have double tap to wake!

Geez good thing I never paid full price for that half assed phone. Posted via the Windows Central App for Android (LG V10 or Nexus 5x)

It's a very nice phone, best I've ever owned.

My 950 XL is definitely the best phone I've ever bought! The only problem is I've only owned Lumias and now I greatly regret wasting $650 on it plus $200 Microsoft insurance. Apps aren't there, Windows Phone 8.1 was better in almost every way, and Microsoft barely even supports Windows 10 Mobile. I like Microsoft, but the Microsoft experience is simply better on other platforms. The only way I will ever purchase another Microsoft phone is if it runs Android.

I bet it is mate but to me it feels like it was slapped together to please people even Panos even though he didn't have any involvement didn't want to show them. Posted via the Windows Central App for Android (LG V10 or Nexus 5x)

I kind of wish AT&T also carried the 950 XL but it would probably be around $350 without the free ($100) display dock and I'm better off with the unlocked MS store version so for $450 that's my better deal. Too bad the MS store doesn't carry a cheaper single sim version of the XL!

The Lumia 640 xl is better than that phone.

Cause it runs wp 8.1 out of the box, which is still far better then w10m. Posted via the Windows Central App for Android

You wanna make jokes join the circus

I think some ppl are right. There will probably be a huge sale at the end of this year to signal the arrival of whatever is next.

Nothing will be next. They closed hardwareshop.

By that logic, the will not be anymore iPhones.

Waiting for the X3. Still using my 1020 since 2013. Have rooted Redstone on it.

Depends on whether or not you have Windows 10 installed. If you do, then download Interop Tools and make a few tweaks to the registry. If you have 8.1 like I did, there are more hoops to jump through that includes Windows Phone Essentials. I am running 14393.5 with no issues.

Sorry if this is a Stupid question, but would that also work with the 1320 that is already on W10? I would love to get the Anniversry update on it. Also, what tweaks would I have to make?

It should work i'm sure.. But don't expect any awesome performance.. :)

The 1320 is terrible underpowered. How bad can it be?

That should say "isnt" lol.

Really tempted to do the same with my 1020. Although at less than $300, the 950 is tempting, too. I understand there isn't much future in W10 Mobile, but for basic tasks it works just fine and I like the interface.

I'm so tempted by this deal, but my 1520 is still running very well, and I can't justify spending $300 on a phone with old hardware when I know a new, better phone will be coming.

By your logic you could never buy something new ever because 'something new is always coming'.

Something better is always around the corner, but in this case my 1520 is running well on the AU, so dropping $300 bucks doesn't seem like the greatest idea. But then again, what if my 1520 dies one day in the next couple months (cause it already bricked itself once, woke up one day and it said there was no bootable option), and then I'd end up getting the 950 even closer to the release of the next phone. It's an odd situation.

Still rolling with a launch day purchased 920. It rings--I answer......I get text and email--I respond...every now and then I play a game......take photos......saved thousands by not buying new crap that comes out like rabbits from any of the three OS's #lemmings

Lucky. My 920 (also purchased on launch day 2012) last nearly 36-months before crapping out. I'd likely still be using it instead of my 950, but what ya gonna do?

still showing 598 for me at the site. think it just for 2 year agreemets that when i see it

In Mexico the Lumia 950XL still costs $12,384 pesos, which if you convert to US dollars is $655.

Is it temporal? Or that's gonna be the price from now on?

It'll be proportionate to market share.

The Apple troll who likes the iPad Pro, the tablet with such a low marketshare Apple is ashamed to tell us how many they sold, making fun of the marketshare of other devices. That takes balls.

Again, I use a Surface Pro 2 -- nothing wrong with iPads, I just don't have one.

"I just don't have one." And yet, if you hover over your name and look at the devices you claim to have, it says Devices iPhone 5S, iPad 3rd Gen Joined
Apr 2008 So are you lying in your profile, or in your comment. Or are you lying in your avatar image where you have a iPad keyboard with the word "PRO" written above it? Either way you are lying.

Used to have one -- traded my sister for a SP2 waaay back when the iPhone 5S was the current model. Regardless, this topic thread is about Windows Phone, which is understandably a subject you prefer to avoid.

I am not avoiding the topic at all. I am a proud owner of a 950XL. I am just pointing out that an obvious Apple troll is here. So which phone do you use now?

Tell us about the Windows Phone global market share then...

And what does global market share have to do with me being a proud 950XL owner? I asked you a question - which phone do you use - you seem rather intent on avoiding the question. Why is that? What are you hiding? You also wrote that you traded with your sister, swapping your iPad for a Surface Pro 2 back in the iPhone 5S days. But your avatar is an iPad image with the word "PRO" above it. The iPad Pro was first released back in November 2015. Why, if you are a big fan of the Surface Pro 2, a device released in 2013, are you supporting a device released last year?

The Avatar is a keyboard icon. This topic is about Windows Phone, your questions are irrelevant... I take it you're unaware of the the global Windows Phone market share?

I have a iPad Mini, a Nexus 7, and a Dell W10 Tablet. All have thier +/-, get over the troll fanboy crap.

If the 950XL was this price, I would be buying one right now!

DAMN!!!!! I owe $499.98 on my Lumia 950. I just got it in March.

Windows phones dont hold value... you should kind of expect that by now :/

It's alright. I still owe $359.39. I may as well pay it off.

So with that drop in price does this mean we will never receive the firmware updates? They have to certify them, right? This drop tells me lack of interest so why would they continue to support the thing?

Too bad about the market share, but, they'll be $99 when the holidays roll around :-)

So says the person who likes the iPad Pro, the tablet with a marketshare so low Apple refuses to tell people how many they sold.

Actually, I use a Surface Pro 2 -- iPads are nice, but I don't have one.

For the record...just browsing comments: http://www.theverge.com/2016/2/1/10886720/apple-ipad-pro-outsold-microso... and ASP for iPad has gone up quarter by quarter due to iPad Pro, you can say what you want...but Apple didn't write off $900 million on that endeavor. Just saying....

First, that is speculation. Microsoft does report how many Surfaces they sell. Apple simply states how many iPads they sold. That includes iPad Mini, iPad Air, iPad Pro 9.7, and iPad Pro 12. So there is no way of telling how many iPad Pros have sold to compare them to Surface Pros. Even with two iPads beeing introduced over the past year the number sold collectively have dropped every quarter compared to the year before quarter for over 3 years. And each time there is a drop it is between 10 and 20 per cent. On the other hand, Surface sales have been going up, even with Surface Pro 4 growing long in the tooth. In October it will be a year for SP4. Oh, and Apple has has a number of big writeoffs on their products in the past. The iPhone has a big writeoff when sales were so abysmal, they had to drop the price by $100 and then they refunded $100 to people who had already bought them. The writedown that Microsoft did was on Surface RT, a product that they no longer make, and not Surface Pro. So you are wrong, again.

How's their phone market share?

Comparing iPhone to any business Microsoft has is naive at best. The iPhone is far and away the most successful consumer electronic franchise ever. Trust me, Surface is not a failure, but it's not even close to a consumer success. Let's be honest, the iPad's worst quarter is still better than Surface revenue wise(and I'm sure profit wise too). I think the Surface is a cool kit, but it's not fully realized device for everyone. Does that make sense? I'm by no means saying the iPad is an everybody device either, but the Surface has too narrow of an audience in my opinion. I think by and large an average person is better served with an iPad. If they're using their device for work (and not everyone does), the Surface may be a better choice. To me Microsoft should just finish the deal and make the Surface an everyone type of device.

Soon it will be free with $20 Windows Store credit as no one is buying WP.

and here where I live 950XL still costs 745 dollars o.O

I just recently visited my Microsoft Store and found this phone to be great. I like how it flowed well when I tried continuum and the device had no lag. I would purchase this device for this price.

YMMV with continuum on your own devices. It flat out didnt work on my 23 inch Dell and 41 inch Samsung TV, both native HDMI.


thats actually what it costs, check ebay

My Lumia 830 with AT&T costs more than that! It may be time for me to trade my 830 back to AT&T early! My Lumia 830 originally cost $399!

How about throwing in a few firmware updates while you are at it AT&T?

What the heck... Whish I got it so cheap in my country.

Where do you live? We can work something out...

In my country the Lumia 950 DS costs 299€ and the 950 XL 349€.So I want to upgrade from the 640XL.I love the specs of the 950 XL and now after one year I can't get a phone lower than 5.7" but the 950 is much more sexy.Any advice?

Both are great phones,just preference of how it feels in hands

Do they ship it to Brazil?

If they...let me know as well..might get as a present for someone..

And to think I bought my 640 xl for $250 back in October.

Wish I would have waited a few more months..smh

Maybe I should sell my s7 and p/u the 950. Posted via the Windows Central App for Android

Is it just me, or does anyone else smell a Panos (Surface) phone on the horizon? Or is this just hype for Windows 10 anniversary update - though not being marketed that way....

More likely they had really terrible sales (MS had about 1.4M worldwide Lumia sales in the past quarter), and this is their way of getting at least something out of their inventory. Discounts this steep are good for consumers, but very bad for business.

MS cared about the sales of their mobile devices? Wow...could've fooled me....

Hype? :) Posted via the Windows Central App for Android

Microsoft need to stop slaving their phones to act. I would have easily taken this on Tmobile. **** exclusive. It's not helping the company at all. Samsung galaxys are on every network. And Note 7 is seriously tempting.

Not sure why anyone wouldve bought it at full price when you could get, eg, a Nexus 5x for around $300. I got my 640 for $30 - W10M phones need a huge discount like that to offset the app gap and lack of support.

App gap Yes...lack of support?

Just noticed that the 24 month and 30 month prices both add up to $300, which is what they are charging for buying it outright. Thus 0% financing on top of it, wow. I wanted the Xl, and was going to go the MS store this weekend to get one, but now I think I will get the 950 instead. That is a no brainer price, and might as well do the 24 month pricing.

How long is the price cut? Limited time or official?

Thanks! I have been looking it up and checking for the end date....

I contacted AT&T. They said at least til the end of the month.

I think that I will get one now. I love my 830 and its great but the 950 will be worth a 299 upgrade.

Only if it were priced that low in Manila. Sigh. X3 here I come! Posted via the Windows Central App for Android

Is it unlocked or if i buy cant use it out of us?

Hell I bought mines on Craigslist for 200.. It was for 275 but I talked the guy down, plus at that moment he wasn't to happy with the L950. It's the AT&T version. But I still rather have my 1520 back, ( my son cracked the darn screen )..

Hey MSFT, I'll buy a 950xl right now for $199, no contract, unlocked.... Yours Truly, Lumia 1020 owner....

OMG perhaps Windows Mobile will end up like BlackBerry? At least BB10 is super awesome, and they have universal search, that amazing keyboard, the marvelous HUB and many many many features that are super incredible... but Windows 10 Mobile...??? what do they have to offer? EDGE? xD LOL

Ignorance at its finest...

Can you explain why? im just asking... im a Nokia 1020 user and Blackberry Passport user... Passport is superior to Windows 10 Mobile... lets wait for Surface Phone to see whats the future of this.

P.S I would buy one but i think Surface Phone with x86 its just around the corner....

Probably at least 10 months away if it happens at all.

There will be no Surface Phone x86. Intel canceled chips & SoC's.

Honestly, this is what the device should have been priced at from day one. It would have made dealing with its litany of early issues much less aggravating.

As a starting price yes. Average specs, cheap housing and no apps nor hope them ever coming. Now 99$ would be a stretch.

I wonder if we can get 300$ off?I've owned vehicles that don't cost as much as this

I've always wanted this phone and it's almost down to my price range. I know its awful of me but i hope they still don't sell and the price goes to $149.Then I'll grab 2.

This dumb Microsoft should have launched with this price earlier to have more units to br sold.. Its not sold because of its huge price and nothing inside , no app no good hardware. Now this dumb Microsoft realized to cell for affordable price.. Buts its too late... Lol.. So sad of this dumb Microsoft... Lol... Next they will give it for free. Ha ha.. That time also people will not buy which is no use.. Even maps app also is crap does not even show exact location...Microsoft you need to go more far if you are afraid of loosing better quite mobile business. Any ways you started to develop app for other platform and not our own so close the Microsoft mobile and do what you know.

Sweet a prototype looking phone with a beta os at a premium handset price.
On a more serious note they're probably trying to clear inventory and leave the spotlight on the HP X3 this holiday season. Or who knows we might actually see a new Lumia this year and that's what they're clearing inventory for.
Either way $300 isn't too shabby at all. If I wasn't so set on our flagship phone already I'd pick one up but..

This is so tempting for the price. I think if the new iPhone7 comes without a headphone jack I'll have to pick up this beauty and go windows mobile full time.

Cricket has L650 for 49.99 today

Does without CONTRACT mean that the phone will work with any SIM ? If yes, i can ask my friend in the US to buy for me :) Thanks.

No, it doesn't mean that. Needs to be activated on AT&T for a period of time, whatever that is, probably at least 3 months

if this continues then next year it will cost 0$

We all need to bite the bullet and get rid of our old, crap, non continuum phones. Just get the 950XL with the free dock for the good of the eco system.

How on earth can I buy this phone...I'm from Malaysia. Man its hard to find good deals here Posted via the Windows Central App for Android

Well it did drop a little. The 950 went from RM2699 to RM2499, while the XL went to RM2699. Not all Microsoft Stores have the updated price for some reason, the ones I found were at The Gardens Mall. Haven't found any cheaper though :-/

I took advantage of this yesterday to replace my Lumia 920. It was time.

I know this is off topic Windows is becoming buggy like android apps always resuming damnn i hate seein apps resume it irritates me

Tempting, but is that the first of several price cuts?

I always wondered how this carrier thing became this crazy in the USA. People are praying for phones to be on different carriers networks. Here in Hungary, we have three main carriers, Telenor, T-Mobile and Vodafone, and a few smaller ones. But consumers aren't depending on them this hard at all. They go for a specific phone, not a carrier. The carrier is just a seller and maintainer here. If someone was on T-mobile for years for example, they simply just go into a Telenor or Vodafone shop, and pick it up. Or they go into any phone manufacturers shop, or Media Markt etc... and buy an unlocked one.

Fire sale fire sale fire sale (in my chanting voice) Posted via the Windows Central App for Android

Any one with a 950XL on ATT&T know if the visual voicemail issue has been fixed? I remember a while back some people said they were getting it again, but I don't think that was widely confirmed. Thanks!

It has at least on the latest RS1 build. Can speak for 10586.

What really bakes my noodle is if I can hold out long enough to see similar price drops when the Surface phone comes out.

I know this is off topic why does Windows central crashes like hell all the time damn i hate this

Now we can talk about getting a continuum device....That should have been been the price from the start

Hopefully, this means that Microsoft is planning to release refreshed devices in the fall since the new ones aren't coming until Spring 2017.
Windows Central Newsletter
Thank you for signing up to Windows Central. You will receive a verification email shortly.
There was a problem. Please refresh the page and try again.