Bank of America universal app for Windows 10 and Mobile slated for March 28 release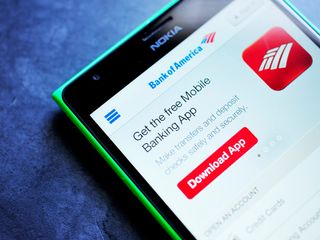 For a few months now we have been hearing semi-official reports that Bank of America was returning to the Windows ecosystem with Windows 10. Now, the first concrete evidence of the app is now in our hands.
A photo of an internal Bank of America website (we have removed some info) sent to us now reveals the app for Windows 10 and Windows 10 Mobile is slated for a Monday, March 28 release date. The app will be a universal (UWP) app running on PCs, tablets, laptops, and phones.
According to the image the new Windows 10 Bank of America app will have the following features:
Pay bills
Transfer money
Deposit checks
View balances and transactions on their checking, savings, and credit card accounts
View mortgage, auto, and other loan balances
Locate nearby financial centers and ATMs
Interestingly, the document even mentions that Xbox is not included on the list, which is a bit humorous even if such distinctions will be familiar in 2016 at some point.
Bank of America joins American Express as being some of the first big US banks and financial institutions to embrace Microsoft's Windows 10.
Bank of America's 2015 departure from Windows Phone 8.1 was seen as a major blow to the mobile OS causing some users to abandon the platform. Now, however, the banking juggernaut looks to be all in with Windows 10 and Mobile with a much more powerful app e.g. check deposits.
March 28 falls just days before Microsoft's Build conference in San Francisco, and no doubt will be used to showcase how Windows 10 and the Universal Windows Platform is gaining momentum. We'll keep you posted on when the app goes live for users.
Big thanks to Ed for the image and tip!
Daniel Rubino is the Executive Editor of Windows Central, head reviewer, podcast co-host, and analyst. He has been covering Microsoft here since 2007, back when this site was called WMExperts (and later Windows Phone Central). His interests include Windows, Microsoft Surface, laptops, next-gen computing, and arguing with people on the internet.
This is great and they have it ready and have a date for it. I started using their card again and will use them more since they added their app back. Gives hope that chase will make their return as well, Citibank and Scottrade need to make their entrance.

It is only a matter of time, because W10 says so. Bank of America is in the middle of turning the whole enterprise into a W10 organization. They are leading the way.

Seriously thinking about switching from Chase to bank of America for my banking needs Posted from Windows Central for WIN 10 NL 1520

Don't. Some of the Bank of America customers that left last year because they dropped Windows Phone support are probably regretting it now. I use Chase. The mobile web app works fine. However, I expect they will follow Bank of America's lead and release of UWA for Windows 10. It makes sense with the number of Windows 10 desktop users. Why not just make it available for Mobile too.

Awesome! :D
Now let there be many more banking apps

Good for B of A. Been waiting for Schwab forever though

Same here. Fortunately the mobile site isn't pure **** anymore.

Good news. Except I won't be able to use it on my one month old HTC ONE M8 because I don't get windows 10 :(

Get .164 using Insider program. :)

Don't give me a half a** solution for a phone I paid $500 for.

Don't give someone attitude for trying to help. Your mistake for paying $500 for a phone that old.

Seriously, HTC is known for terrible support of their devices. Posted from Windows Central for Windows 10

Yep...thinking back to my HTC HD7 and the WP7.8 update. Had to use Windows Phone Hackers 7eighter tool to get the update. Posted from Windows Central for Windows 10
Using the Alcatel OneTouch Fierce XL for Windows 10

No... They aren't.... Posted via the Windows Central App for Android

Yet this phone is still being sold and was called a flagship when M$ and HTC released it. Older phones like the Lumia 1520 get an update but the Lumia icon doesn't? Both Microsoft and HTC said in the past that my phone would be supported cause it shipped with 8.1. You guys are just making up pointless arguments for M$. Let's call a spade a spade.

The Lumia Icon is the same as the Lumia 930 which is eligible for the upgrade but the Icon probably won't get it because of Verizon. No one is making up excuses for MS and, in this case, HTC is the company that dropped the ball. Microsoft can state their intent all they want to update your phone but unless HTC gives them what they need, you aren't going to get it through the official update. Thus, you have no choice but to go through the Insider program unless HTC steps up.

Gabe Aul just tweeted that the Icon is still under consideration.

Lumia Icon will could get the W10 mobile update OTA. You might head miss the earlier post here in WC. Posted from Windows Central for Windows 10

If you weren't an ICON owner, you wouldn't even know the half of it. No Cyan firmware. The dev previews were awfully buggy. Lots of battery drain. Then the Denim firmware came and washed out the screen in a gradient. Apparently, there was some issues with CDMA code and neither Verizon or MS would help eachother fix the problem. Not my problem and I left Verizon and Windows Phone shortly thereafter. Same with Bank of America. They had a problem with something that was affecting me. Guess what? I left Bank of America too.

Guess I'm gonna do the same thing. Back to IOS and switching to a MacBook as soon as I can afford one.

Use the Insider app and farking have Windows 10.

I mean if you're gonna be like that, it's your own damn fault for buying a $500 phone that was fully announced wouldn't get the W10 update a while ago. So either shut up, or do the only thing you can do to get the update.

Are you an idiot? Both Microsoft and HTC said my phone would get Windows 10. You M$ sheep never fail to amaze.

I'm apparently smarter than you since I know the official lists for Windows 10 supported phones do not include the HTC One M8. Call me an MS sheep all you want, but at least I'm smart enough to research a product completely before I buy it. I saw the annoucements that you are talking about, but I also saw the ones where HTC said they are in financial trouble, and I saw everything that MS released about what phones would get W10. So take your M8 and go sell it on eBay instead of being a butt hurt little child about it.

Blaming HTC won't cut it dude. The HTC one for android actually just got an update to Android 6 this week. Until Microsoft figures out a leverage over these OEM's and carriers when signing contracts consumers are gonna keep getting ****** over. It might not affect you now but the dying ship of Widows phone is inevitable.

I understand reading may be difficult for you, but go slow and sound out all the words. Read what I posted. I only blam you for buying a phone that is not on the many lists that have surfaced about what ones get Windows 10. I've known for at least 3 months that the M8 wasn't looking like it was going to get W10, and it was confirmed more than a month ago. I don't care what they got for Android, I don't care what leverage MS does or doesn't have. I care that you're blaming people, and being a complete d!ck, because YOU failed to research and find the articles that say you won't be getting W10 on your phone. Now, people tried to be nice and give you a suggestion, but you decided those people were 'sheep' and not good enough for you. So basically, fo f@ck yourself, and cry about your phone for a while.

Lol you're just dumb, you learn how to read. I never blamed anyone on here, I'm annoyed that you all feel the need to stand up for a company that won't even treat loyal consumers with some sense of decency.. Because of consumers like you who support them at all cost capitalist America continues to **** over the masses while they make insane profits and their workers take home insane pay checks. Do you though. Thanks for the help :)

Yup, I'm dumb because you made a bunch of screw ups when buying a phone and are unhappy with the product that you bought.

Again putting the blame on me. Ugh you're right, it's all my fault. Happy?

Will someone start a GoFundMe page to by this guy an iPhone so he can just go away? If you are so dissatisifed, just leave--no need to be obnoxious about it.

It's a free country. Don't tell me what I can or cannot do. No one forced you to read my comments.

If we like a company you don't like, we're sheep. Aye. Sure, pal. Whatever you say, boss...*rolls eyes*. You come on a site called "windows central", blame Microsoft for a problem which isn't theirs, then act all defensive and surprised when you are met with some folk standing up for MS...? Have I got that about right...? :-D

Here we go again, people jumping to conclusions. I have a 635, Icon, M8, Surface 2, and my faithful Vaio z. How much more do I have to like Microsoft to get constant updates from them? Out of all my devices, only my laptop runs windows 10. They keep touting this One Windows family yet alienating a lot of that family and you expect us not to be frustrated? Okay.

This was after you made the assumption about us that our defending of MS was because we are "sheep" rather than actually based on positive experience. You also seemed to make an assumption that MS were to blame for your experiences. Let's not forget that even someone who "isn't a fan of windows" on Android Central talked about how impressive this update is. MS has managed to update devices Android would have long left behind. Icon was a bit of a failure. For you to get it after all it's bad press seems to me to be your error. Those who actually took part in the insider program (as opposed to using it for an early update) were very honest. I personally said that my 520 had not done well with the update, but my 735 had. It seems the update list confirms that. I can only assume the icon users did not think it did well, and rightly, MS hasn't updated.

So did you buy all those devices to get W10 on them or did you buy them for the functionality they had at the time? And how much of that funcionality is lost because of W10?

I've had my VAIO and Surface since 2013 before Windows 10 was announced. I got my Icon in 2014 cause I wanted to stick to the M$ family, switched to the M8 on ATT last December cause it was clear Verizon wouldn't support W10. Lumia 635 was through a Lumia Ambassador program Nokia had, M$ got rid of that after the purchase. As you can see I've been faithful to M$ so I really feel ****** over, if they can invest in making ROM's for Xiaomi and OnePlus they can find a way to get W10 on my HTC. W10 on the icon sucked but it works perfectly fine on my M8, it's unfair. P.S. I also have a Band 2, at least that works with iOS and Lagdroid.

How odd, 2 hours ago you claimed your phone is 1 month old. Last I checked, December was about 3 months ago, but anyway, you didn't buy the products for W10, except for the M8, so my point is made. Your devices did not cease to work nor did they mis out on anything you were expecting at the time of purchase. Oh and btw, Microsoft NEVER said the HTC one would get W10, HTC said it would, and THEY are the ones that went back on that (PC World) http://www.pcworld.com/article/3045348/windows/no-windows-10-mobile-upgr...

I'm not gonna argue with you buddy. You can nitpick my comments all you like but M$ is still wrong for this and it will only come back and bite them in the ass. Last time I checked they had 2.7% Market share. They had a second chance to fix the mistakes they made with 7/7.8 and they basically learned nothing from that fiasco and made the same mistake again. Have fun on your dying platform.

You keep calling them "M$". Yeah, you are toats loyal. You jumped on them as to blame when they're not. Plus, Icon isn't off the table, so not only are you blaming the wrong people, but you're blaming the wrong people. Plus, MS don't owe you Windows 10. Gifts don't work like that. You didn't pay for a phone on windows 10. You bought one with WP8...which it still does. If the icon gets windows 10, great. But as Axmantim pointed out, you will still have what you bought.

Your comment isn't even logical but I will leave you all to your ignorance. You won't understand cause your all on the other side of the table. But after the 635, Icon, M8 and my surface it's clear M$ doesn't care much about the dying platform or customer satisfaction, never thought I would say this but they have a lot to learn from Apple when it comes to consumer hardware. "The icon isn't off the table", you will be a fool to believe anything Gabe Aul says. These are the same people who have backtracked on release dates, phones getting Windows 10 and now you want to believe that M$ or VZW cares about a phone that isn't supported anymore? LOL

Yeah, it seems there's nothing anyone can say that will change your mind because you are just in a right mood to complain no matter what. You bought devices with Windows 8, you have that, but you are bitter because you haven't got a free upgrade that any of us could have told you was unlikely to hit your devices long before you got them. They don't owe you that. But you'll complain because that's clearly either the mood which has taken you or it's the type of mentality you live life with.

Again, illogical. This has nothing to do with my mentality. I bought a phone that had 8.1. Microsoft announced ALL 8.1 phones would get Windows 10. I don't care about the OS, but explain to me how I'm supposed to survive with a smartphone with no app support? I mean it was already lacking apps now everyone is building apps for 10 and forgetting 8.1. You defending the indefensible at this point. 2.7 market share. Enjoy your platform while it lasts. Win 10 about to have 1.5% if it's even lucky.

Microsoft did NOT say all 8.1 devices would get it. They initially said all LUMIA devices would, then backtracked and added the 1gb RAM requirement. Stop lying to try and justify you're childish temper tantrum.

They didn't say that. Not even close. There certainly wasn't any suggestion of that since before you had your devices. If you want to stay with 8.1, then that is entirely up to you. This has everything to do with your mentality and mood, since you have made it clear that you blame MS, and to damn with the fact that they have nothing to do with the situation you find yourself in. Sometimes, there's no one to blame. Sometimes, the only person to blame is oneself. Finding yourself vastly overcharged for an older device which has been criticised long before you got it? That one's on you, bud. We don't even get the Icon here, and even I could have told you that it wasn't a safe bet if you were hoping for the free OTA update to W10M. That brings me back to the point I've made before. This was a gift from MS. No one should feel any kind of entitlement to get it. It's great that so many people have got it. Even those who have a device Android wouldn't go near. But let's not confuse that generosity for entitlement. You bought windows phone 8.1 devices. That is 100% what you paid for, that is what you are entitled to. I myself bought several WP8/8.1 devices. All were able to be upgraded to 8.1. All were tested on W10M. Some were later returned to 8.1, with a report sent suggesting why I did that to MS. The recent lists from them reflect this. At no point was I entitled to W10M on those devices. That some can run it and are updated is a nice gift/bonus. Suggestion: Don't come across as an entitled, whiny child on am unrelated article on a site called "windows central", and get stomp your feet when, lo and behold, they defend MS there. Have all my MS experiences been great? No. Of course not. I look back all the way to W95 personally. However, I'd defend any company when someone blames them for something which is not their fault. How very dare you, sir.

A LOT OF THAT FUNCTIONALITY IS LOST. Want an example? I can only get the new Bank Of America app on a Win 10 phone. A lot of the new apps on Windows 10 aren't supported anymore for Windows 8. I mean the app gap was bad enough, now that ecosystem will be useless.

Sorry, that's not lost functionality. The phone still does what it did out of the box. And see my above post anyway so you can truly see how wrong you were and how misplaced your anger is.

Surface 2 runs RT. How can it get an x86 OS. - Posted via W10M device

If they did then I see why you're upset...

You paid how much for a two year old phone??

LOL, I looked for a unlocked M8 windows phone for like $200 or less on ebay, how the hell did you pay $500?

I paid $300 to get out of my Verizon contract with the unsupported Lumia Icon. and paid about $250 to get an att m8!

Then you have learnt a valuable lesson. :) - You would get more sympathay but you have such a bad attatude. TL:DR - sucks to be you!

I have learnt a real lesson. **** M$. You **** me over with the Lumia Icon, HTC M8 AND Surface 2. The only lesson here is to jump the failing ship as soon as possible. I won't be surprised when your 950 xl's can't update to the next version of windows in a couple of years. Stupid company receiving support from blind sheep.

You should present your arguments to HTC. You deserve a refund.

why didn't you get the 950? The camera on that M8 sucks balls. Only thing that phone has over all mid to high Lumia's is front facing speakers.

Oh ok I see... Contracts are a pain aren't they

Did you hear? The Lumia ICON can get Windows 10 now! See how everything worked out in the end :D

Actually, on the insider program, you'll get every build we get. the one that rolled out yesterday is what Insiders have been using for the last month. I'm sure MS will eventually release w10m for the M8.

After reading all your posts in which you never ONCE accept responsibility for your rude comment to iTomas (yet continue to argue ad nauseum that "M$" screwed you), it's very apparent you must be a young, entitled millenial that only cares about yourself and never accepts responsibility for your own choices and decisions. If not, you're an embarassment for your age. Grow up and go buy a phone that makes you happy instead of blaming everyone else.

Dude...chill. The One M8 might be new to you, but it's definitely NOT a new phone, that was questionable purchase for $500. Besides, the other person's advice to get on the Insider program was not a "half a$$ solution"...you can easily put Win10 on your phone and have the SAME build.

Go complain at HTC, it is not Microsofts fault, you are not getting the update!

Get the preview, problem solved. Posted from Windows Central for Windows 10

You bought a 2 year old device a month ago? O_o

It's not two years. It came out in August 2014. Not everyone has the luxury of switching carriers.

Yeah, you're right... Wikipedia says March 25 2014 (2 years ago) but I forgot they had an Android version come out first. So WP version came out in Aug 2014 as you said.

@schlubadub The phone isn't that old but HTC has abandoned their Windows phones the same way Samsung has which is why they aren't getting the update officially. They aren't working with MS the way companies like Blu are. His only mistake was believing that HTC would care about their Windows customers.

Yeah, sorry I was confused with the Android version that came out 2 years ago... WP version is 19 months old from announcement. I am quite sad about HTC, as I was a strong supporter of theirs since their HD2 days. I got the HD7 and did get a LOT of support and updates all the way until the end of 7.8. However, I did hear a lot of stories from people who bought the Titans and later devices who were left in the dust... it's sad for to say I wouldn't support them anymore :\

Does that date fall exactly after a year they dropped support of the old app?

Quoting my good friend Austin Powers, "Yeah baby!" Posted from Windows Central for Windows 10

Where the heck is Chase bank? They're acting like a bunch of butt holes! Posted via Windows Central app for Windows 10!
Proudly rocking my Lumia 1520!

Yup, I was hoping to see that they might follow suit, changing banks is difficult, but not impossible, and BofA has extended hours as well, considering a change.

Well, yes... grown up, with children in the household... otherwise he would have said a word starting with a instead of with b ;-) Posted from Windows Central for Windows 10

Thanks, I definitely try to not curse at all. Glad to know others try to avoid profanity as well. Posted via Windows Central app for Windows 10!
Proudly rocking my Lumia 1520!

As Elvis would say, "thank you very much"! Posted via Windows Central app for Windows 10!
Proudly rocking my Lumia 1520!

At least he didn't swear Posted from Windows Central for Windows 10
Using the Alcatel OneTouch Fierce XL for Windows 10

I know I'm trying to be annoying

I've been hounding them on Twitter. The response from @ChaseSupport is:

There are no plans for this, but we are looking at the marketplace to evaluate what we'll support

Please contact @Chase and @ChaseSupport on twitter and let them know bofa is showing love and would like info since considering switching.
Jamie Dimon makes more than enough, they are all using windows, support the pnone

Excellent. It was annoying to have to dust off my old iPhone 4 over the last year *just* to deposit checks. Posted from Windows Central for Windows 10

Cheques? Did I wake up in the 90's again?

I'm a business owner and still get a few checks every week, so yes, this will be most welcome, I had to use my wife's iPhone *just* to deposit checks ;) Posted from Windows Central for Windows 10

No, you didn't. This is Bank of AMERICA. In the countries served by Bank of AMERICA, checks are widely used, and in many circumstances is the only available and *required* form of payment. Posted from Windows Central for Windows 10

The last time I wrote a cheque was in the 90's. Since then I've used direct transfer, EFTPOS, credit cards etc. Payments (for work) are always wired directly into my account. I can't imagine actually receiving a cheque these days!

That's YOU. I get checks from clients all the time. I email them and they mail me a check. I could have them pay by PayPal, but the service fee for biz transactions makes that less desireable.

Some of my medical bills require a check. Car tax paid with check has no processing free (Credit/Debit card has 5% free added), paying rent with check adds image and record to checking account, etc. All benefits of using a check. - Posted via W10M

It sounds like a lot of the banking systems are years behind then. I don't get charged any fees when I pay anything with Credit Card (except AMEX, but most people use Visa/Mastercard without fees). Alternatively, I can usually pay via Direct Transfer from my savings accounts if I don't have a credit card. We also have something called BPay that allows you pay bills directly from your bank account with either savings or credit card (or any linked account). Once again, without any fees. I also have a history in my bank account, that I can export to Excel / MYOB etc. So with all of that it also means I don't have to waste time & money writing cheques and sending physical letters (which I also haven't done in 10+ years). Both parties know the precise moment that a bill has been paid and there is no worry that a cheque could get lost, or arrive late. So far I'm not seeing any advantages at all to using cheques... a lot of banks here no longer even offer chequebooks, as they are practically redundant these days.

In most cases, neither do we. But remember that someone pays frees for each transaction... Usually the vendor. But when you are paying a government entity, particularly a tax bill, or if you are playing a legal obligation, like rent based on a contract, those payees usually will not accept having to lose some of that revenue to a banking fee.

I get a pay...cheque. I like to deposit it.

I've had my pay deposited directly into my bank account since the 90's... I would laugh if anyone gave me a cheque

That's too bad. I was going to send you a huge amount of money via cheque, but since I hate being laughed at, I guess I'll just keep it ;-)

Send away. If it gets here before March 28, I guess I'll just use the iPhone app one last time...

I don't care, if I get a check or money comes by carrier pigeon, that means I'm getting money!

Well since you hate them so much if you ever did get one just sign it over to me ;-)

Seriously! This is the ONLY reason I've been hanging onto my iPhone 4 -- BoA APP to make deposits... !!!

I hope it doesn't have transparent live tile

Why? I would prefer the option to switch between transparent tile and opaque. Posted from Windows Central for Windows 10

Ok that would be a good option

I don't back there, but in gonna download the app so it can show as a download on WP. Posted via Windows Central app for Windows 10!
Proudly rocking my Lumia 1520!

Now if US Bank would only get on board.

Hope Wells Fargo updates with UWP. Their existing app has not been working with last 2 or 3 Insider Builds for me on my 950XL.

About effing time thank you!!! Posted via the Windows Central App for Android

I'd like it if you made a post about apps which you expect may be announced/showcased at Build. I know this falls maybe slightly to far into rumour and hearsay territory, but you have mentioned a few in passing like you have here. Like are Facebook expected to show their new apps to us officially at Build. Sorry, this comment has very little to do with the article itself. There's a fine line companies tread with announcements between giving too much away too soon and just keeping everyone in the dark though...

A) this pleases me greatly
B) it's too late for BoA, as they have already lost my business... Go Ally! Posted via the Windows Central App for Android

I did the same Posted via the Windows Central App for Android

It's about to rain apps!!

And here you are mr x. Yesterday you didn't mention its raining official updates? Lol

Hey what's up? I know, raining apps!

More banks will follow B of A and AMEX. As mobile banking continues to gain traction these apps will be very important for Windows 10 mobile. I would like to see online trading sites join Windows 10 mobile like Fidelity, Vanguard, Scottrade, etc.

Fidelity has a Windows Phone app. Granted, it hasn't been updated for Windows 10. But it works on W10M.

The BoA Windows 8.1 app was able to deposit checks too. Everything else you could do online. But so happy it's coming back.

I complained and then left them and told them it was because they had no Windows app. I then mentioned that windows apps can be used across devices. You're welcome all you BofA customers. PS I do take donations.

Has there been any news concerning NFC payment options for Windows 10 Mobile lately?

No. I've been waiting patiently for this too. It was a bit painful to have gotten to use Softcard for 3 months, only to have the big G buy them out and end support for Windows Phone. I believe that Microsoft is still going through the painfully slow and difficult process of registering in each State as a money transfer agent so that they can do the money moving themselves instead of relying on a third party to do so. Posted from Windows Central for Windows 10

It bites that the $11 or so I had left in the American Express Serve account after GOOG£€ upended the WP app in March or April stayed there for quite a while until AmExServe decided to place monthly charges for no actvity. By last month I received an email indicating that they were pulling out the remaining $2 as a fee.

http://www.nfcworld.com/2016/03/03/342908/polish-bank-brings-hce-payment...

Why you all make that a big thing? It's just a bank app. Posted on Lumia 930 with
Windows 10 Mobile

Why do you many anything you're interested in a big thing? Just because it's not important to you, doesn't mean it's not important to everyone. Many people do banking while out and about. I do it too, and I would love the ability to deposit a check without having to go to the ATM. When a large company supports the platform, it sets a prescident to hopefully get more to follow.