Everything we know so far about Battalion 1944
This highly-anticipated WWII shooter wants to take us back to a classic look and feel.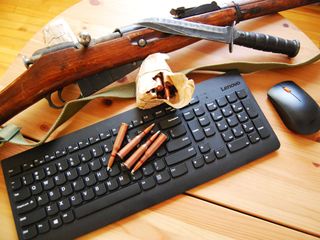 Battalion 1944, a WWII-era first-person shooter (FPS) developed by Bulkhead Interactive, aims to bring back the feel of multiplayer games that many of us enjoyed in the late '90s and early '00s. After a strong Kickstarter campaign and a ton of work, Battalion 1944 is expected to hit Steam's Early Access program February 1, 2018. Whether you're entirely new to the game or if you managed to get some time in with the closed beta, this is everything you need to know.
What's new with Battalion 1944?
Following the closed beta, developer Bulkhead Interactive took feedback from the community and applied some changes to accuracy, spawns, and speed. This is all in anticipation of the expected February 1, 2018 release into Steam Early Access.
On January 31, the developers posted an announcement containing a look at competitive matchmaking ranks. These ranks will help ensure you are matched with other players of the same skill level and will give all players a ladder to climb.
Competitive matchmaking is expected to go live inside the game February 8, 2018.
How can I play Battalion 1944?
For now, you'll need a PC and a Steam account to head to the European theatre of war. Battalion 1944 is expected to come to console (Xbox One and PlayStation 4) eventually, because of their inclusion in the Kickstarter campaign.
System requirements for Battalion 1944 are relatively low. Recommended is a third-gen Intel Core i7 processor (CPU), 8GB of RAM, and an NVIDIA GTX 970 or AMD RX 480 graphics card (GPU).
What is Battalion 1944?
Those of us who remember shooters from the early '00s — titles like Return to Castle Wolfenstein, Wolfenstein: Enemy Territory, Call of Duty 2, and Counter-Strike — have a fond recollection of smooth movement, perfect pacing, and a tight-knit community.
Battalion 1944 is intended as a return to those days and is being developed by fans of the shooter genre who didn't exactly appreciate the way the ship was headed. If you've been looking for a solid WWII shooter that has a focus on good mechanics and stiff competition, this is it.
What game modes does Battalion 1944 have?
To get warmed up, Battalion 1944 has a casual system with three different game modes: Capture the Flag, Domination, and Team Deathmatch. These games can be played solo or with friends, and you'll still receive some experience toward leveling up for your time spent there.
While casual games are unranked, there is also a ranked competitive system that will likely be the meat of the game. Named "Wartide," it acts sort of like CS:GO in that there is an economy and a set number of rounds that involve planting and defusing a bomb.
However, Battalion 1944's economy will rely more on picking up valuable class cards from downed enemies and teammates rather than gaining cash for your actions. For example, if the sniper on your team is killed in a round and the other team grabs their class card, you'll be down a sniper rifle and the other team will have one extra. Bleed the other team for enough class cards, and they'll be stuck using weaker semi-auto rifles and pistols.
Bulkhead Interactive has stated that they're working constantly on this competitive mode, and the final product will not likely be what we remember from the beta. In any case, more wins will mean a higher rank, and you'll be matched with players of your own skill level.
Does Battalion 1944 have a loot system?
Casual and ranked games will provide experience points towards you leveling up your character, which will be separate from your competitive rank used for matchmaking. Although unconfirmed as to when the skins will be available (if not from day one), it's expected that leveling up your character will net you a War Chest, which is a fancy name for a loot crate.
Instead of offering overpowered weapons in these crates and essentially tying your skill level into how lucky you are with digital gambling, the crates will contain only cosmetics. In a leak, a list of skins was revealed, and it's clear that there are plenty to earn. If you've played CS:GO or Overwatch, you're no doubt familiar with this type of system.
Does Battalion 1944 offer dedicated servers?
Yes! Dedicated server files will be accessible with the Early Access release of Battalion 1944. You'll be able to set up and host your own servers quite easily, and you'll essentially have the option to allow up to 100 players in a game at once.
Like the official servers, dedicated servers will be set at a 60 tick rate. This is expected to change in the future, jumping up to a 128 tick rate for a smoother experience.
Does Battalion 1944 offer mod support?
From the start, the devs has said that they plan on including mod support for Battalion 1944. Check out the modding section of their community forum to see what's going on.
Does Battalion 1944 have a strong future?
Investing in an Early Access title doesn't come without risks. Many times there have been broken promises, sketchy future ideas, and a developer who eventually disappears in the middle of it all.
If you're interested in seeing where Battalion 1944 is headed, check out the official roadmap that covers the first four major updates over the course of 2018. Major fixes for stability, new maps, new game modes, and new weapons are all planned, but keep in mind that nothing is certain.
When can I start playing Battalion 1944?
Eager to get your hands on Battalion 1944? It is expected to be released into Steam's Early Access program February 1, 2018.
More resources
Get the Windows Central Newsletter
All the latest news, reviews, and guides for Windows and Xbox diehards.
Senior Editor, Laptop Reviews
Cale Hunt is formerly a Senior Editor at Windows Central. He focuses mainly on laptop reviews, news, and accessory coverage. He's been reviewing laptops and accessories full-time since 2016, with hundreds of reviews published for Windows Central. He is an avid PC gamer and multi-platform user, and spends most of his time either tinkering with or writing about tech.