Dominate the skies in Battle of Helicopters for Windows 10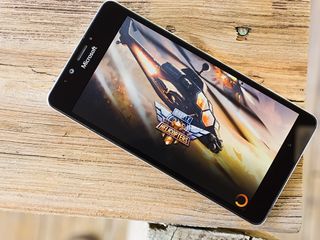 Battle of Helicopters is a free Windows 10 game that places you in the cockpit of a combat helicopter where you battle online opponents across a variety of battlefield arenas.
Helicopters can be upgraded and customized as you advance through gameplay and earn gaming dollars. The 3D graphics look good with nice depth. It does take a little flight time to get the hang of the gaming controls, but they aren't too difficult to learn.
The free gaming title is available for Windows 10 PC and Mobile, as well as Windows 8.1 devices (including low-memory devices). After flying a few combat missions with Battle of Helicopters, it is an entertaining gaming title to waste a little time with.
When you first launch Battle of Helicopters, the game sends you through a thorough tutorial that outlines gaming controls, helicopter upgrades and other features of the game. The gaming concept has you attempting to complete a series battle quests while dealing with pesky online opponents intent on blasting you out of the sky.
The primary menu for Battle of Helicopters has options to visit the gaming hangar to view your helicopter fleet or buy new helicopters, upgrade your helicopters (engine, armor, guns, etc.), give your helicopter a new paint job and add decals to your helicopter. The menu also contains the option to jump into battle and view your gaming stats (fuel levels, profile, gaming level and cash counts) and access the game's settings.
Settings include options to set your combat name, adjust the sound/music levels, modify your online appearance (name, country flag, etc.), establish your gaming notifications and set the game's graphic quality.
Current game quests are displayed prior to jumping into battle and include performance goals such as collecting in-game boosters, fly a set distance and more. Combat arenas can be generated randomly or you can select one of three available backdrops (city, seaport or industrial complex).
Gameplay with Battle of Helicopters is regulated and requires fuel cells to play. You begin the game with ten fuel cells and depending on the backdrop, one game can cost you up to three cells. The good thing is that it only takes a few minutes for fuel cells to be regenerated.
Gaming controls include a directional pad that sits in the bottom left corner of the gaming display, an elevation control that rests in the bottom right and weapons controls that also rest in the bottom right corner. Across the top of the screen rests gaming stats that include quest goals, fuel levels, missile and defense status and a radar display.
Missile locks on enemy helicopters are automatic and the missile launch button flashes red when a lock is attained. The same can be said of the helicopters defensive flairs. When an incoming missile is detected, the flair launch button flashes and deploys distractive flairs when tapped.
While you have an unlimited supply of missiles and defensive flairs, it takes a few seconds between deployments before these items can be used again. Until then, you can maneuver your helicopter between structures to protect it from enemy fire or use your machine gun to peck away at the enemy helicopters. In addition to shooting it out with your opponents, gameplay also includes several boosters that can be collected to improve your weapons performance, give your armor a boost and reward you a few gaming coins.
Battles are timed at five minutes and should you get blasted out of the sky it takes ten seconds to rejoin the action. The player with the most kills in the five-minute span wins the game. Gaming coins are awarded based on performance that can, in turn, be used to upgrade your helicopter or buy new copters. Some of the helicopters are also available through in-app purchase.
Overall Gaming Experience
When I first picked up Battle of Helicopters, flying the helicopters felt sluggish and hard to control. However, once I had a few battles under my belt the Windows 10 game began to grow on me. The controls can be a little stubborn at times, but after completing a few games the sluggishness begins to wear off.
Graphics are nicely drawn up with plenty of detail and a pleasant 3D experience. The challenge of gameplay depends on your opponent and I have run across some very strong adversaries who waste no time at trying to blast you from the sky. The battle arenas offer plenty of cover to lie in wait behind to ambush your opponents or you can take the more aggressive position to hunt your enemies down.
If I had a nit to pick with Battle of Helicopters, it would be with the flight controls. The directional pad controls your forward and backward movement, as well as turning your helicopter. What the directional pad doesn't do is move your helicopter from side to side. Side movements would really come in handy during the heat of the battle.
Battle of Helicopters is a free gaming title that is available for Windows 10 PC and Mobile, as well as Windows 8.1 devices. Gameplay starts off a little on the slow side but once you get used to flight controls, Battle of Helicopters turns out to be a fun game to pass the time with.
Download Battle of Helicopters for Windows 10 PC and Mobile
Get the Windows Central Newsletter
All the latest news, reviews, and guides for Windows and Xbox diehards.
George is the Reviews Editor at Windows Central, concentrating on Windows 10 PC and Mobile apps. He's been a supporter of the platform since the days of Windows CE and uses his current Windows 10 Mobile phone daily to keep up with life and enjoy a game during down time.