Beam gets toast notifications on Xbox, revamped mobile site and more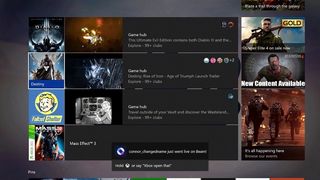 Beam, Microsoft's game-streaming Twitch competitor, is continuing its evolution today with a batch of new updates heading out to a few different parts of its platform. For Xbox users, you'll now be treated to toast notifications when your favorite streamers go live. The mobile website is also getting an overhaul, and streamers are getting some new tools to work with.
Toasts on Xbox One operate much as you'd expect. Once a streamer you follow goes live, you'll get a toast notification letting you know. You'll want to make sure your Beam account is linked to your Microsoft account to take advantage of this.
Streamers themselves can now set offline images for their channels. Now, instead of a plain blue background when you're offline, you can set a custom static image to show when you aren't streaming. Beam has also started rolling out Interactive 2.0, which adds even more ways for streamers and developers to interact with their fans with dynamic controls, groups and more.
Lastly, the mobile website is getting a bit of an overhaul to make it look more like the latest versions of the iOS and Android apps. Given that the only way for Windows 10 Mobile users to watch on the go is via the mobile website, this should be a welcome change. overall, the experience looks pretty slick, with the same chat and interactive features that you'd expect making an appearance.
Dan Thorp-Lancaster is the former Editor-in-Chief of Windows Central. He began working with Windows Central, Android Central, and iMore as a news writer in 2014 and is obsessed with tech of all sorts. You can follow Dan on Twitter @DthorpL and Instagram @heyitsdtl.
Instead of giving us an app they give us an updated website...smh, I'm still for Twitch till I get an app on Windows PC and Mobile.

its called buy an iphone there is an app. wp is DEAD.

Yeah it is dead... for simple minded people who probably complain about an app not being on Store. My Windows Phone works fine, it does what it is suppose to do. only because you think it needs a stupid app for Beam, like if it was the most popular site, then you are just already, braindead. Maybe you should go to iOS or Android sites, instead of putting your stupidity in comments and don't help others.

"Giving us" you are just saying you don't even use it. so it seems like you just find the excuse not to use Beam. website works, it actually works unlike twitch website on the phone. what do people even get from having a mobile app for Beam? seems like nothing. it would be just another "oh iOS and Android have it so we must have it as well" But those apps are bad, they were bad and they are still not great to watch Beam. Anyway if you really went by your word, you wouldn't use Twitch either becuase they don't have a Win10 UWP app, and they seem not to care to have one either, even if their website sucks for everything, incluiding mobile experience. Beam team seems to work more on the backend than the frontend anyways. Beam technology is great. but they lack focus and mind on other things, I agree with that. And they seem to break many things that were fine before, latest thing about UI is firefox and edge users are getting 5 scrollbars, all at once. So I would rather they really change and fix the website on many things before apps, we need better ways to discover channels, that "feature channels" sections feels horrible (it was better before), browsing games feels not nice since it is only a column on the left. But they really need to do more about the website before planning any mobile app. making a UWP app won't change much to be honest. Oh and let's not forget, if Beam releases an app, people will complain about iOS or Android being ahead or getting an update first. it will be the same story as usual among WM10 community, yes, complaining about everything.

wake me up when the UWP client for PC arrives.

The website has never worked properly on my 950xl. Use my Xbox usually.

That or my tablet, but yeah, on the phone it seems to struggle.

The web version is a disaster and looks antiquated, we will see how it improves.

Works really well via Edge on my Lumia Icon.

Beam for streaming is ok, but to watch streams as crap..whos doing web applications now? It's micorosft company, why can't they release proper uwp app..

Beam works as a independent company, even if they are under Xbox, it seems the people at Beam has never really had too much energy to fix the main issues about the website. It was bought by Microsoft, yes, but they still do whatever they want, they work just as when Beam was independent with no much money, Beam team is probably young and immature and don't work or focus on improving the really critical things about the website the design. However, the technology behind Beam is amazing, and Microsoft's money has improved that faster, FTL is what makes Beam unique and that's why they probably focus on it, on the interactive side of things. that's the way they have and will make people use Beam. I just don't understand people like you complaining and wanting an app, what do you gain by that? if you are on pc you website works fine. and if you are on phone.... who wants to use a phone to watch streams? never got that. The site is not totally bad, but I wish they would do more about it yes. november+ design feels like a downgrade on many ways, but it is not completely bad. seems like you just want the perfect excuse to complain about not having an app... but apps as I understand don't even support FTL technology so they aren't that great either.

Yep. Streams work fine for me only using Chrome Canary. Edge and Firefox don't get along with them. I get the back end FTL stuff is important (and as a streamer there myself, I know it is also flawed. Their ZeroTune technology powering FTL does not agree with MMORPG), you need to also build the front end. I love using Beam but having to install a browser for one site (I vastly prefer Edge and Firefox) is a pain. Plus on my desktop Chrome has forced itself on my SSD because Windows is installed on it. I want it on my hard drive with the rest of my programs (FFXIV notwithstanding since I need to push out every onze of performance on loading times out of that game), not on my SSD.

They need to add a VOD library to app and mobile site asap
Windows Central Newsletter
Thank you for signing up to Windows Central. You will receive a verification email shortly.
There was a problem. Please refresh the page and try again.