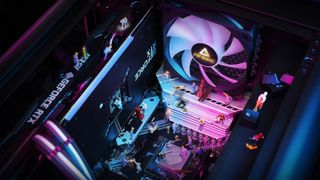 (Image credit: Antec)
The best Antec PC case is the one you don't think twice about. It's the one you appreciate and admire, but never worry about its ability to house all your expensive components with care. Sometimes that's a powerful case like the Antec P101 Silent, and other times it's like the affordable, but strong case like the Antec DF600 Flux. These are the Antec cases that won't let you down.
Best overall: Antec P101 Silent
Why you can trust Windows Central Our expert reviewers spend hours testing and comparing products and services so you can choose the best for you. Find out more about how we test.
Antec P101 Silent
Affordable and solidly built
Reasons to buy
+
Good thermals
+
Slick look
+
Affordable
+
Dust filters
Reasons to avoid
-
Lacks USB-C ports
-
Comes only in black
The Antec P101 Silent is one of the best Antec PC cases simply because it meets every basic need you'd have when compiling a build. Namely, it's got good thermals, good looks, quiet performance, and it comes at a fairly competitive price. It's the case you get if you don't have any real limitations or necessities.
Though it lacks USB-C ports, it makes up for it by including a set of USB 2.0 and 3.0 ports, as well as some air filters to keep the case as dust free as possible. On top of that, the case's support for four 140mm fans should be able to keep latest hardware at solid temperatures under load.
The Antec P101 Silent isn't the fanciest-looking case out there. You can't see your RGB-filled components through a transparent panel or anything, but it looks nondescript and competent in its own right. If you want something to house a powerful build that won't make you think about it ever again, the Antec P101 is the case to get.
Best value: Antec DF600 Flux
Antec F600 Flux
Great price, great look
Reasons to buy
+
Tempered glass side panel
+
Great price
+
5 included fans
Reasons to avoid
-
Plastic front panel
-
Cable management can be tricky
-
No USB-C ports
If you're on a budget, one of the best Antec PC cases to get is the Antec DF600. It's a powerhouse of a case for the price. Not only does it look pretty good, but it also comes with a load of fans to save you even more money if your money's tight. The Antec DF600 is the case that you'll save cash on and not have any regrets.
The Antec DF600 is a mid-tower ATX case that throws in five total 120mm ARGB fans. All of these come with a fan controller so you can sync up the colors to make use of the case's tempered glass side panel. Overall this case is killer for the price, and excellent if you want to invest more into evocative components versus an evocative case. Let the hardware speak for itself!
Unfortunately, the price does impact some things. The Antec DF600 lacks USB-C ports and leaves a little bit to be desired when it comes to cable management. It can be tough to harness loads of cables beneath the motherboard tray. And lastly, the front panel is plastic, which is a bummer, especially with the much prettier glass next to it.
Best silent case: Antec P82 Silent
Antec P82 Silent
An extremely silent case
Reasons to buy
+
Extreme silent performance
+
3 included fans
+
Good thermals
+
Cheap price
Reasons to avoid
-
No top radiator mount
-
Simple look
-
Tight cable management
Antec's P82 Silent case is surprisingly good. It may not look like much, but that's the point: it's a case made to be invisible in all respects. If you want a case that doesn't bother you, that keeps your PC cooled and out of mind, then this is the case to get.
It starts with its three included 120mm, 1000 RPM fans and their controller. This, including the foam on the side panels, cuts out most of the noise from the case, making it a serious contender against some of the best PC cases. On top of that, the temperatures inside the case at max load aren't bad either.
You'd expect the Antec P82 Silent case to have major drawbacks for the price and the focus on silence like other cases do, but in reality it's more than competent. The only thing it lacks is a top radiator mount and a plastic front panel prone to scratches, and cable routing can be tight.
Best Micro-ATX: Antec DP301M
Antec DP301M
Affordable Micro-ATX case
Reasons to buy
+
Great price
+
2 included fans
+
Sleek look
Reasons to avoid
-
No USB C ports
-
Squeezed cable management
Micro-ATX and Mini-ITX builders looking for a case should look to the Antec DP301M. It is simply an altered version of Antec's other popular PC cases with a redesigned look. It offers a lot of the same features but has a form that better fits those with this specific need in their PC case.
The Antec DP301M comes with two fans, one 140mm and the other 120mm. These can be connected to a fan controller to take advantage of their RGB, but keep in mind they can't be synced to the motherboard. It also has room for a 120mm radiator if you're into liquid cooling.
Aside from that, it's a pretty standard, affordable case. The tinted glass side panel can be a bit too dark if you don't have an exceptionally loud set of components, but it looks nice if you don't mind it. Like many of Antec's case offerings, it lacks USB-C ports and has room for only two hard drives. Otherwise, it's a solid case for anyone trying to put together something simple and small.
Best premium: Antec P120 Crystal
Antec P120 Crystal
A beautiful case with good performance
Reasons to buy
+
Tempered glass panels
+
Velcro cable management ties
+
Surprisingly silent
Reasons to avoid
-
No included fans
-
No USB-C ports
-
Pricey for some
The Antec P120 Crystal is a clear contender for the Lian-Li Dynamic 011's grip on the PC building market. It's a sturdy case that offers window panels throughout. It's the case you spend a bit extra on to show off your build and to see that quality represented in its performance.
The P120 has huge pluses, like its removable dust filters, vertical GPU option, Velcro strips for cable management, top radiator mount, and great low-noise output. On the flip side of things, it doesn't have USB-C ports and doesn't come with any fans. But if you can reconcile with some of these drawbacks, the case is superb for the price.
The P120 not only is surprisingly silent, it also does pretty well thermal-wise for a mid-tower case. Some of this is helped by having a top-mounted PSU and a good amount of room for cable management. It makes a lot of room for your hottest components like the GPU to breathe.
Bottom line
The best Antec PC case is simply the Antec P101. As a complete package, it offers everything you'd ever need from a PC case and a little more for a fantastic price. Dust filters, good thermals, low-noise, and space for liquid cooling are the kind of things you usually have to pay extra for. Here, that's included on top of a handful of fans to start.
The Antec P101 is the no fuss case that will keep you happy until you need a major upgrade, especially if you're basing your PC on the latest components. For most people who don't plan on tinkering with their PC, this is the easiest case to recommend. The Antec P101 is the case that delivers.
Get the Windows Central Newsletter
All the latest news, reviews, and guides for Windows and Xbox diehards.
Tyler Colp is a freelance writer for Windows Central. He's written about tech, games, and the culture around them across the internet. Ask him anything about Dark Souls or just follow him on Twitter.