Best CPU coolers for Intel Core i5-12600K in 2022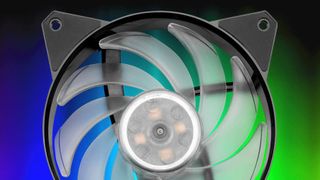 (Image credit: Cooler Master)
The Intel Core i5-12600K is a powerful CPU ready to be overclocked and power your next gaming rig. Pairing it with an appropriate cooler keeps the temperatures under control to prevent overheating, so we found the best CPU coolers for Intel Core i5-12600K using socket LGA 1700 to match your budget and keep things cool.
Choosing the best CPU cooler for Intel Core i5-12600K
Splashing out on the powerful i5-12600K CPU means you'll want to take good care of it, so you'll need the best cooler to keep it healthy. Since air coolers are so often monstrously large, you need to choose the best PC case to ensure you have enough clearance over other components. If you can spare the space, the Noctua NH-D15 has incredible cooling performance without being noisy.
Should it be a little more cramped around your CPU, AIO coolers bring the same benefits of liquid cooling with less risk by using a smaller heatsink pump. The Cooler Master MasterLiquid ML360R, with an additional LGA 1700 mounting bracket, provides beautiful RGB lighting and super-low temperatures, as long as you have the space elsewhere for a triple-fan 360mm radiator.
Ben Wilson is a freelance writer working for Windows Central with technical expertise and a background in electronics retail. Fueling a technology and video game obsession with coffee, you can usually find him behind one screen or another.
Windows Central Newsletter
Get the best of Windows Central in in your inbox, every day!
Thank you for signing up to Windows Central. You will receive a verification email shortly.
There was a problem. Please refresh the page and try again.