Best CPU coolers for Intel Core i7-12700K in 2022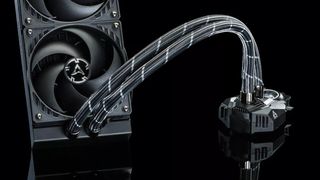 (Image credit: Arctic)
The 12th Gen processors from Intel are super powerful, so it's critical to keep them nice and cool under heavy use. Your new Alder Lake CPU uses a modern LGA 1700 socket size meaning a few will need extra mounting brackets, so we've rounded up the best CPU coolers for the Intel Core i7-12700K to make the decision easier.
Choosing the best CPU cooler for Intel Core i7-12700K
Building a computer is never as straightforward as you might like, especially when figuring out component compatibility. The air coolers chosen here are big and chunky, like the fantastic Noctua NH-D15. It's crucial to select the best case with enough clearance to fit your cooler and to order an LGA 1700 mounting kit from the manufacturer if you need one.
AIO coolers are an easier way to enjoy the benefits of liquid cooling with less risk, such as the affordable Arctic Liquid Freezer II 280. If RGB is your bag, the Cooler Master MasterLiquid ML360R will fulfill your gamer aesthetic desires when mounted with the appropriate bracket. For RGB lovers looking to spend less, stick with the Hyper 212 Black Edition RGB with its neon fan for cheaper air cooling.
Ben Wilson is a freelance writer working for Windows Central with technical expertise and a background in electronics retail. Fueling a technology and video game obsession with coffee, you can usually find him behind one screen or another.
Windows Central Newsletter
Get the best of Windows Central in in your inbox, every day!
Thank you for signing up to Windows Central. You will receive a verification email shortly.
There was a problem. Please refresh the page and try again.