Best Cyberpunk 2077 PC mods for performance, graphics, and more
Enhance your experience in Night City with these awesome mods.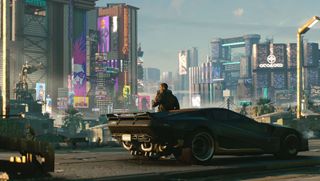 (Image credit: CD PROJEKT RED)
Cyberpunk 2077 is one hell of a game, with many considering it to be one of the best role-playing games on PC and my colleague Jez Corden even labeling it as a "contender for best game ever made" in his Cyberpunk 2077 review. That being said, it's far from perfect, and many players have quite a few gripes with the title. The majority of these issues are with the game's performance and stability, but there are also things about the gameplay and visuals that could be better as well.
It's possible that CD PROJEKT RED, the developer and publisher behind Cyberpunk 2077, may patch in improvements for these areas in the future. However, until that happens, we highly recommend downloading and installing some of the awesome community mods that address the above issues, add new features to the game, and more. Here are all of the best Cyberpunk 2077 PC mods that are available now.
Welcome to Night City
(opens in new tab)
A futuristic adventure awaits

Cyberpunk 2077 is the latest project from CD PROJEKT RED, the developers behind The Witcher 3. To follow up the game that defined a generation of gaming, Cyberpunk 2077 needed to be huge, ambitious, and captivating. Thankfully, CD PROJEKT RED checked off all the boxes — and mods only serve to enhance the experience even further.
Best Cyberpunk 2077 mods: What you'll need
Before you get started with the fun Cyberpunk 2077 mods, there are some baseline mods you should install to make your modding experience smoother. Firstly, there's the Cyberpunk 2077 Mod Manager. This simple program will automate the installation process for the vast majority of the mods for you, and using it is a breeze since the UI is clean and minimalist.
Secondly, installation of the CP77 Tools is highly recommended. These tools allow modders to extract the game's files for tinkering, and it's also used for repacking files as well, which is something you may need to do in order to make certain mods work. It's a little complicated to use, but the community-made wiki for it will help guide you through the process.
Finally, you're going to need ReShade if you want to make use of the different presets that community members have made to improve or change Cyberpunk 2077's visuals. ReShade can be used to tweak colors and inject some cool post-processing effects, so I highly recommend installing it if you're a graphics nut. Check my guide on how to install ReShade for PC games for instructions on installation.
Best Cyberpunk 2077 mods: Performance mods
These mods will considerably improve the performance of Cyberpunk 2077, either by making tweaks to the game's underlying code or by unlocking hidden settings for you to adjust.
Cyber Engine Tweaks
Why you can trust Windows Central Our expert reviewers spend hours testing and comparing products and services so you can choose the best for you. Find out more about how we test.
This mod makes some beneficial tweaks to Cyberpunk 2077's engine that solves issues the base game has with both Intel and AMD CPUs. As a result of this, you could see an FPS increase of up to 10-15, which is excellent. The mod also adds a fun debug menu that you can use to give yourself items, spawn in NPCs, and more, which is a cool bonus. Overall, we consider this mod a must-have, especially since a few other mods out there require having it installed. You can download it here.
Unlock Global Illumination Settings (and more)
This mod makes it so that you can adjust some hidden settings that are relevant to performance, such as global illumination and resolution scaling. It also lets you make advanced changes to FOV, mouse sensitivity, and zoom sensitivity as well. Download it here.
Config Overhaul
This mod unlocks some additional hidden settings not opened up by "Unlock Global Illumination Settings," including specific types of fogs and screen-space reflections. Turning these down or off will give you a bit of an FPS boost, which may help you hit your FPS target. Download it here.
Optimized Raytracing
If you play Cyberpunk 2077 with ray tracing on, this mod will help make it so that the setting is less taxing on your system. Paired with NVIDIA DLSS, this mod will make Cyberpunk's ray tracing easier to enjoy than ever before. Download it here.
Best Cyberpunk 2077 mods: Graphics mods
These mods will either improve the visual appearance of Cyberpunk 2077 or change it in interesting ways that many people will enjoy.
Alternate Character Lighting
This mod disables the "rim lighting" that characters have around their models (including your own character) when they're in a dark place. While this effect does help with visual clarity, it looks a bit wonky in darker areas. Therefore, using this mod to disable it is a nice way to make your photo mode images and overall gameplay experience look more natural. You can get the mod here.
Cyberpunk Autonomous ReShade - True HDR
If your monitor doesn't support high dynamic range (HDR), this simple yet elegant ReShade preset will emulate its effects in Cyberpunk 2077. With this preset, your game will look sharper and more vibrant thanks to its use of subtle post-processing effects and the tweaks it makes to color. Get it here.
Borderlandfy2077
This is a neat little ReShade preset that makes Cyberpunk 2077 look like a Borderlands game. It does this by using post-processing to emulate cell shading while also brightening up the image to cartoon-like levels. If you want your game to look unique and different, this preset will be perfect for you. Grab it here.
Best Cyberpunk 2077 mods: Gameplay mods
These mods will enhance or alter your Cyberpunk 2077 gameplay experience in interesting ways.
Better Vehicle Handling
The vehicle handling in Cyberpunk 2077 is, to put it bluntly, terrible. This mod aims to fix that problem by making the driving controls more responsive and by making certain vehicles spin out of control much less. You can download it here.
Better Minimap
Image 1 of 2
This lightweight mod makes it so that you can zoom the minimap in or out as you see fit, and you can also adjust the opacity of it as well. While small, this addition is appreciated for people who care a lot about customizing their UI. You can pick the mod up here. Make sure you install CP77 Tools first, as you'll need it.
Alternate Crowd Behavior and Other Tweaks